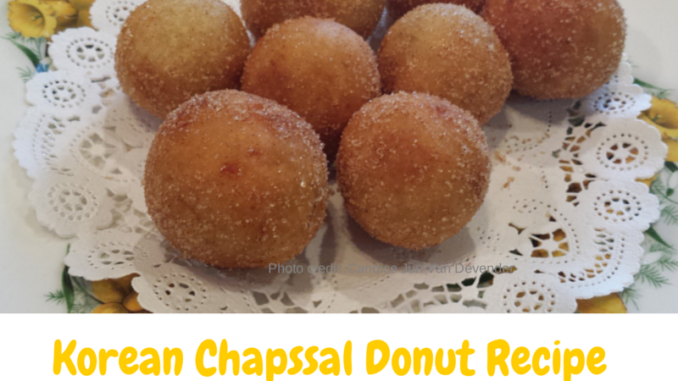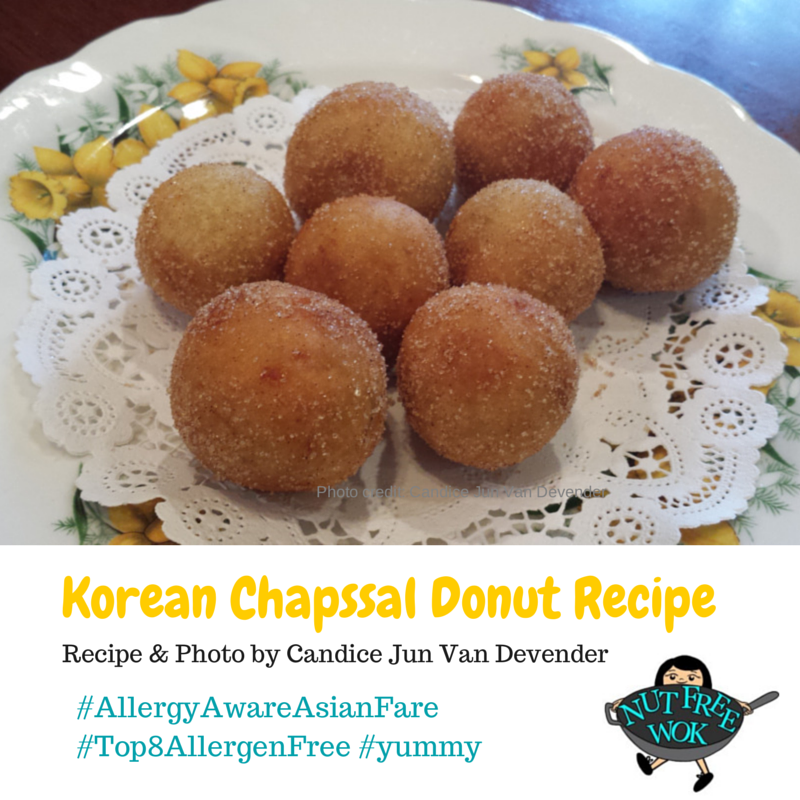 Who wants to enjoy a Korean donut made from rice and sweet potatoes that is free of the top 8 allergens? I do! I am so excited to share with Nut Free Wok readers a recipe guest post by Candice Van Devender! Candice's dad tells her stories about buying hot and tasty chapssal donuts from street vendor when he was a child in Korea. These churro-like donuts are so popular that they are often sold in Korean bakeries. However, her daughter who has a severe peanut allergy experienced severe allergic reactions due to eating treats from a Korean bakery, Candice saw recipes posted on Pinterest and Beyond Kim Chee and she was inspired to make her own chapssal.
Chapssal donuts are usually made with wheat, butter, milk, and sometimes peanut flour. Her recipe is free of wheat, gluten, nuts, soy, sesame, egg, dairy, beans, fish, and shellfish, which many can enjoy. She often makes Asian sweet potatoes for her daughters to enjoy as an easy on the go snack and has them on hand to make Korean Chapssal Donuts, which are round donuts usually filled with a red bean paste but some variations include a flat shaped donut filled with a similar bean filling. I love that she uses sweet potato in her recipe which naturally sweetens the dough and adds a lot of nutrition. I can't wait to try the recipe. Thank you for sharing your version of Korean Chapssal Donut recipe with Nut Free Wok readers, Candice! ~Sharon
KOREAN CHAPSSAL DONUT RECIPE
Gluten Free / Vegan Recipe minus: wheat, gluten, nuts, soy, sesame, egg, dairy, beans, fish and shellfish
We avoid Peanuts, Tree Nuts (but not coconut), Sesame, Soy, Dairy, Egg, Gluten, Peas, Lentils and most legumes. The Trader Joe's items above I use have been called prior to the recipe to verify if peanuts/tree nuts are in the facility or shared lines. Since Trader Joe's products frequently change their manufacturing practices, I recommend you verify the safety for your family and call prior to using their brand or you can use brands you are comfortable with. You can substitute for other gluten free flours, make sure there are rice and tapioca in the flour. That's what makes the center chewy.
Enjoy!
Candice Van Devender
Recipe inspired by Beyond Kim Chee: http://www.beyondkimchee.com/sweet-potato-rice-donuts/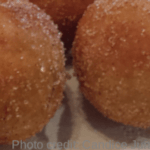 Korean Chapssal Donut Recipe
Thank you Candice for guest posting at www.nutfreewok.com
Ingredients
3

medium Asian sweet potatoes

purple or yellow inside —baked or steamed.

2

cups

of Trader Joe's Gluten Free Flour

must have rice & tapioca flour for chewiness or Mochiko sweet rice flour for really chewy

1/4

cup

organic sugar

1

tsp

of salt

1/2

tsp

of Clabber Girl baking powder

1/2

cup

of hot non-dairy milk

I use coconut or flax milk

Trader Joe's grapeseed or rice bran oil for frying — I only fill enough oil for half a donut ball to be in oil. For my saucepan

I only use 1 cup of oil.

1/4

cup

of organic sugar

1/2

Tsp

of cinnamon
Instructions
Mash the sweet potatoes or use food processor.

In separate bowl, mix dry ingredients —flour, sugar, salt and baking powder.

Add sweet potatoes and knead.

Slowly add hot milk little at a time.

Once it feels like play dough make 1" balls with your hand.

Children are great helpers during the rolling process.

The dough is very forgiving and if it's too dry add little more milk and if too wet, add more flour.

Heat oil in small saucepan on medium heat.

Test by placing a ball and if it sizzles quickly the oil is ready.

Tilt the pan to make sure the balls are evenly coated during frying or use a dry metal spoon to turn over.

Once they are golden, remove with a strainer and place on paper towels to absorb the excess oil.

Roll the cooked donuts in bowl of cinnamon sugar.

Swirl them around in the bowl.

Serve donuts warm or same day.

Next day donuts are not as crispy outside and chewy inside.

Store extra dough in refrigerator to make more donuts in the next few days.

The extra cinnamon sugar can be kept in freezer to use next time.

When done, store cooled oil in glass jar to reuse.
Recipe Notes
Recipe inspired by Beyond Kim Chee: http://www.beyondkimchee.com/sweet-potato-rice-donuts/