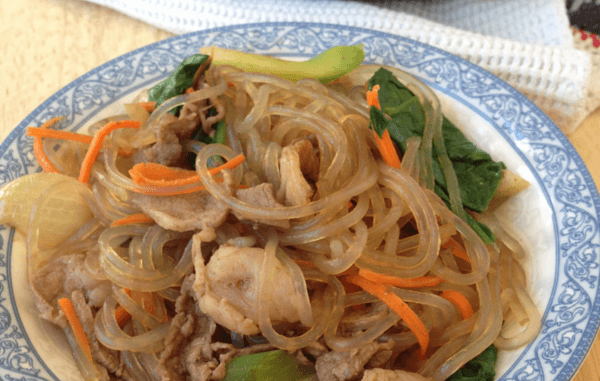 Delicious Beef Japchae, A Korean Glassy Noodle Stir Fry
Japchae is a well known Korean glassy noodle stir fry of sweet potato starch noodles with vegetables and beef and can be enjoyed as a side dish, snack, or main entree. It's easy to prepare ahead of time for a quick weeknight supper or potlucks. One can easily adapt the recipe to be vegan, gluten free, or top 8 allergen free.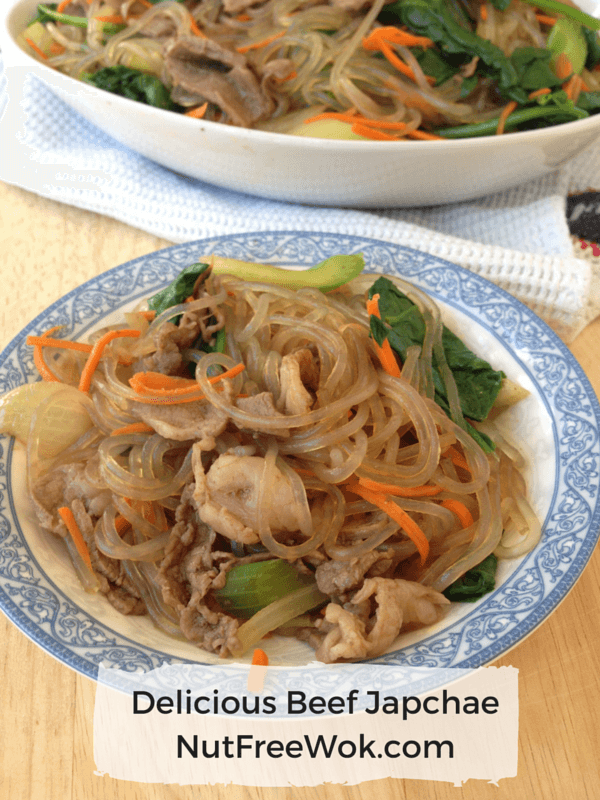 Japchae is one of my favorite dishes. After many years of "please try a bite" my kids now love it too and asked me to make it at home. I recently made it for the first time and because Chef Keith Norman, the food allergy savvy chef at South Point Hotel, saw a photo of my dinner on Facebook, he asked if he could share the recipe at FAACT's Teen Conference in a cooking demo. He is a treasure to the food allergy community so I have been working hard to support the event.
The sweet potato vermicelli noodles or dangmyeon noodles are flavorful with a slippery but chewy texture. The vegetables taste fresh and tender crisp. The dish tastes hearty with slices of beef but can also be vegan by omitting the beef. It's a dish that could be prepped or made in advance, making it perfect for a potluck or an easy weeknight meal to reheat and serve. The best thing about learning to make it, is that we can customize it according to our allergies and preferences.
What are sweet potato starch noodles and how do I buy them?
Sweet potato starch noodles are made from a thick slurry of sweet potato starch extruded into boiling water. The noodles look grey and opaque after they are dried. But when they are cooked, the noodles look transparent and are sometimes referred to as glassy noodles or cellophane noodles because of its appearance.
Sometimes the noodles are also called vermicelli because of their long slender threads. However it's important not to confuse them with rice vermicelli or wheat vermicelli which are not cellophane noodles. Sweet potato noodles are usually grey dry noodles in big bulky packages about 12-18 inches in length.
I felt overwhelmed at a Korean supermarket because they stock at least a dozen different brands of sweet potato noodles. I eventually found a name brand product which I like but the downside is that I haven't heard back from the Korean company that makes the noodles.
I also shopped at an Asian market closer to home and they stock just a few different choices of sweet potato starch noodles. The two different distributors, Walong Marketing and Wang Globalnet, were very helpful and confirmed with their manufacturers in Asia that the facilities only make sweet potato noodles.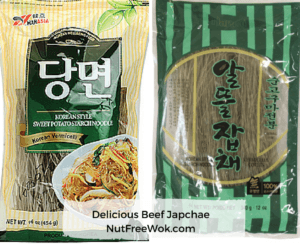 In case you do not have an Asian market near you, I also looked at the product availability on Amazon and noticed that the Assi brand of sweet potato noodles are distributed by Rhee Brothers. I have reached out to them about allergen information and they are helpful. Affiliate link  (thanks for your support!)
Additional sweet potato noodle buying tips
Typical ingredients are sweet potato and water, stick to the kind with those two ingredients. Some are made with sodium alginate, which is apparently a bulking agent. Avoid any that mention alum.
Better quality sweet potato noodles will be lighter in color.
If you have a choice between buying a small package or a large package, buy the smaller one. Unless the noodles are portioned into smaller bundles it's hard to use half a package or reseal a large open bag. The first time I made japchae I ended up cooking an entire 1 kilogram bag for that reason.
12 ounces dry noodles make 4.5 cups of cooked noodles and with additional ingredients, it will make enough for 4 servings as a main entree or 6-8 servings as a side dish.
Allergy Aware Asian Fare
Even though the sweet potato noodles are most likely top 8 free, gluten free, and paleo, please read the ingredient list and contact the manufacturer if you are sensitive to cross contact and traces of other allergens. The two products pictured above are made in a sweet potato noodle factory that only handles sweet potatoes.
If you happen to be allergic to sweet potato, then use a chewy and sturdy (not mushy) noodle that is safe for you. I have some brands that are in my cupboards listed in this post under Asian Noodles. I tried Explore Asian's Edamame and Mung Bean Fettucine (contains soy) as a variation of this recipe and it was good, the pasta has a mild flavor and the texture held up adequately. BGreen Foods also has some nice chewy noodles that are free of top 8 allergens (per phone call last year). Results may vary if you don't use sweet potato noodles, it won't be japchae but you will still have an allergy safe Asian inspired meal, win-win!
The thinly sliced beef that is used for bulgogi is traditional but one could also wrap and freeze a good rib eye or sirloin steak for 30 minutes and then thinly slice it. Or one could use pork or chicken instead or simply omit for a vegan variation.
Soy sauce and sesame oil are important seasoning ingredients for this dish. Know that results may vary if one omits them or uses a different ingredient. There are lots of great soy sauce alternatives and I have a soy free soy sauce recipe made with beef bouillon that would be great for this dish. I tried using coconut amino to see how it would taste and the resulting dish tasted better with a touch of salt. It also doesn't look the same as japchae seasoned with soy sauce.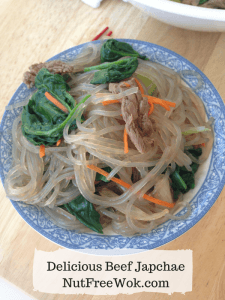 Toasted sesame oil is much harder to substitute in an allergy friendly way. Nut oils taste similar but are not suitable for a nut free diet! The oily top layer of a sunflower seed butter has a similar roasted nutty taste as sesame oil but I think it would just ruin the rest of the sunflower seed butter. I tried a cold press sunflower seed oil, and the taste is too mild tasting. I just learned about perilla oil as a substitute for sesame oil, so I will update you when I try it.
This dish uses a lot of colorful vegetables which is perfect for a healthy snack or meal. I learned that it's traditional to include foods that are green, red, yellow, white, and black. Spinach, carrots, red bell peppers, onions, and shitake mushrooms are typical vegetables for jap chae.
Allergy aware Asian fare means that we adapt recipes to make traditional foods safe to eat. I'm not an expert at Korean cuisine, but it was interesting for me to learn more. Due to our family's food allergies, I omit red bell peppers and shitake mushrooms, used celery instead, and included in the "notes" section how to use mushrooms and bell peppers. Enjoy!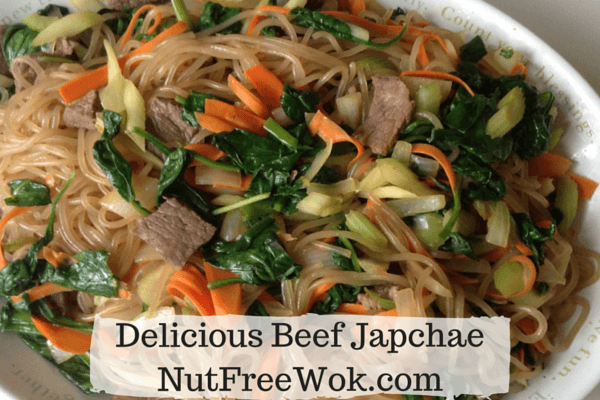 This recipe as written is free of peanuts, tree nuts, dairy, fish, shellfish, and eggs. It can easily be adapted to free of the top 8 allergens by using a soy free soy sauce or to be wheat and gluten free by using a gluten free tamari soy sauce or other soy sauce alternatives.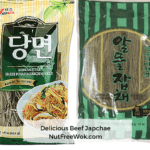 Delicious Beef Jap Chae, A Korean Glassy Noodle Stir Fry
Ingredients
1/2

pound

rib eye or sirloin steak

or chicken or pork or omit

5

tablespoons

soy sauce

divided

1

tablespoon

and 1 teaspoon sugar

divided

1

tablespoon

and 1 teaspoon sesame oil

divided, see blog post for alternatives

3

scallions

chopped (divided)

1

garlic clove

minced

6

oz

1 bag baby spinach

12

oz

Korean sweet potato noodles

2

teaspoons

olive oil

or any oil of choice

1/2

onion

thinly sliced

2

stalks celery

sliced

2

carrots

use a vegetable peeler to make ribbons

Salt

to taste
Instructions
Pat dry meat with a paper towel, place the meat in a freezer bag, and freeze for 30 minutes to firm it up.

Remove the meat from the freezer bag and thinly slice against the grain, transfer to a mixing bowl.

Marinate the meat with 2 tablespoons soy sauce, 1 teaspoon sugar, 1 teaspoon sesame oil, minced garlic, and a small handful of green onions, mix and marinate for 30 minutes.

Boil water in a large pot (1/2 to 2/3 full) and blanch spinach for 30 seconds.

Use a slotted spoon to take the spinach out of the hot water and rinse under cold running water in a colander.

Gently squeeze out excess water and transfer to a small bowl, add 1 teaspoon sesame oil, a pinch of salt, mix and set aside.

Add sweet potato noodles to the boiling water, stir, and cook for 7 minutes or until tender.

Drain and rinse the noodles in a large colander with cold water.

Use your hands to pick up a handful of noodles and cut the noodles so that they are about 12 inches long, place in a large mixing bowl.

Season the noodles with 1 tablespoon soy sauce, 1 teaspoon sesame oil, mix, and set aside (if allergic to sesame oil, use any allergy safe oil to prevent the noodles from sticking).

Preheat a wok or a large frying pan on medium high heat for a few minutes, the pan is ready when a small splash of water sizzles in the pan.

Add 1 teaspoon of olive oil in the pan and saute sliced onions until tender, add celery and saute 30 seconds more, set aside.

Add 1/2 teaspoon of olive oil in the pan and saute the carrot ribbons for 1-2 minutes until tender crisp, set aside.

Add 1/2 teaspoon of olive oil in the pan and add the beef into the pan, spread it out, and let the beef sear for a minute or two, then stir fry and cooked through, set aside.

Turn down the heat on the pan to low-medium, add 2 tablespoon soy sauce, 1 tablespoon sugar, and stir to dissolve sugar.

Add the noodles, meat, and vegetables to the pan and gently stir fry until thoroughly mixed.

Season to taste with additional soy sauce and drizzle with 1 teaspoon sesame oil, garnish with the rest of the scallions.

Serve with rice as a main entree or by itself as a side dish.
Recipe Notes
If using shitake MUSHROOMS, clean 4 mushrooms and remove stem, thinly slice (1/2 cup) and stir fry with the meat. If using red BELL PEPPER julienne 1/4 of a bell pepper (1/2 cup) and stir fry with the carrot ribbons. Please refer to the blog post about how to substitute for soy, wheat, or sesame allergies.
Thanks for reading, please show your support!
The best way to see every post or recipe is to subscribe to Nut Free Wok's email subscription (be sure to respond to the confirmation email). You will to be notified by email next time I publish another post or recipe and I won't send you spam or share you email with anyone.
If you enjoyed this post, please use the social media buttons below to share with others. I am on Facebook, Twitter, Pinterest, and Instagram as @nutfreewok and it's great to chat and interact on social media too.
Disclosure/Disclaimer:
I may mention the names of stores and/or brand names of products because of reader interest, all opinions are my own and unsolicited. Please note that manufacturing practices and ingredients can change at anytime without notice and readers are always responsible for assuring allergen safety before buying or consuming foods. Please consult your medical care team if you have any health related questions. NutFreeWok.com is a participant in the Amazon Services LLC Associates Program, an affiliate advertising program designed to provide a means for sites to earn advertising fees by advertising and linking to Amazon.com.