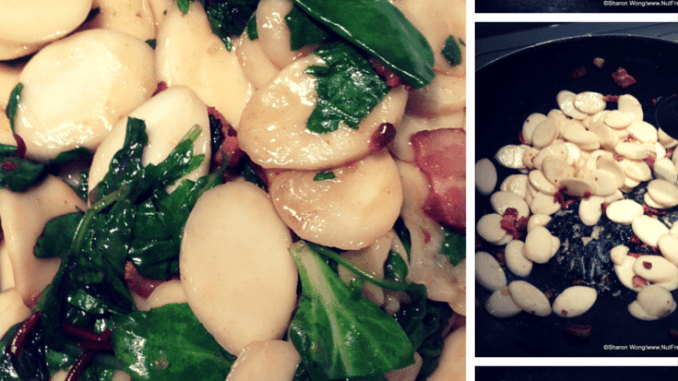 Korean Rice Ovalette with Bacon & Baby Greens Stir Fry Recipe
What do you make when you crave a carbilicious noodle stir fry AND bacon? Korean Rice Ovalette with Bacon & Baby Greens Stir Fry!
Even though this recipe is by no means traditional, I used some traditional ingredients and techniques with easy to find supermarket staples to create a very easy and satisfying meal. I use Korean oval shaped rice cakes "dduk," with American's beloved bacon, and Trader Joe's Power to the Greens salad mix (with organic baby kale, Swiss chard, and spinach), and cooked it all in a Chinese wok. I had to leave out tomatoes due to our family's food allergies. The meal comes together quickly and tastes so amazing.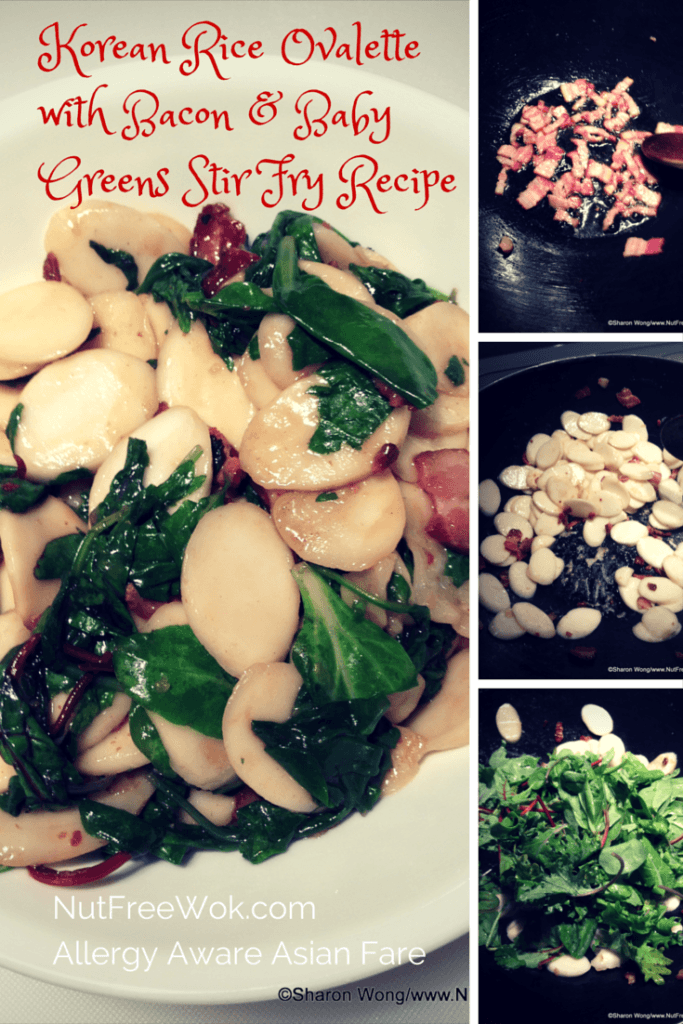 I shared a recipe for Rice Ovalettes with Pork and Vegetables Stir Fry Recipe (Chao Nian Gao) back in January. Whenever I share a traditional recipe, I feel a great sense of obligation to get it right and make the recipe several times before publishing. I make a dish so many times that my kids and I tire of it. Sometimes I rotate my test recipes which prolongs the process especially when I get distracted. By the time I shared the Chao Nian Gao recipe,  our family was tired of that particular combination of rice ovalettes, pork, and vegetables but I still had an extra package of rice ovalettes to finish. I had a couple of slices of bacon plus a bag of greens, I spontaneously made this BLT inspired meal together in less than 30 minutes.
Fry chopped bacon in a little bit of oil on low-medium heat to slowly render out some of the fat.
You can also use Chinese lap cheung instead of bacon. Turkey bacon is a healthier substitution, but since there's so little fat,  you will need to use 1-2 teaspoon of oil and just stir fry on medium heat.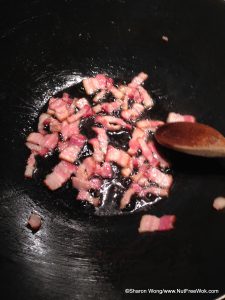 Boil the rice ovalettes for a few minutes until most of them are floating, drain, add to the wok, and stir fry on medium heat for a minute or two.
If you can't find Korean rice ovalettes, you can substitute your favorite pasta and cook it al dente. I like using bow tie or penne. I used Han Asia brand (see What's In Nut Free Wok's Cupboard? for more allergen information about rice ovalettes.)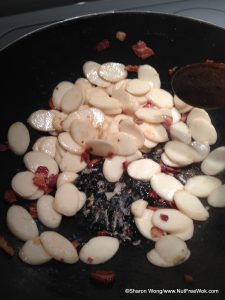 Add washed and drained baby greens and stir fry until half the greens are wilted.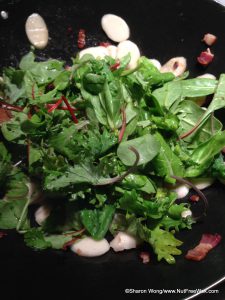 Season to taste with 1-2 tablespoons of dark soy sauce (regular soy sauce or oyster sauce are fine too).
You can easily substitute with my recipe for soy free soy sauce or use your favorite gluten free soy sauce to suit your needs.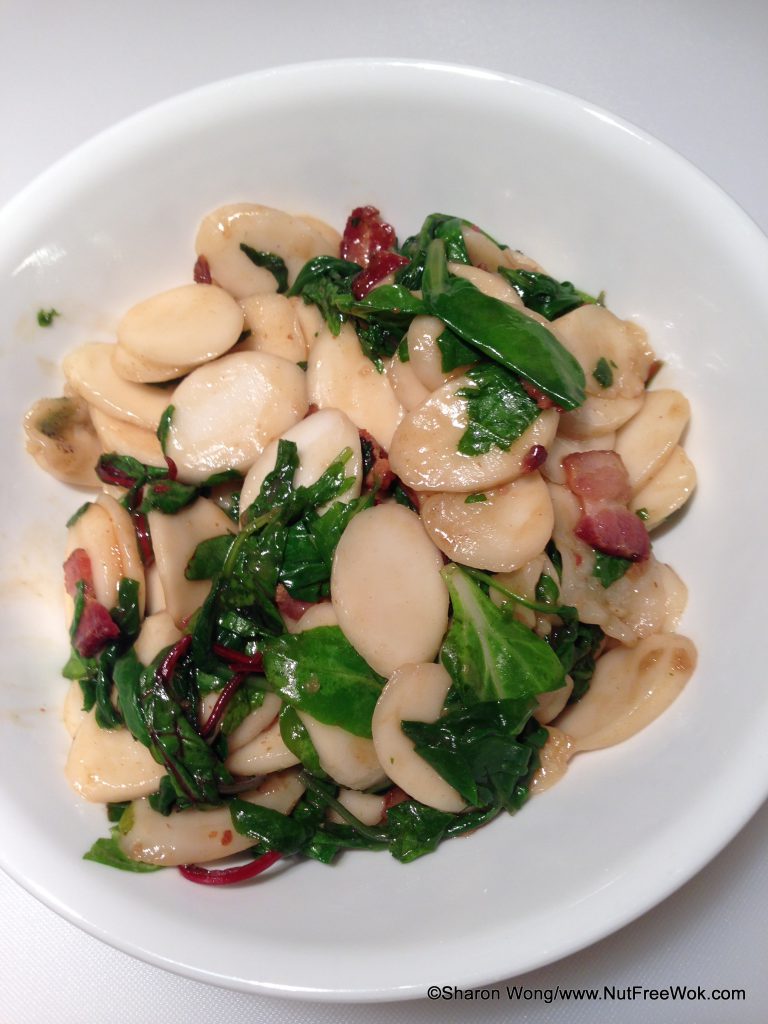 This recipe as written is free of peanuts, tree nuts, dairy, egg, fish, and shellfish.
The recipe can be adapted to be top 8 allergen free by using soy free soy sauce or gluten free by using a tamari sauce or other soy sauce alternatives.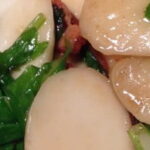 Korean Rice Ovalette with Bacon & Baby Greens Stir Fry Recipe
A BLT inspired stir fry noodle dish
Ingredients
2-3

slices

of bacon

chopped

4

cups

of Korean rice cake ovalettes

8 oz or favorite pasta

1

bag of baby salad greens

1-2

tablespoons

dark soy sauce

to taste
Instructions
Preheat a wok or a large frying pan on low heat for a few minutes.

Add chopped bacon to the frying pan and fry on low heat until some of the fat renders out.

Boil water in a medium sized pot (about half full, add rice cakes, and boil for a few minutes until some of the rice cakes are floating.

Drain the rice cakes and add to the bacon, stir fry for a minute.

Add baby greens and stir fry for a minute until half wilted.

Season to taste with 1-2 tablespoons of dark soy sauce
Love this post and want more?
Disclosure
I may mention the names of stores and/or brand names of products that I use, I have not been paid or solicited by any of the above companies to mention them. I share products and sources which I use and think may be helpful to readers,  all opinions are my own. Please note that manufacturing practices and ingredients can change at anytime without notice and readers are always responsible for assuring allergen safety before buying or consuming foods.