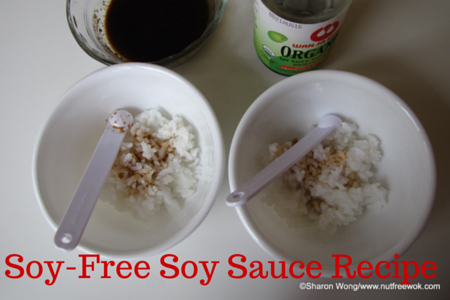 One of the key goals that I have for my Nut Free Wok blog is enable you to make your own Allergy Aware Asian Fare at home and that starts with ingredients that are allergy safe. One of the biggest questions was how do I make Asian food without using soy sauce if I have a soy allergy or intolerance? That is a huge challenge since soy based products are such a huge part of Asian cuisine and I responded with with a collection of possible alternatives which I intend to update with additional ideas and suggestions at a later time, but for now, how about a Do It Yourself Soy-Free Soy Sauce Recipe?
Disclaimer: Please check that all ingredients are suitable for your allergies and be sure to ask your medical care team regarding any allergy related questions (I do not share medical advice). As an Amazon Associate I earn from qualifying purchases.
Jump to Recipe
What Is Soy Sauce and How Is It Made?
Soy Sauce is the liquid by product of boiled soy beans, roasted and crushed wheat, and brine that are fermented with a mixture of mold and yeast for 6-12 months. Then the mixture is pressed and the resulting liquid is pasteurized and packaged as soy sauce. Brewed soy sauce has a unique umami flavor, it tastes savory, salty, sour, and sweet all at once. How do we imitate the flavor, color, and cooking properties of the real stuff in a soy-free soy sauce?
The Quest for A Tasty Soy-Free Soy Sauce
I had heard that some of the soy-free soy sauce recipes can be disappointing so I was mentally prepared to modify and adjust the recipes. I looked at a number of different recipes, including recipes from Cybele Pascal, Food.com, AllRecipes.com, StephanieCooks.blogspot.com, and others. I wrote out the ingredients and analyzed them. They all called for beef stock, broth, or bouillon, a bit of vinegar (cider, red, and/or balsamic), unsulphured molasses, a bit of ginger, garlic, and pepper. Cybele's recipe calls for kelp which is a brilliant way to add umami flavor and trace minerals, except I don't usually use kelp and couldn't justify purchasing a package. Stephanie's recipe was the only one that called for salt. Then the ingredients are boiled until the sauce is reduced by 20-50%. I also noticed that the ratio of molasses to vinegar varied significantly, some recipes use more molasses, some use more vinegar, and others use nearly equal amounts.
I wrote out a draft of my recipe, measured the ingredients, and boiled it for 15 minutes on medium heat. I sprinkled a small amount of sauce over a small amount of rice and it tasted delicious, the best beef broth over rice ever, but nothing like soy sauce. I did a little math and realized that the sodium content of the soy-free soy sauce recipes were no where close to the nearly 900 mg of sodium per tablespoon of commercial soy sauce, more salt was needed. The sauce also didn't taste sour enough and I liked the taste of nearly equal amounts of vinegar and molasses better. I boiled the sauce for another 5 minutes until 50% reduced (I poured it into a glass measuring cup to check). It tasted better but didn't look right, it looked pale and watery, so I poured it back into the pot and reduced some more until I had 1/4 cups, a 75% reduction was perfect!
And the Best Tasting Sauce Is…
Just to be sure, my kids and I did some taste tests with 1/4 tsp of soy sauce vs 1/4 tsp of soy-free sauce (pictured on the left above) on 1/4 cup of rice. My younger son just didn't like either on rice, which is understandable because that is not how we normally use soy sauce or eat rice. My older son thought the soy-free sauce tasted very good but not as sweet as regular soy sauce. I think the soy-free soy sauce is an acceptable substitute in terms of color and taste (definitely savory, salty, sweet, and sour!) and would function well as a condiment. If I had a piece of kelp (sometimes packaged as kombu), I would definitely add it for additional flavor and trace minerals by soaking a 3-4 inch piece of kelp in the sauce ingredients for 30 minutes before boiling and reducing.
Additional Substitutions!
Given that there are many ways to make soy-free soy sauce, I hope that this recipe gives you an idea on how to make this condiment free of the top 8 allergens and how to adapt the recipe further, as needed. If one were allergic to any of the ingredients in this recipe, such as beef, one can use a vegetable base or dried mushrooms instead. If one were allergic to garlic, then try dried onions. Just as food allergies can seem frustratingly endless, your creativity and resourcefulness are even greater!
Update Regarding Beef Bouillon
One reader commented that they don't trust beef bouillon products and would rather use their own homemade beef stock, which is a good idea as well as using allergy friendly Kitchen Basics products (instead of water and beef base). I did some more research about Better than Bouillon and while I'm very confident their products are peanut and tree nut free (with the exception of coconut, which would be labeled), if you have any concerns about other allergens I highly advise reading the FAQ on their website and following up with a phone call (1-800-300-4210).
The ingredients on my jar of Better than Bouillon Reduced Sodium Beef Base contains the following: roasted beef and natural juices*, maltodextrin*, salt, cane sugar*, beef stock*, beef fat*, yeast extract, potato starch*, celery concentrate*, dried garlic*, dried onion*, caramel color*, natural flavor (*organic, certified organic by QAI). FAQ indicates that maltodextrin is derived from corn, caramel color is derived from sugar.
Soy-Free Soy Sauce 2.0 Recipe
Updated 2/18/19: Because of the concerns listed above, I have been thinking about what we can do to make this recipe even more allergen free, without using any prepared beef products. I made beef tongue the tradtional way with soy sauce (so yummy) and decided to make it again using the soy-free soy sauce recipe ingredients but with the beef tongue supplying all of the beefy umami flavor. Both the beef tongue and resulting sauce were amazing. I made it again in the Instant Pot and it was delicous, tender, and faster than using a stovetop method. Instant Pot Beef Tongue and Soy-Free Soy Sauce are so yummy, enjoy!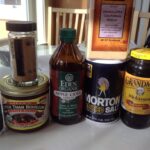 Soy-Free Soy Sauce Recipe
This soy-free soy sauce recipe is free of the top 9 allergens and a wonderful way to add a little bit of color and flavor to your Asian dishes when you can't have soy-sauce.
Ingredients
1

cup

water

1

tablespoon

Better Than Bouillon Organic Reduced Sodium Beef Base

1

tablespoon

Grandma's Original Molasses

Unsulphured

1

tablespoon

Eden organic apple cider vinegar

1/4

teaspoon

garlic granulated powder

1/4

teaspoon

ginger powder

Spicely

a pinch of black pepper or 1 turn of a black pepper grinder

1 to 1.5

teaspoon

salt

adjust to taste
Instructions
Combine water, beef base, molasses, apple cider vinegar, garlic, ginger, and black pepper in a small pot, bring to a boil, and boil on medium heat for 15 minutes.

Continue to boil and check frequently until the amount is about 1/4 cup (another 5 minutes or so).

Remove from heat, add salt (adjusting amount according to taste and dietary needs), and stir to dissolve.

Transfer to a glass container and refrigerate up to one week.
Recipe Notes
Cooking tip: before starting, pour 1/4 cup of water into your pan so you can easily estimate how much is 1/4 cup and know when your reduction is ready. You can also double this recipe if you need more than 1/4 cup of soy-free soy sauce. 
Thanks for reading, please help Nut Free Wok!
If you like this recipe, please be sure to give a 5 star rating, leave a comment, and share this post! Your support means a lot to me.
Subscribe to Nut Free Wok's email subscription (be sure to respond to the confirmation email). You will be notified by email next time I publish another post or recipe and I won't send you spam or share your email address with anyone.
Disclosure/Disclaimer:
I may mention the names of stores and/or brand names of products that I use because readers ask and I share products and sources which I use and think may be helpful to readers, all opinions are my own. Please note that manufacturing practices and ingredients can change at anytime without notice and readers are always responsible for assuring allergen safety before buying or consuming foods. NutFreeWok.com is a participant in the Amazon Services LLC Associates Program, an affiliate advertising program designed to provide a means for sites to earn advertising fees by advertising and linking to Amazon.com. Thank you for reading!