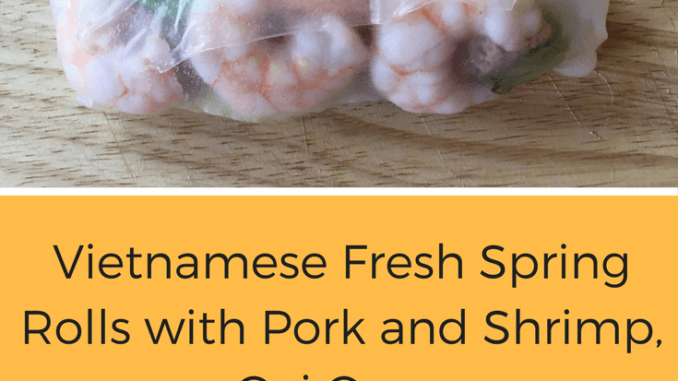 Vietnamese fresh spring rolls, also known as summer rolls, salad rolls, or Gỏi cuốn in Vietnamese are delicious and easy to make to suit your allergies. These Vietnamese fresh spring rolls are wrapped with a sheet of translucent rice paper and filled with fresh veggies, rice vermicelli, some savory bites of protein, and served with a fabulous dip on the side.
Disclaimer: Please check that all ingredients are suitable for your allergies and be sure to ask your medical care team regarding any allergy related questions (I do not share medical advice). As an Amazon Associate I earn from qualifying purchases.
Jump to Recipe
How to Make Fresh Spring Rolls
You will need rice wrappers (bahn trang) which are steamed rice crepes that are dried. The rice paper sheets are effortless to soften, just dip in a large bowl of warm water until they are pliable and place them on a plate or cutting board.
Add some shrimp that's cut in half lengthwise with the pretty side down about an inch below the midline of the paper, add some small pieces of thinly sliced cooked pork or chicken.
Then add your favorite lettuce. I like soft tender lettuce such as Bibb lettuce, red leaf or green leaf lettuce, or even iceberg or romaine lettuce but remember to remove the rib, otherwise it might poke a hole in your roll.
Add a little bit of rice noodles, some julienned veggies or mint if you want to eat more veggies, and

roll

everything up to make a fresh spring roll.
Remember less is more! If you are starting out, use less filling until you master the rolling technique down and can make tight rolls. Cut the fresh spring rolls in half and serve immediately with your dipping sauce of choice. If you want to make them ahead of time, I recommend wrapping each finished rolls in plastic wrap or layering them in between sheets of parchment paper or wax paper so the rolls do not touch.
This type of pring rolls taste best freshly made with nuoc cham, a fish based dipping sauce, or with a peanut-free dipping sauce. This is a great appetizer to make and serve for a party. I remember I made 50+ of them for my older son's 1st birthday for 80 people at a picnic. What was I thinking??? I was in my mid-30's at the time and making that much food was still manageable, haha!
Pork Tenderloin, Two Ways
I have had some fresh spring rolls with a plain piece of thinly sliced piece of pork. While the pork is doesn't taste bad, it's unappealing in its appearance. It turns out that it's just a piece of pork leg that's been simmered for 30 minutes or more with a little bit of salt and sugar. I tried that with half of my pork tenderloin and it was edible but not amazing.
With the other half of my pork tenderloin, I decided to try my own recipe. I split it in half lengthwise so that it will cook quickly and evenly. I sprinkled a little bit of sugar, salt, and garlic powder to rub into the meat and tenderize an already tender pork tenderloin. I poked the tenderloin with a fork a few times, added soy sauce, fish sauce, and lime juice and then turned the meat.
I used my little Foreman grill (affiliate link) to cook the pork tenderloin quickly, however it took me a long time to clean up and my grill is a few years old, so I am thinking of upgrading to one with a removable plate for easier clean up (affiliate).
If you don't have a Foreman grill, you can also cook the pork tenderloin in your broiler until it starts to brown on the outside and is cooked through on the inside. Or you could grill the tenderloin. Either way, cook until the pork reaches 145°F when checked with a meat thermometer. My pork tenderloin cooked on the Foreman grill was so tender and flavorful and my family loved it.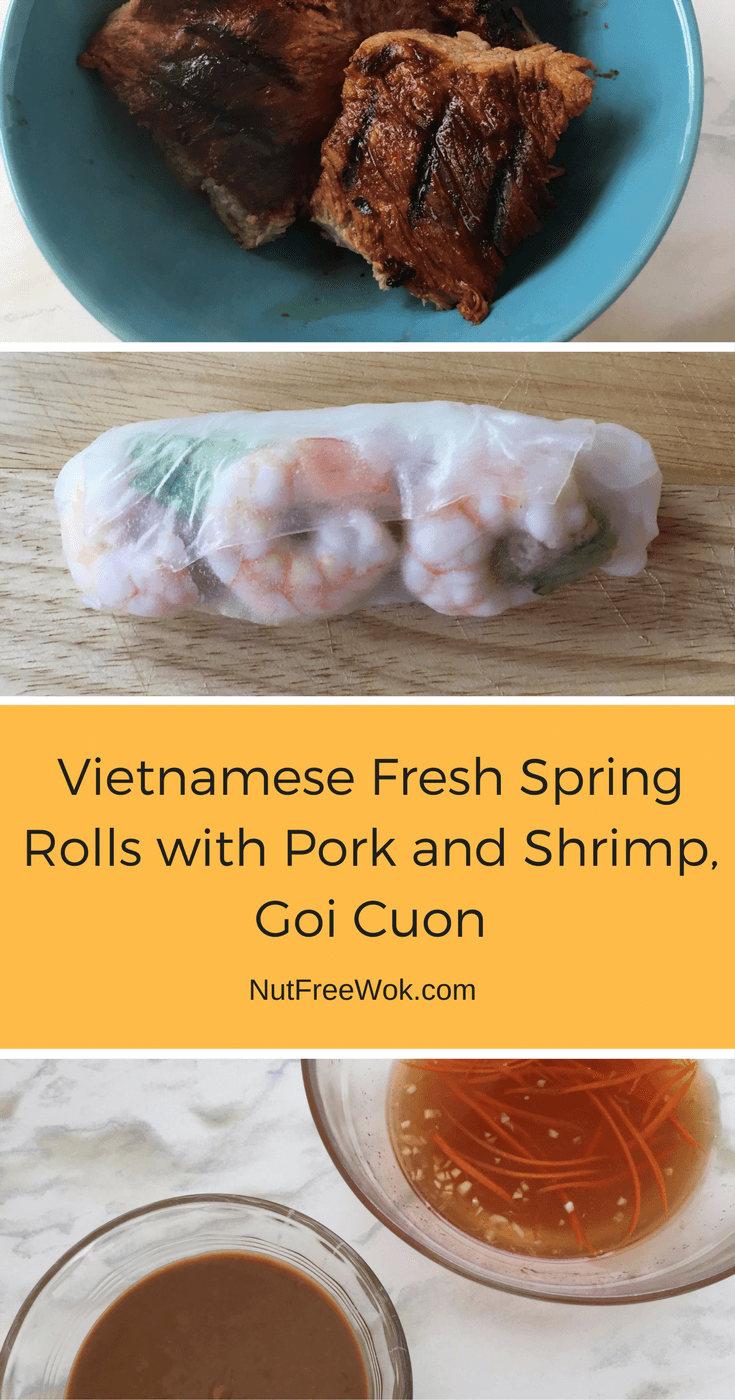 Allergy Aware Vietnamese Fresh Spring Rolls
The main ingredients you will need are rice paper wrappers (bahn trang) and rice noodles (bahn pho). My local Asian supermarkets carry two brands, Flying Horse which is distributed by Walong Marketing. I have been able to confirm that the Flying Horse brand of rice noodles, rice paper circles, and rice paper squares distributed by Walong Marketing are made in a facility that have no cross contact with any of the top 8 allergens.The other brand is Three Ladies which is well liked for the quality of their products, but I haven't contact the distributor (Vihnsahn.com). I also found some brown rice paper wrappers at Whole Foods but be sure to read the label for an allergen advisory. I spoke with the owner of the brown rice paper company and she flat out does not recommend her product for people with food allergies.
If you are vegan, allergic to pork or shrimp, or prefer a meatless meal, you can substitute with some soft, tender crisp vegetables, such as thinly sliced bell peppers or cucumbers, julienned carrots or cabbage, bean sprouts. I use a julienne peeler (affiliate link) to quickly make julienned strips of hard veggies such as carrots, zuchinni, etc..
You can also fill the the spring rolls with pan fried tofu cut into strips. Follow the technique in my recipe for pan fried tofu and then make a fresh batch of marinade using the ingredients (1 tablespoon sugar, 1 teaspoon garlic powder, 1 teaspoon salt, 1 tablespoon soy sauce, 2 teaspoon fish sauce, 1 small lime, juiced) for the pork tenderloin below, drizzle it in at the end, and cook on low heat until the sauce thickens slightly.
This recipe is free of peanuts, tree nuts, egg, and dairy as written.
You can adapt it further by using a soy sauce alternative if you are allergic to soy and/or wheat. If you are allergic to fish, omit the fish sauce and add a pinch of salt or use more of your soy sauce (or alternative). If you are allergic to shrimp, omit the shrimp and double the amount of pork or add some julienned vegetables. If you need suggestions with allergy aware ingredients, be sure to check what I have in my cupboard.
I highly recommend a good quality fish sauce. You might already have your own favorite brand of fish sauce but if you don't, I recommend Red Boat's Fish Sauce (affiliate link). It is made in a fish-only facility and adds a lovely umami flavor.
If you need help finding ingredients for this recipe or other Asian recipes, check out what I have in my cupboard.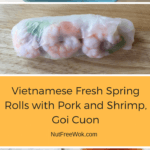 Vietnamese Fresh Spring Rolls with Pork and Shrimp, Goi Cuon
Make some allergy friendly Vietnamese inspired spring rolls, that is perfect to serve as an appetizer for a crowd or for a light summer time DIY meal for 4. Your final number of rolls might vary depending on how much or how little of each ingredient you or your dining companions use.
Ingredients
12

ounces

pork tenderloin*

1

tablespoon

sugar

1

teaspoon

garlic powder

1

teaspoon

salt

1

tablespoon

soy sauce

2

teaspoon

fish sauce

1

lime

small, juiced

1

14 oz

dried rice noodles

1

bag

bibb lettuce

6-8 ounces

8

rice paper wrappers

8.5 inches

1

pound

large cooked shrimp

deveined, peeled, and tail off

dipping sauce of choice
Instructions
Cut a pork tenderloin in half like a hot dog bun and then in half lengthwise.

Place the 4 pieces of pork tenderloin in a shallow dish and rub with the sugar, garlic powder, and salt and add the soy sauce, fish sauce, and lime juice and turn to coat, marinate for 15 minutes.

Cook the pork tenderloin in a hot foreman grill (about 5 minutes) or in a broiler (about 10 minutes) until cooked through, no longer pink on the inside, and slightly crusty on the outside.

Remove the pork from the grill or heat and allow it to cool down enough to cut into thin slices, set aside.

Cut the shrimp in half lengthwise (check that they are deveined, peeled, and tail off), set aside (if you are using raw shrimp, boil in salted water for 3-5 minutes until it's cooked thru).

Cook the rice noodle according to the package (takes about 3 minutes to boil the noodles), rinse with cold water, and then roughly cut into 6 inch strands, set aside.
Spring roll assembly
Arrange all of your ingredients on a large work surface, you will also need a large bowl of warm water to dip the wrappers, a wooden cutting board, and a large clean serving platter for the finished rolls.

Dip the rice paper wrapper in the bowl of warm water for 10-15 seconds until the wrapper is pliable, immediately place it down on your cutting board and it will continue to soften slightly.

Work quickly to place in the middle of the lower half of the rice paper 3-4 pieces of shrimp (1.5-2 whole shrimps) in a row, some small pieces of pork on top of the shrimp, a small handful of lettuce, about 1/4 cup of rice noodles.

Fold the bottom edge over the noodles, greens, and meat and then press down with your fingers while squeezing the roll together toward you.

Keep one hand on the roll then fold over the left and right sides, and roll the wrap up and place it on your serving plate seal side down.

Cut the rolls in half, serve them with a dipping sauce
Recipe Notes
*You can also prepare the pork tenderloin even more simply and free of the top 8 allergens by simmering it in a 3-4 quart sized pan with just enough water to cover the pork tenderloin, 1 tablespoon of sugar, and 1 teaspoon of salt. After the water starts to boil, lower the temperature and simmer for 20 minutes.
Dipping Sauce Options
You could serve your delicious allergy aware Vietnamese fresh spring rolls with a dipping sauce, although I think they taste awesome plain. You could buy a bottle of bottled sweet chili sauce as a quick dip, sweet chili sauce tastes sweet and spicy and slightly viscous.
You can make nuoc cham, a basic dipping sauce made that is clear, amber colored, and garnished with some shredded carrots. I like to make a salad with any leftover spring roll ingredients and use the basic dipping sauce as a dressing. Or you could make a nut-free sunflower seed butter or soy butter dipping sauce and I use the leftover sauce for dipping vegetable sticks for lunch the next day.
If you like this recipe and want to dive deeper into learning how to make Vietnamese meals from a true expert, see my list of favorite Asian cookbook writers and check out Andrea Nguyen's cookbooks. I had the pleasure of meeting her in person recently and she's so sweet and very knowledgeable. You'll love her resources.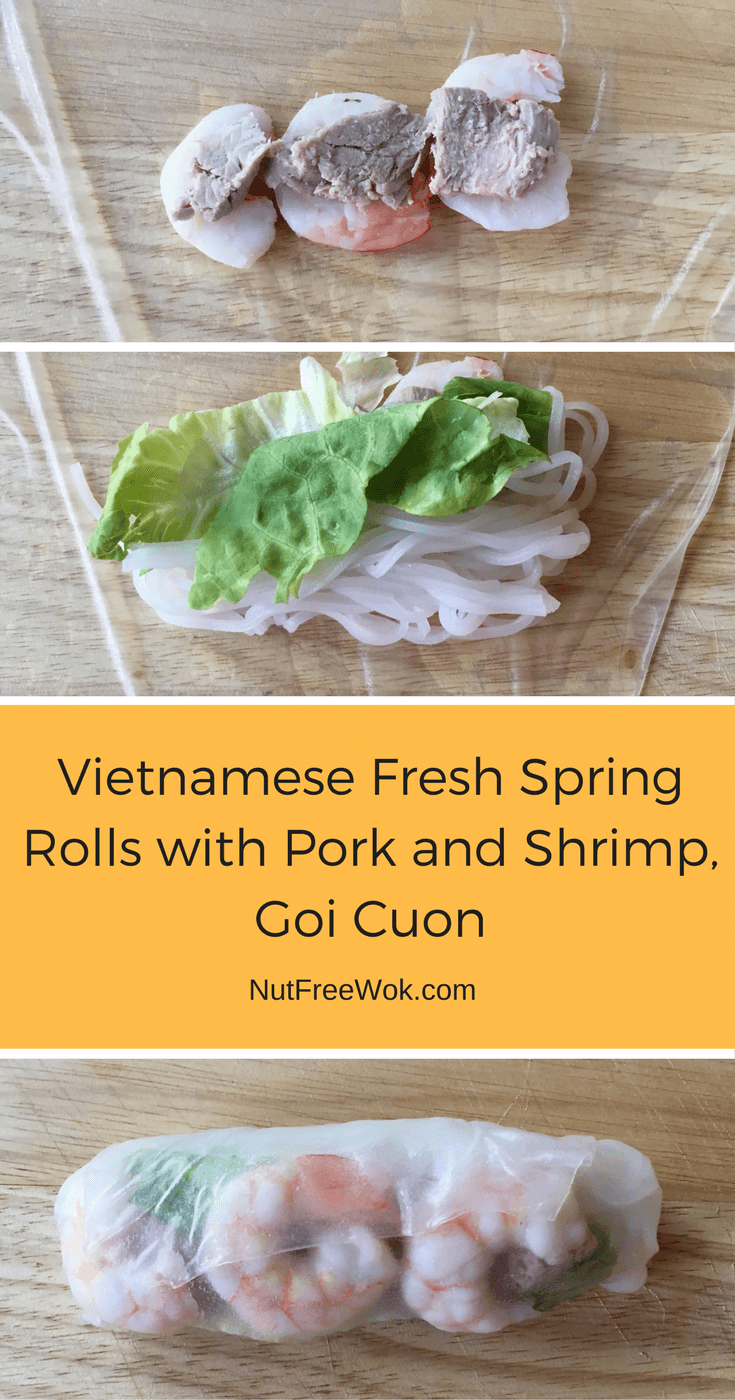 Thanks for reading, please help Nut Free Wok!
The best way to see every post or recipe is to subscribe to Nut Free Wok's email subscription (be sure to respond to the confirmation email). You will be notified by email next time I publish another post or recipe and I won't send you spam or share your email address with anyone.
If you enjoyed this post, please use the social media buttons below to share with others. I am on Facebook, Twitter, Pinterest, and Instagram as @nutfreewok and it's great to chat and interact on social media too.
Disclosure/Disclaimer:
I may mention the names of stores and/or brand names of products that I use because readers ask and I share products and sources which I use and think may be helpful to readers, all opinions are my own. Please note that manufacturing practices and ingredients can change at anytime without notice and readers are always responsible for assuring allergen safety before buying or consuming foods. NutFreeWok.com is a participant in the Amazon Services LLC Associates Program, an affiliate advertising program designed to provide a means for sites to earn advertising fees by advertising and linking to Amazon.com. Thank you for reading!