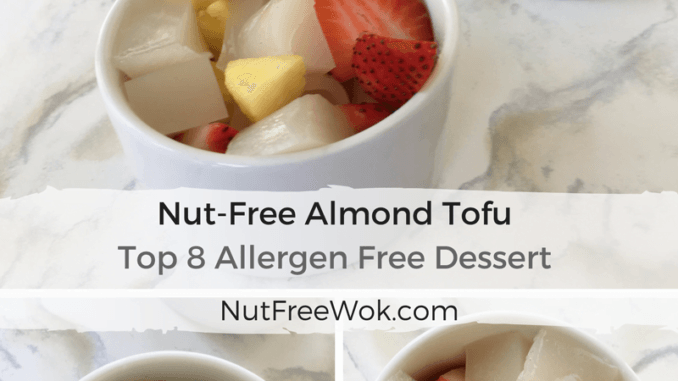 An Experiment with Nut-Free Almond Tofu
Almond Jelly, Almond Tofu, Almond Pudding…no matter what you call it, this nut-free almond tofu gelatin based dessert is so good. But how does someone with a nut allergy safely enjoy Almond Tofu?
Disclosure: I am a brand ambassador for Rodelle Vanilla because I love their products. All opinions are mine. This post may contain some affiliate links which help to support this blog, thank you.
This recipe for nut-free almond tofu is my dream dessert! Almond Tofu, also known as as hung yun dofu in Cantonese, xingren doufu in Mandarin, annin tofu in Japanese, only looks similar to tofu made from soy beans but almond tofu is a sweet gelatin based dessert that can be enjoyed by itself, with canned fruit, or fresh cut fruit and a drizzle of something sweet.
Almond Tofu is traditionally made of almond milk and set with gelatin. There are also packaged gelatin mixes that are as simple as making boxed gelatin desserts as well as easy recipes with milk, sugar, and almond extract.
I want to make this nut-free almond tofu recipe allergy safe and delicious that almost anyone may enjoy. Using almond milk for people with an almond allergy (or even any nut allergy) is not appropriate. But what about using almond extract?
Can People with a Nut Allergy Use Almond Extract?
I am a brand ambassador for Rodelle Vanilla and one of my readers asked me about whether the manufacturing of almond extract would pose a risk of cross contact of almond allergens to the other extract products. Before I agreed to be a brand ambassador, I had asked Rodelle about the topic of almond extract.
Rodelle does not make almond extract from sweet almonds, the type of almonds that we eat. Instead they use bitter almond oils which are made from peach, plum, and apricot pits. Apparently the FDA does not consider Rodelle's almond extract to be allergenic.
I feel comfortable with the presence of their not-allergenic almond extract in the facility and that it wouldn't pose any risk to their other extract products. I encourage you to contact Rodelle if you have any questions. One of the reasons I like them is because of their wonderful customer service.
Almond Extracts 101
As a side note, actual bitter almonds are illegal to use in the United States because bitter almonds contain high levels of cyanide and are poisonous. Instead manufacturers are able to extract "bitter almond oil" from the pits of stone fruits such as apricot, peach, plum, and cherry.
Some almond extract manufacturers use sweet almonds (the kind that we eat, also known as sweet almonds) or bitter almond oil (derived from almonds) or a combination. So unless you have had a discussion with specific brands, like I have with Rodelle, then never make any assumptions what is almond extract derived from.
Almonds have benzaldehyde, a natural compound found in drupes which accounts for the almond taste in almonds. As an alternative, imitation almond extract is allergen free because it is artificially flavored with synthesized benzaldehyde but it won't taste as good and you may need to use more extract.
I personally would not use any almond extract to make something for someone with an almond allergy out of precaution for two reasons. If someone has an almond allergy, some people might have a slight risk of cross-reacting to something that is botanically similar to almonds. And as discussed above, not all almond extracts are the same and some brands of extracts are allergenic and some are not. It's too easy to make a mistake or have a misunderstanding. If you have any questions, be sure to discuss with your allergist if you or someone you know is allergic to almonds.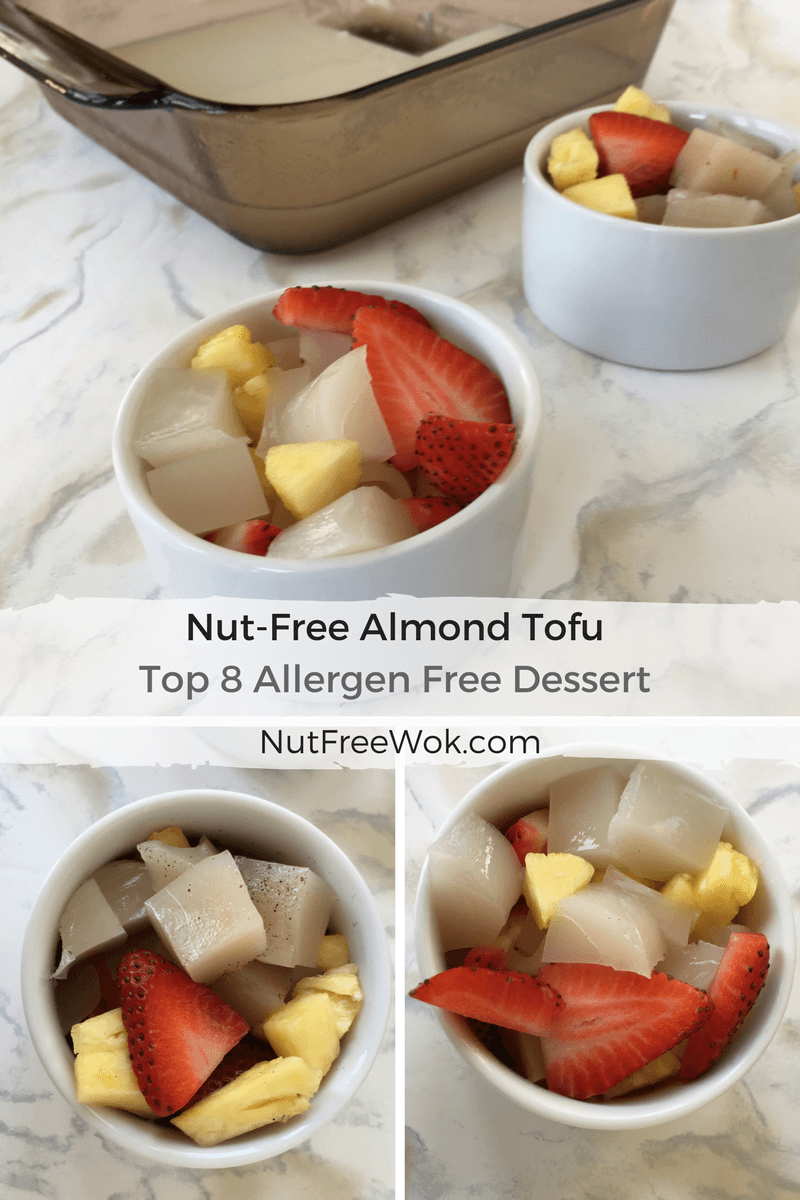 Allergy Aware Nut-Free Almond Tofu
How to substitute the almond extract:
Instead of using almond extract, I decided to experiment with the recipe two ways, 1) bakers know that one can substitute almond extract with a double amount of vanilla extract and and 2) imitation coconut extract, coconut is also a drupe and has that amazing benzaldehyde fragrance and I used imitation coconut extract which should be allergen free. Both variations of nut-free almond tofu were delicious so you can use either vanilla or imitation coconut extracts that you have available.
My kids have never had almond tofu and had no expectations and loved it. My husband and mom have had almond tofu and loved both desserts. The imitation coconut nut-free almond tofu smelled and looked just like almond tofu, everyone in my family loved it but my son with the sensitive palate prefers the taste of real vanilla over imitation coconut.
The vanilla nut-free almond tofu wasn't a perfect copycat of almond tofu because I used a combination of vanilla extract and vanilla bean paste (yum) therefore it wasn't perfectly white and the specks of vanilla settled on the bottom. If you are interested in Rodelle's products, visit their website or shop on Amazon (affiliate link).
How to substitute the milk:
Almond Tofu is often made from almond milk or cow's milk if it's made from scratch, so go ahead and use them if there are no allergy concerns with almonds or milk. I wouldn't substitute with soy milk as the soy flavor will be too strong and it'll taste too much like tofu tofu.
Coconut milk drinks don't seem to agree with me so I didn't want to try this recipe with coconut milk, but if you drink coconut milk regularly, please try it with this dessert and let me know how it turns out.
I made this recipe using flaxseed milk (I use Good Karma) and it was perfect. If you have a seed allergy too, I recommend a vanilla flavored rice milk or other neutral flavored alternative milk.
A Touch of Sweetness:
Depending on what fruits and the ripeness of the fruit you serve with the nut-free almond tofu, you might need a touch of sweetness.
You can make a simple syrup (boil equal parts of sugar and water until the sugar is dissolved). Simple sugar is allergen free but needs to be used sparingly for those who are watching their sugar intake.
An alternative is to sprinkle the cut fruit with a pinch of salt and a small amount of sugar and let it sit for 15 minutes before serving.
A quicker alternative is to use a drizzle of coconut nectar, which is low glycemic and has a lovely caramel flavor and reminds me of the brown sugar syrup that my mom used to make for desserts.
This nut-free almond tofu recipe is free of the top 8 allergens as written. 
This recipe should really be called nut-free "almond tofu" since it doesn't contain any almond or soy as the name might suggest. With a few simple substitutions, we can enjoy a great allergy aware Asian fare alternative.
The FDA classifies coconut as a tree nut even though it's a botanically a fruit in the drupe family and while some people might be allergic to coconut, it's very rare. If you are making this recipe for someone with a diagnosed coconut allergy, avoid using any of the coconut ingredients mentioned (coconut extract, coconut nectar) and the vanilla version is absolutely delicious. If you have any questions, please check with your doctor.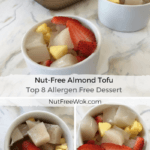 An Experiment with Nut-Free Almond Jelly
Almond Jelly, Almond Tofu, Almond Pudding...no matter what you call it, this nut-free almond tofu gelatin based dessert is so good.
Total Time
2
hours
10
minutes
Ingredients
4

tsp

of agar powder

2 packets of Knox

1/4

cup

room temperature water

3/4

cup

hot water

1/2

cup

sugar

1

cup

flax seed milk

or milk or other dairy free beverage

1

tablespoon

vanilla

or imitation coconut extract

Assorted fresh fruit

cut into bite sized pieces: pineapple, mango, strawberry, lychee, etc..

Simple sugar syrup or coconut nectar

optional
Instructions
Pour 1/4 cup room temperature water into a medium sized mixing bowl, sprinkle agar powder, and allow the agar to "bloom" (1 minute).

Add 3/4 cup boiling hot water and stir until the agar dissolves completely.

Stir in 1/2 cup of sugar and allow the mixture to cool until the bowl is warm to touch.

Stir in 1 cup of flax seed milk and 1 tablespoon of vanilla (or allergy safe almond or coconut extract).

Refrigerate until the jelly is set (1-2 hours).

Cut into bite sized cubes and serve with fruit and a drizzle of simple sugar or agave nectar.
Thanks for reading, please help Nut Free Wok!
The best way to see every post or recipe is to subscribe to Nut Free Wok's email subscription (be sure to respond to the confirmation email). You will to be notified by email next time I publish another post or recipe and I won't send you spam or share you email with anyone.
Disclosure/Disclaimer:
I am proud to be a brand ambassador for Rodelle, which means that I might mention their products in my posts. I share products and sources which I use and think may be helpful to readers, all opinions are my own. Please note that manufacturing practices and ingredients can change at anytime without notice and readers are always responsible for assuring allergen safety before buying or consuming foods. NutFreeWok.com is a participant in the Amazon Services LLC Associates Program, an affiliate advertising program designed to provide a means for sites to earn advertising fees by advertising and linking to Amazon.com. Thank you for your support!