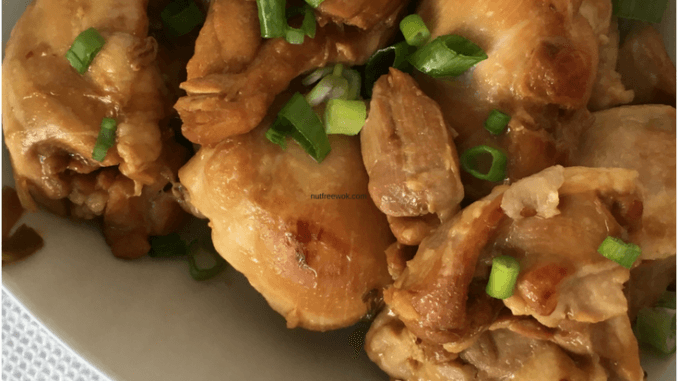 Instant Pot Chicken Thighs with Teriyaki Sauce Recipe & Review
My Instant Pot Chicken Thighs with Teriyaki Sauce Recipe is the second of three ridiculously fast and easy recipes that will help you have a hot meal on the table for a hungry family in a jiffy. If you haven't heard about an Instant Pot, you need to read my review about this amazing workhorse!
Disclosure: This post is not sponsored and the companies mentioned do not know that I am writing about them and all opinions are mine. This post may have affiliate links which will not affect your costs but if you use them, they will help to support the operating costs of this website, thank you!
Instant Recipe!
in my previous recipe post, Garlic Noodles, I mentioned that I made three dishes in 45 minutes. Here's the second recipe and I will publish the third recipe (roasted cauliflower with cheese) and a step by step meal plan next. For those who like to cut to the chase, here is the Instant Pot Chicken Thighs with Teriyaki Sauce Recipe in just a few words: Add boneless skinless chicken thighs, sauce, and aromatics to the instant pot, cook on the meat setting on low pressure for 8 minutes, release, stir, and serve. Voila and you're welcome!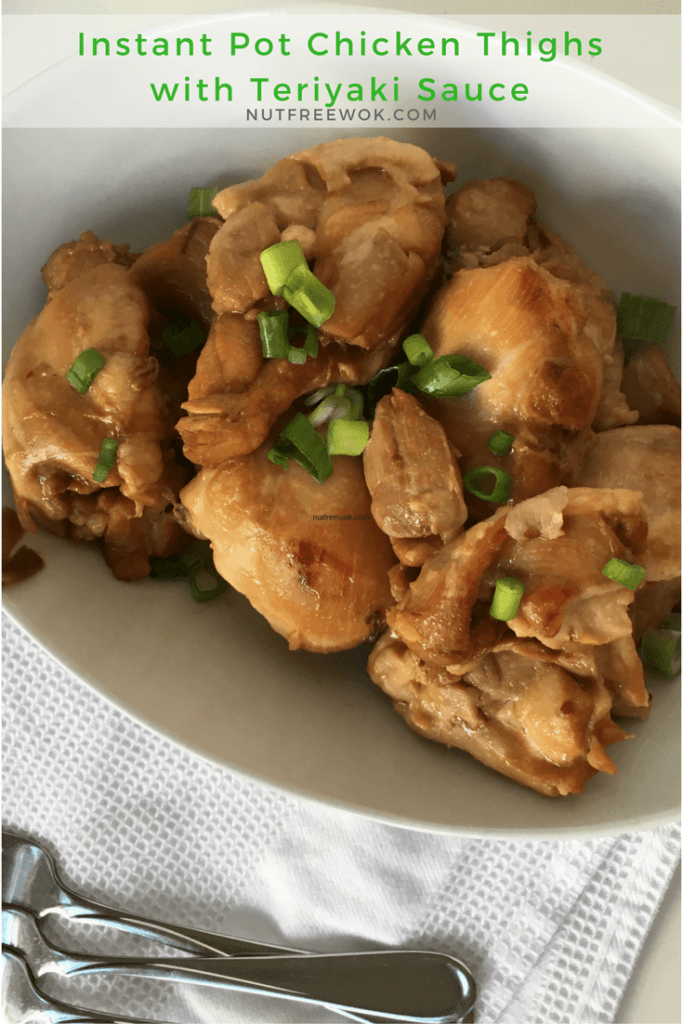 Instant Pot Review:
For those of you who like to pull up a chair, sip your coffee or tea, and hang out on my blog, let me first say thank you to the friends who have been raving about their Instant Pots. Thank goodness you told me about your amazing Instant Pots that can cook almost EVERYTHING! It can stir fry, steam, make stews, rice, porridge, and yogurt. If only it could wash itself and put itself away! 😉
Amazon had an Amazon Prime Day in July with special deals for Amazon Prime members. The latest model of the Instant Pot was half off. It didn't take too much encouragement to make an impulse purchase and thanks to Amazon Prime, the super smart pressure cooker was on my doorstep two days later.
I unpacked the Instant Pot, read the manual, and washed all the parts. I assembled it and did a trial run by "cooking" just water on the steam mode for a few minutes as suggested in the manual. I tasted the water and it tasted like plastic. Yuck, I wouldn't want ruin our food with funky tastes and smells from the pressure cooker! Fortunately, after cooking more water 6 more times, the weird taste lessened and eventually the water tasted like normal hot water, phew!
What Did I Make in the Instant Pot?
The first real food I cooked in the Instant Pot was corn on the cob, it was the best corn on the cob ever.
Then I made carrot soup, I've never made carrot soup that fast before.
I made brown rice, it was cooked and soft, but not fluffy, just adequate but not perfect. I think it's possible to cook brown rice with a little finesse and some practice. I still prefer using my Zojirushi rice cooker (affiliate link) which makes brown rice perfectly.
I made chicken soup, and the broth was very rich and flavorful.
I also cooked a super tough cut of beef which was amazing and delicious, super top secret recipe coming up. (Secret's out! I made beef tongue and soy-free soy sauce 2.0)
I made Japanese style curry in the Instant Pot and used the stir-fry function to brown the meats and vegetables first and then cook the stew on the meat mode. The curry was delicious and I was so happy to see that it was super easy to clean the Instant Pot and that strong flavors and smells do not linger in the pot at all.
I've also steamed artichokes in a fraction of the time it takes to steam them on the stove top.
Altogether I'm quite happy with the Instant Pot because it's a workhorse. I think the thing I love about it most is that I can set it up, let it cook until perfection, and it just waits for me until I'm ready to serve without becoming burnt, overcooked, or dry.
The only downsides are that the manual has limited recipes but not instructions on how to convert recipes and that the Chinese recipes are written in Chinese only. Fortunately there are Instant Pot cookbooks and websites as resources. It forced me to practice by making some simple meals. I finally felt ready to adapt one of my favorite recipes, broiled teriyaki chicken thighs, to cook in the Instant Pot (affiliate link).
Instant Pot Chicken Thighs with Teriyaki Sauce
The first time I tried making Instant Pot Chicken Thighs, I cooked boneless, skinless chicken thighs on the meat setting because it seemed like the right setting (not rice, not yogurt, not soup, etc.), low pressure (just for kicks, I had no idea what I was doing), and for 10 minutes (again, no idea but it's more time than cooking in a broiler and less time than trying to cooking chicken in a frying pan). It was good, but a little bit dry. The second time I made it, I cooked it for 8 minutes and the chicken thighs were just right, fork tender not chewy, juicy not dry.
Allergy Aware Asian Instant Pot Chicken Thighs
I use Mr. Yoshida's Original Sauce as a marinade, which is what I used before my kids were diagnosed with food allergies and even during the most difficult years, so I feel okay about continuing to use it. But I really dislike that the parent company won't disclose all of their ingredients which affects those with allergies to spices or non-top 8 foods or share an allergen advisory regarding potential cross contact. Since everyone has different allergies and sensitivity, please use whatever brand of teriyaki sauce that works for your family and adjust the amount of sauce you use as needed.
Did I tell you that I finally found Iron Chef Sesame Garlic Sauce? It's absolutely delicious, peanut and tree nut free per the label, and is nice as a dip or to use for basting. It took me two years to find Iron Chef sauces in my local stores (northern California readers might want to check their local Lucky's stores) or order via Amazon (affiliate link). Wan Ja San also makes a peanut and tree nut safe teriyaki sauce which works well as a marinade (but I didn't try it with this recipe). If you need other suggestions regarding allergy aware Asian ingredients, be sure to check out what is in my cupboard.
Wheat-free or gluten free: use tamari sauce and a tablespoon of sugar or honey, some ginger, garlic, and scallions
Soy free: use coconut amino, omit or reduce sugar or honey because coconut amino is naturally sweet, use garlic, ginger, and scallions.
Top 8 free: use some soy-free soy sauce if you have it on hand or try something totally different like Ironman's orange sauce. After you take the chicken out of the Instant Pot, thicken the sauce on the stir-fry mode for a few minutes until the sauce is a desired consistency, yummy!
This recipe is free of peanuts, tree nuts, egg, milk. fish, and shellfish as written.
Stay tuned for the third recipe of my 45 minute meal trilogy! I shared how I made chicken teriyaki thighs in the Instant Pot, garlicky noodles on my stove, and broiled cauliflower in oven and had a 3 course meal on the table in 45 minutes from start to finish. If I can do it, I'm certain you can too! Get the cheesy roasted cauliflower recipe and step by step instructions to make a complete meal in about 45 minutes.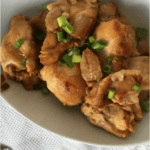 Instant Pot Chicken Thighs with Teriyaki Sauce Recipe & Review
My Instant Pot Chicken Thighs with Teriyaki Sauce Recipe is the second of three ridiculously fast and easy recipes that will help you have a hot meal on the table for a hungry family in a jiffy.
Ingredients
2

trays of boneless skinless chicken thighs

about 10-12 pieces

3/4

cup

teriyaki sauce/marinade

4

cloves

garlic

rough chop

4

scallions

trim the roots and ends, tear in half
Instructions
Combine all of the ingredients in the Instant Pot liner using a fork to poke the meat as you mix, marinate for 5 minutes.

Cook the chicken on the "meat" setting on low pressure and set the time for 8 minutes.

After the pressure cooker timer goes off, let it rest for 5-10 minutes while you prepare the rest of your dinner.

Release the pressure, stir the chicken, and serve.

If desired, thicken the sauce on the stir fry mode for a few minutes until desired consistency, and serve on the side.
Related Affiliate Links:
Iron Chef Sauces – Sesame Ginger will taste the most like a teriyaki sauce, 3 bottles for about $30 but about $5-6 at a supermarket.
Instant Pot – This newer model has a handle on the top because which is easy to grab and move around.
Thanks for reading, please help Nut Free Wok!
The best way to see every post or recipe is to subscribe to Nut Free Wok's email subscription (be sure to respond to the confirmation email). You will to be notified by email next time I publish another post or recipe and I won't send you spam or share your email address with anyone.
If you enjoyed this post, please use the social media buttons below to share with others. I am on Facebook, Twitter, Pinterest, and Instagram as @nutfreewok and it's great to chat and interact on social media too.
Disclosure/Disclaimer:
I may mention the names of stores and/or brand names of products that I use because readers ask and I share products and sources which I use and think may be helpful to readers, all opinions are my own. Please note that manufacturing practices and ingredients can change at anytime without notice and readers are always responsible for assuring allergen safety before buying or consuming foods. NutFreeWok.com is a participant in the Amazon Services LLC Associates Program, an affiliate advertising program designed to provide a means for sites to earn advertising fees by advertising and linking to Amazon.com. Thank you for your support!