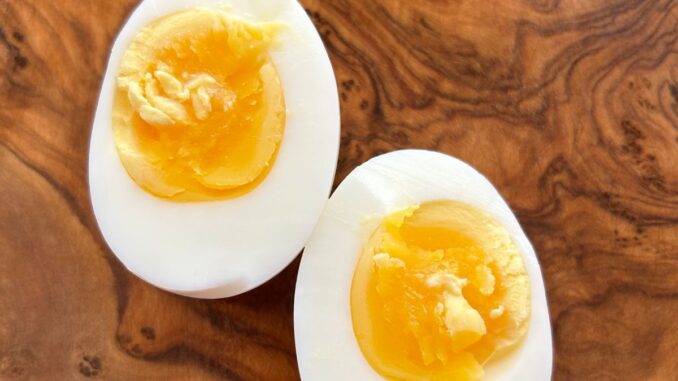 I've been making soft boiled eggs in my Instant Pot, which results in easy to peel eggs, with a perfectly set egg white, and a yolk that is set around the edges but has a little dab of jammy texture in the center. Soft boiled eggs are so easy to prepare in an Instant Pot with consistent results.
Disclaimer: Please check that all ingredients are suitable for your allergies and be sure to ask your medical care team regarding any allergy related questions (I do not share medical advice). As an Amazon Associate I earn from qualifying purchases.
Jump to Recipe
Why make soft boiled eggs?
One of the challenges about managing a nut-allergy is preparing nut-free meals or snacks that are portable, high in protein for satiety, easy to prepare, and budget-friendly. Eggs are great unless one is also allergic to eggs. One of my sons is not allergic to eggs and one has been desensitized to eggs via OIT so I need to think of tasty ways to include eggs in our meals.
I love having hard-boiled eggs to eat as a convenient and satisfying snack but some of my family members prefer less well-cooked eggs. A soft boiled egg might be a great breakfast or snack option for people who want to eat an egg but don't like the texture of a hard-boiled egg yolk. They're also perfect to marinate with soy sauce and mirin or eat plain with a nice bowl of ramen.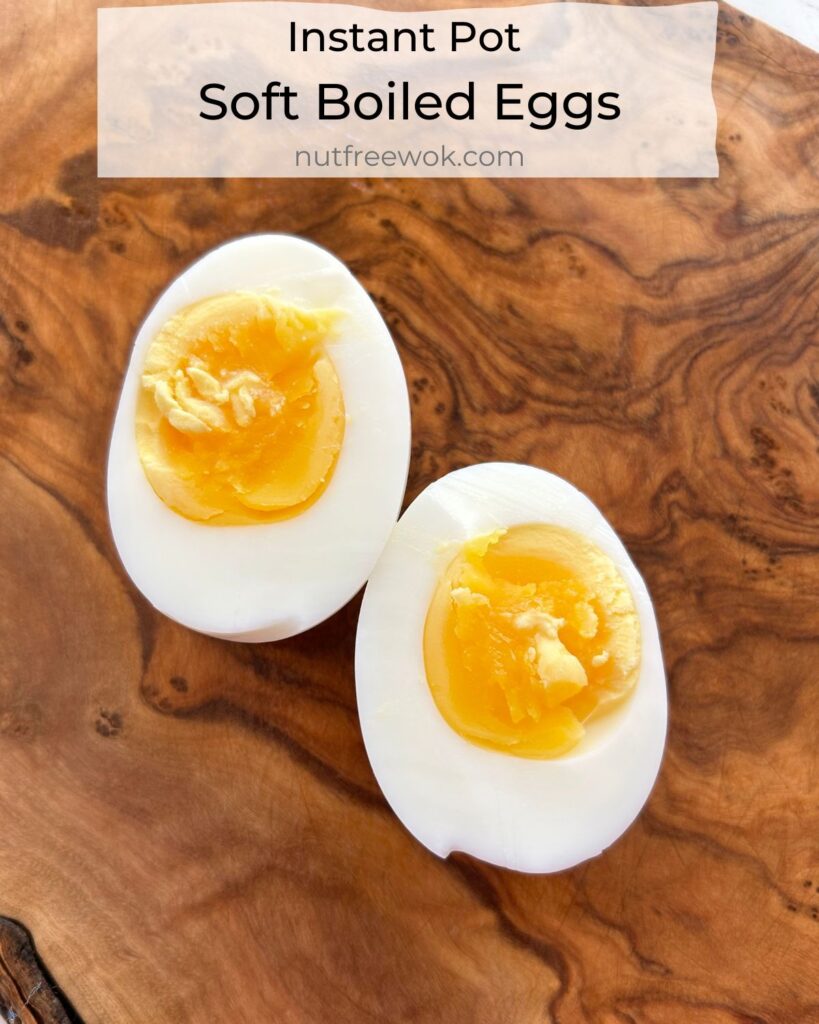 Why does pressure cooking eggs make them easy to peel?
My top reason to make soft boiled or hard boiled eggs in an Instant Pot is because pressure cooked eggs are easy to peel, the cracked shells slip right off. I was curious to learn why pressure cooked eggs are easy to peel? According to Laura at Hip Pressure Cooking, it's because steaming by pressure "creates a pressure difference between the exterior of the egg and the air pocket – inflating it and separating the white from the shell."
The air pocket is located in the wide end of the egg. When I am ready to peel the eggs, I gently tap everywhere to crack the egg but I start peeling from the bottom at the air pocket. If I feel any resistance, I will dip the partially peeled egg into the ice bath and the water will slip in between the egg and the membrane and the egg shell pretty much slides off.
Soft Boiled Eggs or Soft-Medium?
When I tested how to make soft-boiled eggs with the eventual goal of making some yummy soy-mirin marinated eggs, perfect for a Japanese ramen dish or an appetizer, I learned a few things:
Pressure cooking for 2 minutes resulted in eggs that were way too jiggly for me, the whites were barely set and the yolks were runny.
Pressure cooking for 3 minutes resulted in eggs that were just right for me. The egg whites were set and the edges of the yolk were set with a tiny spot of jamminess. Some people might consider that somewhere in between soft and medium.
I also tried making soft boiled eggs on the stove-top but some of the eggs instantly cracked. The rest were difficult peel and cooking them for 7 minutes was still too soft and jiggly. The eggs were so undercooked that I cooked them over my rice in my rice cooker. I will never win any cooking contests making soft boiled or hard boiled eggs in a pot! LOL
I think the perfect sweet spot might be 2.5 minutes of pressure cooking and then immediate pressure release. However, it's not possible program the Instant Pot to a fraction of a minute! I recommend you try my recipe as written and then adjust the timing to your preference.
Factors which may affect pressure cooking time
This recipe is simple but timing is everything to make a soft boiled egg with set egg whites and a slightly runny yolk. Others may want it more or less cooked. How you adjust the timing may be affected by some of the following factors:
Wattage: I use an Instant Pot Pro (affiliate link) which has a higher wattage (1200 watts) than some other models. It will cook a tiny bit faster. I still am In Love With My New Instant Pot Pro – Review (2021).
Egg temperature: I also use eggs straight from my refrigerator. I suspect that if I take the eggs out earlier or warm them up in a bowl of warm water for a few minutes, then they may perfectly pressure cooked in 2 minutes.
Amount of water: I pour in approximately half a cup of tap water into my Instant Pot. If you use less than that your pot might not come to pressure. If you use a cup or more, it may take longer for your pot to come to pressure.
Elevation: My recipe is for those at sea level. If you live at a higher elevation, you might need more pressure cooking time. Refer to chapter 1 of Chinese Instant Pot Cookbook (affiliate), if you want to learn more about pressure cooking at higher elevations.
Layers: I usually cook about 8-10 eggs at a time, which all fit in one layer on a trivet. In general, items which are placed further away from the base won't cook as fast. Your results may vary if you have a second layer of eggs.
Insulation: I use the metal trivet that comes with the Instant Pot. If you happen to use a silicone trivet or steamer basket, silicone is an insulator and foods take longer to cook.
I recommend you follow my recipe instructions the first time you try this recipe. Then depending on how the eggs turn out and what your preferences are, adjust accordingly. Happy cooking, I hope your eggs come out eggs-actly the way you like them!
Is it safe to eat undercooked eggs?
Before you make some soft boiled eggs it's important to be aware about the risk of food-borne illnesses and egg-safety precautions. If you are cooking for someone that is immunocompromised, very young, very old, or otherwise at-risk of health complications, it's better to be cautious and thoroughly cook eggs for them. The FDA has some guidelines on how to buy, store, prepare, serve, and transport eggs.
Cooked Egg Ideas
If you prefer to make hard boiled eggs, it's super easy using The Best Instant Pot Eggs recipe that I posted on my blog previously. This is the best way to make hardboiled eggs for deviled eggs because the yolks are perfectly centered and the eggs are easy to peel. Some other great recipes with thoroughly cooked eggs on my blog are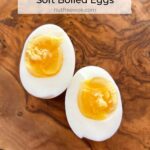 Instant Pot Soft Boiled Eggs
I've been making soft boiled eggs in my Instant Pot, which results in easy to peel eggs, with a perfectly set egg white, and a yolk that is set around the edges but has a little dab of jammy texture in the center. Soft boiled eggs are so easy to prepare in an Instant Pot with consistent results.
Ingredients
1/2

cup

water

tap or room temperature

8

eggs

large
Instructions
Add water to the Instant Pot liner. Place a trivet in the liner and arrange the eggs in a single layer. Cover the pot with the lid and lock it. Select pressure cook (or manual) on high pressure for 3 minutes and press start. At the same time, set a kitchen timer for 11 minutes.

Fill a large bowl halfway with ice and add cold tap water to create an ice water bath, set aside.

When the kitchen timer rings, stand by for the Instant Pot to finish pressure cooking and when it's done, quick release the pressure. When the valve drops, carefully unlock and remove the lid, and use tongs to transfer the eggs to the ice water bath and allow the eggs to chill for 10 minutes.

Serve immediately or refrigerate the eggs.
Recipe Notes
See the blog post for troubleshooting tips.
Thanks for reading, please help Nut Free Wok!
If you like this recipe, please be sure to give a 5 star rating, leave a comment, and share this post! Your support means a lot to me.
Subscribe to Nut Free Wok's email subscription (be sure to respond to the confirmation email). You will be notified by email next time I publish another post or recipe and I won't send you spam or share your email address with anyone.
Disclosure/Disclaimer:
I may mention the names of stores and/or brand names of products that I use because readers ask and I share products and sources which I use and think may be helpful to readers, all opinions are my own. Please note that manufacturing practices and ingredients can change at anytime without notice and readers are always responsible for assuring allergen safety before buying or consuming foods. NutFreeWok.com is a participant in the Amazon Services LLC Associates Program, an affiliate advertising program designed to provide a means for sites to earn advertising fees by advertising and linking to Amazon.com. Thank you for reading!