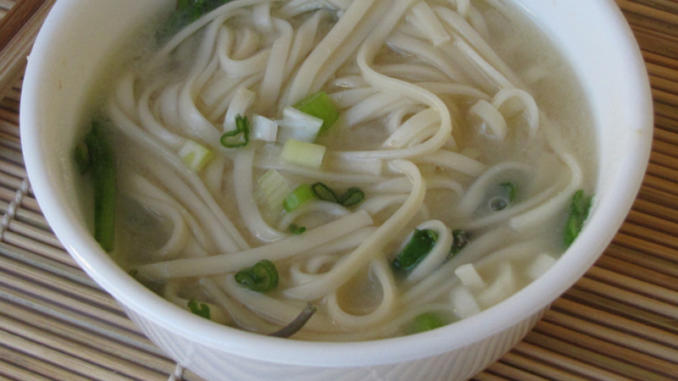 We can enjoy this miso noodle soup for breakfast, lunch, or dinner. We like miso soup noodle as a hot breakfast on a cold morning and we would top it with some chicken, tofu, and/or vegetable leftover from dinner for a complete meal. And I like it because I can only handle very easy recipes for breakfast (I'm not a morning person!).
Disclaimer: Please check that all ingredients are suitable for your allergies and be sure to ask your medical care team regarding any allergy related questions (I do not share medical advice). As an Amazon Associate I earn from qualifying purchases.
Disclosure: This post was updated on 11/21/22 for minor edits and that Trader Joe's discontinued a miso product and which one I use now.
Jump to Recipe
Japanese Style Breakfasts
I was recently reminded of my summer teaching English in Japan and recalled how surprised I was by traditional Japanese breakfasts: rice, miso soup, salad, grilled fish, and a variety of side dishes. My first introduction to natto, a fermented tofu that people either love or hate, was at the Tokyo Olympic Center!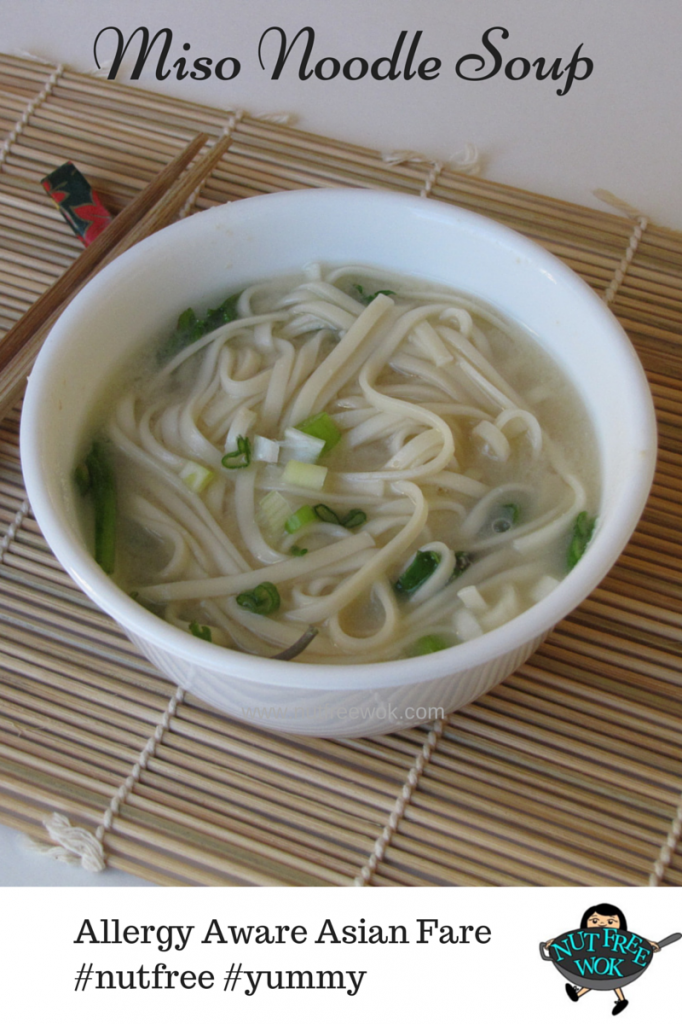 Later on, I had the privilege of staying at the home of Mr. & Mrs. Kamisaka, my beloved homestay hosts. Mrs. Kamisaka prepared multiple dishes for my breakfast every day, her meals were special and prepared with love and artistry. I loved the healthy, light, and satisfying breakfasts and they spoiled me, cereal or oatmeal was never quite the same again. I was inspired to make miso noodle soup earlier this week when I woke up feeling very cold and not very well. Warm fluids with some tasty noodles seemed like just the perfect breakfast for the whole family.
Allergy Aware Asian Fare: Miso
Miso soup is typically made from fermented soy bean paste and usually made with some dashi, a fish based broth, a pinch of seaweed, a spoonful of diced tofu, and a pinch of green onions as garnish. I've purchased the tubs of miso from Asian markets without ever considering whether there's any cross contact with peanuts or tree nuts and never had an allergy related issue. My only problem was not being able to finish a tub before the miso dried out or expired.
I had previously shared about a nut free miso that I bought at Trader Joe's but it's been long since discontinued. Nowadays I buy Hikari Miso from my local Japanese supermarket. The Hikari brand has a lot of different varieties of miso including organic miso made from organic soy beans, which I prefer. I have used their miso products for years without contacting them about allergen advisories. If I learn anything concerning, I will update this post again.
As an alternative to soy-based miso, South River Miso Company makes miso made from chick pea (garbanzo), adzuki, and barley as well as tamari sauce made from chickpeas. They do make miso with soy and when I asked by email about how they avoid cross-contact, they replied, "by making every thing in separate batches and by cleaning all our equipment thoroughly between those batches." I haven't tried their product so can't tell you about the taste, just letting you know that there are other miso options out there.
Allergy Aware Asian Fare: Noodles
I love organic dried noodles by Hakubaku and have been using their noodles for close to 20 years. I think they're delicious, have a great texture, cook quickly, and an essential pantry item. The cooking time is short, which makes their products perfect for quick meals at home or cooking on the go, such as using a propane stove when camping or picnicing. Their website and packages are clearly labeled with voluntary allergen advisories: "Our products are produced on shared lines that have products with wheat flour, egg powder, soy flour and buckwheat powder." Easy, right? Every food manufacturer should try labeling with allergen advisories! I usually buy Hakubaku noodles for $2.89 at my local Asian market and I stock up when they go on sale. I notice that it's also available online for a reasonable price which is worth looking into especially if you can't find them in stores near you prices can vary (affiliate)
. If avoiding wheat based noodles, you can substitute with a noodle product safe for you. When I attended the Gluten Free Allergen Free Expo, I tried some chewy but tasty noodles made with beans by Explore Asian.
At this point, I am sitting here wishing that food allergies were easier to manage. My family's worst allergens are peanuts and tree nuts, so all of Nut Free Wok's recipes will be nut free, but I am very empathetic to those of you who are managing additional allergens. In the back of my mind, I know that there are readers who are allergic to soy and can't enjoy regular miso. Some readers are allergic to peanuts but avoid soy due to concerns about the possible cross reactivity between peanuts and soy, both of which are legumes. Some people with peanut or soy allergies, are also allergic to other legumes such as chick peas, adzuki, or beans. Some readers are allergic to wheat or have gluten intolerances and are probably wondering what kind of wheat and/or gluten free noodles they can use and whether there is gluten in the miso.
Make Miso Noodle Soup Your Way:
I added a small handful of super greens, which is a new salad mix of baby Swiss chard, baby spinach, baby kale, and other vegetables to our family's bowls of miso soup and noodles. You can make miso noodle soup your way by adding small amounts of a couple of toppings that you like: edamame, cut corn, petite peas, chopped ham, diced tofu, green onions, half of a hard boiled egg, baby spinach, seaweed, sliced mushrooms, blanched bean sprouts, etc..
The portions in the recipes are for breakfast but would also be appropriate as a side that is served with other dishes during a meal. If you wanted to make miso noodle soup for lunch or dinner, double the recipe.
Miso soup contains probiotic properties which is beneficial to gut health. Avoid boiling or microwaving miso paste or miso soup to preserve the probiotic benefits from drinking miso soup.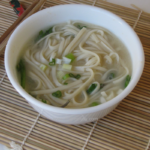 Miso Noodle Soup: Easy Breakfast for a Cold Morning
Miso Noodle Soup is a tasty and fast Japanese meal that can be enjoyed for breakfast or as a side dish. Double this recipe if serving as a lunch or dinner entree.
Ingredients
2

cups

super greens salad mix

baby spinach, baby swiss chard, baby kale

2

bundles

udon noodles

approximately 6 oz

2

tablespoons

miso paste

2 1/2

cups

hot water
Instructions
Divide salad greens into 4 soup bowls.

Cook dried noodles according to package, drain, rinse, and divide into bowls

Add miso paste to a large measuring cup and add 1/2 cup hot water and stir with a fork or a whisk until no longer lumpy.

Add 2 more cups of hot water to the miso mixture and pour into soup bowls evenly.

Optional: add toppings and garnishes of your choice
Thanks for reading, please help Nut Free Wok!
The best way to see every post or recipe is to subscribe to Nut Free Wok's email subscription (be sure to respond to the confirmation email). You will be notified by email next time I publish another post or recipe and I won't send you spam or share your email address with anyone.
If you enjoyed this post, please use the social media buttons below to share with others. I am on Facebook, Twitter, Pinterest, and Instagram as @nutfreewok and it's great to chat and interact on social media too.
Disclosure/Disclaimer:
I may mention the names of stores and/or brand names of products that I use because readers ask and I share products and sources which I use and think may be helpful to readers, all opinions are my own. Please note that manufacturing practices and ingredients can change at anytime without notice and readers are always responsible for assuring allergen safety before buying or consuming foods. NutFreeWok.com is a participant in the Amazon Services LLC Associates Program, an affiliate advertising program designed to provide a means for sites to earn advertising fees by advertising and linking to Amazon.com. Thank you for reading!