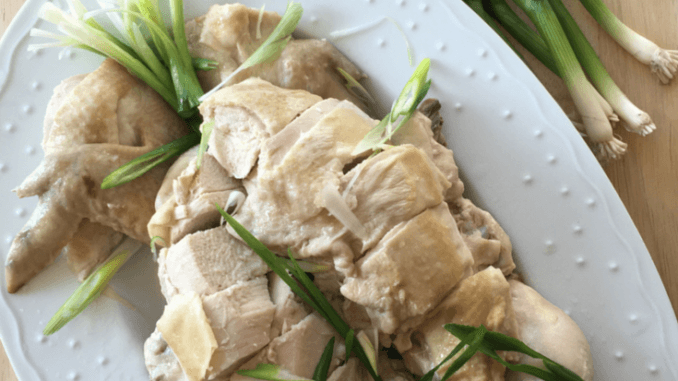 Bok Cheet Gai also known as White Cut Chicken is a gently poached chicken that is juicy, so tender that it's almost silky, and flavorful despite its simple preparation. My dad used to work part-time in the siu mei section of a Chinese meat market in Chinatown and he taught me the traditional way to make Bok Cheet Gai which is easy enough, but I've adapted his recipe by using a slow cooker for even greater ease. Scroll to the bottom for a list of other Chinese New Year recipes.
The traditional recipe for bok cheet gai is fabulously easy: chicken + water + heat, done! My dad also cut the chicken up with cleaver like a pro. I, on the other hand, am afraid of losing a finger while struggling with a hot slippery chicken. I discovered that the key to cutting the chicken is to let it rest and cool down.
Disclaimer: Please check that all ingredients are suitable for your allergies and be sure to ask your medical care team regarding any allergy related questions (I do not share medical advice). As an Amazon Associate I earn from qualifying purchases.
Jump to Recipe
One Chicken, Many Meals
Our oven self-destructed like a 4th of July sparkler a few weeks ago and we had to improvise with no stove for 2 weeks. When I snapped out of my "end of my rope moment" I made a list of small kitchen appliances to brainstorm meal ideas. I decided to try making Bok Cheet Gai in my slow cooker which resulted in many simple meals.
Bok Cheet Gai with a ginger and scallion dipping sauce with rice and veggies. My parents used to have me make a mustard sauce from Colman's mustard powder in the yellow tin cans. Some people like a little bit of soy sauce or oyster sauce in their ginger and scallion dipping sauce. Others might like it with hot chili sauce.
If we have any leftover chicken, I would discard the skin and bones and shred the meat for other uses. The leftover chicken was perfect for use in simple rice bowls, salads, and our favorite is a curried chicken salad that I used as a sandwich filling or as a topping for crackers. Eventually I figured out how to use a butane stove and my husband bought an induction cooktop for us to use while we waited for our new stove, and I would make a simple stir fry and toss in some cooked chicken at the end with some sauce, so perfect.
Chicken Rice Congee in a Slow Cooker: After I removed the cooked chicken from the slow cooker, I skimmed the fat off the top, added rice to make rice congee in a slow cooker for breakfast and lunch the next day. The timing was perfect as my son needed some soft foods to eat after oral surgery. And I added leftover chicken as a topping.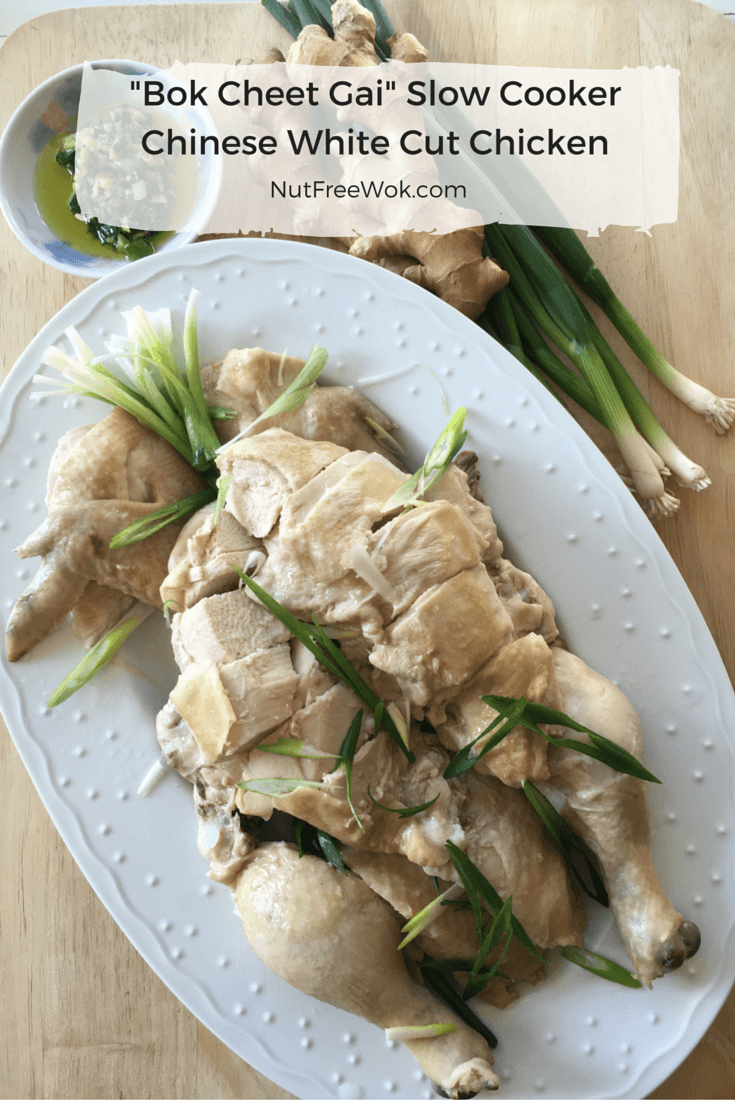 Chicken and Other Recipes for Chinese New Year
Since Chinese New Year is coming up in a couple of weeks, this recipe might be especially helpful for families trying to figure out an allergy friendly dish to share with their friends and relatives. A chicken is highly symbolic of prosperity and rebirth and Chinese people usually use a whole chicken including the head, neck, feet, and tail to symbolize completeness. I am not very traditional and settle for a regular supermarket chicken. If you need additional recipes for Chinese New Year, you might find the following nut free and allergy aware Asian fare recipes helpful as they are all considered auspicious dishes:
Cooking Tips and Slow Cooker Notes
The recipe is written for a 5 pound chicken, not including the neck and the gizzards (I usually look for a chicken weights 5.25 or so at the store). You will need a large slow cooker, my All Clad 7 qt capacity slow cooker (affiliate link) has a little extra room to spare. My slow cooker works consistently for me, but different slow cookers might cook at a lower or higher heat and timing may also vary according to the size of your chicken and how long has it been out of the refrigerator prior to cooking.
If you can see that the skin and meat are shrinking from the base of the drumstick and you can see the bone, your chicken is more than ready. A traditional bok cheet gai is perfectly cooked if the bone marrow is still a tiny bit pink and the breast is usually perfect but the dark meat will be a little too rare for my preference. I like it a tiny bit more cooked but not to the point where I can see the dark meat shrink and pull away from the bone.
The first time I made this in a slow cooker I still didn't have a working stove so I used a microwave, a hot pot, and an electric hot water dispenser to boil water and add the boiled water to the slow cooker and I cooked it for 2 hours, which was much too long.
The second time I made this in a slow cooker, I also added boiling water to the slow cooker, added the chicken, and cooked it for 90 minutes and the bok cheet gai was perfect.
The third time I made this, I decided to see if I could simplify a step and added cold tap water and after about 1.5 hours on high, the water temperature was only 145 degrees, much too slow and not even hot enough. Since my slow cooker insert is made for use on a stove, I placed the liner on my new stove and allowed the water to come to a full boil, put the liner back in the slow cooker, added the chicken and cooked it for 90 minutes on high. Apparently that was too hot and the resulting chicken was just OK, the dark meat was cooked and tender but the breast meat was a little too overdone.
Overall, I like the way I prepared the bak cheet gai the second time I made it which is a slower, lower temperature, and a more even poaching, which is the way this recipe is written.
This recipe as written is free of the top 8 allergens.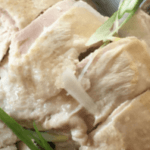 Slow Cooker Chinese White Cut Chicken "Bok Cheet Gai"
This is a modern adaptation of a traditional Chinese tender chicken gently boiled in a slow cooker instead of a stove top.
Cook Time
1
hour
30
minutes
Total Time
1
hour
40
minutes
Ingredients
1

large whole chicken

approximately 5 pounds

2

inch

piece of ginger

peeled and sliced (for the slow cooker)

4

cloves

of garlic

peeled

2

teaspoons

salt

1

inch

piece of ginger

peeled, grated or smashed and finely minced (for the sauce)

4

stalks scallions

trimmed and chopped

2

tablespoons

olive oil

1/2

teaspoon

salt

Additional fresh sliced scallion or cilantro for garnish.

optional
Instructions
Fill slow cooker halfway with about 4 quarts of boiling hot water (do not use hot water from the tap, boil water in a pot, use an electric kettle, etc.) and turn the slow cooker on high for 20-30 minutes.

Note the weight of the chicken, clean and rinse it, pay attention to removing all the innards from the cavity, trim off any excess fat, and use kitchen tweezers to pluck off any bits of feather.

Drain the chicken in a colander in the sink while you wait for the water in the slow cooker to finish heating up and prepare the ginger and garlic.

When the water is ready, add the chicken breast side up, add the ginger, garlic, and salt.

The chicken should be mostly covered with water, add more boiling water as necessary.

Cover, cook on high, and set a timer for 90 minutes but add more time if your chicken 5.5 pounds or larger or came right out of the refrigerator, reduce the time if your chicken is closer to 4.5 pounds or less.

When the chicken is ready, take the chicken out with couple of large slotted spoons or strainers and let it rest in a large bowl.

If you want to serve the chicken right away, allow it to rest at room temperature for 30 minutes (or until safe enough to touch) and then cut into serving size pieces.

If you are making the chicken in advance, allow it to rest at room temperature for 30 minutes, then wrap and refrigerate for up to 1 day.

Save the juices that run out of the chicken that are in the bowl and the slow cooker for stock or other purposes.

To serve the chicken, you can either carve the chicken (especially a good idea when serving to young children or people at risk of choking on bone fragments) or use a cleaver to cut the chicken and serve with a traditional presentation.

Remove the wings, cut each wing into two pieces, place them at the sides of the platter.

Remove the drumsticks and thighs, you can serve them as whole pieces or cut each part into 2-3 pieces and arrange on the other end of the platter.

Cut the torso down the middle through the breastbone and the back.

Separate the breast from the back through the ribs and cut the back pieces into 3-4 pieces, lay them down the center of the plate in between the wings.

Cut the breasts into 1.5 inch sections and arrange them down the center of the plate on top of the back pieces. Garnish with scallions or cilantro (optional).

To make the sauce: heat up a small frying pan or sauce pan at medium high heat, add the minced ginger and saute until fragrant (30-60 seconds), add chopped scallions and saute until wilted, stir in 1/2 teaspoon salt and transfer to a small bowl.
Thanks for reading, please help Nut Free Wok!
If you like this recipe, please be sure to give a 5 star rating, leave a comment, and share this post! Your support means a lot to me.
Subscribe to Nut Free Wok's email subscription (be sure to respond to the confirmation email). You will be notified by email next time I publish another post or recipe and I won't send you spam or share your email address with anyone.
Disclosure/Disclaimer:
I may mention the names of stores and/or brand names of products that I use because readers ask and I share products and sources which I use and think may be helpful to readers, all opinions are my own. Please note that manufacturing practices and ingredients can change at anytime without notice and readers are always responsible for assuring allergen safety before buying or consuming foods. NutFreeWok.com is a participant in the Amazon Services LLC Associates Program, an affiliate advertising program designed to provide a means for sites to earn advertising fees by advertising and linking to Amazon.com. Thank you for reading!