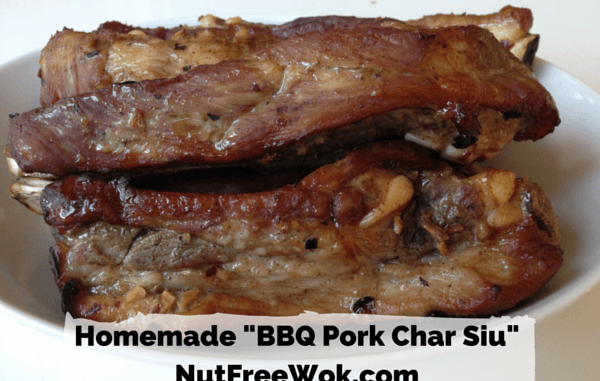 Make this "BBQ Pork Char Siu" recipe at home in your oven without any sesame or food coloring. I love this recipe because it's very flavorful and tender, and you can use the leftovers to make char siu bao or char siu cheung fun. This recipe does not use any peanuts, tree nuts, egg, dairy, shellfish, fish, or sesame.
Disclosure: This post was updated on 1/16/2022 with easier to read formatting, minor edits, and an updated picture. This is not a sponsored post. Although I did receive some samples from Spicely at some point, I always share my opinions.
Disclaimer: Please check that all ingredients are suitable for your allergies and be sure to ask your medical care team regarding any allergy related questions (I do not share medical advice). As an Amazon Associate I earn from qualifying purchases.
My Big Chinese Family Gatherings
I have a large extended family because Ah Gung, my grandfather, had 11 children. I grew up surrounded by many aunts and uncles and close to 30 cousins. We always had many family friends attend our family functions as well because my parents were in a close and extensive community of friends from the same area in China.
While my parents were from the Canton area and spoke Cantonese, their village dialect was Longdu. There aren't that many Longdu people. Anyone that could speak the dialect was considered family and invited to our family gatherings which were huge feasts usually cooked by one person.
How does one person prepare enough food for 30, 40, 50 people? My very clever mom and aunts always bought a few items from siu mei type restaurants, that specialize in roasted and prepared meats, such as roast duck, roast pork, whole soy sauce chicken, etc. to help them round out their menus.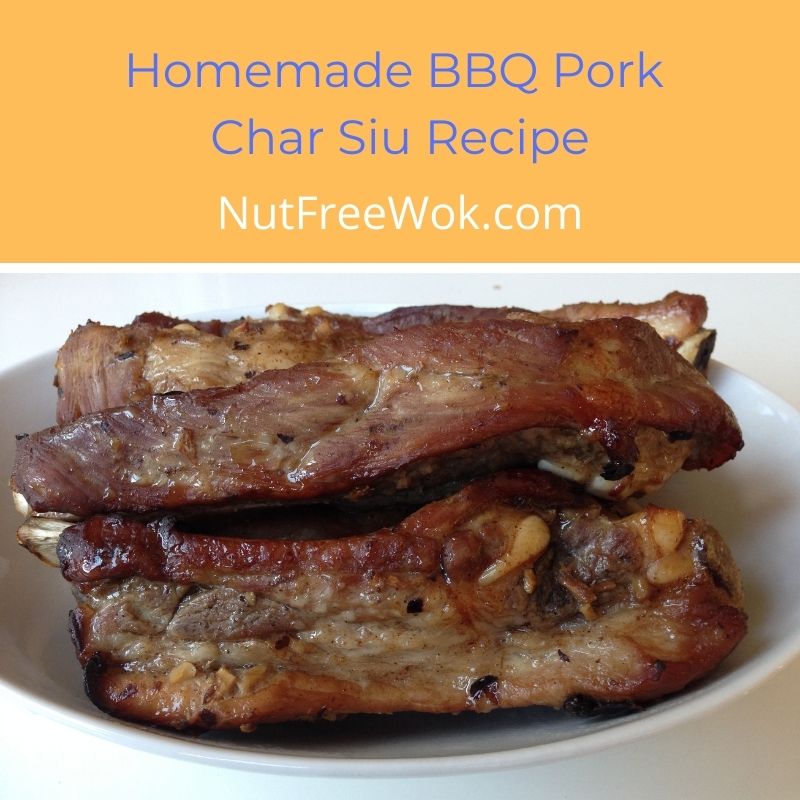 Why Make Allergy Aware Homemade Char Siu?
Fast forward 20+ years, our family has food allergies, I still enjoy the roasted meats. My children enjoy them reaction free, and yet I still feel uneasy about buying the meats from a take-out counter. The guy behind the counter takes an order, chops it up, and does it again for the next customer without any prevention of cross contact of allergens.
This is how it's done at every Chinese roasted meat counter. The workers are in a hurry and would just think I'm annoying to order a roast duck, for example, but ask exhaustively about ingredients used for the roast pork, BBQ pork, soy sauce chicken, etc.. Food allergies are hard enough to understand, I just don't have it in me to change tradition, but I could learn to make my own roasted meats.
Char Siu is an easy dish to learn. It is a sweet and savory roasted pork that is delicious over rice, stir fried into noodles, wrapped in dough to make Char Siu Bao, etc.. I looked up a number of recipes and ran into two problems, 1) I didn't want to use jarred Char Siu marinades because they contain red dye and 2) from scratch recipes call for hoisin sauce which I needed to avoid because, at the time, one of my boys had a severe allergy to sesame. I had to develop my own nut-free, dye-free, sesame-free recipe over the years and it's been good but I recently found an allergy friendly ingredient that makes the recipe fabulous.
Nut-Free 5 Spice Powder
One key ingredient that I left out for a few years is Chinese 5 Spice powder because I wasn't certain that it was nut free. When I found out that Spicely makes spices and seasoning free of top allergens (see their current allergen statement), I went to check them out at their store in downtown San Francisco (which closed a few years ago).
I was thrilled to learn that they make a 5 Spice Chinese seasoning containing star anise, fennel, black pepper, cinnamon, and cloves. I like a little licorice and black cardamon in my 5 spice but the results were amazing anyways and the spices were definitely fresh and flavorful! Nom, nom!
This recipe could easily serve 8-12. For our family, we eat the char siu with rice and vegetables the first night and then use the leftovers as an ingredient for other foods such as Char Siu Baos, little steamed buns filled with the bbq pork. If Spicely Organics or the 5 Spice seasoning is not available in your local store, you can order directly from Spicely or via Amazon (affiliate link). If you have questions about the other ingredients, you can cross reference with "What's in Nut Free Wok's Cupboard."
Allergy Aware Char Siu
This recipe is free of peanuts, tree nuts, milk, egg, fish, shellfish, and sesame as written. If allergic to soy, it would recommend trying to use a soy-free soy sauce instead of soy sauce and omit black bean sauce (also made from soy). If allergic to wheat or avoiding gluten, use tamari sauce which is gluten free and gluten-free hoisin sauce. Also be sure that the rice vinegar and mirin are also labelled gluten free. Refer to what's in my cupboard to find out what I use.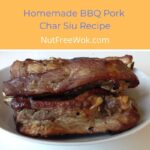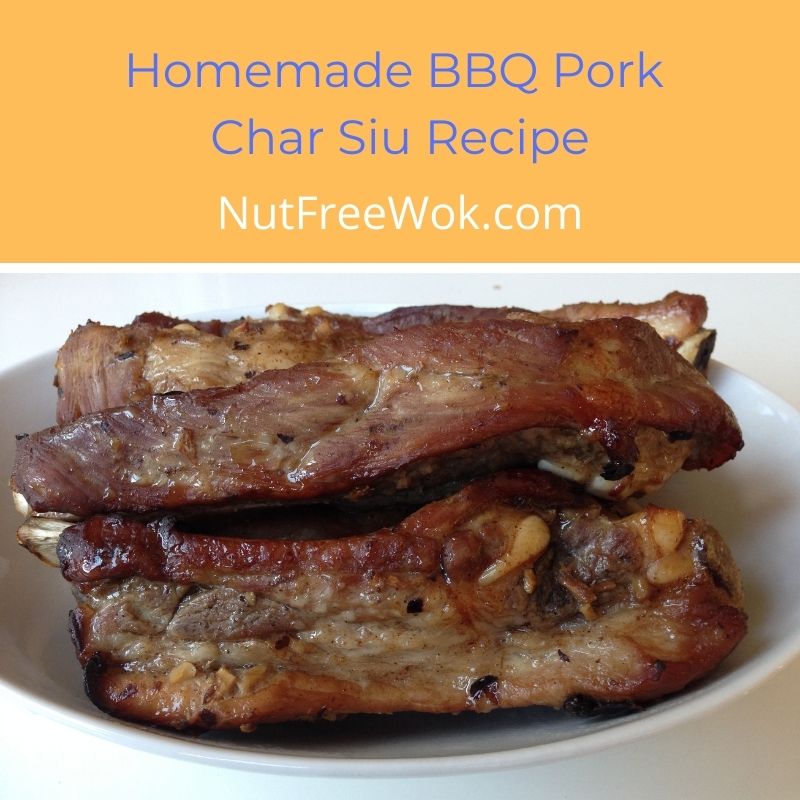 BBQ Pork "Char Siu"
Make this "BBQ Pork Char Siu" recipe at home in your oven without any sesame or food coloring. I love this recipe because it's very flavorful and tender, and you can use the leftovers to make char siu bao or char siu cheung fun. This recipe does not use any peanuts, tree nuts, egg, dairy, shellfish, fish, or sesame.
marinate several hours (up to overnight)
3
hours
Total Time
4
hours
5
minutes
Ingredients
3

pounds

pork country style ribs

1/2 tray from Costco*

1/4

cup

mirin

1/4

cup

honey

1/4

cup

soy sauce

2

tablespoon

black bean paste

1

tablespoon

rice vinegar

1

teaspoon

ginger powder

or 1 tablespoon finely minced ginger

1

teaspoon

garlic powder

or 2-3 cloves garlic, finely minced

1

teaspoon

Chinese 5 Spice powder

1/2

teaspoon

salt

1/8

teaspoon

freshly ground black pepper

or ground white pepper
Instructions
Whisk together all marinade ingredients in a large bowl, set aside.

Prepare meat by piercing it all over with a fork, add to the marinade and mix.

Cover and refrigerate for several hours or overnight and mix the meat again with a fork at least one time.

About 90 minutes before your targeted meal time, preheat oven to 450 °F, take the meat out of the refrigerator, and line a rimmed cookie sheet or a jelly roll pan with foil and place a roasting rack or a large sturdy cooling rack in it.

Drape meat on rack, arranging larger pieces along the edges and smaller pieces in the center for even cooking.

Roast for 20 minutes until the meat looks mahogany colored and the edges start to carmelize and brown and flip each piece of meat over to continue roasting for another 20-25 minutes.

When the second side also looks nicely roasted, remove the tray from the oven and tent the meat with foil for 10 minutes.

To serve, cut the pork across the grain into 1/2 inch thick slices.
Thanks for reading, please help Nut Free Wok!
The best way to see every post or recipe is to subscribe to Nut Free Wok's email subscription (be sure to respond to the confirmation email). You will be notified by email next time I publish another post or recipe and I won't send you spam or share your email address with anyone.
If you enjoyed this post, please use the social media buttons below to share with others. I am on Facebook, Twitter, Pinterest, and Instagram as @nutfreewok and it's great to chat and interact on social media too.
Disclosure/Disclaimer:
I may mention the names of stores and/or brand names of products that I use because readers ask and I share products and sources which I use and think may be helpful to readers, all opinions are my own. Please note that manufacturing practices and ingredients can change at anytime without notice and readers are always responsible for assuring allergen safety before buying or consuming foods. NutFreeWok.com is a participant in the Amazon Services LLC Associates Program, an affiliate advertising program designed to provide a means for sites to earn advertising fees by advertising and linking to Amazon.com. Thank you for reading!