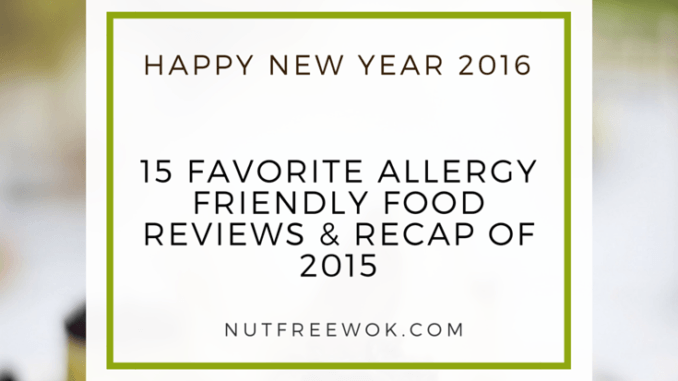 15 Favorite Allergy Friendly Food Reviews & Recap of 2015

Readers often need suggestions for an allergy friendly food and ask "what brand of xyz do you use for making…"? I take your questions very seriously when I share reviews. When I am not working on recipes, I spend a lot of time talking with manufacturers about their products which could be used to create Allergy Aware Asian Fare and everyday snacks and meals. I have 15 products to share with you at the end of 2015. Grab a cup of tea or coffee as I bring you up to speed in no particular order and recap the year…
Disclosure: This is an unsponsored post, some of the allergy friendly food products I've mentioned are items I buy for my family's use, some companies sent me samples for review as noted below. All opinions are mine. This post contains some affiliate links, which do not affect your price but allows me to earn a small commission to help offset the costs of this blog, thank you.
Iron Chef Sauces: Peanut and Tree Nut Free Asian Sauces

Nut Free Wok readers have told me about Iron Chef Sauces and I have not found them until recently at Lucky's. I tried the Sesame Garlic sauce and absolutely loved it, it's sweet and salty and behaves perfectly as a glaze. I haven't tried the other flavors and cannot obtain additional allergen information beyond what's on the label. If your local store does not carry them, you can also buy them online (affiliate link). I can understand why some people would love them, they taste great and are easy to use once in awhile.
Organic Fensi Vermicelli by BGreen Foods: Top 8 Allergen Free, Gluten Free Noodles

BGreen Food's Organic Fensi Vermicelli is one of my favorite food finds of the year. Fensi Vermicelli is organic, tastes great, and free of the top 8 allergens. My Cantonese speaking readers might think the product sounds like "fun see," the white bundles of noodles that become transparent after their cooked. These are very similar but they are made with organic peas instead of mung bean starch.
When I shared my recipe for Napa Cabbage Stir-Fry, I told you about my love-obsession for mung bean threads and how I hesitate to use them due to a recall a few years ago because a manufacturer added an unsafe additive. I eat these noodles worry free because they are organic. I soak the dry noodles in cold water as I prep and cook the napa cabbage, follow the cooking directions for making a napa cabbage stir fry and when the vegetables are 75% cooked, I add a 2 cups of hot broth and the soaked noodles (discard the soaking water), cover the pot and cook on low-medium heat for 5 minutes and season. It's so good and truly comfort food for me. I'm so happy that BGreenFoods sent me a sample but if I can find these locally, I would buy a case since it's a top 8 allergy friendly food, LOL.
Explore Asian Bean Pastas: Nut Free, Gluten Free Pastas, Made of Soy, Beans, and other Legumes
I've seen Explore Asian's Bean Pastas before at the Gluten Free Allergen Free Expo last year and they taste good with a sauce or in a soup. It's probably one of the better bean based pastas I've tried. They're allergen friendly for those who avoid gluten or wheat and need a high fiber, high protein pasta. They have a milder taste than other bean pastas. They also make some wheat based pastas and their Lo Mein noodles is simply the best and would go well with my Chicken Lo Mein recipe.
Don't Go Nuts Soy Spread Dips: Peanut & Tree Nut Free, Gluten Free

I love Don't Go Nuts and we buy their snack bars to keep on hand for emergencies, outings, and road trips. I tried their Chocolate Soy Butter for the first time after FABlogCon and I couldn't not leave my jar alone because I had to have it with everything. It totally satisfied a craving. Organic, nut free, roasted soy bean spread with chocolate is simply a mouthful of yummy. When Don't Go Nuts sent me some samples of their other flavors to try I very enthusiastically recreated my favorite peanut butter noodles using Don't Go Nuts soy butter which was very, very good.
However, for my sons the noodle dish brought back memories of their aversion to peanuts and the texture of peanut butter and my son, who very innocently asked me if I missed peanut butter and if it's good. Part of me wondered, did I cause him to feel like he was missing out or did he feel badly about causing me to miss out on a formerly enjoyed food? My enthusiasm for soy butter waned until recently.
One of Don't go Nuts' recently started making Soy Spread Dips, individually packaged little containers of their yummy soy spread. They're perfect for a quick grab and go snack. The texture is always soft and creamy since they are stored sealed and at room temperature. And I look forward to enjoying whatever flavors I like without having to try and finish an entire jar by myself. Their products are available online (affiliate link) via Amazon as well as their website.
Spicely Organics: Top 8 Allergen Free, Gluten Free, Organic
You might have seen little green boxes in the herb and spice section at your local supermarket, those are boxes of Spicely products. Their spices and herbs are all top 8 allergen free and gluten free and I love that I can buy small affordable amounts to try out different spices and flavors without much waste. On the other hand, it is more economical to purchase favorite spices and herbs in glass jars. They also sell some products in metal tins, which make it easy to stack and store but I think are difficult to open for those with hand strength or dexterity issues. My favorite spice is the Chinese 5 Spice which is essential for making Chinese inspired dishes such as 5 Spice Soy Sauce Chicken Drumsticks in a Slow Cooker.  Spicely also makes a line of tea and chocolates as well available on their website and Amazon (affiliate link). I try to look for basic ingredients which are top 8 free so that I always have ingredients to make allergy friendly food for guests with different allergies.
Nielsen-Massey Vanilla: Top 8 Allergen Free, Gluten Free extracts
I wandered into the Nielsen-Massey exhibit at the Winter Fancy Food Show by accident and I stayed for a long time because it smelled nice. Ever since my son's food allergy diagnosis, I only replace my bottle of vanilla extract with the exact same brand from the same store because I knew it was safe and well tolerated. Stepping into Nielsen-Massey's delicious smelling exhibit opened up so many possibilities. It turns out that my local Williams-Sonoma store carries Nielsen-Massey extracts and Amazon. You can read more about how I used their vanilla extract in my banana chocolate chip muffin recipe.
Saltworks: Top 8 Allergen Free, Gluten Free
I stumbled upon this company also at the Winter Fancy Food Show and picked up a few samples. When I contacted them to confirm that their products are free of potential cross contact, they sent samples of red Hawaiian sea salt.
Salt is salt, right? I never thought I would appreciate flavored salts but when I used a couple of spoons of Saltworks Alaea Hawaiian Sea Salt in my recipe for Kalua Pork with Cabbage, the dish was transformed and so much better. Regular salt is fine but Alaea Hawaiian Sea Salt rocks. When I ran out of the Hawaiian Sea Salt, I also tried the Yakima Applewood Smoked Salt and that also had an amazing smoky flavor. I feel like I've been missing out all these years!
I also never thought that it's possible for salt to have traces of allergens in them, but as I looked around the food show, I noticed that several brands of spices and salts had allergen advisories on their labels or on the websites when I checked later. Each Saltworks product has a certificate of authenticity which includes information such as origins and chemical analysis and includes the following allergen statement: SaltWorks is an allergen free facility. This salt does not contain any known allergens or specific components and is suitable for the following diets: Vegetarian, Vegan, Lactose Free, & Gluten Free. Salt does not contain Melamine. www.seasalt.com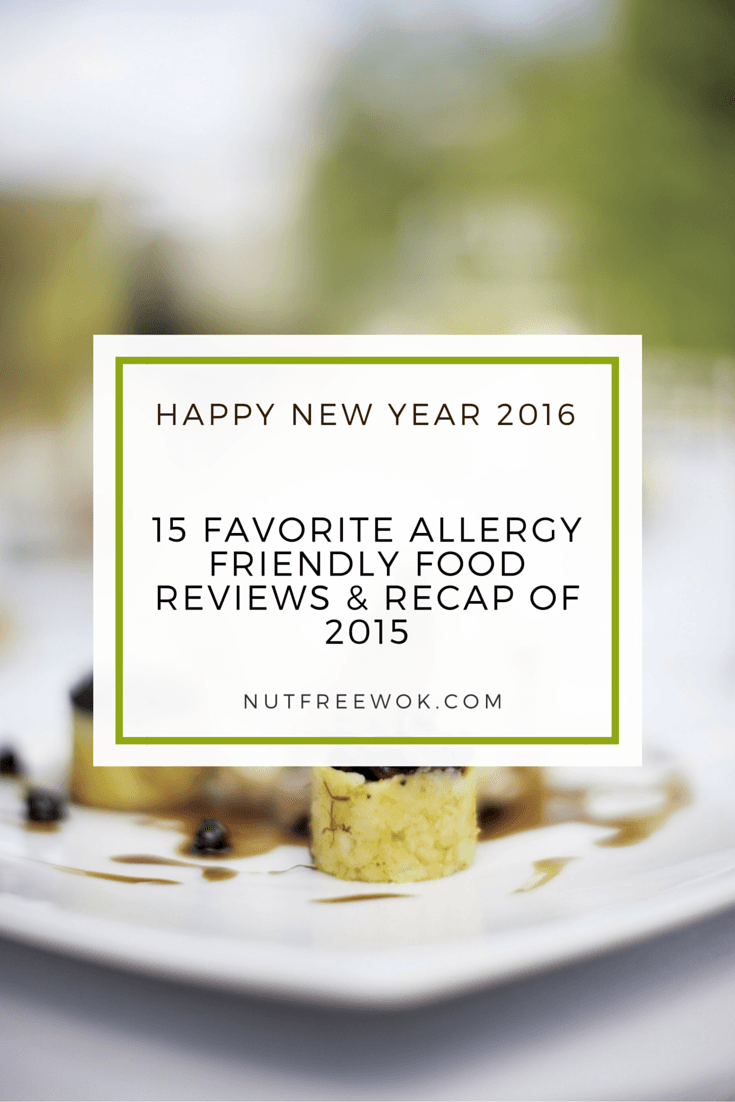 Wild Planet Foods: Fish and Seafood that are free of Peanuts, Tree Nuts, Soy, Gluten
It turns out I have been buying Wild Planet Foods canned sardines from Costco for years for our earthquake emergency food supplies. They taste great, are portable and easy to store, have a pull top lid (no can opener needed), and require no preparation to serve. I had no idea until I was contacted by their company that they have sustainable fishing practices and highly nutritious products. Their tuna pouch is a favorite product at our house and one of my sons would make a tuna salad (tuna, Just Mayo, shredded cheddar cheese, and green onions) to enjoy with crackers. It says a lot when teen boys are choosing tuna as a snack over typical snack foods.
Litehouse Foods Instantly Fresh Herbs: Top 8 Allergen Free
I have seen Litehouse Foods salad dressing and I wouldn't have known about their herbs if they didn't contact me and send me a few samples. All of Litehouse Foods Instantly Fresh Herbs are made in a top 8 allergen free facility and my two favorite Litehouse Foods Instantly Fresh Herbs are ginger and lemongrass. When my son feels a little bit sick with a cough, I make Comfort in a Bowl, Rice Porridge for him and add a bit of ginger. It saves me so much time so I don't have to go through the trouble of peeling, chopping, and washing a knife and cutting board just for 1 teaspoon of ginger. I also love using their lemongrass for Easy Juicy Lemongrass Ribeye Steak. My local Target carries some of the herbs but not ginger and lemongrass. They also make other products, all of which are peanut and tree nut free but may contain other allergens.
Torie & Howard Organic Hard Candies: Top 8 Allergen Free, Preservative and Additive Free
I missed their display at the Winter Fancy Food Show but was so impressed to read about them. When I reached out to them to confirm, they were so sweet to send me a gift pack. I am usually not a fan of hard candies but Torie & Howard Organic Hard Candies are extraordinary. I'm not exaggerating when I say they are mouthwatering and full of flavor. They have 5 fruity, tangy flavors: Meyer Lemon & Raspberry, d'Anjou Pear & Cinnamon, Pomegranate & Nectarine, Blood Orange & Honey, Pink Grapefruit & Tupelo Honey. They're flavorful and take awhile to melt, I could only eat one piece per day and at the end of the five days, I couldn't decide which one I liked best. Basically all the flavors are good. Also their tins are beautiful on the outside as well as the inside. It's a beautiful and delicious allergy friendly food treat to share with others (Easter basket, stocking stuffer, etc..).
Halfpops: Peanut & Tree Nut Free
Halfpops have been a surprise hit at our house. They look like puffed up unpopped popcorn kernels but they are surprisingly crunchy, edible, and delicious. I think it's a great substitution for those who miss crunchy nuts. The representative at the Winter Fancy Food Show assured me that they were peanut and tree nut free but I still wasn't sure if I would like it.  I picked up one little sample at the Winter Fancy Food Show and was so surprised by how much I liked it when I tried it at home. Trader Joe's carries their own version of Halfpops and they are also peanut and tree nut free as well and one of my sons also loves it (the other had braces at the time). Most recently, I found Halfpops at our local Lucky's supermarket and we have been trying the different flavors very happily. Unfortunately, I haven't been able to verify the possible presence of other allergens so be sure to check and double check if you manage more than peanut and tree nut allergies.
Miracle Noodle: Top 8 Allergen Free, Gluten Free Noodles

I met the folks from Miracle Noodle at the Winter Fancy Food Show and they sent me some samples of their products. They make a kosher certified, top 8 allergen free konnyaku or shirataki type noodles packaged with some water in a plastic pouch. It's considered a low carbohydrate food and suitable with those who follow low carb, diabetic, or grain free diets.
I happen to love shirataki noodles in Japanese styled soups and stews such as sukiyaki but since my kids don't like the chewy slippery noodles as much I do, I served it as a rice substitute so that everyone could try as little or as much as they want. I followed the directions by opening the package and draining the noodles in a fine colander, rinsing them, and boiling them for a few minutes before eating. I loved it, it tasted delicious with my chicken curry and unlike when I eat rice or pasta, I felt satiated and wonderful. Be sure to follow the cooking instructions on the package and check out their website for recipe ideas. I find them at Whole Foods Market in the Asian food section and they retail for less than $3 a package.
Koyo Organic Ramen: Peanut, Tree Nut, Egg, and Dairy Free
I recently found Koyo Organic Ramen, made by Koyo Natural Foods, at Whole Foods Market. These organic ramen do not have any chemicals, preservatives, or additives and are baked, not fried. We don't eat them all the time but they are simple to cook when we travel and I keep them around for our emergency supplies. All the flavors seem to be vegan and if you have any allergen concerns besides peanut, tree nut, egg, or dairy, I recommend that you read the ingredient label and contact the manufacturer, if necessary. It seems they've removed their allergen advisory from their website except to refer to the packaging, which do not have any allergen advisory. Update (via email 1/6/16): the company is in the process of updating their website and labels and are happy to answer your specific questions in the meantime.
Smart Flour Foods Pizzas and Pizza Crusts: Gluten Free, Peanut and Tree Nut Free
Smart Flour's pizzas gluten free crusts made with ancient grains were also a surprise hit at our house. They have two varieties of frozen pizza, Pepperoni and Margherita as well as a two pack of pizza crusts. Since one son cannot have tomato, I wanted to try making my own tomato free pizza with their crust. I have an Asian inspired pizza recipe, which turned out great and was a family favorite. I will write about it separately.
Daiya Cheezecakes: Top 8 Free and Gluten Free
All of Daiya's products are free of dairy, soy, and gluten and are certified vegan (no fish, shellfish, egg, dairy), and the Daiya Cheezecake is made in a peanut and tree nut free facility, which makes them free of the top 8 allergens and gluten free, a dessert which most people can enjoy is the ultimate allergen friendly food. I really enjoyed their cheezecake samples at the Food Allergy Bloggers Conference, I really like still partially frozen, not completely thawed. They sent me some additional information and coupons so I can buy some to share with my family and let you know via social media. Are you following me on Instagram, Twitter, or Facebook, yet? I'm @nutfreewok on all three platforms.
First Food Trade Show
I decided to attend my first food trade show by attending the Winter Fancy Food Show in San Francisco so I could learn more about food manufacturing and find more nut free snacks and Asian cooking ingredients. It was so much fun to walk around and talk with vendors for three days, nibbling on samples and checking out all the innovative and different products from around the world. I loved having the opportunity to meet with different manufacturers face to face and learn more about the food industry. It was great to meet the companies who get it and have our backs. You can read some of my recaps and discovered a lot of great allergen friendly products which I wrote about in 4 different write ups.
Stock Epi Update at the "Happiest Place on Earth"
Shortly after I launched this blog, I found myself advocating for stock epi legislation in California during most of 2014. But I cried tears of relief and happiness when Heidi Hannaman, Senator Huff's legislative aide, shared updates of when a California student's life was saved.
I also had the honor to attend Mylan's Food Allergy Bloggers Summit in May during which we were given an update about the use of stock epi in US schools. You can read more about our time at the summit and all the wonderful things that Disney does to accommodate guests, but the key take home points about the stock epi update underscore the importance to advocate regarding food allergies:
The main take home point is that more education is needed. 25% of anaphylactic reactions were not treated with epinephrine even though that is the best first line of treatment and 20% were not transported to a hospital to be observed in case there is a biphasic reaction. Schools need more anaphylaxis education and a robust anaphylaxis management plans for school staff, students, and visitors.
This study also underscores the value of stocking EAI in schools. Lives were saved because epinephrine was available for the 22% who had unknown allergies previously and among those who have known allergies (69%) only 46% used their own. Schools need strong anaphylaxis management skills.
If You Give a Mouse a Cookie, Extreme Home Makeover Style
We've lived in our house for 16 years and our home needed a fresh coat of paint and the tattered curtains needed to be replaced. As we planned that project out we decided to address other home repair issues to improve our health by updating the bathroom (eliminate mold/mildew) and removing carpets (reduce dust mites). We're really happy with the end results even though I still have an uphill struggle with unpacking and organizing.
We couldn't live in our house for a few weeks and had to stay in a hotel anyways, so why not go to Maui? It was a much needed break to be together as a family and I share our Maui Tips for Food Allergies. The renovations were not complete when we came home and we had to stay in a local hotel for a couple of more weeks. I was very grateful to have a clean place to sleep and a functional bathroom but I had to improvise a lot and in that spirit, I had the honor of sharing a simple recipe using a coffee maker with the readers of Kids with Food Allergies.
Managing our family life, looking after my children, and working on the blog related activities with limited access to computers, my kitchen, and home for a few months was definitely messy and complicated, but ultimately satisfying. I'm a little tired physically after such an exciting year but I also feel emotionally strong and resilient. I started off my year resolving to find more allergy friendly products to share with you and in case you missed it, I eventually did publish a post with our favorite ingredients that I use for my family. Read about What's in Nut Free Wok's Cupboard?
Happy New Year. I hope that 2016 will be a healthy and happy year for you. Thank you for being the best readers who ask questions, share feedback, leave comments, and sharing my posts and recipes with your friends and family. You are the best and I appreciate all of you. I look forward to sharing more Allergy Aware Asian Fare recipes with you.
Please help me out!
The best way to see every post or recipe is to subscribe to Nut Free Wok's email subscription (be sure to respond to the confirmation email). You will to be notified by email next time I publish another post or recipe and I won't send you spam or share you email with anyone.
If you enjoyed this post, please use the social media buttons below to share with others. I am on Facebook, Twitter, Pinterest, and Instagram as @nutfreewok and it's great to chat and interact on social media too.
Disclosure
I may mention the names of stores and/or brand names of products that I use, I have not been paid by any of the above companies to mention them. I share products and sources which I use and think may be helpful to readers,  all opinions are my own. Please note that manufacturing practices and ingredients can change at anytime without notice and readers are always responsible for assuring allergen safety before buying or consuming foods. NutFreeWok.com is a participant in the Amazon Services LLC Associates Program, an affiliate advertising program designed to provide a means for sites to earn advertising fees by advertising and linking to Amazon.com.