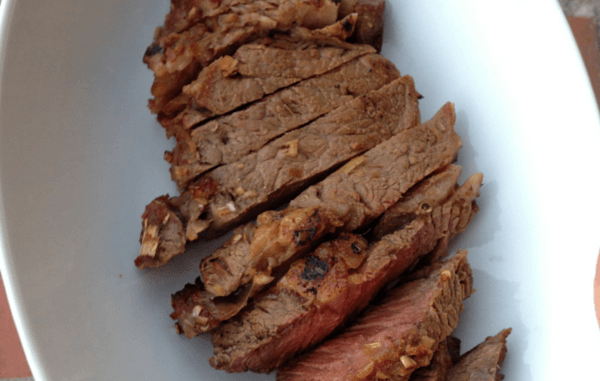 Easy Lemongrass Rib Eye Steaks Recipe
This Lemongrass Rib Eye Steak is easy and is as juicy and tasty as it looks. I figured out an allergen friendly and easy way to use lemongrass to remind you of Vietnamese style grilled meats.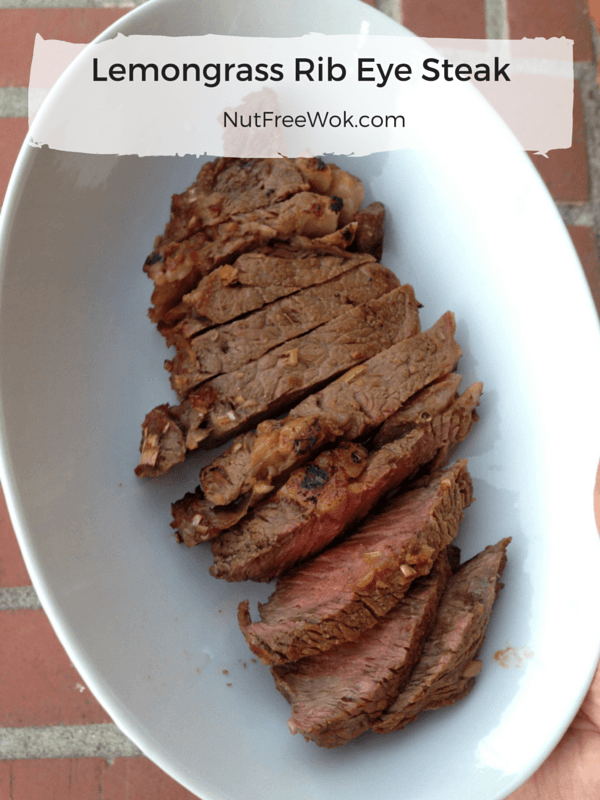 I wanted to make a lemongrass rib eye steak because I enjoy Vietnamese grilled chicken or pork. They're so flavorful and juicy regardless of whether they are served with rice and salad or over a bed of rice vermicelli noodles and shredded lettuce. Mmm, sounds so good just thinking about it but unless one can find a peanut free or allergy aware Vietnamese restaurants, I would have to learn to make Vietnamese style grilled meat at home in my oven.
Lemongrass is one of the key flavors in preparing these grilled meats. It's not an ingredient that my family used when I was a child thus I am unfamiliar with how to use it. All I know is that the people use the bottom few inches, peel off the tough outer layers, and mince up what's left. Sounds simple enough, right? But exactly what part is useable, what if I throw away the best section or include the inedible portions? If I could find them in a supermarket how do I pick out fresh piece? And the most important question is will lemongrass be a kid and husband approved flavor?
Lemongrass Solutions

There's the possibility of learning how to grow them found in this article by The Prarie Homestead. And Fine Cooking has some helpful suggestions on what it is and how to use it in this article. But I need a quicker solution which came to me in a pretty box of herb samples from Litehouse Foods, including a jar of Lemongrass for me to review. Their Instantly Fresh herbs are made in an herbs only facility and per their FAQ none of their products are made with peanuts and tree nuts, whoo-hoo!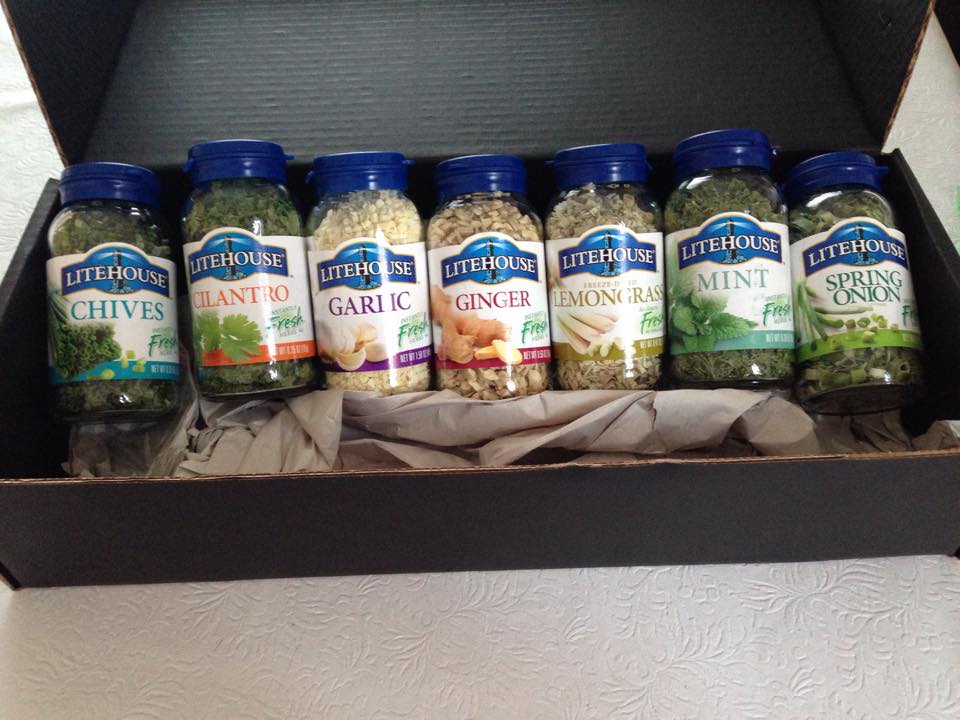 Confessions of a Food Allergy Mom
I was very adventurous about trying new foods when my children were little but we kept adding additional allergens to our list of foods to avoid. Over time I found myself hesitating to add new foods or new brands to our meals. It's much easier to keeping using safe and familiar ingredients than to cook and brace myself for something to happen despite my rational reasoning, in this case an herb made in an herbs only facility, free of the top 8 allergens. (If you're like me and like to peek at the end of a good novel, this lemongrass steak were promptly inhaled with no adverse effect other than feeling stuffed!)
What to Try First?
I first tried Litehouse Garlic and Ginger (affiliate links) in various dishes. The ginger is really very flavorful and a spoonful of it in a large pot of rice congee resulted in jook with a gingery spicy kick. It's so convenient to add garlic and ginger to marinades, soups and stews and I even add their freeze dried garlic and ginger to my honey lemon tea when I'm sick. But I don't like to use the rehydrated ginger or garlic for traditional stir fry recipes that involve stir frying the aromatics in oil first because the hot oil would splatter due to the excess water.
Lemongrass Steak Trial and Errors

By trying more familiar ingredients such as garlic and ginger, I knew I could expect that the Litehouse lemongrass (affiliate link) would be flavorful and better used as a marinade ingredient. I wanted to try lemongrass in a main dish that everyone would like after some trial and error, we love this easy recipe for Lemongrass Rib Eye Steaks.
For my first attempt, I bought tri-tip steaks and decided to try a combination of soy sauce + lemongrass for half the steaks and soy sauce + garlic powder for the other half, the results were mixed but no one disliked the lemongrass, so we were good to try again.
For my second attempt, I decided to marinade of soy sauce, garlic powder, and lemongrass and the flavor was much better all around but the steaks were just OK, maybe a little too dry.
The third try was just perfect because I bought Rib Eye steaks and marinated them with soy sauce, garlic powder, and lemongrass. I happened to buy steaks which differed in size and shape. Flatter wider steaks cook quickly and thicker steaks with a smaller circumference will be more rare when cooked for the same length of time. I sliced up the steaks, which yielded pieces that were "well-done" to "medium-rare" and suited all of our preferences.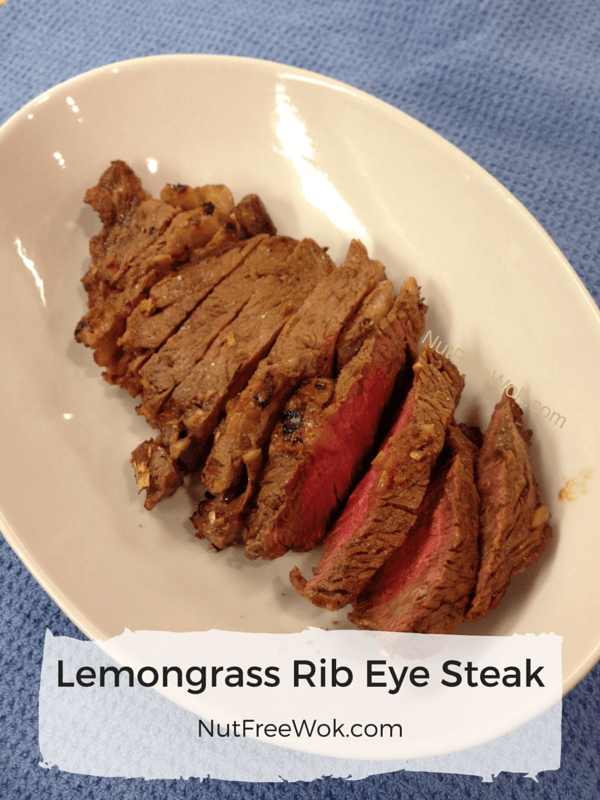 When I developed my recipe with the right ingredients, my family loved the lemongrass rib eye steaks and given the simplicity of the recipe, I know that I can keep cooking with lemongrass. Maybe someday I will try growing my own plants and cooking with fresh lemongrass but for now, this newbie loves the simplicity of using the jarred herb.
The recipe as written is peanut, tree nut, fish, shellfish, egg, and dairy free. If allergic to soy or wheat, try my recipe for soy free soy sauce or use a soy sauce alternative.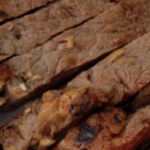 Easy Juicy Lemongrass Rib Eye Steaks
Ingredients
2

rib eye steaks

about 1 pound each

3

tablespoons

soy sauce

1

tablespoon

lemongrass

I used Litehouse brand

1

teaspoon

garlic powder
Instructions
Combine soy sauce, lemongrass, and garlic powder in a large bowl.

Add the steaks to the bowl and turn them over until thoroughly coated with the marinade.

Allow the steaks to marinate at room temperature for 30 minutes.

OR if prepping ahead, then cover the bowl with plastic wrap and marinate in the refrigerator for a few hours, take the steaks out of the refrigerator about 30 minutes before you want to start cooking.

When ready to cook, set an over rack about 4 inches away from the broiling element (second from the top position in my oven), preheat a broiler on high for about 5 minutes and line a pan with foil (optional, for easy clean up).

Broil for 7 minutes, then flip it over to broil for another 7 minutes for medium steaks (adjust your time plus or minus 1 minute depending on whether you like medium rare or well done).

Take the tray out of the oven and let the steaks rest for 5 to 10 minutes, resist the urge to poke it or cut into it.

When ready to serve, cut the steaks into slices and serve with the pan juices.
Thanks for reading, please show your support for Nut Free Wok!
The best way to see every post or recipe is to subscribe to Nut Free Wok's email subscription (be sure to respond to the confirmation email). You will to be notified by email next time I publish another post or recipe and I won't send you spam or share you email with anyone.
If you enjoyed this post, please use the social media buttons below to share with others. I am on Facebook, Twitter, Pinterest, and Instagram as @nutfreewok and it's great to chat and interact on social media too.
Disclosure/Disclaimer:
I am disclosing per FTC requirements that Litehouse Foods sent me samples to review and all opinions are my own. I may mention the names of stores and/or brand names of products because of reader interest. Please note that manufacturing practices and ingredients can change at anytime without notice and readers are always responsible for assuring allergen safety before buying or consuming foods. NutFreeWok.com is a participant in the Amazon Services LLC Associates Program, an affiliate advertising program designed to provide a means for sites to earn advertising fees by advertising and linking to Amazon.com.