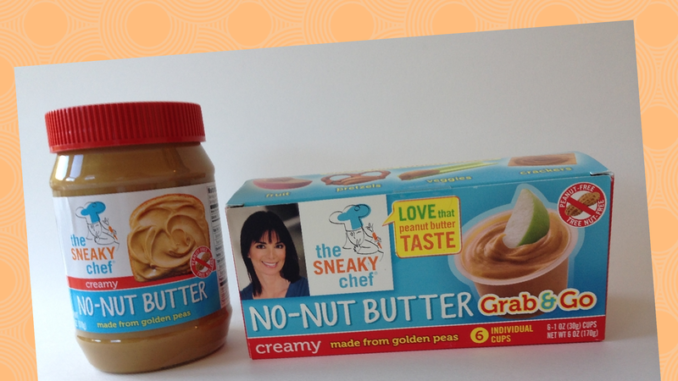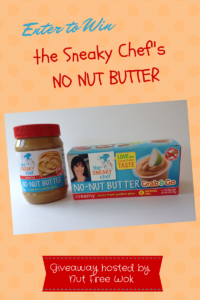 I was really excited when Missy Chase Lapine, The Sneaky Chef, a New York Times bestselling cookbook author, contacted me to ask if I would like some samples of her No Nut Butter made from golden peas to try and giveaway (YES!). Her website and products look intriguing with the goal improving our health by incorporating more vegetables by sneaking in vegetable purees. A few days later, our doorbell rings while we are having bagels for breakfast and a lovely package containing a jar of the Sneaky Chef No-Nut Butter and No Butter, Grab and Go (6 individual cups per pack).
My younger son, who loves peas, was very enthusiastic about tasting the No Nut Butter with his bagel but alas the texture was too similar to regular peanut butter and he couldn't eat and enjoy. My older son who likes other peanut butter alternatives (sunflower seed butter and soy butter) doesn't like peas didn't want to try No Nut Butter. However, I was quite impressed by the No Nut Butter: it's incredibly creamy and spreads easily, has a nice nutty roasted flavor, it's lightly sweetened. Even though my kids didn't love the No Nut Butter, I think it's a tasty nut butter alternative that my husband and I may enjoy without fear of making our boys feel sick or uncomfortable. With so many food restrictions, I love having choices. It's also a great alternative to share with friends and family who would want the convenience of a PB&J sandwich at school or on an outing but are very concerned about others with peanut or tree nut allergies.
Highlights:
Peanut, tree nut, soy and gluten free product
No HFCS, hyrdogenated oils, artificial colors or flavors
Creamy & smooth texture, easy to spread
Mild, nutty, roasted, slightly sweet flavor
Tastes very similar to peanut butter (too similar for some!)
Made from non-GMO peas, non-GMO canola oil, powdered sugar (contains cornstarch), salt, palm fruit oil, mono & diglycerides (vegetable source), citric acid
—> Nut Free Wok's First Giveaway!! <—
Yay, pretty exciting! Enter to win a jar of No Nut Butter and two packages of No Nut Butter Grab and Go! The raffle starts on July 2 and ends on July 7, 2014. You may earn multiple entries, good luck! Must be a US resident. Please see additional terms and conditions below.
Click here to enter into a Rafflecopter giveaway
Update: the giveaway is now over. Congratulations to the winner, Kristin O.!
For more information: Check out the Sneaky Chef's website (lots of free recipes), Facebook. or Twitter.
To order on Amazon: The Sneaky Chef No-Nut Butter Creamy — 18 oz
,  The Sneaky Chef Gluten-Free No-Nut Butter, Grab and Go (6 individual cups per pack)
Giveaway Terms & Conditions:
Prize: 1 jar of No Nut Butter and 2 packages of Grab & Go No Nut Butter from The Sneaky Chef.
Giveaway begins on July 2, 2014 at 12:00 AM EST and ends on July 7, 2014 at 11:59 PM EST. Entries will be verified. Current followers are eligible for extra entries. Protected Twitter accounts can follow for an extra entry, but cannot earn extra entries for daily tweets unless you accept my follow request so that I can verify entries. Nut Free Wok/Sharon Wong reserves the right to choose another winner if the winner does not have verifiable entries.
No purchase necessary to win. The giveaway is open to US residents only, ages 18 and up. Winner will be selected by Random.org and be notified by email. Winner has 24 hours to respond before a new winner is selected. Nut Free Wok reserves the right to publish the winner's first name and last initial. Void where prohibited or restricted by law. Taxes due, if any, on prize winnings, are the sole responsibility of the winner.
To enter, you must provide your email address so that the winner may be contacted. You agree to be added to Nut Free Wok's email subscription list and will have the option to unsubscribe at a later time. Email addresses will not be sold or shared (with the exception of the winner: your email address will be shared with the sponsor with the purpose of shipping your prize to you).
Nut Free Wok will not responsible for any technical failures or for any sponsors inability to live up to his or her prize obligation, or for lost, broken, damaged or stolen prizes. Please allow 4-6 weeks for delivery of prize, unless otherwise noted.
Disclosure:
The product provided for the review were free of charge from the company. The product offered for the giveaway is free of charge, no purchase necessary. My opinions are my own and were not influenced by any form of compensation. Facebook and Twitter are in no way associated with this giveaway. This post also contains affiliate links which supports Nut Free Wok without any additional cost to you. Thank you for your support.