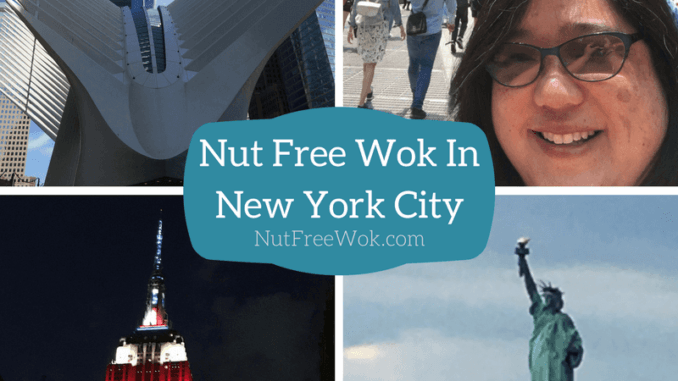 Our family recently visited New York City and tried some nut-free (or almost nut-free but allergy aware) restaurants near some tourist attractions around Manhattan and Brooklyn. I spent a lot of time studying New York City maps and guidebooks to determine what we want to see, how to get around, and we cross-referenced places to visit with nearby nut-free or allergy aware restaurants.
In the end, my husband organized our itinerary and made some restaurant reservations. I checked some of his restaurant selections online menus or called in advance. I'll include my short list of nut free bakeries and restaurants but didn't visit because they weren't near the attractions we went to on this trip.
Disclosure: I've mentioned some restaurants and businesses in the post below, but this post is not sponsored and I share my opinions and experiences to be helpful to Nut Free Wok readers. Readers are responsible for ensuring their safety, be sure to determine allergen safety before you eat as restaurants may change owners, recipes, ingredients, and policies without notice.
Disclaimer: Please check that all ingredients are suitable for your allergies and be sure to ask your medical care team regarding any allergy related questions (I do not share medical advice). As an Amazon Associate I earn from qualifying purchases.
UPDATE: This post was updated on 6/1/2022 with minor edits and to reflect that one restaurant closed. Edited on May 23, 2023 to add details from a second trip to NYC.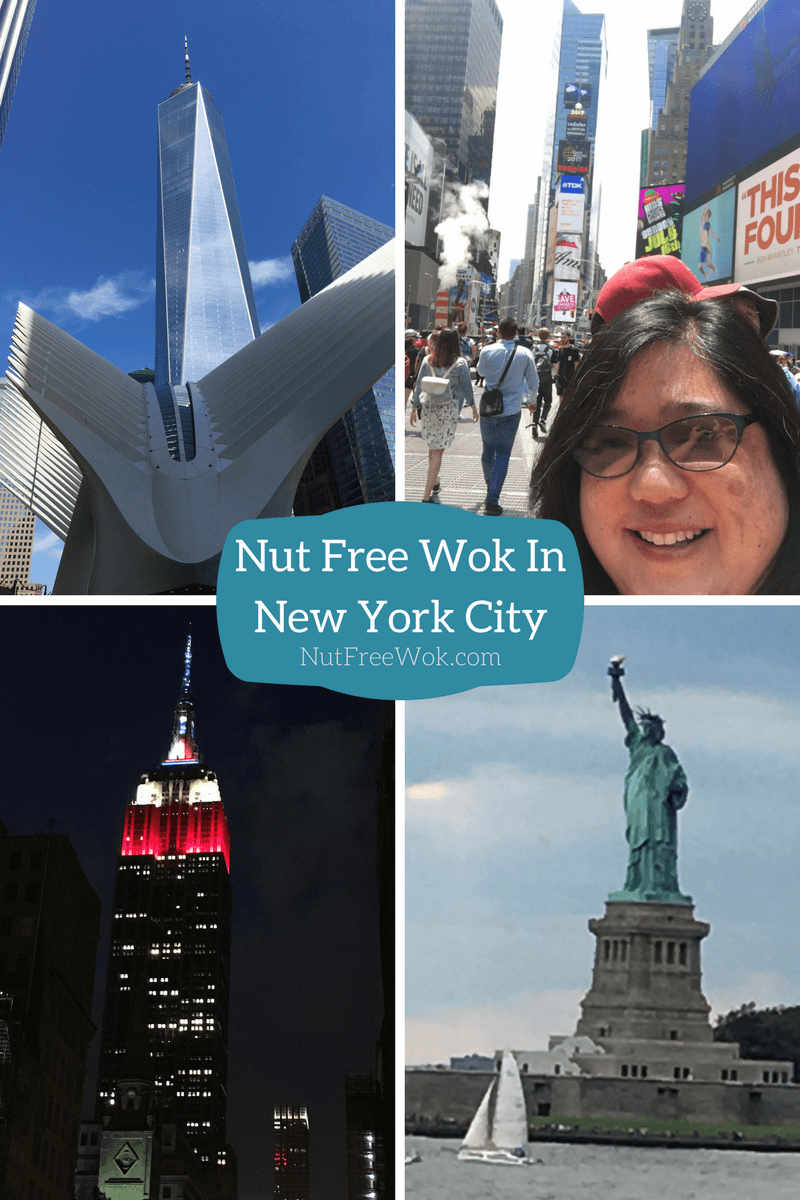 Day 1: Arrival and Explore Midtown
We stayed at Fairfield Inn & Suites on 33rd St. near Penn Station because we like the Marriot chain and because of the hotel's midtown location in New York City's Manhattan area, about 20-30 minutes away from downtown and uptown by train. As a point of reference, the hotel is within walking distance from Madison Square Garden and the Empire State Building. The hotel also has a lovely rooftop patio and bar with great view of the downtown skyline. We enjoyed the views from the peace and quiet of our top floor room. Our room also was equipped with a microwave and mini-fridge.
After we dropped off our bags in our room, we walked over to the Empire State Building to look around and then went to dinner at Kame Ramen at 435 Park S. The food was delicious. We ordered edamame (fresh soybeans with a touch of salt), takoyaki (it's like a savory donut hole with a piece of squid or octopus inside and tastes better than it sounds!), and the kids shared a kakuni bun (pork belly bao, they didn't look that impressed). I enjoyed my bowl of tonkatsu ramen (with creamy pork broth) even though I was feeling way too hot in July in New York. The menu might not be suitable for everyone as 6 of the top 8 allergens were offered on the menu but the restaurant does not use any peanuts or tree nuts on the menu. I can't find a website but have linked to Kame's page on Yelp.
Day 2: World Trade Center Area, Staten Island Ferry, Blue Smoke
We headed downtown to the World Trade Center area for a tour of the 9/11 Memorial, which I highly recommend. My older son was an infant when 9/11 happened and I remember that day with great sadness. I thought I might feel overcome with emotions but our tour guide was very informative and shared the lives and stories of some of the victims and heroes of 9/11 with respect and sensitivity. We ordered tour tickets that also include tickets to the 9/11 Museum, which was a time saver because we could skip the lines.
Lunch
We took a break in between the memorial tour and the museum for lunch at the Occulus which looks like a whale skeleton sculpture at street level, but it's actually an upscale mall and transit hub. We had lunch at Wasabi Sushi and Bento, it was a little bit hard to find but apparently they have two locations and the one we found is on the mezzanine level overlooking the entrance to the train station (don't take my word on this as I was a bit turned around, ha).
There are two main sections in this cafeteria style restaurant. In the refrigerated section, you can pick up individually wrapped sushi and cold sides, in the other section, you can select bento foods such as teriyaki chicken, curry, etc.. They also sell Japanese drinks and pre-packaged snacks.
There were signs about food allergies and potential cross contact with the top 8 allergens. I highly recommend taking typical precautions about food allergies and ask questions to determine safety before eating. There's probably a good chance of cross contact with fish, shellfish, wheat, egg, soy, sesame, etc.. in our case, none of the foods obviously contains nuts.
One of my sons selected a hot bento for his lunch, I specifically asked a cashier, who checked with a manager, who checked with a cook to confirm that there are not nuts in my son's bento selection. I would have felt better if we had called in advance but since Japanese food is usually fine for us (with the exception of certain salads and curry sauces), we had a great lunch with friends and continued with our day together.
Dinner
Later in the day we took the Staten Island Ferry for a free round trip ride to see the Statue of Liberty and the Manhattan skyline for the best deal in New York City. We were daunted by the planning necessary to see the Statue of Liberty and didn't have enough time during our quick trip. We lined up for the ferry, got off at Staten Island, and immediately got back in line to take the ferry to Manhattan. The ferry sells snacks and food onboard, we didn't check it out but it's worth mentioning for anyone who is sensitive to food smells, they might want to enjoy the ferry ride outside.
I know some New York food allergy moms online and it's always so much fun to meet in person. Pam Fernandez from Navigating Food Allergies was nice enough to organize a dinner meet up at Blue Smoke at the Flat Iron location (midtown) as an allergy friendly location to meet. We missed Pam because something came up at the last minute, but our family had a great dinner with Jennifer Kurko from Kiss Freely and Susan Kelly.
Blue Smoke is a southern BBQ restaurant, most of the items on the menu don't look like they have nuts and our waiter was very kind and accommodating. None of their menu items contain any nuts, they are very allergy aware and I didn't know it at the time, but they also have an allergen menu. I can't remember exactly what we ordered but we shared a meal family style with a few orders of meat and sides and the food was so good, we were still thinking about it the next day. I was most pleased with dessert, our family shared an order of 5 beignets made in-house. Being able to order an allergy safe dessert is the best way to end a worry-free meal.
Blue Smoke has two locations in Battery City Park (downtown) and Flat Iron. The Flat Iron location has a popular jazz club with a line out the door next door, which serves food from the Blue Smoke kitchen. So in theory an adult with food allergies could enjoy food, dessert, drinks, and jazz at the same time.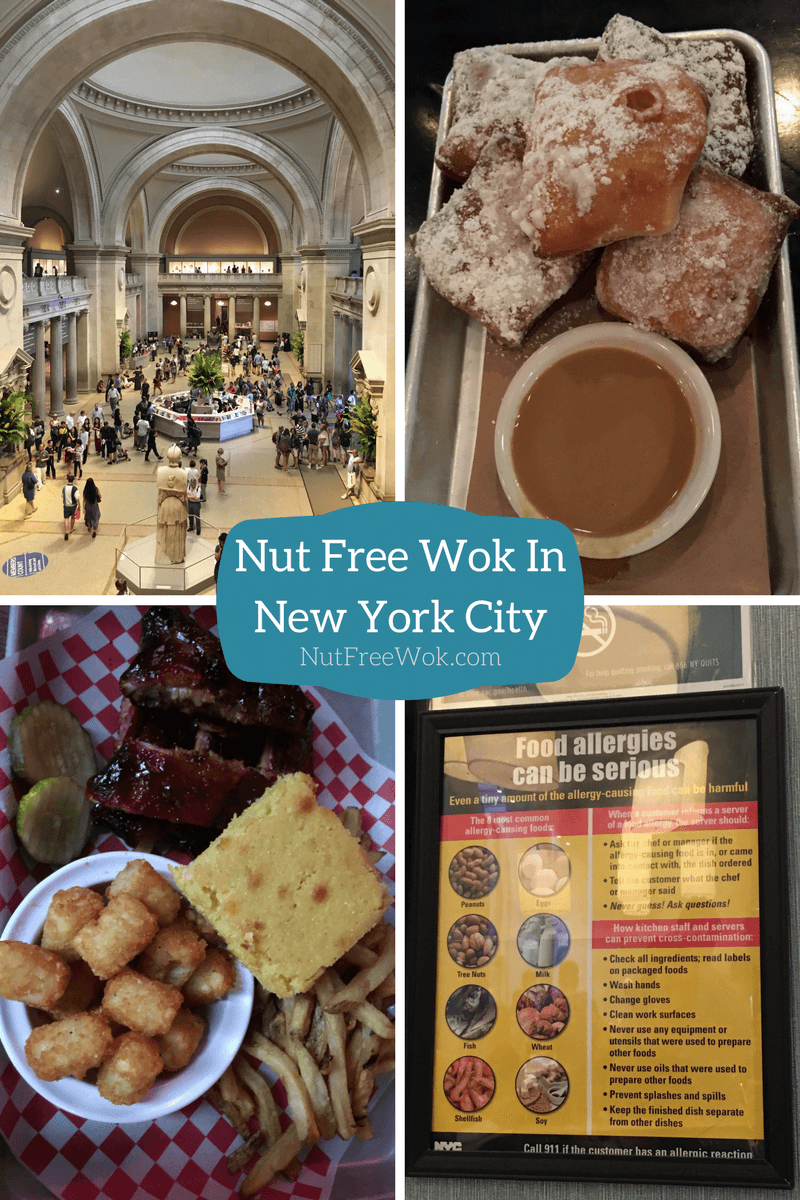 Day 3: Central Park Zoo, Metropolitan Museum of Art, & Brother Jimmy's BBQ
Our third day in New York City was actually July 4th so we were limited to visiting places that were open on the holiday followed by watching the Macy's fireworks show. We had a quick visit at the Central Park Zoo and then headed over to the Metropolitan Museum of Art.
Lunch
Since it was a national holiday and our day was packed, we opted to find a quick bite to eat at the Met. We first checked out a cafe near the American wing and there were a lot of nuts on the menu.
We then found The Cafeteria, located downstairs for some simpler fare. One station had PBJ on the menu so my children ordered pasta dishes which didn't seem to have any nuts on the menu. The Cafeteria also has soup, a salad bar, an antipasta bar, sandwiches, and prepackaged snacks, so there are a lot of different options even if you can't custom order your food. The food is delicious with a touch of creativity, which is very unexpected for a cafeteria style restaurant.
I really enjoyed the Met, partially because one of my favorite childhood books, the story of From the Mixed-up Files of Mrs. Basil E. Frankweiler (affiliate link) came to life in my imagination for me. I thought about where did the children who ran away from home and had an adventure of a lifetime living and hiding out at the Met. It's such a wonderful museum and a few hours wasn't nearly enough. However we had to leave to make our way to watch the 4th of July fireworks.
Dinner
My husband suggested eating at Brother Jimmy's BBQ (BBQ again!) at the Murray Hill location. (Update: all of the Brother Jimmy's BBQ locations are closed as of April 2022). It is a lively sports bar, family friendly, with some outdoor seating. I had called in advance to confirm that they didn't have any dishes containing nuts. Three of us ordered a BBQ with two sides and shared family style and one son really wanted a grilled cheese sandwich, it was a lot of food but we still had hours of walking and standing ahead of us. Compared to Blue Smoke, Brother Jimmy's BBQ was louder and more casual, reasonably priced for a lot of good food, but Blue Smoke's food was definitely more flavorful and prepared to perfection and the staff is much more attentive regarding food allergies.
The reason we were in the Murray Hill area is because it's within walking distance of the Macy's 4th of July fireworks show. We don't usually brave the crowds in San Francisco to watch fireworks but since we were on vacation and had time, we decided to experience the fireworks firsthand. It was a spectacular show and we felt safe among the well organized crowds as we walked on and off the freeway! It took us about an hour to slowly walk back to our hotel in the crowd.
Day 4: Rockerfeller Center, Times Square, and American Museum of Natural History
We went to Rockerfeller Center and found some fun ways to spend our time in the area. We walked into the LEGO store and took a photo op of a New York City inspired LEGO structure. Then we gave in to Nintendo fever and spent about an hour at the Nintendo store to play with their new gaming system, Switch (affiliate link). Apparently the system is portable and can connect with other systems. They're hard to find but the Nintento store at Rockerfeller Center receives a shipment every morning. A friend did me a huge favor and ordered it just in time for my kids' birthdays.
Lunch
Our next big destination was the American Museum of Natural History but we still needed to eat lunch. We walked to New York City's iconic Times Square, and hubby pointed out the bleachers where people wait to buy discounted Broadway theater shows for the same day. We took a few more photos and ended up at our nearby lunch destination: Havana Central Restaurant and Bar (at the Times Square location).
As soon as I walked into Havana Central, I felt transported to Cuba circa 1950's! The restaurant is spacious and airy, with big trees and warm lighting. The tables and chairs look like dinette sets from the '50's. The homestyle Cuban food is so delicious, I can't even wrap my head around it. My new favorite Cuban food: maduros, fried sweet plantains served with ropa vieja (like a pulled beef). There are no nuts on the menu and the server double checked before we ordered our children's meals.
We finally made our way to the American Museum of Natural History. There were long lines to buy tickets were super long and it seemed like there was an equally long line to redeem tickets purchased online. I recommend arriving early to make the best use of your time. Once inside, it's a fascinating museum with lots to see and learn. But I could not help thinking about scenes and characters of the Night at the Musem movies (affiliate link). Oh look there's the Teddy Roosevelt statue, there's the monkey, there's the Easter Island statue (dum dum)!
Dinner
We literally could not bear to leave until the very last moment so we missed our dinner reservations at Rosie O'Grady's, an Irish pub and restaurant near Times Square, and we ended up picking up a quick meal from Chipotle before watching Wicked. I have never seen Wicked before and it is a fun show that ties up some of the loose ends from the Wizard of Oz stories in a clever way. We saw Wicked at the Gershwin Theater and as we headed back on the subway, we bought fresh fruit and snacks at Food Emporium at 49th St and 8th Ave.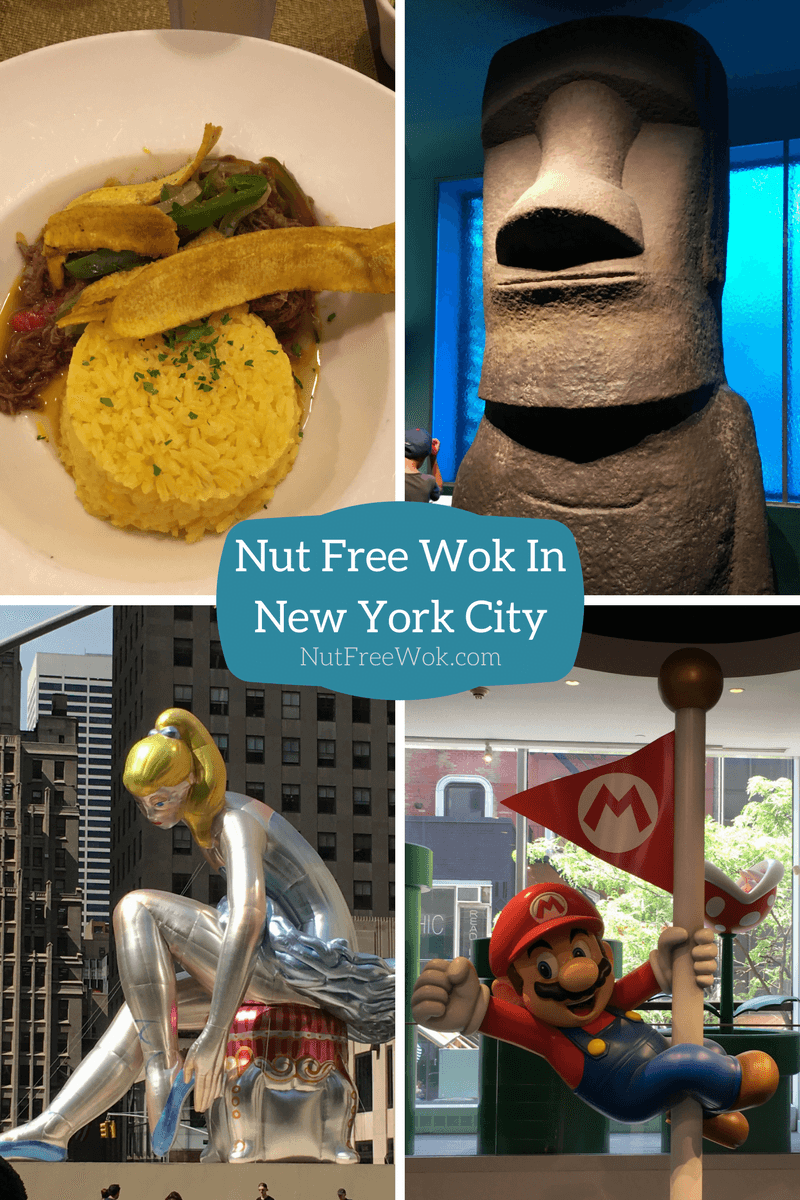 Day 5: Brooklyn & Greenwich Village Eats
Lunch
In the morning we walked around Brooklyn Heights Promenade for excellent views of downtown Manhattan. Then we walked over to Westville Dumbo for some casual American food and to meet with Henry Erhlich, my friend from Allergies, Asthma, Children. This restaurant has some nuts on the menu so it might not be suitable for some people who are highly sensitive. I ordered and was busy chatting with Henry. When our food came, I was so surprised to see that my kids and husband each ordered plates with four fresh and yummy veggie sides. Clearly I wasn't paying attention, but my kids and hubby communicated with the server about food allergies and had an allergy safe and healthy meal.
Westville Dumbo is near the pedestrian walkway for the Brooklyn Bridge. From the restaurant, turn left, go up the street half a block, and cross the street. We had a nice walk and then made our way back to Manhattan for a quick shopping trip at Macy's flagship store, it's huge with a lot more selection than at a local mall.
Snack
Somehow Pomme Frites ended up on our itineary for the day and we headed over to Greenwich Village to eat large amounts of Belgian fries with tasty dips and sauces. Completely totally 100% indulgent and fattening but what a yummy and rare treat. The restaurant is gluten-free and some of the sauces contain nuts (peanut satay) but we could see that their kitchen area is well organized with minimal risk of cross contact. Check out their allergen menu, the ingredients for each menu item is listed and indicate whether they are gluten free, dairy free, nut free, vegan, vegetarian, and/or vegetarian+fish.
We were so stuffed, it felt great to walk around Greenwich Village, NYU, and Washington Park, which is an interesting place to people watch, rest, and enjoy. As we walked around Greenwich Village I saw a big sign "Gluten Free Restaurant" in front of Senza Gluten. Upon coming home I looked it up and it's a 100% gluten free Italian restaurant. They do have other allergens in their restaurant but the allergen statement on their website leads me to believe that they are allergy aware but recognize the risk of cross contact in a small kitchen with most of the top allergens. We didn't try their food or stop by to talk with them but worth looking into if you are gluten free and miss Italian food.
Dinner
My hubby made dinner reservations at Monte's Trattoria, an Italian restaurant on MacDougal St., down the street from Pomme Frites. The food was so delicious and satisfying, everything on the menu is nut-free. I had a pesto pasta for the first time in over 10 years and my son had the best lamb chops, which may be the most allergy friendly option if you can't have wheat, egg, or dairy. It was my birthday so we each ordered a dessert, I tried them all and like the tiramisu and cannoli the best. To celebrate my birthday, we also went to watch The Blue Man Group nearby, they were strangely hilarious and entertaining.
Day 6: NY Pizza Suprema & Airport Food
We really liked the location of our hotel and our last day in New York City was rainy. We a had a lot of time but not enough to explore other places. Our hotel is on 33rd facing Penn Station, but if we walk around the block going clockwise, there's a B&H store, a large photo and video store that my hubby wanted to visit. Around the block on 34th, there's a huge movie theater complex and further down the street there's a CVS on the corner. We decided to stay dry and watch Spiderman on the opening day.
Lunch
For lunch we went to NY Pizza Suprema, also one block away from our hotel, on the other side of Penn Station. It was a packed, busy, fast moving place, and I didn't expect much when I asked the guy behind the counter about whether they use any nuts. He said no nuts, which is what I want to hear but part of me wants to double-check. We went ahead and ordered anyways, still avoiding the pesto pizza. There are shelves of pizza behind a glass counter and customers order the slices they want, they place the slices on a pizza pan and heat them in the oven for fresh hot slices.
I ordered a veggie lover's slice because it was the only cheese-less pizza. I was so surprised by how much I would love it…hearty veggies, delicious sauce, light and airy crust with a slightly cripsy bottom, and I felt great afterwards. My husband and kids had traditional thin crust slices, which they enjoyed. I had a few bites of the white pizza, it was too rich and too bland at the same time.
I knew that New York City is famous for their pizza, but wasn't prepared to be so impressed. Some guy tried and ranked all the pizza places in Manhattan and ranked Pizza Suprema as #1, I would agree that it was the best pizza I've ever tried. I encourage that you verify whether they are allergy aware or nut free and even though I had a cheese-less pizza, I wouldn't assume it's safe for a dairy allergic individual.
Dinner
Finally we picked up our bags from the hotel, took the Long Island Railroad from Penn Station (totally worth the extra expense as it was faster and more comfortable than our subway train ride into New York City from JFK). We waited at the airport for awhile because our flight was delayed, checked out the food options near our boarding gate, and then near boarding time we went to order and buy dinner. Some places were running out of food (at 6 pm?!) and we made do with some messy wraps dripping with a watery sauce (bleh).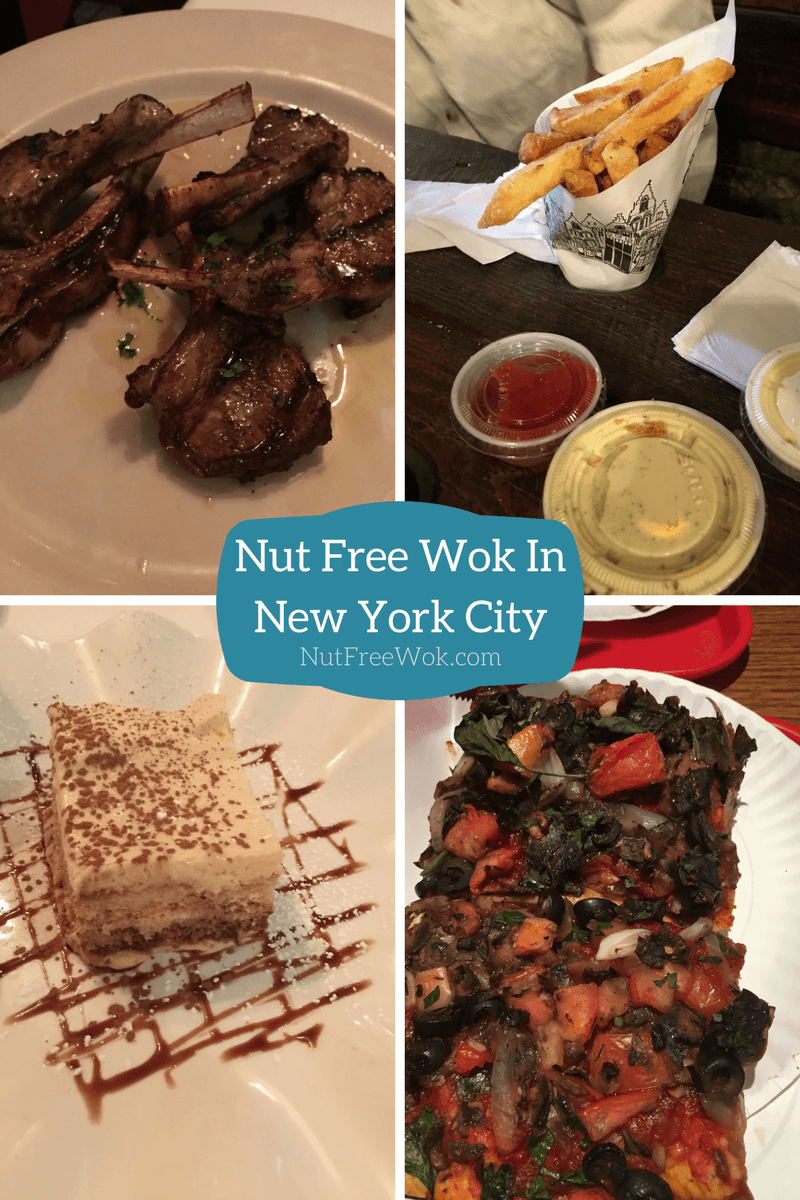 Oops, Day 7: More Airport Food (or Not)
Our flight home from New York City was delayed by dozens of turtles mating on the runway at JFK and then heavy rain. Eventually our flight was cancelled after sitting on the tarmac for about 3+ hours. It could have been an upsetting ordeal but kudos to Virgin for handling challenging circumstances with a high degree of professionalism and making customer service a priority.
After a shower, a few hours of sleep in a comfy bed, and a hot breakfast, we made our way back to the airport. It's a good thing that we consolidate all the dirty laundry, extra items that we don't need into a couple of suitcases and leave one suitcase empty to pack last minute items, jammies, remaining clean clothes, medications, and toiletries into one suitcase for the trip home. It wasn't perfectly packed but we made do fairly well for an unexpected extra night in New York.
We went through all the motions to get ourselves back on a plane (taxi, check in, security, etc) and again tried to buy a meal before boarding the plane. My kids wanted a panini cheese sandwich from a deli at the airport. They do use a pesto with pine nuts and the young lady was willing to wash the baking tray so we put in our orders.
The sandwich maker lady dropped a piece of plastic wrapped turkey on the floor and I felt like time slowed down as I watched with my eyes wide open and jaw on the floor as she she picked up the turkey from the floor, unwrapped it, and I could barely sputter out "stop" as she held the turkey mid-air over the bread. She looked just as irritated and couldn't understand my objection so I had to explain cross-contamination (the plastic wrapped turkey fell on the floor, there are germs on the plastic and you transferred the dirt and germs on the turkey when you unwrapped it, ack!).
She told me that this is the last piece of turkey (at 11:30 am, really?) so I changed my order to a veggie sandwich (any sandwich would do as my flight was already boarding!!!). In the end, she used a knife tethered to the work station to cut my kids' sandwiches (hello potential cross-contact and when was the last time that knife was washed?). I just couldn't say anything else in case she dropped the finished sandwiches. I can almost laugh about it now and I share my experience to you can learn from my JFK airport food experiences and don't do what we did. Buy your food earlier, allow extra time, bring your own food, go to Blue Smoke in the Delta terminal, etc..
Nut Free and Allergy Aware Eats in New York City
Our first impression of food in New York was a sign about food allergies posted in the breakfast area at our hotel. I took a picture of it for reference and saw it posted at Wasabi Bento too. I looked it up when I came home and discovered that restaurants are required to post them in the kitchen area for workers in view and in language(s) of all workers. I think that the posters are educational and informative about what are food allergies, how to help food allergic customers dine safely, how to prevent cross contact, and when to call 911.
New York City has implemented this plan since 2009, thanks to the advocacy of FAI and FAAN (these two organizations merged to form FARE). You can check out the policy and sample posters and share them with your local legislators for inspiration. I loved that I didn't encounter any deer in the headlights looks when I asked questions about food allergies. We packed our schedule but there's still so much we didn't see or do in New York City, we'll definitely be back especially since we feel the restaurants are prepared to handle food allergy orders.
As I had mentioned, my husband planned our daily activities for our trip and poured over online restaurant reviews and menus to find allergy safe places to eat. Overall, I think he did a great job of finding a lot of nut free restaurants that handled our orders with kindness.
The following restaurants were nut-free and care-free for us during our trip: Kame Ramen, Blue Smoke, Brother Jimmy's BBQ, Havana Central, Chipotle, Monte's Trattoria, and NY Pizza Suprema (with caveats). Among those restaurants, I think that Blue Smoke and Chipotle would be the most accommodating if you are dealing with additional allergies besides nuts. Westville Dumbo and Pomme Frites definitely had nuts on their menu and Wasabi Bento & Sushi didn't have any obvious nuts but had cross-contact warnings posted.
Some restaurants on my short list of possibly nut free restaurants and bakeries which we didn't get to visit were: Nom Wah Tea Parlor in Chinatown, Xi'an Famous Foods (various locations), A La Mode Ice Cream which is nut free and allergy aware (half way between Central Park and United Nations), Eleni's (bakery, Chelsea Market area), Donut Pub (Chelsea Market area). There are other suggestions listed on my post, We <3 Nut Free Bakeries and Restaurants. And if you like my allergy travelogues, check out our trips to Maui and Disneyland. And if you want to look for other restaurants in New York, I recommend searching through Allergy Eats' database, it's a great starting point.
Epilogue: June 2022 Visit to NYC
My son had an origami convention to attend in NYC and my husband and I decided to tag along to spend time with him. He had a blast and we enjoyed meeting his friends and seeing him in his element. As a result, my husband and I ate on our own and didn't ask for any food allergy accommodations. DS and his friends went out to eat on their own and he didn't have any problems finding nut-free food on his own.
After a long travel day, hubby and I opted for fast food near our hotel and landed at Shake Shack. Shake Shack isn't 100% nut free, none of the foods actually contain peanuts or tree nuts intentionally but some ingredients have allergen advisories. It's not perfect but at least there is an allergen chart available to make some informed decisions.
Hubby and I both wanted to eat at Ippudo, a very popular ramen restaurant group. We liked it so much we ate at a second location the next day. We didn't see any nuts on their menu and there's a statement at the bottom of the menu to notify them of any food allergies. I would consider taking both of our sons to Ippudo.
We also had a double date with friends at Nizza, an Italian restaurant near the theatre district and close by to Times Square. The restaurant is not nut-free but has gluten-free options and they handled the gluten-free requests for our table very well.
I wish I had more to share about nut-free meals in NYC because it was just the two of us for dinner. However, I'm so super proud of my son being able to manage his allergies on his own in a big city without any help from us. That's a proud food allergy mama moment that I would wish for you too. <3
Thanks for reading, please help Nut Free Wok!
The best way to see every post or recipe is to subscribe to Nut Free Wok's email subscription (be sure to respond to the confirmation email). You will be notified by email next time I publish another post or recipe and I won't send you spam or share your email address with anyone.
If you enjoyed this post, please use the social media buttons below to share with others. I am on Facebook, Twitter, Pinterest, and Instagram as @nutfreewok and it's great to chat and interact on social media too.
Disclosure/Disclaimer:
I may mention the names of stores and/or brand names of products that I use because readers ask and I share products and sources which I use and think may be helpful to readers, all opinions are my own. Please note that manufacturing practices and ingredients can change at anytime without notice and readers are always responsible for assuring allergen safety before buying or consuming foods. NutFreeWok.com is a participant in the Amazon Services LLC Associates Program, an affiliate advertising program designed to provide a means for sites to earn advertising fees by advertising and linking to Amazon.com. Thank you for reading!