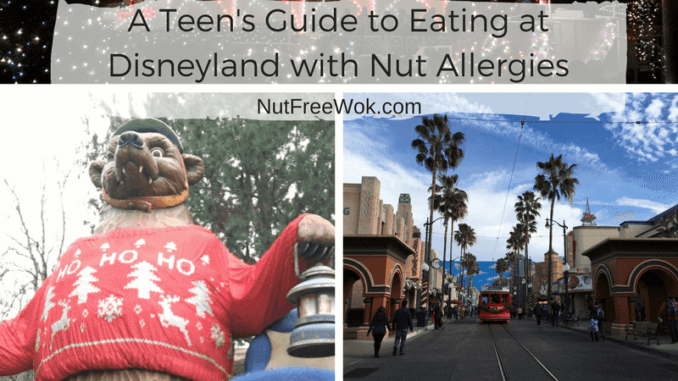 What do you do when your teenaged son with nut allergies tells you he'll be traveling 396.4 miles away without you to go to Disneyland in Anaheim for a 4 day trip? My apron strings aren't long enough! We decided to take a family trip and scout out nut allergy friendly quick service restaurants.
Disclosure & disclaimer: This post is not sponsored, I did received 2 one-day media tickets from Disneyland and our family paid for rest of the tickets, all of our food, lodging, and transportation. I share my opinion, experiences, and what strategies worked for our family's nut allergies, please consider them as general information which may or may not apply to you. Disney's food menus, recipes, and ingredient labels are subject to change at any time without notice so you must do your own research to determine food allergen safety before eating. This post was updated May 2023 with minor edits and I deleted a section regarding Disney's FastPass program which has been retired.
School Trip to Disneyland
My 15 year old son with peanut and tree nut allergies let us know he wanted to perform with his high school orchestra at Disneyland in March. Needless to say we are so proud of him expressed our support of his musical passions by offering to chaperone. He very sweetly declined the offer and expressed confidence that he will be able to manage his food allergies on his own.
*Breathe, mama, breathe.* My husband and I could not get away from work and family responsibilities so we didn't insist on chaperoning. However, our kids were 7 & 9 years old the first time we visited Disneyland 6 years ago. We were long overdue for another visit and we had a great reason to scout out allergy friendly quick service restaurants that teens might like on a limited schedule.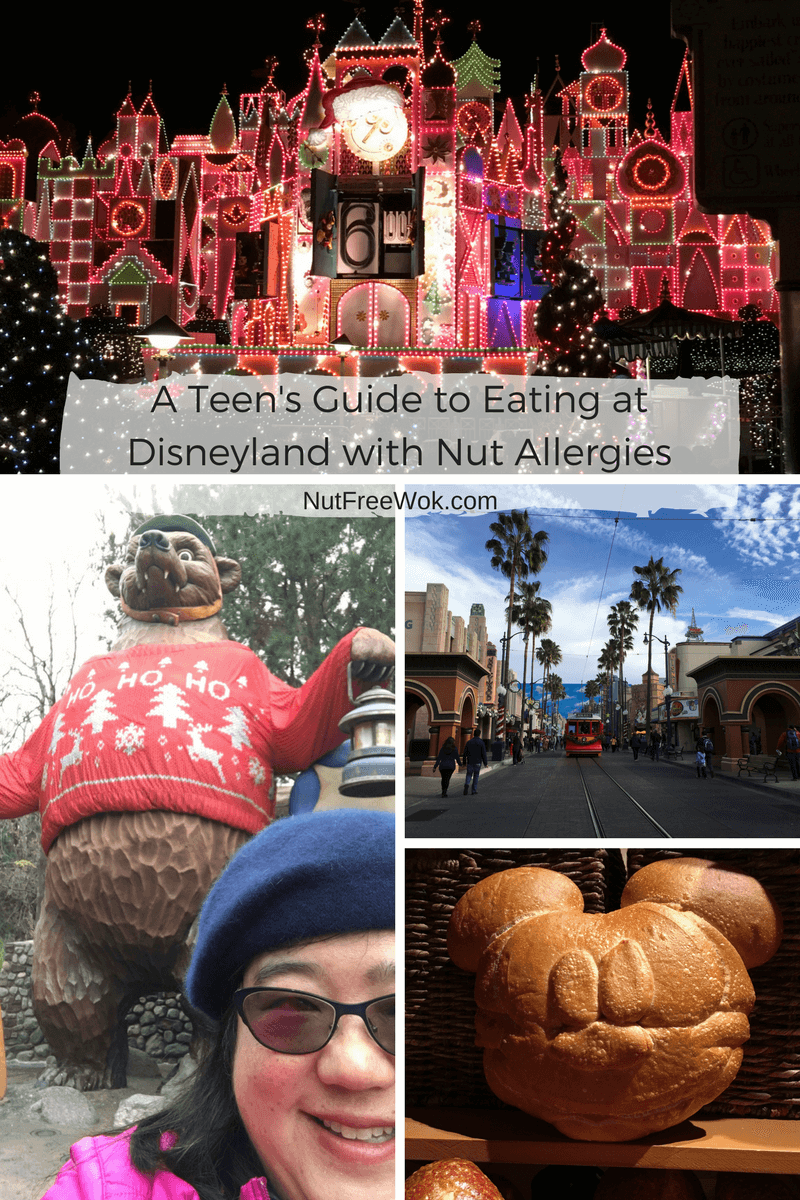 Plan Ahead with Help From Disney's Special Diets
Disney has a Special Dietary Requests webpage which introduces some of their dietary options for people with food allergies and other dietary restrictions. I emailed their Special Diets team about quick service restaurant options that would be suitable for people with peanut and tree nut allergies. My son will be traveling on his own with other teenagers on a tight schedule, snacks and meals from quick service restaurants seem like a practical solution.
Someone from Special Diets responded within a day or two to my email. She suggested some nut allergy friendly quick service restaurants for both parks and told me to ask for an allergy friendly menu and speak with a Cast Member for assistance. She also mentioned to read the ingredient labels for foods sold from a cart or food stand. I thought about looking up the restaurant menus ahead of time but I decided to think like a teenage boy and wing it. 😉
Downtown Disney
We planned our trip for the last weekend of the holiday winter break, January 7 & 8. We arrived Friday evening and as soon as we checked in to our hotel and unloaded our bags, we walked over to Downtown Disney for dinner. We loved that the festive holiday decorations every where even though Christmas was almost two weeks ago.
Even though my younger son can tolerate 2 peanuts due to his peanut patch trial participation, outgrew some tree nuts, and undergoing desensitization treatment for his other food allergies, we are still cautious because my older son is also allergic to peanuts and tree nuts. The purpose of our trip is to find a variety of restaurants so my older son could safely dine at without us. *breathe*
We read the menus for every restaurant in Downtown Disney and many of them had nuts in several dishes or desserts. We picked Tortilla Jo's because it has just one entree with peanuts or tree nuts, mole and we had eaten there the last time we visited in 2010. We let the server know about our children's food allergies and we felt that the risk of cross-contact was minimal. We had a delicious and relaxing dinner at Tortilla Jo's. Tortilla Jo's also has a quick service tacqueria next door which would be worth a look. Their lines were very long that evening so we didn't go in to ask any questions.
Day 1: We Loved Disney's California Adventure Park
I'm just going to let you know upfront that we literally ate all day at Disney's California Adventure Park. We did a lot of fun things too but I still cannot believe how many meals and snacks we had, read on!
If you happen to be a registered guest at one of Disney's hotels, you can enjoy an Extra Magic Hour before the park opens at their regular park hours. Since we were staying somewhere else, we wanted to go to the park that is empty at opening, which happens to be Disney's California Adventure Park (DCAP) on a Saturday morning. We were inside DCAP waiting at the rope line just before 8 and headed straight for Cars Land to ride Radiator Springs.
The coolest thing about walking on the Main Road through Cars Land is that you feel like you're visiting Radiator Springs. You pass by all the familiar landmarks of Fillmore's geodesic dome tent, Sarge's surplus store, Flo's V-8 Cafe on the right and Mater's Junk Yard, Sally's Cozy Cone, and Luigi's Casa Della Tires on the left. At the end of the main road is the Courthouse with a statue of Radiator Spring's founder, Stanley, and the entrance to the Radiator Springs ride. Because we went to Radiator Springs first thing after opening, the line for Radiator Springs was gloriously short. We all had so much fun, we wanted to ride it again. We found the Radiator Springs' Fast Pass booth and ate breakfast at Flo's V8 Café and enjoyed the rest of Cars Land.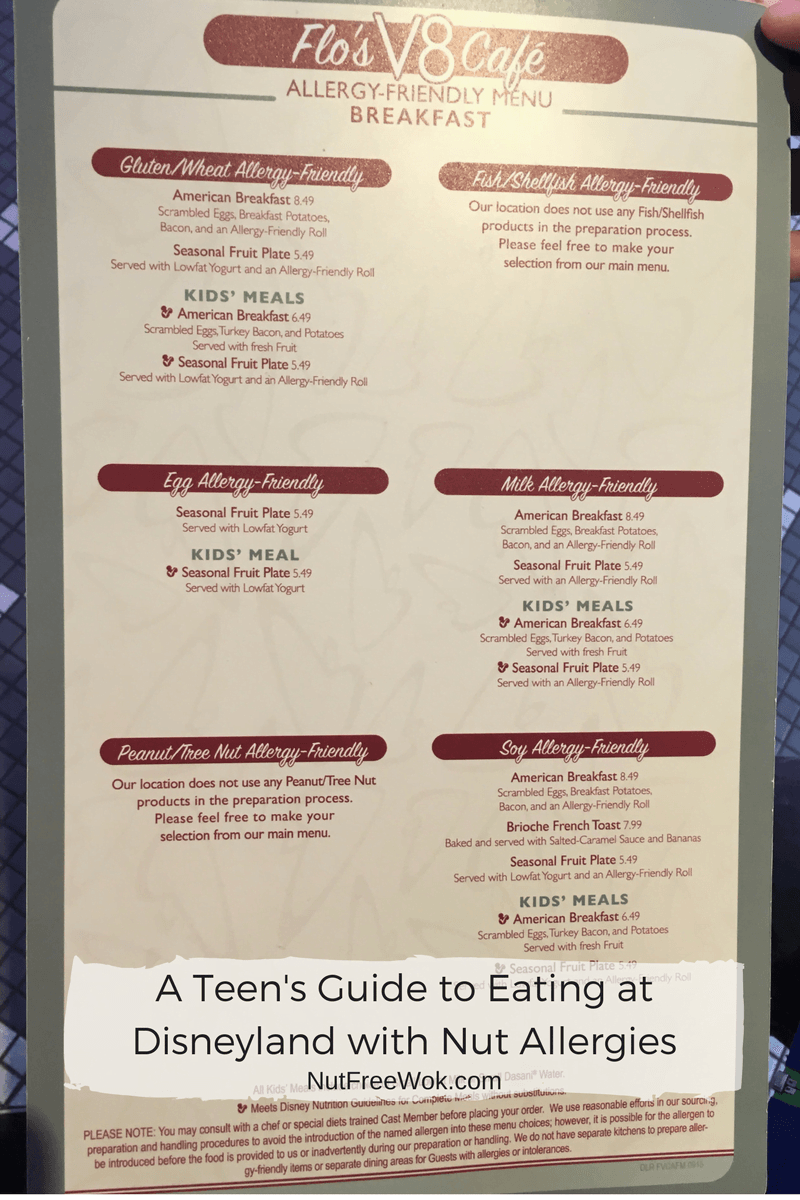 Breakfast at Flo's V8 Café (Cars Land)
We asked the cast member standing at the door for an allergy friendly menu. It turns out that Flo's V8 Café does not use any peanut, tree nuts, fish, or shellfish on their menu and people with nut and seafood allergies can order from the main menu. If people have wheat, soy, egg, or dairy allergies, the allergy menu lists allergy friendly options that they can order.
I am sharing a photo of the allergy friendly menu as an example but know that all of the menus I share are subject to change so be certain to ask for a menu when you arrive and be sure to talk with the chef or a special diets trained Cast Member before ordering and eating. The allergy friendly menus have a reminder, be sure to read them at each restaurant, for example: "PLEASE NOTE: You may consult with a chef or a special diets trained Cast Member before placing your order. We use reasonable efforts in our sourcing, preparation, and handling procedures to avoid the introduction of the named allergen into these menu choices; however, it is possible for the allergen to be introduced before the food is provided to us or inadvertently during our preparation or handling. We do not have separate kitchens to prepare allergy-friendly items or separate dining areas for Guests with allergies or intolerances."
I ordered the French toast breakfast and my older son ordered a tamale, but we ended up trading because the salsa was too spicy for him. My younger son ordered the all American breakfast. We loved dining at Flo's V8 Café. We sat in the back with a nice view of Radiator Springs. The 1960's diner décor is accented with a car theme: a giant rear view mirror hanging on the wall, "Motorama" memorabilia, and LP's and hubcaps hanging on the tinsel Christmas tree. The café has plenty of indoor and outdoor seating and is very clean.
Lunch: Hot Dog Cart & Flo's V8 Cafe (again!)
While we were waiting in line at Toy Story Mania, my husband bought us hot dogs, chips, and corn from a food cart for lunch. In full disclosure, he didn't check about allergens. We've been food allergy parents together for 10+ years, I trust his judgement and know that hot dogs and corn are low risk foods for nut allergies. However, if you happen to check out a hot dog cart, please ask and let me know what you learn.
We had some Fast Passes for Radiator Springs and were hungry again, so ended up back at Flo's V8 Café again for lunch part 2. They have a full lunch menu but we just needed some side dishes of macaroni and cheese sides and steamed vegetables to round out our earlier meal of hot dogs and chips.

Dinner: Lucky Fortune Cookery & Boudin Bread Cart Only (Pacific Wharf)
Lucky Fortune Cookery is my unexpected allergy area Asian fare find at DCAP. You order rice bowls in a take out box, first you select whether you want beef, chicken or tofu and then you select a sauce (mandarin orange, spicy Korean, Thai coconut curry, or teriyaki). Lucky Fortune Cookery does not use peanuts, tree nuts, eggs, fish, or shellfish in the kitchen and has allergy friendly options for those with wheat, gluten, dairy, and soy allergies.
We must have been hungry because we each ordered a rice box, shared two orders of potstickers, an order of edamame, two orders of sliced mangos, and milk for the kids. We lingered for a while to rest. My husband wandered off and found some tables by the Boudin Bakery tour and asked me to see if we could try the sourdough bread.
I found the bread cart and when I asked whether it's nut safe for food allergies, a cast member helping me referred to the package which had an allergen advisory regarding allergens present in the facility. As we chatted some more, I learned that the bakery only makes sourdough bread and no nut containing breads. They make all the sourdough for the resort and the bakery does not make any breads with nuts in it.
Since I know the Boudin restaurant makes a sandwich with pesto and a salad with nuts, I asked if the bread has any risk of cross contact between "hot out of the oven" and "into the bag." He went to check with a chef, who confirmed that the risk is minimal. I selected a Mickey Mouse shaped loaf of sourdough bread because it's soft enough to eat with orthodontic braces and easy to tear off pieces compared to a traditional round, loaf, or baguette. We feasted on a Mickey Mouse shaped sourdough with butter. The Boudin Bakery restaurant was not on my radar as an option but I'm so glad my husband asked me to check out the bread cart.
Disney California Adventure Park Nut Allergy Friendly Quick Service Restaurants by Location
We had a lot of fun at DCAP and I still can't get over how much we ate in one day. The list from Disney's Special Diets is alphabetized but here's my list of restaurants and observations (or not since I missed a few) organized by location.
Hollywood Land:
Award Weiners – serves hot dogs, restaurant does not use any peanuts, tree nuts, fish, or shellfish per allergy friendly menu.
Fairfax Market – not on the allergy friendly list provided by Disney Dining but worth noting as they sell fresh fruit such as washed and wrapped apples, pineapple spears, and grapes, dried fruit, juice. Read the labels for packaged snacks.
Cars Land:
Flo's V8 Café – we enjoy the food and atmosphere of this restaurant. Peanut, tree nut, fish and shellfish allergy friendly. They serve American style breakfast and lunch/dinner.
Pacific Wharf:
Lucky Fortune Cookery – we ate here for dinner and enjoyed our meal. Peanut, tree nut, fish, shellfish, and egg allergy friendly rice boxes with a choice of beef, chicken, tofu and an Asian inspired sauce.
Cocina Cucamonga Mexican Grill – we visited but I didn't ask for an allergen menu. It's right across from Lucky Fortune Cookery with picnic tables in between, something for everyone in the same area.
Boudin Bakery Tour – not on the list provided by Disney Dining. We were only comfortable with the bagged sourdough bread from a bread cart only. We carried the rest of the bread as a portable back up snack.
Paradise Pier:
Boardwalk Pizza & Pasta – this was on Disney special diet's list but this location has pesto on both the pizza and pasta menus. We didn't order anything from the menu because both sons are allergic to pine nuts and one is allergic to tomatoes too and for that reason, I didn't discuss what they can do to create an allergy friendly meal.
Grizzly Peak:
Smokejumpers Grill – serves burgers, chicken, and fries, we didn't visit this location.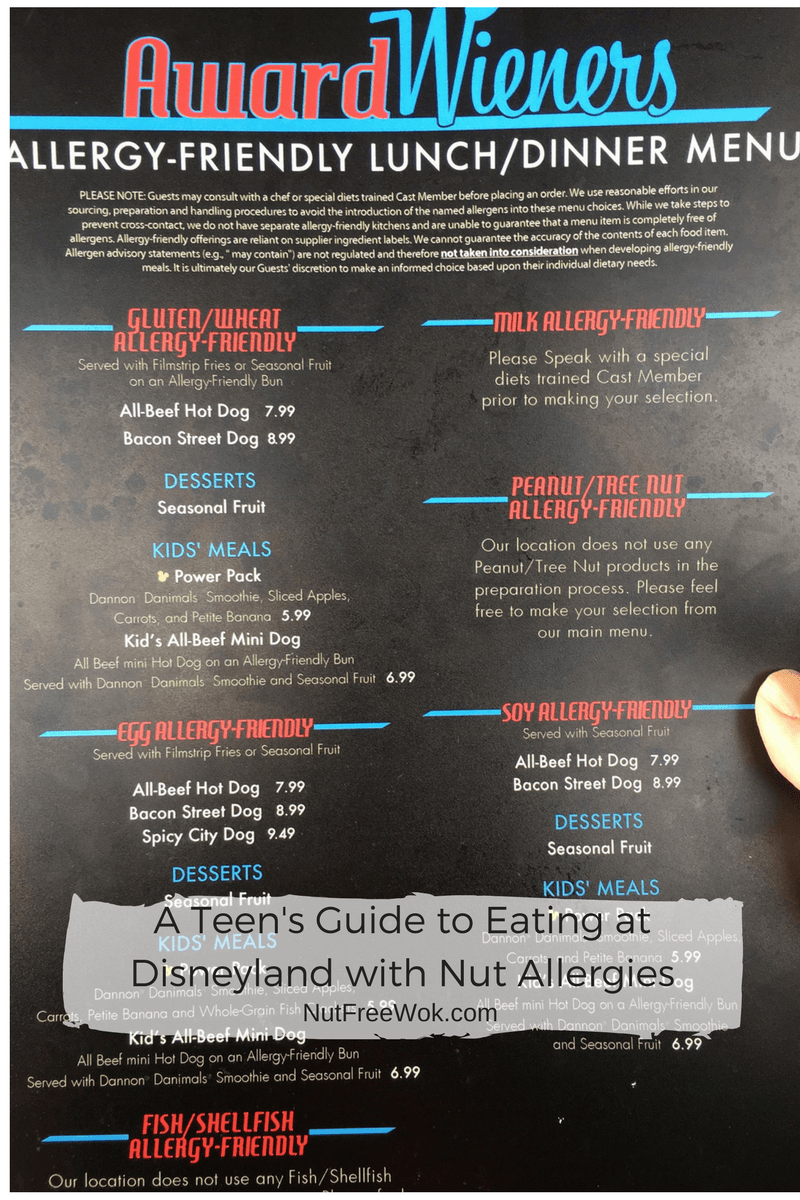 Day 2: Disneyland – Always the Happiest Place In The World
We ate a hearty breakfast at our hotel and were ready to enjoy our day at Disneyland. We only ate at one Disneyland restaurant and none of us felt "hangry" (a combination of hungry and angry) at any point because we were at the Happiest Place in The World. We started in Tomorrowland first because both of our sons were most enthusiastic about the rides and attractions there. Then we headed circled back to Adventure Land, New Orleans, and Critter Country.
Lunch at Hungry Bear Restaurant (Critter Country)
I asked for an allergy friendly menu at Hungry Bear Restaurant, across from Splash Mountain's exit. The menu states under the Peanut/Tree Nut Allergy-Friendly section "With the exception of the Almonds in the Picnic Salad, our location does not use any Peanuts/Tree Nut products in the preparation process. Please feel free to make your selection from our main menu."
Everytime I see that a restaurant has a nut item on the menu, I must do a risk assessment in my head. For example, I know that the restaurant was recommend by Special Diets as a nut allergy friendly place to dine. If Hungry Bear only has one menu items with nuts and it's ok for people with nut allergies to order from the main menu, I am optimistic that they've taken appropriate precautions. Ultimately I think we were too hungry and tired to walk to the next section and look for a different restaurant. We decided to go ahead and order burgers, fries, and onion rings.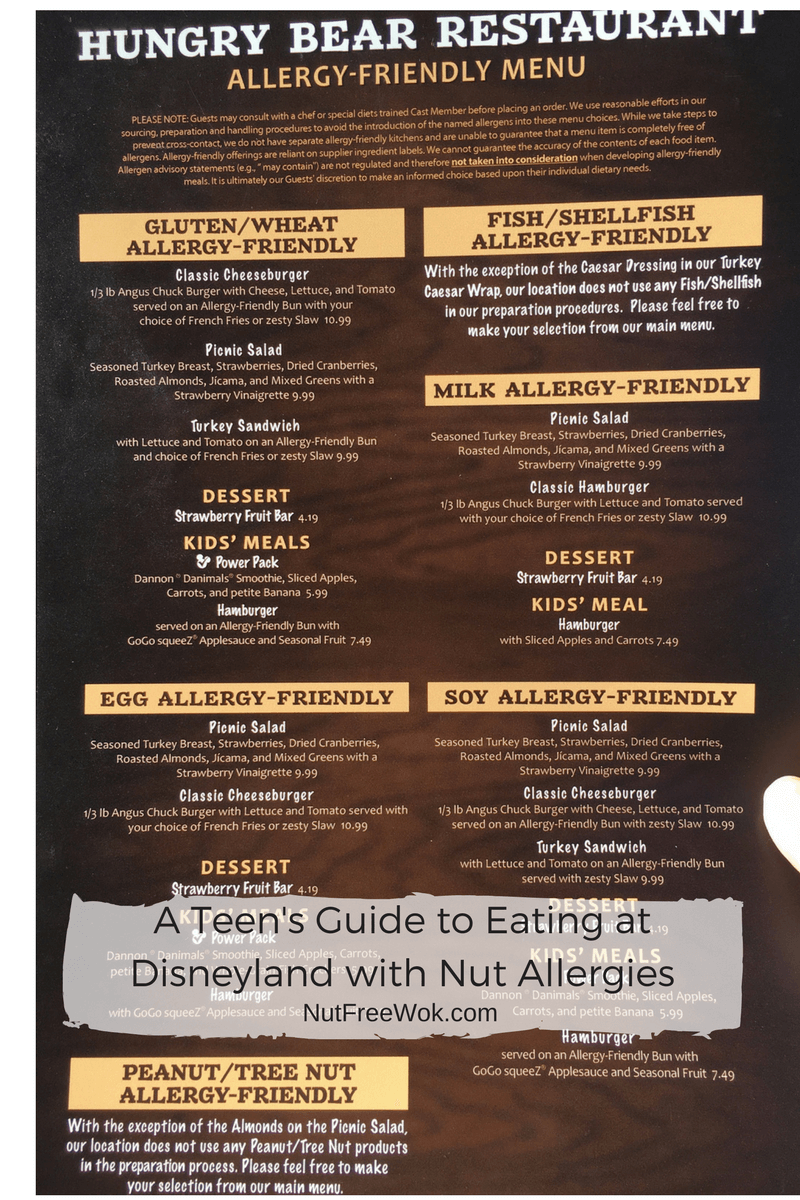 What About Lobster Rolls From a Restaurant Not On The Nut Allergy Friendly List?
On our way out of Critter Country, my husband noticed people walking around with lobster rolls. He wanted to know if we could have lobster rolls for dinner from Harbor Galley. I asked for the allergy friendly menu. The peanut and tree nut allergy friendly options were clam chowder, lobster bisque, shrimp salad, and fisherman's salad but lobster rolls weren't allergy friendly at all. None of the options on the main menu looked like they could contain nuts intentionally, so I asked why the lobster rolls aren't peanut and tree nut safe. The Cast Member explained that the food used to prepare the lobster rolls come from a central kitchen but the nut allergy friendly soups and salads are prepared at Harbor Galley. Since this restaurant is not on the list from Special Diets and I know my kids are hearty eaters and will want a lobster roll rather than soup or salad, we opted to make other plans for dinner.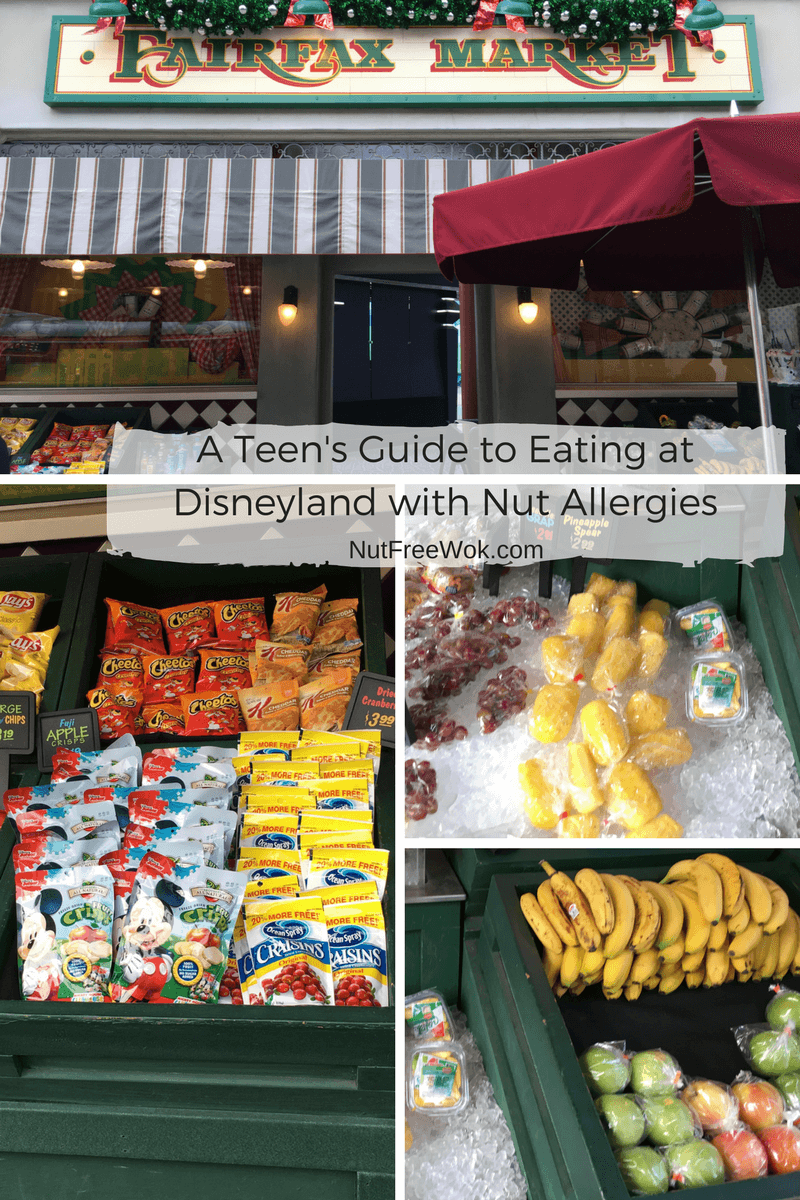 Frozen Treats & Snack Carts
We continued on and went through Fantasyland and Mickey's Toontown. By then we were feeling hot and tired, and we were looking for frozen treats. I had seen that strawberry popsicles and chocolate covered ice cream bars listed on various allergy friendly menus. We felt comfortable with Dreyer's Outshine strawberry popsicles for the kids since we eat those at home. But we are more careful with allowing our children to eat anything containing chocolate or ice cream. My husband and I had the Mickey Mouse shaped chocolate covered ice cream for research purposes, I took a photo of the SKU so I can call Nestle before my son's trip.
I also noticed a lot of snack carts around both parks. There are plenty of sweet treats but I took special notice of carts which sell fruits such as washed and wrapped apples and grapes, bananas, pineapple spears, etc.. They also have packages of dried cranberries, juice, pickles (!) and bottled water. As a food allergy mom, I like simple and healthier snacks but be sure to read the labels. One thing I wanted to try at Disneyland are their turkey drumsticks but I didn't have a good appetite and didn't stop to ask whether they're safe for people with food allergies. It would be great if they were safe because I would imagine that they're really filling!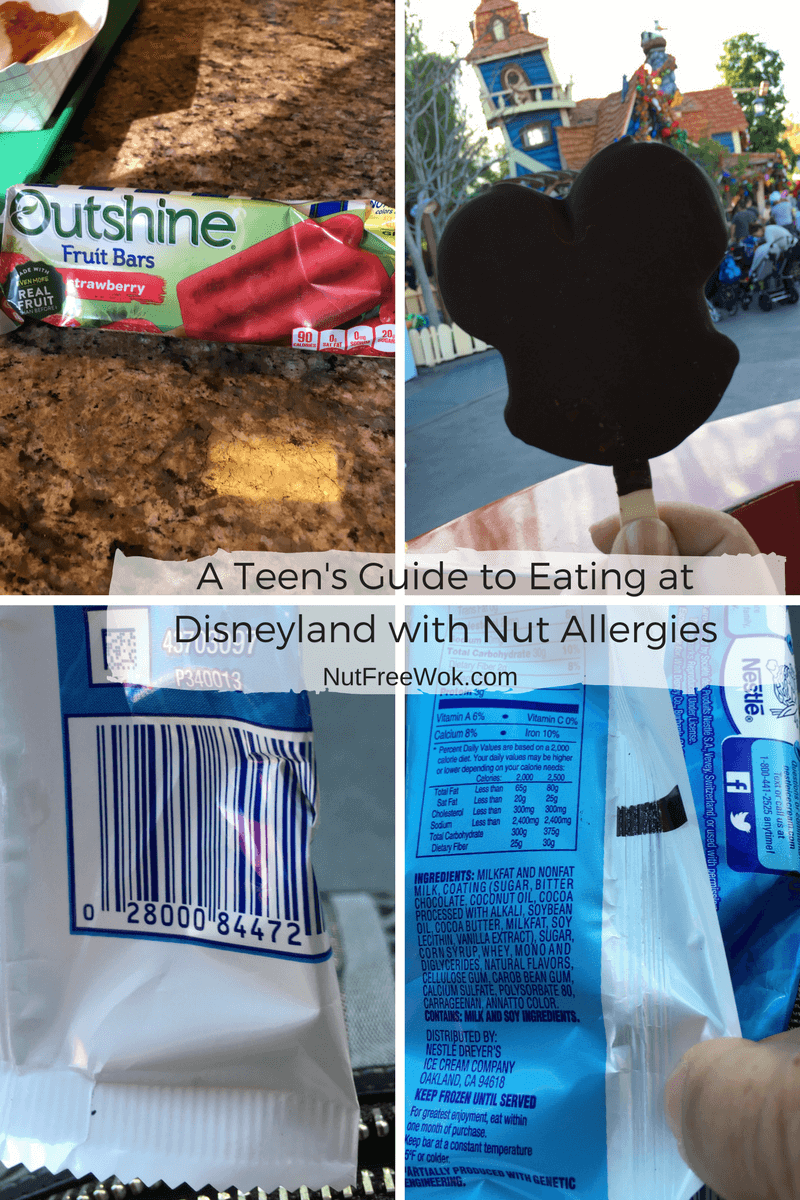 Medical Help and Stock Epi
I needed to rest some more while my husband and children walked around Toontown and I noticed a couple carrying a very sleepy baby and they looked very serious. A moment later I noticed some cast members and security stand around the couple and the baby to shield their privacy and safety and a medic was assisting the family. Then a moment later they were all gone. I was very impressed with how quickly and discretely Disney helped the family. I don't know what happened to the family but wish them well. Considering the purpose of our trip, I was grateful that I had the opportunity to witness as a bystander how quickly Disney's medical and security teams responded to an urgent situation.
As we were leaving the park, I made a point to find the First Aid station in the Main Street USA area to confirm that they still have epinephrine auto-injectors just in case they're needed. For those of us with known food allergies or insect sting allergies, it's such a comfort to know that in case our epinephrine auto-injectors are lost or damaged, there are backup EpiPens at Disneyland and DCAP. If you need medical attention, notify a Cast Member who will get help for you and the location of the EpiPens are indicated on both park maps.
We circled back to Tomorrowland, and had fun working our way out of the park: monorail, It's a Small World, Electric Parade, Mr. Toad's Wild Ride, souvenirs, and then back to our hotel. We were tired but so happy. We decided to eat at our hotel for dinner because we needed to pack and turn in early in preparation for our drive home.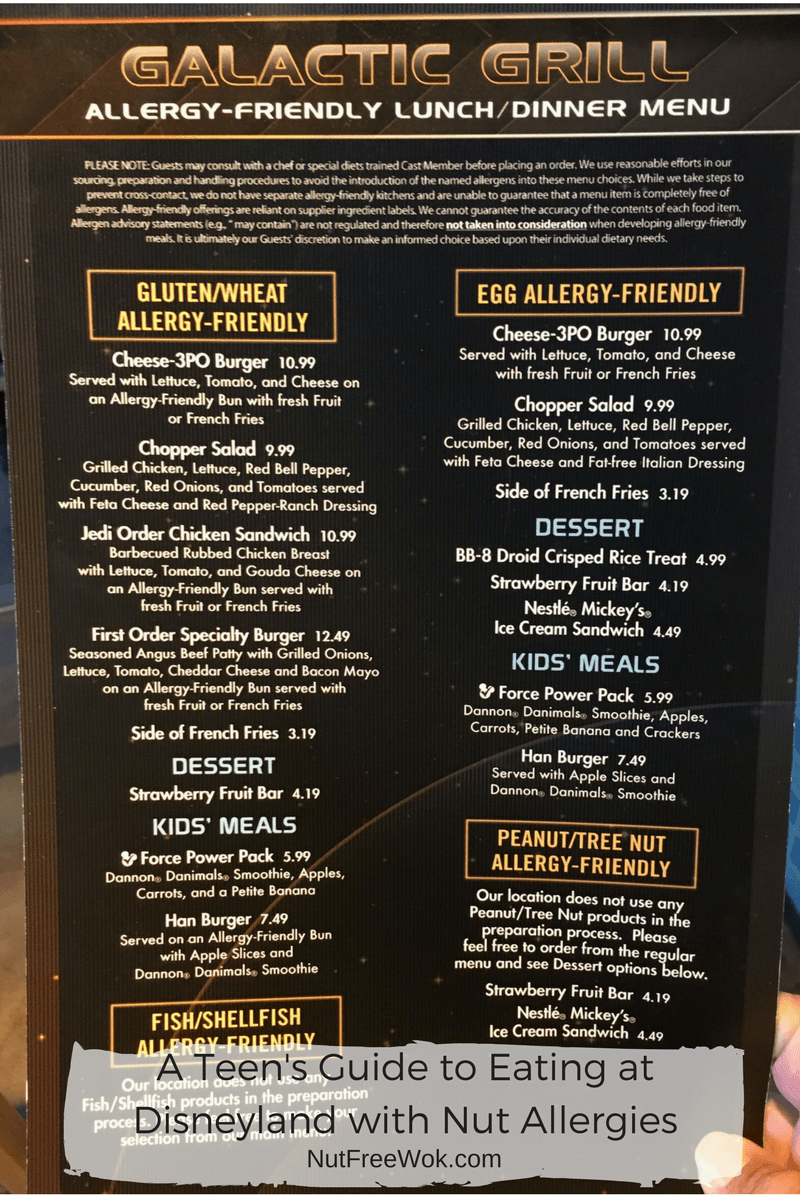 Disneyland's Nut Allergy Friendly Quick Service by Location
We didn't eat as much at Disneyland but I made a point to visit more restaurants and ask for an allergy-friendly menu. My list of restaurants and observations are organized by location.
Tomorrowland:
Galactic Grill – This is a Disneyland quickservice restaurant that does not have any nuts on any menu item. Order from the main menu, mostly burgers and salads.
Redd Rockett's Pizza Port which serves pizza, pasta, and salad is close by to Galactic Grill. It turns out they have walnuts, pesto, and pine nuts on the menu and use foods from a shared central kitchen. The manager was very kind, concerned, and willing to prepare food separately for my children but it's not necessary since Galactic Grill is close by and my younger son with a tomato allergy wouldn't be able to order anything. I think this is a similar restaurant to Boardwalk Pizza and Pasta in DCAP.
Critter Country
Hungry Bear Restaurant – No peanuts or tree nuts on the menu with the exception of almonds in a salad. We ordered burgers and fries from the main menu.
Frontierland:
Rancho del Zocalo Restaurante – No nuts in the preparation of food but there are nuts in the desserts. It serves Mexican style food.
Fantasyland:
Village Haus Restaurant – According to their allergy menu, "Please feel free to make your selection from our main menu with the exception of the Apple and Cheddar Salad. Please note that this location does Roast Walnuts for our Apple and Cheddar salad." It serves sandwiches, burgers, pizza, and more.
Main Street, USA:
Jolly Holiday Bakery Café – located in the central area near the statue of Walt Diseny and Mickey Mouse closest to Adventureland. The food is from a central kitchen, make selections, let a server know about your allergies, and they will prepare the food separately, be sure to speak with someone. Lots of menu options.
Plaza Inn – located in the central area near the statue of Walt Diseny and Mickey Mouse closest to Tomorrowland. The food is from a central kitchen, make selections, let a server know about your allergies, and they will prepare the food separately, be sure to speak with someone. Lots of menu options.
Refreshment Corner – didn't ask to see the menu, serves mainly hot dogs.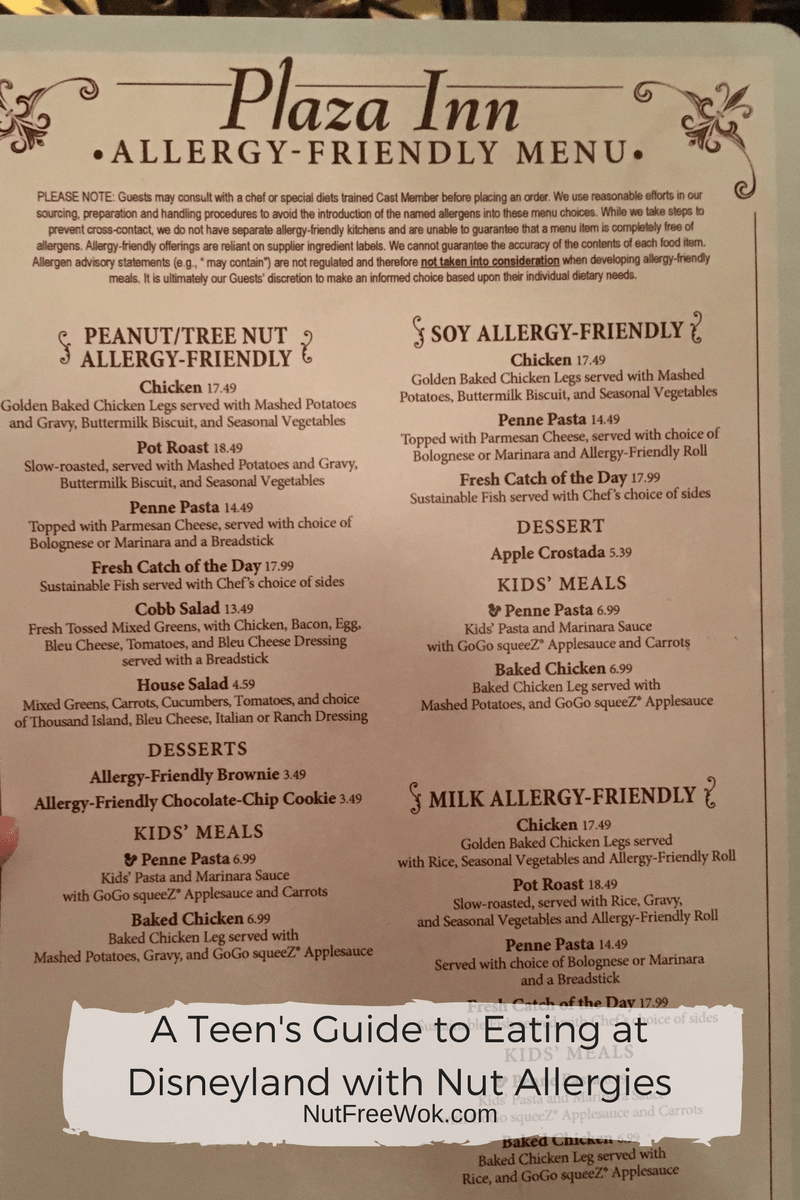 Visiting Disneyland with Food Allergies Check List
Call or email Disney Dining if you want to make a reservation for a sit down meal. Allow a lot of lead time especially if you're planning to go during peak season. According to my friend Diane, she says that the chefs are often able to make an allergy friendly meal to order. I also had a chance to dine at one of the sit down dinners when I visited with bloggers a few years ago.
Contact Special Diets if you need help with any questions including quick service dining so that you have their recommendations appropriate for your circumstances.
When you arrive at a restaurant, read the main menu to see if there are any allergens you need to avoid, and then ask for an allergy friendly menu.
If the restaurant is not free of your allergens, be clear in your communication with the chef or special diets trained cast member regarding what are your allergies and what you wish to order from the allergy friendly menu.
Pay it forward to the next food allergy family guest by being kind and expressing your gratitude for great hospitality and accommodations.
Always pack a safe snack and emergency medications, just in case.
Carry clean gallon sized plastic bags to keep medications dry if you decide to do any water rides.
If you manage other food allergies or in addition to peanut or tree nut allergies, your allergy friendly options will be different but follow the basic steps of contacting Special Diets for their recommendations, asking for an allergy menu upon arrival, and talking with a chef or special diets trained cast member.
Empowering Kids to Grow Up
After our family trip to Disneyland and Disney's California Adventure, all of us were confident that our son could manage his food allergies and order allergy safe meals for himself when he goes back in March with his school's music department. It's hard to let go but growing up is inevitable and we do everything so that they are empowered and ready to navigate their lives independently and safely. My son will know that he can safely dine at the restaurants we went together and what to do when he gets to the counter. If you're managing other allergies as well, be sure to work with Disney Dining, ask for an allergy friendly menu, and communicate your needs before ordering.
Thanks for reading, please help Nut Free Wok!
The best way to see every post or recipe is to subscribe to Nut Free Wok's email subscription (be sure to respond to the confirmation email). You will be notified by email next time I publish another post or recipe and I won't send you spam or share your email address with anyone.
If you enjoyed this post, please use the social media buttons below to share with others. I am on Facebook, Twitter, Pinterest, and Instagram as @nutfreewok and it's great to chat and interact on social media too.
Disclosure/Disclaimer:
I may mention the names of stores and/or brand names of products that I use because readers ask and I share products and sources which I use and think may be helpful to readers, all opinions are my own. Please note that manufacturing practices and ingredients can change at anytime without notice and readers are always responsible for assuring allergen safety before buying or consuming foods. NutFreeWok.com is a participant in the Amazon Services LLC Associates Program, an affiliate advertising program designed to provide a means for sites to earn advertising fees by advertising and linking to Amazon.com. Thank you for reading!