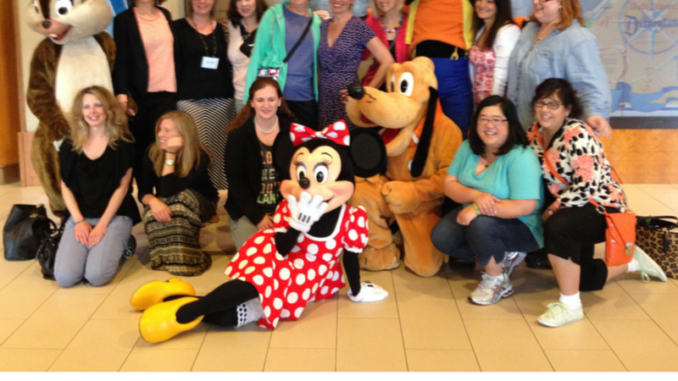 Mylan's Food Allergy Blogger Summit @Disneyland
I was so honored to be invited to attend the 2015 Mylan Blogger Summit at the Disneyland Resort. I was thrilled to be with my food allergy blogger peeps and to have the opportunity to share, learn, and ask questions. But I couldn't have done it without the unconditional support of my husband and sons, who took care of their meals and all the details that have to do with school, work, and home. While I was gone they made "BBQ Pork Char Siu" which I really should rename because it's oven roasted…anyways I can proudly say that it's a kids and husband tested and approved recipe.
Full disclosure: I attended the Mylan Blogger Summit meeting. Mylan paid for all of my travel expenses and for my Disneyland Resort park ticket in exchange for my evaluation and feedback on information presented during the meeting. All comments made by me about EpiPen (epinephrine) Auto-Injector, Mylan, and/or the Mylan Blogger Summit are at my own discretion and based on my own opinion. As always, it is my desire to share what I learn that might be helpful for Nut Free Wok readers.
Delightful Accommodations
It was my first time staying at the Disneyland Hotel ever and I was pleasantly surprised. Check in was very quick, there's a small gift shop in the lobby of the Fantasy Tower and my room was the Frontier Tower, on the other side of the pool and water slide area. I had a room on the 14th floor and upon entering the room, I noticed that the closet, sink area, and access to an adjoining room was on one side and the toilet and shower were on the other side. The room had a magnificent carved wooden headboard which I later learned plays a little music and lights up with fireworks. It was clean, spacious, quiet, and has a balcony which faced west, with potentially beautiful sunset views over the parking lot! One area of improvement is an easy to access electrical outlet around the nightstand.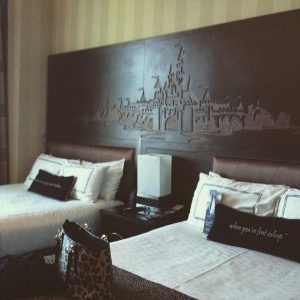 First Impressions
Upon our arrival, we had a lovely dinner in the courtyard of the Grand California Hotel for a time to mix and mingle and to get acquainted with the representatives from Mylan and the food allergy bloggers. The Disney Chefs were outstanding as they described each menu item and answered questions. I've never witnessed such ease in customizing a meal to suit one's dietary needs with such gracious hospitality. Huge kudos to the Disney Chefs for a delicious meal and safe for the diners with medically necessary dietary restrictions. The wait staff were so kind, discrete, and attentive to details at every single meal served.
All About Epi
The main bulk of the summit took place in the morning. We learned, brainstormed, shared ideas, and asked questions all morning. As a food allergy mom and advocate, I strongly believe that epinephrine is the drug of choice when dealing with life threatening allergies. If you have any questions about this at all, I highly urge you to speak with a board certified allergist to help with an accurate diagnosis and prescribe the right medicine for you. There have been numerous lives lost because people for one reason or another don't have their epinephrine autoinjector with them. Epinephrine related legislation helps to fill those gaps when people might have an allergic reaction for the very first time to a previously unknown allergen, their medication is not with them, or they need additional doses. Medical professionals and anyone who is new to anaphylaxis can download an Anaphylaxis Tool Kit to learn more.
Epi: Co-pays and Freebies
A few bloggers expressed concern regarding the out of pocket costs of epinephrine, especially when one falls doesn't qualify for financial assistance but has inadequate pharmaceutical coverage. We learned that the price of the medication is out of the hands of the pharmaceutical companies as much of the costs are set by pharmacy and insurance company negotiated contracts and government regulation. In a follow email, Mylan provided some more specific information (eye opening!), "Mylan does not control the ultimate retail cost of its products charged to patients. One would have to look at the full picture across the distribution channel, including chain, small and independent pharmacies, wholesalers, distributors, large purchasing organizations, insurer or the pharmacy benefit manager (PBM), as they all play a role in the ultimate access and price of prescription drugs in the marketplace."
Did you know about Mylan's EpiPen $0 co-pay card, you can save up to $100 on your co-pay (with some restrictions). Once you receive your EpiPens, you can also register online to receive Welcome Kit and they will mail you an EpiPen 2-Pak Carrying Case, with some sturdy allergy info cards.
Stock Epi Legislative Updates
Schools which are authorized to stock epi can take advantage of Mylan's EpiPens4Schools program. Each school will receive 2 sets of epipens, a storage locker, and training materials. Mylan shared with us that 47 states in the United States have legislation in place to allow or require schools to stock epinephrine auto-injectors (EAI) in their first aid supply. Additionally 9 states have approved and 4 states have pending entity epinephrine legislation which would allow places such as shopping malls, restaurants, and other public places where people might be at risk of anaphylaxis to stock epinephrine for use by trained personnel. In fact, my pal Caroline Moassessi of Grateful Foodie, learned the day before that Nevada state legislators had just passed their state's epinephrine entity legislation and the bill was on the way to their governor's desk and our friends were celebrating the passage of their entity bill legislation and both await the governor's signature. Whoo-hoo, Nevada and Minnesota.
Mylan's Epinephrine Study Update
We were also privileged to hear Dr. Margaret White, the lead researcher of Mylan's EpiPen4Schools Survey: Epinephrine Administration for Cases of Anaphylaxis in a US School Setting present the results of the survey. Mylan has been giving away two sets of EpiPens to every school that is authorized to stock EAI. Not only that, they replace for free any stock EpiPens used in an emergency and if a school needs more than 2 free sets, they can buy more at a significant discount. During the 2013-2014 school year Mylan had more than 40,000 schools registered and they invited the schools which had provided their contact information to participate in the survey. Out of 32,387 surveys sent out, about 19% of the surveys were completed and the majority of them were filled out by school nurses, which implies good data. I took some blurry pictures of the slideshow presentation so for clarification purposes, I also referred to the abstract presented at the recent AAAAI conference posted on the conference website which you can view by clicking here.
Study data:
They sent out 32,387 surveys and 5,683 schools responded. Among the 5,683 schools that responded, 604 schools reported 919 episodes of severe allergic reactions during the 2013-2014 school year. The 919 allergic reactions involved 851 people (some had multiple reactions).
Among them, 636 people needed to use an EAI,

310 of them used a stock EAI (49%) and
289 used their own (46%), and
4% had another EAI.
54 people needed a second dose (9%).

In contrast, 215 people were not treated with an EAI.

157 (77% of 215) were  treated with antihistamines,
26 (13%) received other treatment, and
17 (8%) received no treatment.

69% of them had a known allergy but 22% had previously unknown allergy (9% of the respondent didn't know whether the individual had a known allergy or not).
80% of them were transported to a hospital either by ambulance or a parent/caregiver.
Food allergens was the most common cause for a reaction.
Study Conclusions:
The main take home point is that more education is needed. 25% of anaphylactic reactions were not treated with epinephrine even though that is the best first line of treatment and 20% were not transported to a hospital to be observed in case there is a biphasic reaction. Schools need more anaphylaxis education and a robust anaphylaxis management plans for school staff, students, and visitors.
This study also underscores the value of stocking EAI in schools. Lives were saved because epinephrine was available for the 22% who had unknown allergies previously and among those who have known allergies (69%) only 46% used their own. Schools need strong anaphylaxis management skills.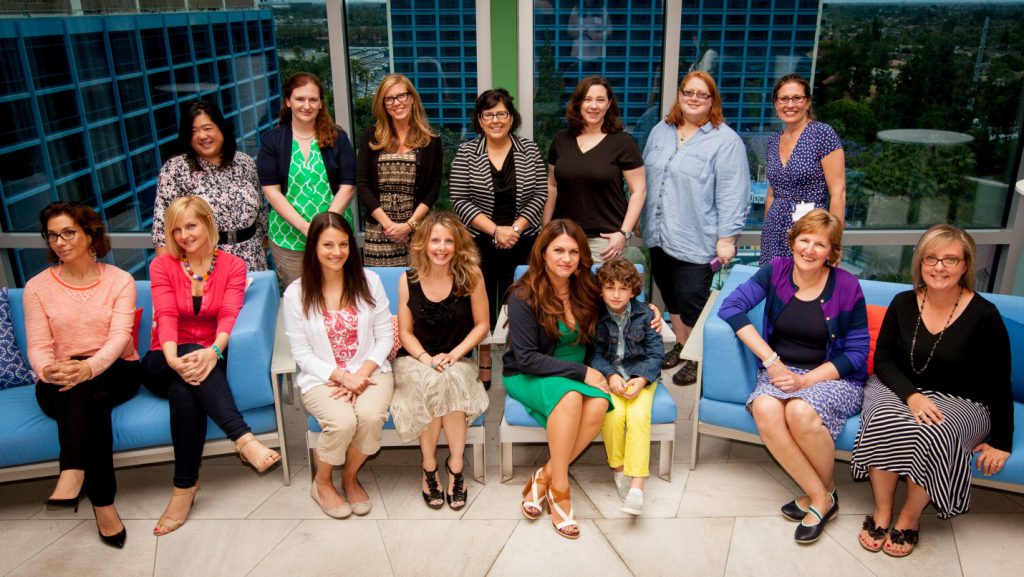 We learned about Mylan and Disney Resorts "On Location" Campaign
Mylan and Disney have a new awareness campaign with three new On Location Ambassadors.
Amanda Freitag, Chef and Restaurant owner who is allergic to hazelnut
Nina Garcia,  "Project Runway" Judge and Marie Claire Creative Director whose son has severe allergies to peanuts and tree nuts
Auggie Maturo, Actor in "Girl Meets World," who is 7 years old and allergic to peanuts, tree nuts, sesame, and coconut.
Each ambassador has created a video to help raise awareness about anaphylaxis and the importance of carrying epinephrine. People may share the videos to be entered for a chance to win a Walt Disney World Resort vacation from Mylan to visit the Epcot International Food & Wine Festival this fall. For details and rules, visit EpiPenOnLocation.com.
Bloggers Meet Auggie
The best part about the "On Location" campaign was meeting Auggie, one of the stars of Girl meets World, and his mother Maha Maturo. We could all relate to Maha's recollection of Auggie's last allergic reaction and collectively we all could feel the fears and frustrations of trying to manage life threatening food allergies. Maha's most important tips included being always prepared with epi everywhere we go, having access to safe foods, and know when to respond to anaphylaxis. Auggie added that it's important to carry two epi because "sometimes you need a second one!" It was a delight to meet  them in person and take photos together.
Where are the Epipens?
Mylan and Walt Disney Parks and Resorts signed a multi-year strategic alliance agreement to help increase the awareness of anaphylaxis at Disneyland, Disney World, and Disney Cruise Ships. The maps will be labeled with an EpiPen logo at the locations where stock EpiPens will be available along with trained medical personnel for assistance. The first aid locations with stock EpiPens will also have signage outside. I obviously love the idea as you can see in this photo that Caroline (Grateful Foodie) took.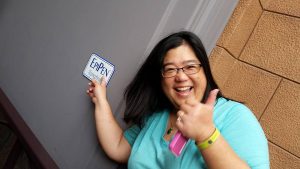 Allergy Aware Dining, Disney Chef Style
Disney Chef Bill Orton shared with us that Disney recognizes the importance of helping their visitors to eat safely within their food restrictions. I was blown away by the following facts: Disneyland's Blue Bayou serves over 100 allergy friendly meals per day, over 100,000 meals at Disneyland per year, and 650,000 allergy friendly meals at Disney World! The numbers are astounding.
They highly encourage visitors to email or call ahead of time to make arrangements with Disney Chefs before park arrival or before ordering. For example, here's a link to Disney World's Special Dietary Requests page with more information. Usually buffets are off limits for people with food allergies, but if you notify a chef in advance, Chef Bill said that they would be able to make a fresh batch in the back and they welcome any questions from diners.
Chef Bill also spent some time telling us about their continued training program for their dining staff. They have new allergy friendly menus which they have already developed for the sit down restaurants and allergy menus are under review and development for the casual dining places. Chef Bill and staff was very open and receptive to our questions and feedback. We spent some time looking over the Allergy Friendly Dinner Menu for Wine Country Trattoria, a restaurant inside California Adventure.
At first glance, we had some confusion regarding the wording. For example Alla Vongole is "For Gluten/Wheat and Milk Allergies" and we weren't sure if that meant the dish was safe for people with gluten, wheat and milk allergies since the dish obviously has seafood in it. Turns out the wording means that the dish can be prepared safely for those with gluten, wheat, and milk allergies.
I kept reading and Shrimp Scampi is safe for those with gluten/wheat, egg, peanut/tree nut allergies, then that caused me to wonder whether the Alla Vongole would be safe for those with peanut and tree nut allergies or not? Chef Bill said no because the area where they prepare the Alla Vongole has a slight chance of cross contact near peanuts and tree nuts. I was awestruck that even though the menu was a little confusing without some explanation, that the Disney Chefs and dining services are taking into consideration of how they make meals will affect cross contact. Those Disney chefs are really watching out for us. Go Chef Bill!
Travel Tips for Food Allergies
We spent some time brainstorming travel tips for food allergies and talked about what Mylan can do to help to make travel safer and easier for food allergies. In the comments, please share your suggestions, comments, and questions regarding traveling safely with food allergies. Freely share your ideas but I reserve the right to moderate all posts (no spam, no self-promotion).
Fun Times with My Peeps and Great Eats
I felt very honored to be included at the Summit and wish to thank Mylan and Disney for showing me everything that they are doing to support our community, to raise awareness, to increase safety and setting new standards in the hospitality industry. Did I mention that i appreciate my husband and children's support for me to attend the summit? It's hard to be away from home but being with my peeps, some really incredible wonderful, kind, and supportive mommy food bloggers and strong advocates was delightful. We laughed and cried, encouraged each other, simply by being together. We ended our day with lunch inside California Adventure and a tour through Cars Land and a ride on Radiator Springs Racer with three Disney Ambassadors.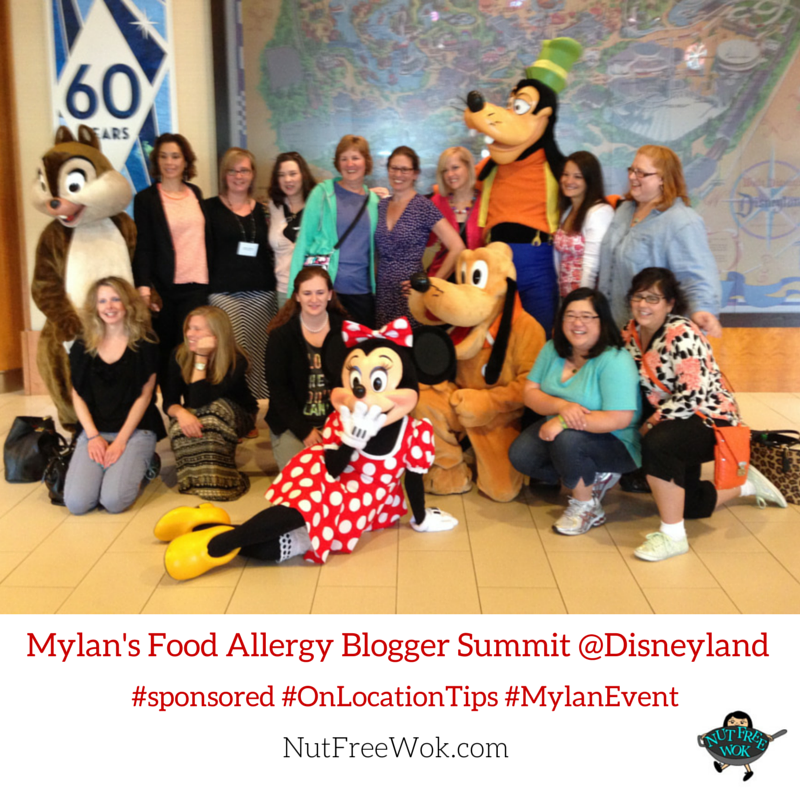 My conclusions
I have fond memories of my first trip to Disneyland when I was 8, it was such a fun trip with my parents. However, my children's first trip to Disneyland was memorable in a different way. They were 8 and 10 years old and we were caught in historic levels of rain, we were soaked through for the entire trip. Even though our sons were huge fans of Cars, the movie, they didn't want to go back to see the newly constructed Cars Land.
However, when I returned home from my trip to the Mylan Summit and I told them about  how Disney Parks Resorts are prepared to serve allergy safe meals, how the parks and cruises are prepared to assist in case of anaphylaxis with available medication and medical personnel, they are warming up to the idea of going to see Cars the movie come to life at California Adventure.
Our family enjoys traveling and the perfect trip for us is to travel with a Disney Chef to oversee my children's meals and having anaphylaxis awareness as an amenity gives me peace of mind. As a food allergy mom, that would be the key to having a relaxing vacation, not having to cook on the go or feeling worried about whether any one person handling my sons' meals won't understand our concerns.  We already have plans for this summer, but it's not to late to start planning a Disney Cruise with extended family and friends for next summer.
Congratulations to Mylan and Disney on their partnership. Cheers!
Disclosure: I attended the Mylan Blogger Summit meeting. Mylan paid for all of my travel expenses and for my Disneyland Resort park ticket in exchange for my evaluation and feedback on information presented during the meeting. All comments made by me about EpiPen (epinephrine) Auto-Injector, Mylan, and/or the Mylan Blogger Summit are at my own discretion and based on my own opinion. As always, it is my desire to share what I learn that might be helpful for Nut Free Wok readers.
What do you do when your teenaged son with nut allergies tells you he'll be traveling 396.4 miles away without you to go to Disneyland in Anaheim for a 4 day trip? My apron strings aren't long enough! We decided to take a family trip and scout out nut allergy friendly quick service restaurants.
What are your best traveling tips for those with food allergies? Share in the comments below!
If you enjoyed this post, please use the social media buttons below to share with others. I am on Facebook, Twitter, Pinterest, and Instagram as @nutfreewok and it's great to chat and interact on social media too.-