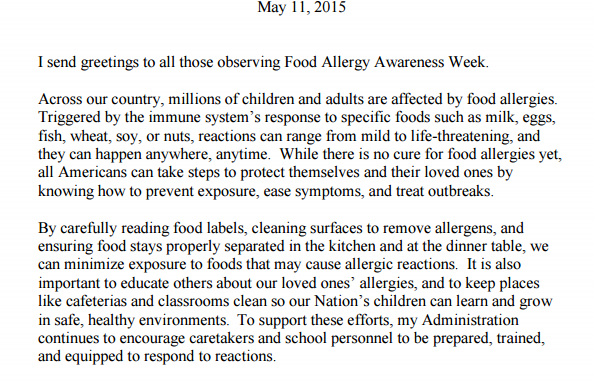 Hope for Food Allergy Awareness: Obama's Presidential Message
Food Allergy Awareness Week came and went very quickly this year, but the entire month of May is all about Food Allergy Awareness. I loved it that many civic officials in many states and communities issued proclamations about Food Allergy Awareness Week but the best one yet is President Obama's Presidential Message. Even though President Obama is a food allergy dad, he cannot use his presidential status to change laws to protect his daughter and our children but he joined US in OUR celebration by sharing a Presidential Message. It gives me hope that one day that people will change their attitudes about food allergies and anaphylaxis, and being food allergy aware will become part of our general understanding about health and safety.
Inspiring Loved Ones to Support Food Allergy Awareness
The more we share and the more we talk about food allergies, the more people in our community become aware. I recently went to check out a new restaurant because our family was going to attend an event that was catered by them. I asked about the use of peanuts, tree nuts and peanut oil. The cook came out and loudly told me, "Don't worry, we do not use peanut oil just peanuts in the Chicken Salad!" I explained to him that it's great they don't use peanut oil, but that the peanuts in the chicken salad still posed a risk of cross contact. I'm not sure if he understood or cared but perhaps he will think about it (or not, we decided not to attend the event).
On the other hand,  my mom likes to buy take out dim sum for my kids. That makes me a little nervous but I allow her to express her love as a Chinese grandmother by providing delicious food for her only grandchildren on the condition that she ask the dim sum take out restaurant if they use peanuts, peanut oil, or tree nuts and to be aware of potential cross contact. My friend, J (using first initial to protect privacy), helped me to translate FARE's Chef Card and I used Google Translate to to translate my sons' allergens and I gave it to both my mom and mother in law so that they would understand my concerns about restaurant foods and be empowered to ask the right questions.
My mom struggled to ask questions initially but recently she happily told me that the person she asked responded that they are aware that many of their customers are allergic to nuts and they are careful. Any readers who are Chinese-Americans know that such a compassionate response is really huge and somewhat rare. While we can dissect the allergy awareness a little more (are their oils made on shared equipment with peanuts, do they use anything that is labelled as possible cross contact with nuts, what about other allergens, etc.), I take the compassionate answer as a win and a baby step in the right direction. It means that food allergy awareness is spreading because loving grandmothers and concerned parents are making a difference by having meaningful conversations about food allergies in their communities.
Inspiring the Greater Community to Support Food Allergy Awareness
Maybe continued calls and conversations with food manufacturers will help them to realize that the needs of their customers are changing. Maybe they can share their allergen info in a FAQ section on their website. Maybe we can look forward to the day when private schools and summer camps will not turn away students because they don't want to bother accommodating children with food allergies. Maybe one day it'll be considered utterly disgraceful to mock or bully people with food allergies. Maybe more restaurants will follow Del Posto's Chef Brooks Headley's lead and embrace customers with food allergies and dietary restrictions. Maybe more legislators will be inspired to support or author legislation that will protect families. Maybe we can hope.
The senators who authored HR2094, the School Access to Emergency Epinephrine Act, had personal connections to food allergies as well as some California legislators and policy makers who supported SB 1266 despite intense opposition from lobbyists. It takes courage and selflessness to expose the First Daughter's history of peanut allergy and asthma because the revelation exposes her vulnerability. I applaud President and Michelle Obama for their support and taking us one more step in the right direction toward awareness, compassion, and acceptance.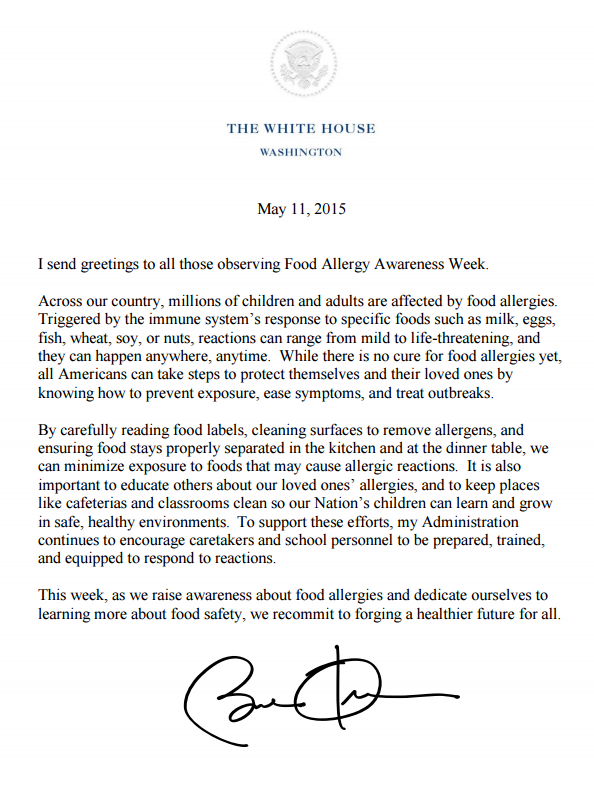 President Obama's letter is published on NIAID'S site along with some informative resources and videos that will answer your questions about what are food allergies, how to read ingredient labels, and how to manage food allergies. Please visit the NIAID site and view the letter, complete with the White House letter head and President Obama's signature.
Thank you President Obama for inspiring change and sharing hope!
Keep calling, keep talking, keep sharing.
Thanks for reading, are you following Nut Free Wok?
The best way to see every post or recipe is to subscribe to Nut Free Wok's email subscription (be sure to respond to the confirmation email). You will to be notified by email next time I publish another post or recipe and I won't send you spam or share you email with anyone.
If you enjoyed this post, please use the social media buttons below to share with others. I am on Facebook, Twitter, Pinterest, and Instagram as @nutfreewok and it's great to chat and interact on social media too.