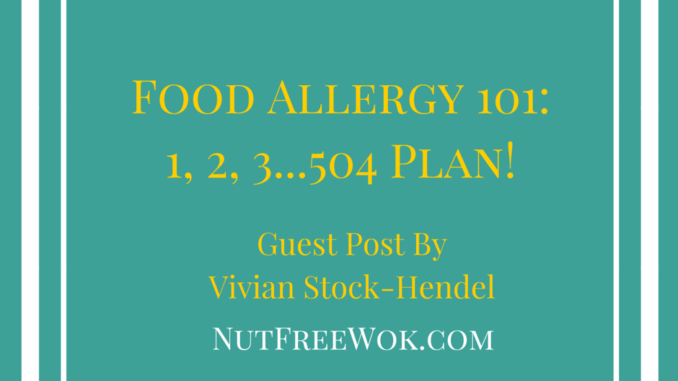 Food Allergy 101: 1, 2, 3…504 Plan!
Food allergy mom, Vivian Stock-Hendel, shares this guest post about 504 plans as a resource for parents who have school age children with food allergies.
Disclaimer: This post may contain affiliate link(s).
The first day of kindergarten is a huge milestone in the life of a family. Even for more seasoned parents, the first day of back to school is rather bittersweet. How many parents have taken pictures at the classroom door or dried tears, sometimes our own? We wonder if our children will adore their teachers, will they have fun and learn, will they make friends? We hope that their day goes smoothly but if not, that a kind individual will help them.
But what if our children have food allergies? How do we know that our children will be ok, that precautions will take place to prevent an allergic reaction? Will their teachers be ready to follow an Emergency Care Plan, have the presence of mind to use an epinephrine auto-injector and call 911? How will we have peace of mind every school day for 13 years from K-12 ? I am fairly certain that every food allergy parent's heart skips a beat to see their child's school on caller ID and is relieved when a kind voice on the other end says, "Suzy is fine, it's not an emergency…" and suddenly, almost anything they say after that is fine.
One way to ensure the safety and well-being of our food allergic children is to collaborate together with school personnel to create a 504 plan. People often ask about 504 plans in my food allergy support groups and I have one friend, Vivian Stock-Hendel, who is quick to help others by sharing dozens of links to related resources and answering questions. I invited Vivian to be my very first guest blogger on Nut Free Wok because she is a freelance writer, an articulate and passionate food allergy parent advocate, who has many years of experience successfully advocating for her child in the public school system. Vivian and I hope that this post will answer some questions about 504 plans: why are 504 plans needed, what are 504 plans, what should they say, and how to obtain one?
Vivian has compiled a list of resources for your reference however kindly bear in mind that both Vivian and I are parents like you, facing similar situations and challenges. You may have specific questions which should be referred to your legal professional. I am grateful for Vivian's willingness to share her story below and to compile some resources found online. ~Sharon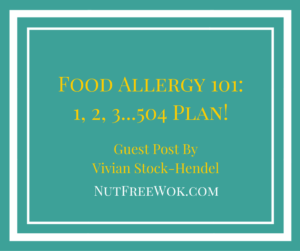 Food Allergy 101: 1, 2, 3…504 Plan!
 by Vivian Stock-Hendel
Sending your child to school with a life threatening allergy can be frightening and overwhelming. When my son was first diagnosed in second grade, children with severe food allergies were not eligible for a 504 Plan. I read our school district's food allergy policy. It was very basic. Our allergist also told us some of the things we needed to be safe at school and offered to write a letter to his school. I spoke to my son's teacher and the school principal to make arrangements. We were lucky that his teacher had a younger sister with a peanut allergy. She already knew how to use an Epi-pen, had seen anaphylaxis first hand, and was willing to do whatever was needed to keep our son safe. The school agreed to an extra set of medication in the classroom in addition to the set in the office. Hand washing was already in place. There was no allergen table so we made a lunch plan for him. But nothing was written down except the medical emergency plan and the mandatory school district medication forms.
Safety was addressed but inclusion wasn't. My son had his own treat box in the classroom just in case food was brought to the classroom. But this made him feel different. And he had to answer the questions his classmates or their parents asked. Why wasn't he eating the yummy cupcake his classmate's Mom made or bought at a bakery? Or, this donut doesn't have a nut on it, why isn't it safe? What happens if you eat it? Even though the school had a "no food for birthdays" rule, parents violated it all the time. I was one of two room parents so that gave me a little more notice for classroom events with food. I tried to be the provider of all foods for two class parties allowed so that they would be allergen free. But I wasn't in control and I was often blindsided by parents sending his allergens to the classroom. I was always putting out fires. Luckily he did not have a serious reaction.
Schools may offer you an Individual Health Care Plan (IHCP).  An IHCP is usually based on school district policy and outlines a care plan in the event of an emergency as well as measures taken to prevent an allergic reaction. It is written but is not legally binding. There are no complaint procedures if the plan isn't followed. Often these informal plans are reactive rather than proactive. They address safety, but not inclusion, much like the agreement we made when my son was first diagnosed. There is no recognition of a disability. Some school districts will include this document in the 504 plan.
The ADA Amendments Act of 2008 broadened the definition of a disability to include hidden disabilities such as severe food allergies. This changed everything. Because severe food allergies were recognized as an ADA disability, your child now has legal rights to accommodations to put them on an equal footing with their non-disabled peers. If your child is attending a public school or a private school that receives any federal funding you can request a 504 Plan. The "504" in "504 plan" refers to Section 504 of the Rehabilitation Act and the Americans with Disabilities Act (ADA).  This law states no one with a disability can be excluded from participating in federally funded programs or activities, including elementary, secondary or postsecondary schooling. Section 504 guarantees students with disabilities will be provided appropriate services to meet their individual needs to the same extent as the students without disabilities are met.
In other words, Section 504 guarantees that students with disabilities will receive the services necessary to get all the same benefits of an education as all other students. This law also provides that disabled students will be educated in the least restrictive environment (LRE) to the fullest extent possible. And these services will be provided at no cost to the students or their parents, in other words, a free appropriate public education (FAPE). A 504 is a formal legally binding written agreement with complaint procedures. There is also a "child find" provision in the law. Schools are supposed to evaluate students for a 504 Plan if they suspect eligibility.
In essence, a 504 Plan levels the playing field. If you child's disability means they must use a wheelchair, it is clear to all that they need a ramp to freely access the school. But when your child has a hidden disability, like severe food allergies, it isn't clear to all what their "ramp" looks like. What does your child need to ensure safety and inclusion? A 504 Plan should answer that question in detailed precise language.
To start the 504 process, submit a written request to your child's school 504 coordinator explaining that their disability, anaphylaxis, affects major life activities—breathing and eating. Include a letter from your allergist documenting the life threatening allergy and explaining if your child reacts to ingestion, contact, and or airborne allergens. If your child has been prescribed an epinephrine auto injector, they should be eligible but it is not automatic. The diagnosis alone doesn't insure eligibility. Each case is looked at individually and the burden of proof is on you.
Some schools or districts still are not up to speed on the eligibility of 504's regarding food allergies.  Some may tell you that your child is not eligible because they are doing well academically so they don't need a 504.  In the latter case, they are probably confusing the 504 Plan with the Individuals with Disabilities Education Act (IDEA), which provides educational services for children with special needs through an Individual Education Plan (IEP). In either case, educate them by using materials on the government's website. You can call the Office of Civil Rights (OCR) for your region in charge of enforcing 504 Plans. They will give you guidance and materials to help you educate your school. Hopefully, your school has already written 504 Plans for other students with food allergies and are knowledgeable.  Ask for any denial of the 504 to be documented in writing.  This is needed if you choose to file a complaint with the OCR.
Once eligibility is established by the school district, a meeting will be held to discuss accommodations and write the 504 Plan. Depending on your school district, the 504 team could include the 504 coordinator, the principal or other school administrator, teachers, school nurse, special education specialist, food service management or a district representative as well as the parents. You are your child's advocate at this meeting. Bring a friend to take notes and give moral support. Your role is to educate your school about your child's needs. You know your child best. Try to keep your emotions in check and explain your position clearly. This team should work together to come up with what's best for your child in a written 504 Plan.
In preparation for the meeting, make a list of accommodations that your child needs to navigate all situations that may occur during the school day and after school. Think of your child from the time they leave your home until they return. Your allergist may have input into what accommodations your child needs. Bring a copy of your child's emergency plan signed by their allergist. Bring your accommodations requests to the meeting and a letter from your allergist backing you up if you have one. The CDC has recently issued "Voluntary Guidelines for Managing Food Allergies In Schools and Early Care and Education Programs" (see link below). Read these and bring them to the meeting as a reference and starting point. Some states have written school food allergy guidelines, check on the web if your state has done so (see link below).
Here are some areas to address when drafting your accommodation requests:
The School Environment Is the school nut free? Is food service nut free? Is the school allergen aware? Nut free zones? Allergen free designated areas? Food free areas? Enforcement of food related rules?
The Classroom Is food present? Snacks? School supplies? Allergen free or food free classroom? Food rewards? Technology? Musical instruments? New set of textbooks for their use? Hand washing? Cleaning for allergens? Label reading and safe snack lists? Foods used in the curriculum? Signage? Is the classroom used for other purposes?
On the School Bus How will medical emergencies be handled? Is food allowed? Medications? Self-carried, transferred by staff? Who is trained to administer? Assigned seat?
Cafeteria How will your child's food be handled? Will they bring or buy lunch? Is a safe meal offered? Where will they sit?  Allergen free table offered? Who will clean the table? How will lunch be supervised? Does your child need an aide? Separate areas where nut products eaten, a peanut gallery? Hand washing? Hand sanitizers do not remove food proteins.
Recess/Playground/Fire Drills Medications? Monitoring? Allergens present? Staff walkie-talkies? Access to medicine?
Illness/Absences Any illness should be viewed through the eyes of anaphylaxis. Your child should not be left alone or sent to the nurse's office without adult supervision. When should parents be contacted? Does everyone know your emergency plan? Is their medical condition resulting in excess absences?
After School Activities/Fundraisers Will your child be safe and included? Are your child's allergens present? Is food involved?
Holidays/Celebrations/Lockdowns How will food be handled? How will safety and inclusion be ensured?
Gym How are medications stored during gym class so they are immediately available? Who will monitor your child in the locker room?
Medications You want life saving medications to be immediately available. Will your child self-carry? Will staff carry? How will they be stored? Many school districts require a set of medications be stored in the medical office but they should not limit you just to these.
Staff training, including substitutes Who will be trained in food allergy awareness, food allergy management, anaphylaxis recognition, and proper use of your child's epinephrine auto injector? When will the training occur? How will substitutes be made aware of your child's food allergies? Will long term subs be trained? Training of all school staff should be a goal. Who will provide the training?
Field trips Is the field trip safe and inclusive? What trained staff will accompany your child? Are parents given the option of attending? How will food be handled? How will transportation be handled for the student and attending parent?
General Food Allergy Awareness Request an assembly to educate students and staff. This goes a long way to reduce food allergy bullying and creates a positive community attitude.
Privacy Who knows your child's medical information? How will it be shared and with whom? You have privacy rights under Family Educational Rights and Privacy Act (FERPA).
Notifications Request advance written notice of events involving food so you can make a plan for your child and make sure they will be included.
Responsibility Who is responsible for carrying out each accommodation in the 504? Does anyone oversee?
Other things to keep in mind. Document all meetings and phone conversations by writing a letter of understanding. Try to do things by email so you automatically have documentation.  This guarantees that everyone is on the same page plus creates a record if you decide to file a compliant.  You are forging a long-term relationship with your child's school.  In any relationship, they are going to be misunderstandings, mistakes, and disagreements.  Work together to resolve these problems.  If the school isn't following your 504 Plan, document each violation. You may want to file a complaint with the OCR especially if safety is being ignored.  This is a simple process and can be done on line.  The OCR also provides technical assistance to you and your school. If your 504 Plan accommodations no longer ensure safety and inclusion, reconvene the 504 team to amend your Plan. View the 504 as a living document, not written in stone.  Most school districts review the 504 annually or if you change schools or districts.  Every three years 504 Plans are reviewed for eligibility.
If your child has an Individual Education Plan (IEP) under IDEA for another condition such as a learning disability, your 504 accommodations for their food allergies should be added to their IEP.  Many school districts are confused and will say you can't have a 504 because you have an IEP. Sometimes schools will create a separate 504.  But since the IEP offers more protection, it is preferable to add to the existing IEP. The 504 Plan protection is encompassed by IDEA. If your child's food allergies are affecting their academic performance, you may be eligible for an IEP without another qualifying condition. If a student has long or frequent absences due to illness, they may need extra academic instruction to catch up if they are falling behind. It may not be easy but you may be able to establish eligibility.
Resource Links:
1. Food Allergy Management Policies for Schools:
CDC Voluntary Guidelines for Managing Food Allergies In Schools and Early Care and Education Programs, issued 2013
http://www.cdc.gov/healthyyouth/foodallergies/pdf/13_243135_A_Food_Allergy_8.pdfWeb_50
Caring for Students With Food Allergies, Loudoun County Public Schools, 2010. Great example of a School District Food Allergy Policy.
http://www.lcps.org/cms/lib4/VA01000195/Centricity/Domain/127/Supporting%20Students%20with%20Food%20Allergies1%20%208-26-2013.pdf
Safe at School and Ready to Learn: A Comprehensive Policy Guide for Protecting Students with Life-threatening Food Allergies, Second Edition. National School Board Association.
https://www.wrightslaw.com/info/allergy/School.Manual.2012.NatlSchBoardAssoc.60pages.pdf
List of States with School Food Allergy Guidelines, Food Allergy Research and Education (FARE)
http://www.foodallergy.org/laws-and-regulations/guidelines-for-schools
FAACT's Civil Rights Advocacy Section 504 Resources
https://www.foodallergyawareness.org/civil-rights-advocacy/civil-rights-advocacy-resource-center/section-504/
FAACT: Civil Rights Advocacy in Schools
https://www.foodallergyawareness.org/civil-rights-advocacy/schools/
FAACT Education Resources for Schools
https://www.foodallergyawareness.org/education/education/
2. U S. Department of Education, Office of Civil Rights:
Parent and Educator Resource Guide to Section 504 in Public Elementary and Secondary Schools, U.S. Department of Education Office for Civil Rights, December 2016
https://www2.ed.gov/about/offices/list/ocr/docs/504-resource-guide-201612.pdf
Protecting Students With Disabilities, Frequently Asked Questions About Section 504 and the Education of Children with Disabilities
http://www2.ed.gov/about/offices/list/ocr/504faq.html
The Civil Rights of Students with Hidden Disabilities Under Section 504 of the Rehabilitation Act of 1973
http://www2.ed.gov/about/offices/list/ocr/docs/hq5269.html
OCR Complaint Processing Procedures
http://www2.ed.gov/about/offices/list/ocr/complaints-how.html
U. S. Department of Education, The Law under pinning Section 504, 34 C.F.R. Part 104
http://www2.ed.gov/policy/rights/reg/ocr/edlite-34cfr104.html 
Mystic Valley OCR Due a Process Hearing Decision: establishes a classroom free of peanut and tree nut products as a reasonable accommodation
http://www.doe.mass.edu/bsea/decisions/03-3629.pdf (downloadable file)
Questions and Answers on the ADA Amendments Act of 2008 for Students with Disabilities Attending Public Elementary and Secondary Schools
http://www2.ed.gov/about/offices/list/ocr/docs/dcl-504faq-201109.html
Parent and Educator Resource Guide to Section 504 in Public Elementary and Secondary Schools, U.S. Department of Education Office for Civil Rights, December 2016
https://www2.ed.gov/about/offices/list/ocr/docs/504-resource-guide-201612.pdf
3. Formulating a 504 Plan:
Section 504 Primer, Education and Advocacy Solutions
http://mail.allergyeducation.com/504Plan.htm
504 Plan/IHCP Discussion Document, Anaphylaxis and Food Allergy Association of Minnesota
http://minnesotafoodallergy.org/sites/default/files/504PlanDiscussionDocument.pdf
Sample 504 Plan for Food Allergies
http://blog.onespotallergy.com/2012/09/sample-504-plan-free-to-click-and-print/
Sample 504 plan from Kids with Food Allergies
http://www.kidswithfoodallergies.org/page/sample-section-504-plan-for-food-allergy.aspx
FAACT Sample Accommodations for 504 Plans/IEPs
http://www.foodallergyawareness.org/media/civilrights/5-%20Sample%20Accommodations_FINAL%20with%20Logo_PDF.pdf
4. More about 504 Plans and IHCPs:
504 Plans, IHCPs, ECPs: Food Allergy School Health Care Plans, Kids With a Food Allergies
http://community.kidswithfoodallergies.org/blog/school-health-care-plans-for-your-child-with-food-allergies
School Resources, Kids with Food Allergies
http://www.kidswithfoodallergies.org/resourcetopic.php?topic=school-preschool
Food Allergy School Health Plans, Kids With Food Allergies, Webinar Video
http://community.kidswithfoodallergies.org/blog/food-allergy-school-health-plans-504-vs-ihcp-video-and-resources
How to Obtain a 504 Plan, Thriving with Food Allergies
http://thrivingwithallergies.blogspot.com/p/turning-your-food-allergy-worries-into.html
Food Allergies in the Classroom, FARE
https://www.foodallergy.org/resources/food-allergies-classroom
Discrimination: Section 504 and ADA
http://www.wrightslaw.com/info/sec504.index.htm
Letter to Zirkel
http://www.dueprocessillinois.org/zirkel.html
Misquoted And Misunderstood: Peanut Bans In Schools And A False Sense Of Security
http://blog.onespotallergy.com/2014/01/misquoted-and-misunderstood-peanut-bans-in-schools-and-a-false-sense-of-security/
Wrightslaw: Advocacy
Getting Started at School, FARE
https://www.foodallergy.org/resources/getting-started-school
5. Bullying, Inclusion, and other issues:
Food Allergy Bullying, Gluten Free and More magazine
https://www.glutenfreeandmore.com/issues/food-allergy-bullying/
Food Allergy Bullying – What's the Answer? AllergicChild.com
http://home.allergicchild.com/food-allergy-bullying-whats-the-solution/
Food Allergy Bullying: It's not a joke 
Social Consequences of Food Allergy by Catherine Alvarez
http://www.creativitypost.com/psychology/social_consequences_of_food_allergy
Food in the Curriculum and the Food-Allergic Student by Jan Hanson, M.A., Allergies Asthma Children Parent's (web) Guide
http://asthmaallergieschildren.com/2013/06/25/food-in-the-curriculum-and-the-food-allergic-student/
When a School Refuses to Protect a Child with Life-Threatening Allergies
http://www.wrightslaw.com/blog/?p=58
Resolution—Food Allergy and Anaphylaxis Management in Schools, The National PTA
https://www.pta.org/home/advocacy/pta's-positions/Individual-PTA-Resolutions/ResolutionFood-Allergy-and-Anaphylaxis-Management-in-Schools
Anaphylaxis: Be Aware, Prepared and Ready to Respond, The National PTA
https://www.pta.org/home/family-resources/health/Chronic-Conditions/Anaphylaxis-Be-Aware-Prepared-and-Ready-to-Respond
Food Allergies: What PTOs and PTAs Need to Know
https://www.foodallergy.org/media/413/download
What is Really Needed to Clean Peanut Residue? How can schools make their facilities safe for peanut allergies? By Jeanette Bradley
http://foodallergies.about.com/od/foodallergybasics/a/Clean-Peanut-Residue.htm
Wrightslaw Anaphlaxis and Food Allergies Section
http://www.wrightslaw.com/info/allergy.index.htm
School Access to Epinephrine State Laws
https://www.foodallergy.org/school-access-epinephrine
Prepare to Meet the School on Allergy Needs – In 10 Easy Steps
http://allergicliving.com/2016/08/16/prepare-to-meet-the-school-on-allergy-needs-in-10-easy-steps/
Educators, FARE
https://www.foodallergy.org/living-food-allergies/information-you/educators
Back to School Infographic, FARE
https://www.foodallergy.org/media/308/download
Latest update: May 13, 2020
Thank you, Vivian, for putting all of these resources together to help other families with food allergies! ~Sharon
Additional resource:
Gina Clowes (AllergyMoms) recommended this book to me when I reached out to her for help and I found this book to be an empowering book on how to navigate this process. Know when you need to seek help from a professional advocate or a lawyer. ~SW
Wrightslaw: From Emotions to Advocacy: The Special Education Survival Guide (affiliate link)
Love this post and want more?
Follow Nut Free Wok on social media today!
Disclosure/Disclaimer:
The information presented in this article should not be considered medical or legal advice under any circumstance. If you have any related questions, please consult your medical and/or legal professional. NutFreeWok.com is a participant in the Amazon Services LLC Associates Program, an affiliate advertising program designed to provide a means for sites to earn advertising fees by advertising and linking to Amazon.com.