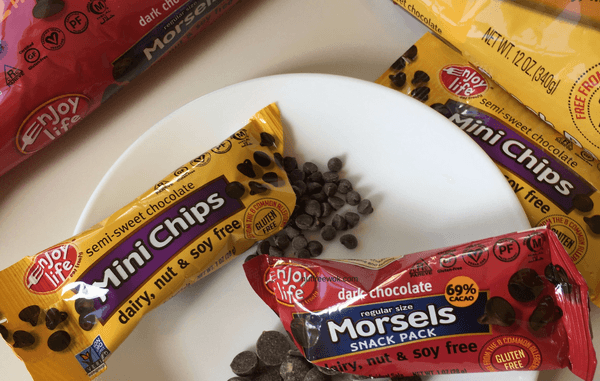 As if anyone one needed a reason to buy or eat Enjoy Life Baking Chips Snack Packs…but I have 9 reasons to check it out!
I am happy to part of Enjoy Life Food's blogger friends and from time to time I will receive samples to try and will tell you about them. This post and giveaway is sponsored by Enjoy Life Foods, please take a moment to visit their website.
Update (2/7/2023): Since this post was originally posted, Enjoy Life rebranded and discontinued this specific product. They still carry their baking chocolates in regular sized packages.
Disclaimer: Please check that all ingredients are suitable for your allergies and be sure to ask your medical care team regarding any allergy related questions (I do not share medical advice). As an Amazon Associate I earn from qualifying purchases.
Enjoy Life Foods Baking Chips Snack Packs
Enjoy Life Foods took their Mini Chips and Dark Chocolate Morsels (affiliate link) and packaged them into 1 ounce snack packs, yay! It's the same chips that they've always had but now we can buy them in snack sized packs and I offer 9 incredible reasons to check them out and enjoy…
In case you didn't know, not only is Enjoy Life Foods a leading allergy friendly food manufacturer, they're possibly an allergy mom's best friend. All of their products are free from the top 8 allergens, peanuts, tree nuts, milk, egg, wheat, soy, shell-fish, and fish as well as free from casein, potato, sesame, and sulfites. They are also gluten free, none of their products contain GMO and 46 products are verified by the Non-GMO Project. It's exciting to see that Enjoy Life Foods now has their own dedicated nut free facility in Indiana and they have been launching lots of new products including these little bags of tasty chocolates.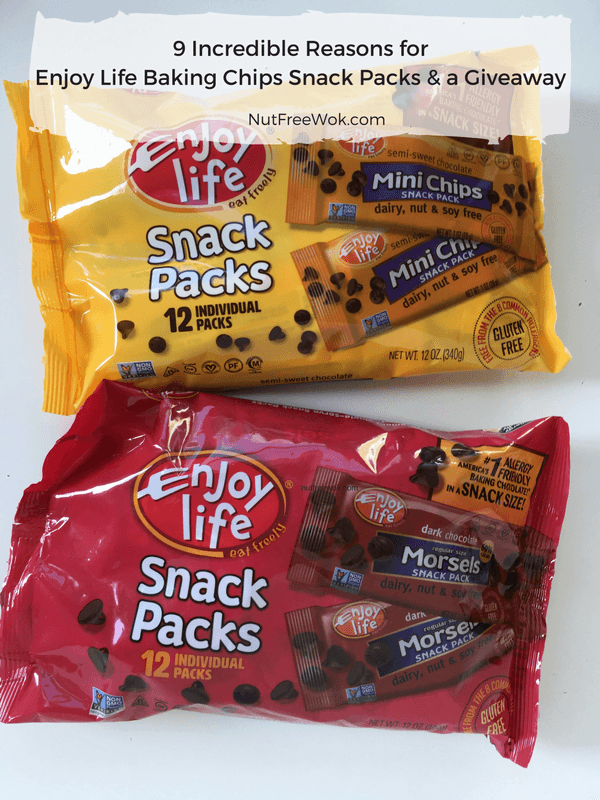 Eat and Enjoy (Life)
1. Extra chocolate: My favorite snack besides chocolate is Enjoy Life Food's Fruit and Seed Mixes but sometimes I add a spoonful (or two or three, see #2 below) of their chocolate chips for a treat. With the Baking Chips Snack Packs, I can enjoy a seed mix and extra baking chips together on the go!
2. Portion controlled treat: Each package contains 12 snack packs, 1 ounce each. (see #1 above)
3. Safe and portable sprinkles on the go: Imagine how sweet it would be to have access to safe sprinkles or cupcake decorations while away from home. You can make someone's day by giving them some chocolate so they can decorate their allergy friendly homemade cupcakes or have an extra treat.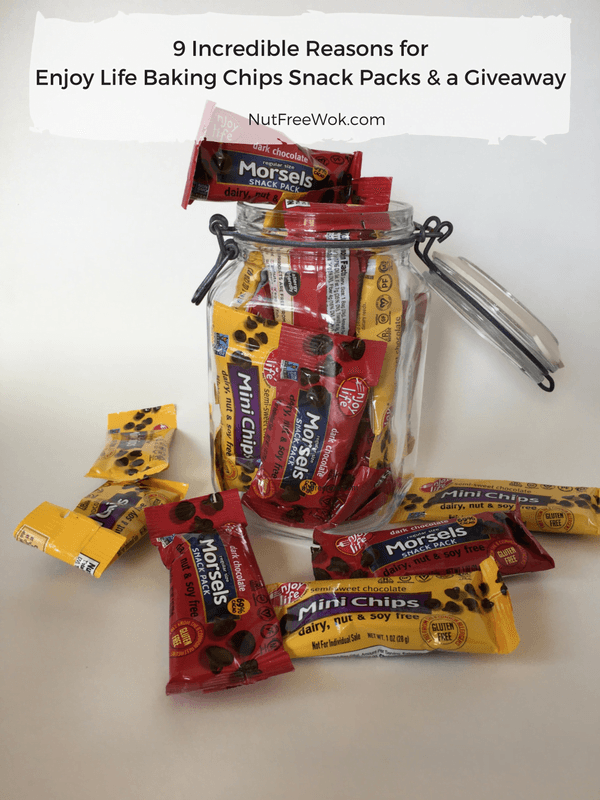 Share with purpose
4. Candy jar: Fill a candy jar with something that could be inclusive to those with food restrictions and create an opportunity to talk about food allergies and awareness with family, friends, and colleagues.
5. Travel goodwill: If you feel anxious about strangers eating nuts or other allergens around you on an airplane when you travel, bring some allergy friendly snacks to share so that if you need to ask them to help keep you safe, at least you can share something with them so they aren't hungry because they can't eat their own snack.
6. Trick or Treat: You may have heard about the Teal Pumpkin Project where people display a teal pumpkin to let people know that they will offer non-food treats, such as small toys, stickers, pencils, etc.. Share food allergy awareness by offering Baking Chip Snack Packs to trick or treaters who would love some allergy friendly chocolate. 
Share with love & go over the top
7. Sweet surprises: Attach an encouraging note to the Baking Chip Snack Pack and add it to a lunch box or leave it on their desk, favorite spot, or pillow. It's the little things that count.
8. Care packages: Add it to a care package for someone who lives far away, such as a college student or loved one. You might make their day.
9. Get crafty: Make a cute graphic with a catchy phrase, print them out and attach them to a snack pack and pass them out as shower favors, holiday greetings, Valentines, etc.. Elizabeth at EBL Food Allergies has a creative idea for Halloween, go read about bat poop!
GIVEAWAY! (completed)
One lucky winner will receive two bags of Enjoy Life Baking Chips Snack Packs, one of each type, Mini Morsels and Dark Chocolate (24 snack packs).
All you have to do enter is to answer the following question in the comments below: What will you be for Halloween, if you are dressing up?
You may receive additional entries by subscribing to Nut Free Wok's newsletter and interacting with Nut Free Wok and Enjoy Life on social media via the Rafflecopter widget below.
Visit Enjoy Life Food's webpage for more information about their new Baking Chips Snack Packs and be sure to check if their products are safe for your family before consuming.
This giveaway is open only to US residents,

no purchase necessary.

It begins today, October 18, 2016 and ends on Monday, October 24, 2016 at 11:59 p.m. PST. Good luck!!
Check out Enjoy Life Foods' other products available on Amazon (affiliate link).
Thanks for reading, please help Nut Free Wok!
The best way to see every post or recipe is to subscribe to Nut Free Wok's email subscription (be sure to respond to the confirmation email). You will be notified by email next time I publish another post or recipe and I won't send you spam or share your email address with anyone.
If you enjoyed this post, please use the social media buttons below to share with others. I am on Facebook, Twitter, Pinterest, and Instagram as @nutfreewok and it's great to chat and interact on social media too.
Disclosure/Disclaimer:
I may mention the names of stores and/or brand names of products that I use because readers ask and I share products and sources which I use and think may be helpful to readers, all opinions are my own. Please note that manufacturing practices and ingredients can change at anytime without notice and readers are always responsible for assuring allergen safety before buying or consuming foods. NutFreeWok.com is a participant in the Amazon Services LLC Associates Program, an affiliate advertising program designed to provide a means for sites to earn advertising fees by advertising and linking to Amazon.com. Thank you for reading!