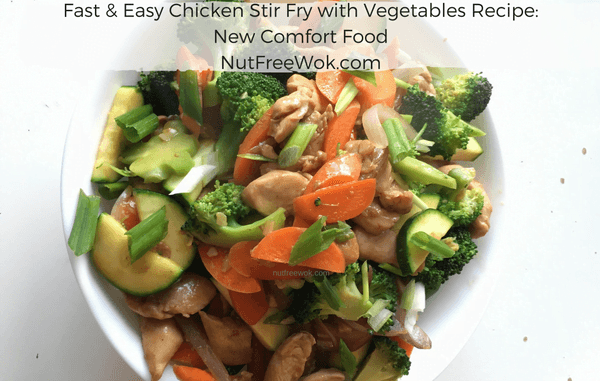 I make a chicken stir fry when I want a healthy allergy friendly meal that's fast and easy. I used Foster Farms Simply Raised Boneless Skinless Breast Tenders for a lean and tasty stir fry loaded with fresh vegetables.
This post was sponsored and updated on 3/20/2023 with minor edits for readability.
Disclaimer: Please check that all ingredients are suitable for your allergies and be sure to ask your medical care team regarding any allergy related questions (I do not share medical advice). As an Amazon Associate I earn from qualifying purchases.
Jump to Recipe
Easy Dinner Solutions for an Allergy Mom Sandwich
Making Chicken Stir Fry with Vegetables is one fast and easy way to get dinner on the table fast. I have been taking my mom to appointments in San Francisco and each trip takes about 4 hours round trip while the kids are at school. My sons need a lot of rides to and from their various schools and activities after school and on weekends. I'm on the road a lot, very short on time, and need to keep all of us fed, healthy, and allergy safe. What's an allergy mom sandwich to do? I turn to New Comfort Foods and make a fast and easy chicken stir fry with vegetables.
You can serve this chicken stir-fry with some steamed rice or Garlic Noodles to round out your meal. And for a make-ahead dessert, try making a Nut-Free Almond Tofu. If you like to try other chicken stir-fry recipes, I recommend Healthy, Easy Chicken Tenderloin Stir-Fry Recipe, Quick & Easy Chicken with Green Bean Stir Fry Recipe, or Chicken & Vegetables Lo Mein.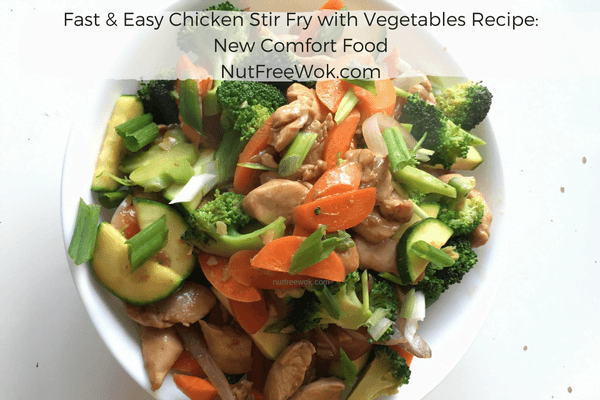 Tips for Chicken Stir Fry Success
I have shared with you my tips for stir fry success before, but here are some relevant highlights for making a chicken stir fry:
Chicken stir fry is different because chicken needs more flavor. Marinating it for 15 minutes while you prepare your other ingredients is usually enough. Cook the chicken the same day you marinate it because chicken that has been marinated for too long will taste rubbery and tough.
Don't crowd your ingredients and stir fry in batches if needed otherwise you'll end up with a stir-braise, which you can rescue with a cornstarch mixture but then you'll risk overcooking your ingredients.
It's important not to overcook a chicken stir fry. You want the chicken to be soft and tender and the vegetables to be brightly colored and crisp. I stir fry the chicken until the meat is no longer pink on all sides and then take it out of the pan while I stir-fry the vegetables. When the vegetables are almost tender crisp, I add the chicken back into the pan with a sauce until the chicken is cooked through and the sauce is just right.
My #1 tip is to prep everything and have all ingredients ready to cook before you start. Stir fries taste great because they cook very quickly and you won't have time to pause and wash, chop, or assemble anything once you start stir frying.
New Comfort Foods That Are Fast, Easy, and Healthy
New comfort foods uses mostly local seasonal ingredients, has minimal ingredients in the recipe, and have quick easy steps and fast prep time. My mom likes healthy Chinese stir fries with lean protein and lots of vegetables and minimal addition of sauces so we can taste the freshness and flavors of the ingredients. My kids will eat the veggie packed stir-fry with some sauce, and I try to strike a balance between tasty and healthy. Thank goodness my husband is easygoing and will pretty much eat whatever I make. A fast and easy chicken stir fry with vegetables served with rice is a simple, healthy, and hearty meal.
Foster Farms Simply Raised Fresh Chicken
I was excited to participate in this campaign when I learned about Foster Farms Simply Raised Fresh Chicken. All Foster Farms chicken are 100% natural (minimally processed, no artificial ingredients), raised locally in California and/or the Pacific Northwest, American Humane Certified, and raised without hormones or steroids (which is against federal regulations for all poultry).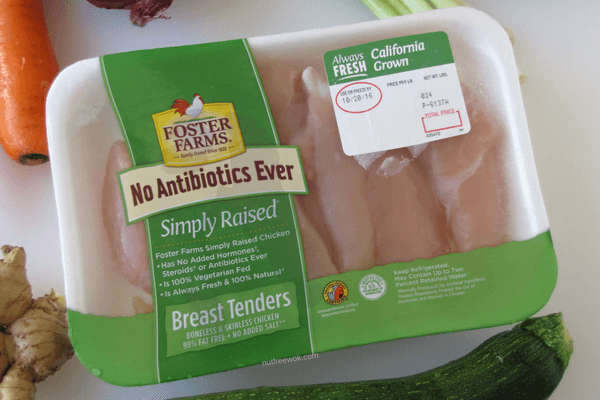 If you are interested in knowing more about why Foster Farms Simply Raised Fresh Chicken's antibiotic-free, vegetarian fed chicken matters and how we can be a more aware consumer, I highly recommend you read one of Marion Nestle's books. She is a NYU nutrition professor and one of my favorite authors. Professor Nestle is a champion of advocating for better food policies and has authored many books about food politics. Read What to Eat (affiliate link) or Food Politics (affiliate link), which you might be able to check out of your public library.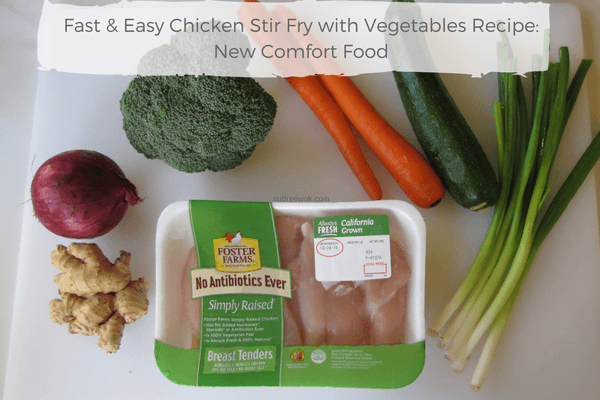 Foster Farms Simply Raised Fresh Chicken has a variety of bone-in, bone-less, skinless parts as well as whole chicken. I selected a package of Boneless, Skinless Breast Tenders because the chicken tenders are already cut into strips and all I need to do is cut them into bite sized pieces, what a huge time-saver. Visit Foster Farms' Simply Raised Chicken webpage for product information, recipes, and cooking tips.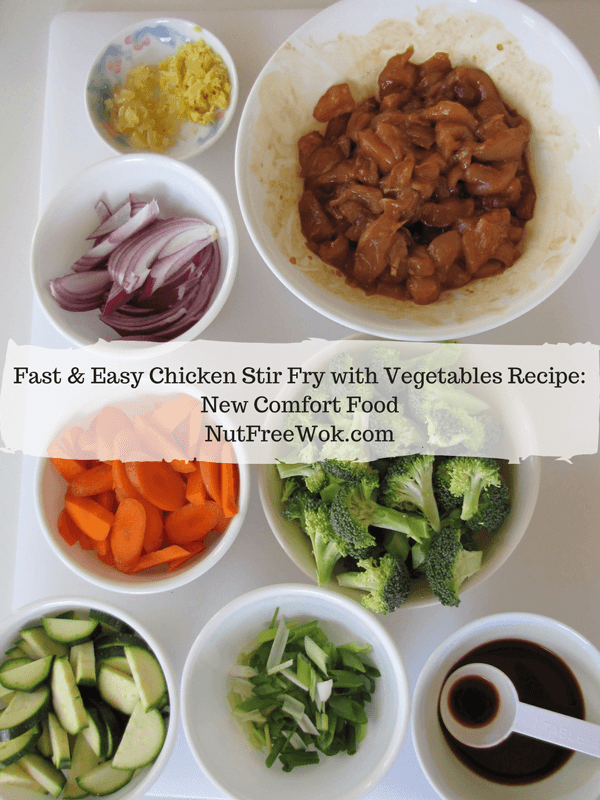 This recipe is free of peanuts, tree nuts, egg, fish, shellfish, and milk as written.
If allergic to wheat, be sure to use a gluten-free versions of soy sauce and corn starch. If allergic to soy, try making a batch of my soy-free soy sauce recipe and using it instead of soy sauce. If you are curious about what ingredients I use, be sure to check out what is in my cupboard.
If you like this recipe, you might also like my recipe for Chicken and Green Beans Stir Fry, it's also easy and uses chicken breasts.
If your family prefers dark meat like my family, you can use boneless, skinless chicken thighs as a 1:1 substitute and easier to cook with, especially as you learn how to work on your stir-fry timing.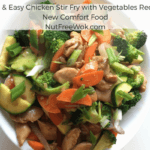 Fast and Easy Chicken with Vegetables Stir Fry Recipe
I make a chicken stir fry when I want a healthy allergy friendly meal that's fast and easy. I used Foster Farms Simply Raised Boneless Skinless Breast Tenders for a lean and tasty stir fry loaded with fresh vegetables. Sponsored post by Foster Farms, all opinions are mine.
Ingredients
3/4

pound

Foster Farms Simply Raised Fresh Chicken

I used Breast Tenders

2

tablespoons

soy sauce

divided

1

tablespoon

michu

rice wine, can substittue sherry or mirin

1/2

teaspoon

sugar

1/4

teaspoon

white pepper

ground

3

teaspoons

corn starch

divided

2

teaspoons

olive oil

divided

2

cloves

garlic

minced (2 teaspoons)

1

slice

ginger

peeled and minced (2 teaspoons)

1

small red onion

sliced

2

carrots

halve lengthwise and slice diagonally

1

broccoli crown

cut florets into bite sized pieces

1

zucchini

halve lengthwise and slice

2

stalks scallions

chopped (reserve 1 tablespoon for garnish)
Instructions
Thinly slice chicken tenders across the grain and place into a medium mixing bowl.

Add 1 tablespoon soy sauce, michu, sugar, white pepper to the chicken and mix.

Add 2 teaspoons corn starch to the chicken and mix, set aside to marinate.

Make a sauce by mixing 1 teaspoon corn starch, 1/3 cup room temperature water, and 1 tablespoon soy sauce, set aside.

Prepare all vegetables as directed, set aside.

Preheat wok or stainless steel frying pan on medium high heat for a few minutes until the pan feels toasty if you hold your hand over it and/or a drop of water sizzles (if using a non-stick frying pan, cook at medium heat but allow more time than directed).

Add 1 teaspoon of oil and swirl to coat, saute the ginger and garlic until fragrant (30 seconds) and add marinated chicken pieces, spread them out and allow the chicken to sear for 30 seconds before stir frying until no longer pink (3-4 minutes), transfer to a clean bowl and set aside.

Add 1 teaspoon of oil and swirl to coat, stir fry onions until slightly translucent and fragrant.

Add broccoli florets, carrot and zucchini slices and saute for 1 minute, add 1/4 cup of water and cover with a lid to steam vegetables for 2 minutes.

Add zucchini slices, chicken, and most of the chopped scallions.

Stir the cornstarch mixture and add to the stir fry, continue to saute until the sauce thickens (1 minute).

Transfer to a serving bowl, garnish with scallions, and serve over rice.
Recipe Notes
To save time, you can also use 1 teaspoon each of powdered ginger and garlic but add half to the marinade and half to the sauce.
Visit Foster Farms' Simply Raised Chicken webpage for product information, recipes, and cooking tips.
Thanks for reading, please help Nut Free Wok!
The best way to see every post or recipe is to subscribe to Nut Free Wok's email subscription (be sure to respond to the confirmation email). You will be notified by email next time I publish another post or recipe and I won't send you spam or share your email address with anyone.
If you enjoyed this post, please use the social media buttons below to share with others. I am on Facebook, Twitter, Pinterest, and Instagram as @nutfreewok and it's great to chat and interact on social media too.
Disclosure/Disclaimer:
I may mention the names of stores and/or brand names of products that I use because readers ask and I share products and sources which I use and think may be helpful to readers, all opinions are my own. Please note that manufacturing practices and ingredients can change at anytime without notice and readers are always responsible for assuring allergen safety before buying or consuming foods. NutFreeWok.com is a participant in the Amazon Services LLC Associates Program, an affiliate advertising program designed to provide a means for sites to earn advertising fees by advertising and linking to Amazon.com. Thank you for reading!