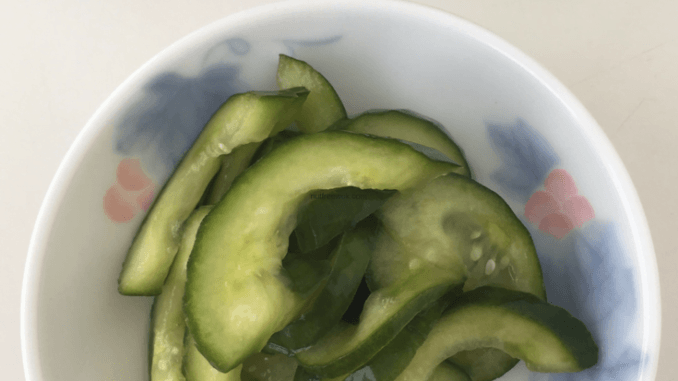 These sweet pickled cucumbers are just sour enough to whet your appetite but they have a touch of sweetness to satisfy your taste buds. Serve this sweet pickled cucumber recipe as a refreshing appetizer on a hot day or as a light side for a heavy meal. Scroll down to read more about our challenge with finding allergy safe drinks due to my son's pinenut allergy and my review about Pickle Juice. This post was updated on 7/21/2023 with minor edits for readability.
Disclaimer: Please check that all ingredients are suitable for your allergies and be sure to ask your medical care team regarding any allergy related questions (I do not share medical advice). As an Amazon Associate I earn from qualifying purchases.
Jump to Recipe
Easy and Refreshing Side Dish for Summer
I recently made Sweet Pickled Cucumbers because it's a great make-ahead no-cook side veggie. San Francisco Bay Area folks know that the end of September through mid October is heat wave season and it's the best time of year to visit. My kitchen has big western facing windows and it just feels too hot to cook dinner sometimes.
I trick myself into feeling cooler by thinking about Auntie Gum. My family used to visit Auntie Gum in Suisun, which is a farming community near Sacramento, CA. I treasure my memories of a sweet lady who talked with great enthusiasm about her garden. Auntie Gum enjoyed showing us her Asian vegetables that grew in the shade of her giant pomelo tree.  It was always blazing hot in her pear orchard but her home felt like a cool refuge. It was a peaceful memory and brought me back to simpler and more peaceful times.
I had previously shared with you the inspiration for my recipe for Japanese Sweet Cucumber Salad, Sunomono, a refreshing side dish that one can make and eat right away. This Sweet Pickled Cucumber is different because the cucumber slices are brined rather than dressed and they are very flavorful and crunchy. Auntie Gum used to serve some of her delicious pickled cucumbers to us during our visits and send us home with a jar to enjoy at home.
Recipe Tips:
This recipe works great with big cucumbers, too many cucumbers, or a surprise bumper crop from your garden. I feel less guilty about scooping out the seeds and composting them.
I like to store these sweet pickled cucumbers in an airtight glass storage jar with a clamp on the lid (affiliate). These kinds of jars are airtight which will prevent spoilage and the rubber gasket around the lid won't rust. Also since the sweet pickles will be in your refrigerator for a few days, you want to prevent any spillage in case the jar tips over.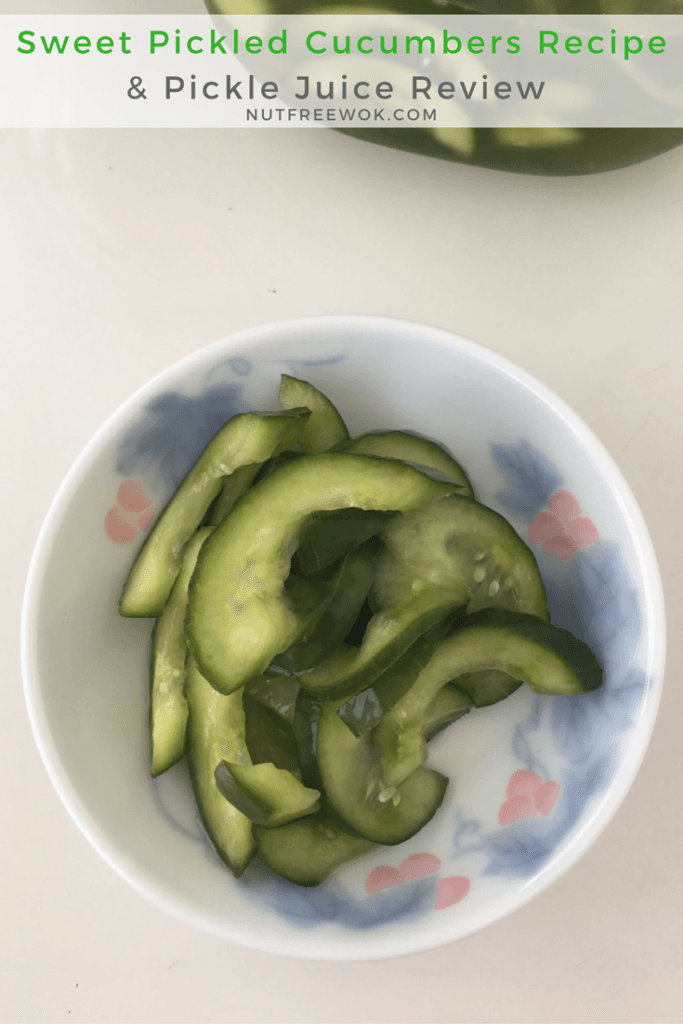 Enticing Kids to Eat Veggies
When my children were little, they did not like eating vegetables. But my parents, grandparents, and other relatives all gardened and had the most delicious fresh foods to eat so I gardened with my kids. We spent a lot of time digging, planting, and watering and really enjoyed the fruits of our labor. We had friends over one time and my son went outside, picked a sweet pea, showed them, and devoured it proudly.
We had so much cucumbers that were all ready at the same time, so I would make jars and jars of sweet pickled cucumbers like Auntie Gum. It's been many years since I've been able to grow as many cucumbers due to California's drought. Even though store bought cucumbers are not the same as homegrown cucumbers, I tried it anyways with great success. Yay! Now we can enjoy pickled cucumbers all year round.
For this recipe, I prefer to use regular cucumbers or English cucumbers. If the skin is thick or waxy, I recommend peeling them. You can also peel them 50% so that there are pretty stripes. We eat the sweet pickled cucumbers quickly within a day or two but can last for a week or two since they're stored in the refrigerator.
This recipe as written is free of the top 9 allergens.
Gluten free readers need to make sure to use a rice vinegar that specifically says "gluten free" and follow up with the manufacturer if in doubt. Auntie Gum also added a chopped herb called "gee sue" in Cantonese, it looks like a purple basil with serrated edges (possibly perilla or shiso). The sweet pickled cucumbers taste great without the herbs but I'm noting it for my kids, in case they ever come across "gee sue."
If you like cucumbers and the taste of rice vinegar, you might also like my recipe for Easy Cucumber and Avocado Sushi Rolls.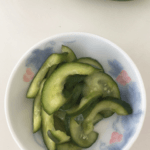 Sweet Pickled Cucumbers
Total Time
1
hour
10
minutes
Ingredients
1

pound

cucumbers

1/2

teaspoon

salt

1/2

cup

rice vinegar

1/2

cup

water

1/3

cup

sugar
Instructions
Halve the cucumbers, scrape out the seeds with a spoon, and thinly slice on a diagonal.

Combine the cucumber slices with 1/2 teaspoons of salt in a bowl and let it rest for a few minutes.

Stir the rice vinegar, water, and sugar in a medium sized glass jar until the sugar is dissolved.

Rinse and drain the cucumber slices, add to the vinegar mixture, cover the jar with a lid and mix.

Refrigerate for at least one hour (it will taste best overnight) before serving and eat within a week. Always transfer the sweet cucumbers from the jar to a serving dish with a clean utensil.
Wanted: An Allergy Friendly Sports Drink
If your mouth is watering thinking about making pickled cucumbers, I think you might like my review of Pickle Juice. Pickle Juice Sport reached out to me to send me some samples of their Pickle Juice drinks that supposedly stop muscle cramps. They're top 8 allergen free and made with simple ingredients: Dual Filtered Water, Vinegar, Salt, Natural Dill Flavor, Potassium, Zinc, Vitamin C, Vitamin E.
We are careful about sports drinks due to DS's pinenut allergy
I was curious because I know that an allergy friendly sports drink is a unique find. One of my sons is allergic to pine nuts but he is also allergic to touching pine cones. He cannot be around rosin which is used for stringed instruments and cannot touch scrapbook paper which is treated with rosin. So I am very careful to avoid all derivatives of pine trees.
I wanted to buy some lemonade made with natural ingredients, including "glycerol of ester wood rosin." I felt suspicious about the ingredient name and after a few phone calls and a quick internet search, I learned that ingredient is also derived from pine trees and is commonly used to keep citrusy drinks in suspension and used in some citrus flavored sports drinks. Subsequently, we have avoided all sports drinks and drink water when exercising. Allergy friendly Pickle Juice seems worthy of further consideration.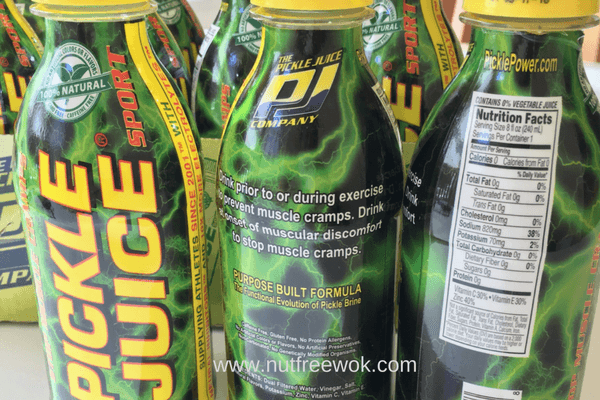 Found: Pickle Juice That Might Stop Cramps
We are not super athletes but my older son is a runner and is on the cross country and track and field teams at school. He probably works out the most among the four of us and most likely to have a muscle cramp and be able to tell us whether Pickle Juice will relieve a muscle cramp.
Out of great curiosity, we all tasted a few sips of Pickle Juice and it really does taste like pickle brine, sour and salty. My kids couldn't get past the sour taste and plan to find alternate ways to relieve a muscle cramp. I happen to like sour foods and salt and vinegar chips (doesn't everyone?) so the taste doesn't bother me at all but I am the least likely family member to suffer a muscle cramp while awake. My husband looked at it and simply chuckled, uh oh….
My husband likes to work out on the weekend and doesn't stretch consistently. He woke up with a leg cramp one night, he managed to get out of bed and find some Pickle Juice to drink, and he did feel better right away. Lucky for me and him, he didn't wake me up right away to tell me that he felt better after drinking the Pickle Juice. He's a believer and keeps a bottle of Pickle Juice in his nightstand and in his gym bag.
I never exercise enough to get a cramp. But I recently had a leg cramp that woke me up. I stretched and fell back asleep too quickly to drink Pickle Juice. I still felt tight in the morning and drank some Pickle Juice but it didn't affect me signficantly one way or another. I don't know if it's because I didn't drink it during the cramp, hence my husband's bedside Pickle Juice storage is quite a clever idea.
Overall, I think Pickle Juice's sour taste might not appeal to everyone. I think it's quite a novel concept to stop muscle cramps by drinking Pickle Juice. It helped my husband's cramp but not for me. Scientists are unsure about whether pickle juice helps with cramping yet it's widely used in the health world. If one is in need of an allergen friendly drink for sports and has frequent muscle cramps, check out Pickle Juice.
Check out Pickle Juice's Pickle Power website or order Pickle Juice online from Amazon (affiliate link)
Thanks for reading, please help Nut Free Wok!
The best way to see every post or recipe is to subscribe to Nut Free Wok's email subscription (be sure to respond to the confirmation email). You will be notified by email next time I publish another post or recipe and I won't send you spam or share your email address with anyone.
If you enjoyed this post, please use the social media buttons below to share with others. I am on Facebook, Twitter, Pinterest, and Instagram as @nutfreewok and it's great to chat and interact on social media too.
Disclosure/Disclaimer:
I may mention the names of stores and/or brand names of products that I use because readers ask and I share products and sources which I use and think may be helpful to readers, all opinions are my own. Please note that manufacturing practices and ingredients can change at anytime without notice and readers are always responsible for assuring allergen safety before buying or consuming foods. NutFreeWok.com is a participant in the Amazon Services LLC Associates Program, an affiliate advertising program designed to provide a means for sites to earn advertising fees by advertising and linking to Amazon.com. Thank you for reading!