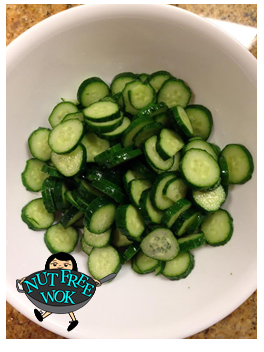 I started making this Japanese sweet cucumber salad when we had bumper crops of cucumbers. My recipe is delicious and very shareable since it is free of the top 9 allergens. We grew a lot of cucumbers because my children and I had a lot of time at home when my kids were little and needed fun things to do together like dig in the dirt, plant seeds, water plants, and watch food grow. This post was updated with minor edits on July 20, 2023.
Disclaimer: Please check that all ingredients are suitable for your allergies and be sure to ask your medical care team regarding any allergy related questions (I do not share medical advice). As an Amazon Associate I earn from qualifying purchases.
Jump to Recipe
Cultivating a Love for Vegetables
When my children were little, they did not like their vegetables or salad, let alone a cucumber salad. I didn't know what to do to help my children eat their vegetables but we had a lot of time. We decided to try growing our own vegetables and fruit together. We could spend time outdoors, they could learn about gardening, and have some incentive to try new foods.
We had so much fun digging in the dirt and watering the plants but the best part was observing my children's enthusiastic observations about the growth and progress of their little plants, their excitement about harvesting and tasting their foods and sharing with others.
We grew mini tomatoes, cucumbers, lettuce, daikon, sweet peas, green beans, as well as multiple fruit trees. One problem with a home garden is that everything is ready at the same time. Besides just eating some cucumbers, I made some into sunomono, a Japanese sweet pickle, to enjoy over a few days.
Sunomono, An Easy Japanese Cucumber Salad
If I use regular cucumbers, I cut the cucumbers in half and scooped out the seeds. When I am not growing my own cucumbers, I like to buy Persian or Japanese cucumbers which don't need to be scooped, which saves time and we end up eating the entire cucumber.
Slice the cucumbers and then sprinkle salt on them. Let the cucumber slices all hang out in a colander for 10 minutes, and rinse off the excess salt. Then toss the cucumber slices with the remaining ingredients and refrigerate for 30 minutes or so until ready to serve.
You can also double or triple this recipe and enjoy it over a few days.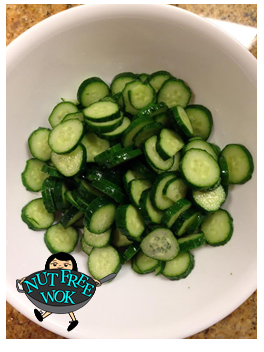 Epilogue: How I Grew Coffee Flavored Cucumbers
The glorious days of home gardening ended abruptly when I had read on some gardening website that used coffee grounds would nicely amend the soil. Not being a coffee drinker, I scored some used coffee grounds for free from our local coffee shop and within a few days I had coffee flavored cucumbers! Home gardening hasn't been the same ever since, but I'm hopeful that one day I will go back to it.
Now I just buy a few Japanese pickles from our local Japanese market or Persian cucumbers at a supermarket and make a small batch of sunomono cucumber salad whenever we want a refreshing and easy vegetable side dish.
This recipe is free of the top 9 allergens as written!
If you need any ideas on which rice vinegar I like to use check Nut Free Wok's Cupboard for a list of ingredients I use to make allergy aware Asian fare.
Since this easy Japanese cucumber salad is sweet and tangy, I enjoy it with all of my meals. I especially like making sunomono when I make kalua pork or salmon for a nice fresh contrast in flavors. I also make another kind of sweet pickled cucumbers similar to what my aunty made and shared with us whenever we visited.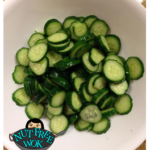 Japanese Sweet Cucumber Salad Sunomono
Quick and easy Japanese inspired cucumber salad that is free of top allergens and can be easily doubled. You can prepare this dish ahead of time or prep it first so that cucumber slices can soak in seasoning while you prepare other dishes.
Ingredients
4

Japanese or Persian cucumbers

3/4 pound

sprinkle of salt

1

tablespoon

rice vinegar

1/2

teaspoon

sugar
Instructions
Thinly slice the cucumbers. (If using regular cucumbers, I recommend half peeling them into a striped appearance, cut in half lengthwise, and scoop out the seeds, then thinly slice.)

Sprinkle with salt and set aside for 5-10 minutes.

Rinse the cucumbers and drain.

Transfer to a non-metalic bowl and toss with vinegar and sugar and refrigerate for 20-30 minutes before serving.
Recipe Notes
You can prepare this dish ahead of time or prep it first so that cucumber slices can soak in seasoning while you prepare other dishes.
Thanks for reading, please help Nut Free Wok!
The best way to see every post or recipe is to subscribe to Nut Free Wok's email subscription (be sure to respond to the confirmation email). You will be notified by email next time I publish another post or recipe and I won't send you spam or share your email address with anyone.
If you enjoyed this post, please use the social media buttons below to share with others. I am on Facebook, Twitter, Pinterest, and Instagram as @nutfreewok and it's great to chat and interact on social media too.
Disclosure/Disclaimer:
I may mention the names of stores and/or brand names of products that I use because readers ask and I share products and sources which I use and think may be helpful to readers, all opinions are my own. Please note that manufacturing practices and ingredients can change at anytime without notice and readers are always responsible for assuring allergen safety before buying or consuming foods. NutFreeWok.com is a participant in the Amazon Services LLC Associates Program, an affiliate advertising program designed to provide a means for sites to earn advertising fees by advertising and linking to Amazon.com. Thank you for reading!