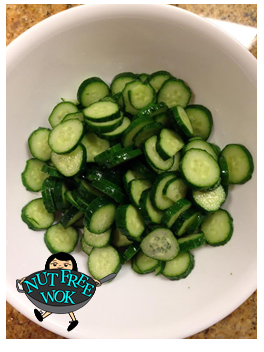 Japanese Sweet Cucumber Salad Sunomono Recipe

I started making this sweet cucumber salad when we had bumper crops of cucumbers. We had a lot of time at home and needed fun things to do together when my kids were little.
Cultivating a Love for Vegetables
When my children were little, they did not like salad, let alone cucumber salad. I didn't know what to do to help my children eat their vegetables but we had a lot of time. We decided to try growing our own vegetables and fruit together so that we could be outdoors, they could learn about gardening, and have some incentive to try new foods. We had so much fun digging in the dirt and watering the plants but the best part was observing my children's enthusiastic observations about the growth and progress of their little plants, their excitement about harvesting and tasting their foods. One time we had friends over for lunch and my older son went outside to pick a snap pea, brought it inside, showed it to our friends and proudly took a bite to show how tasty it was. That was a memorable proud mama moment because my son took pride in his hard work AND he enjoyed a vegetable at his own initiative! We grew mini tomatoes, cucumbers, lettuce, daikon, sweet peas, green beans, as well as multiple fruit trees. One problem with a home garden is that everything is ready at the same time.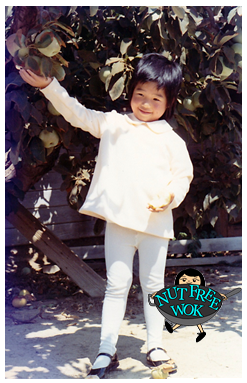 What does one do with 25 cucumbers at once?
My solution came from my memories of visiting a little bartlett pear farm in Suisun City. My family used to visit my Uncle Sam at his family's farm every year when I was a little girl. He was a quiet and kind man, slender, and very tanned from working on the farm. I loved that he drove a Ford Model-T and was very actively working his farm even though he was over 90 years old. We also visited Aunty Gum who also had a home on the farm and she was a treat to visit. Even though the it felt like a 100 °F outside and we were so over-dressed as San Francisco summers were notorious for being cold and foggy, her house was cool and comfortable. She was hospitable and friendly and along with sending us home with sweet, juicy, tree-riped bartlett pears that we picked ourselves, she would share a homemade jar of sweet pickles for us to take home. My mom served it as an appetizer, lightly sweet and sour, and they were so cool and refreshing, just like Aunty Gum's home on a hot summer day.
Sweet Cucumber Salad and Memories of a Sweet Aunty
I managed to make a sweet pickle out of my over-abundance of cucumbers that reminded me of Aunty Gum and her jars of sweet pickles even though I was missing an herb called "gee-su," a basil like herb with purple leaves. I cut the cucumbers in half and scooped out the seeds, sliced them and then sprinkled salt on them. I let it all hang out in a colander for 30 minutes and rinsed off the excess salt. Then I placed the cucumber slices into a clear glass jar with a clamp lid and added equal parts of sugar, water, and rice vinegar, shooked the sealed jar, and refrigerated and enjoyed it within the next few weeks. Delicious, even if not exactly the same as Aunty Gum's cucumber pickle.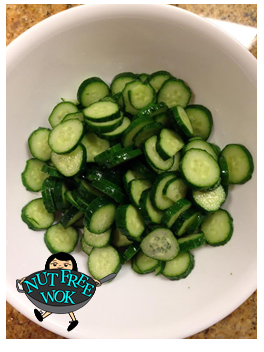 Coffee Flavored Cucumbers? Uh-oh!
The glorious days of home gardening ended abruptly when I had read on some gardening website that used coffee grounds would nicely amend the soil. Not being a coffee drinker, I scored some used coffee grounds for free from our local coffee shop and within a few days I had coffee flavored cucumbers! Home gardening hasn't been the same ever since, but I'm hopeful that one day I will go back to it. Now I just buy a few Japanese pickles from our local Japanese market or Persian cucumbers at a supermarket and make a small batch of sunomono cucumber salad whenever we want a refreshing and easy vegetable side dish.
This recipe is free of the top 8 allergens as written!

If you need any ideas on which rice vinegar I like to use check Nut Free Wok's Cupboard for a list of ingredients I use to make allergy aware Asian fare.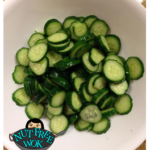 Japanese Sweet Cucumber Salad Sunomono
Ingredients
4

Japanese or Persian cucumbers

3/4 pound

sprinkle of salt

1

tablespoon

rice vinegar

1/2

teaspoon

sugar
Instructions
Wash cucumbers and slice them (1/8th inch thickness), discard the ends.

Sprinkle with salt and set aside for 5-10 minutes.

Rinse the cucumbers and drain.

Toss with vinegar and sugar and refrigerate for 20-30 minutes before serving.
If you enjoyed this post, please use the social media buttons below to share with others and subscribe to Nut Free Wok's email subscription to be notified by email next time I publish another post or recipe. 
Disclosure/Disclaimer:
I may mention the names of stores and/or brand names of products that I use, I have not been paid or solicited by any of the above companies to mention them. I share products and sources which I use and think may be helpful to readers, all opinions are my own. Please note that manufacturing practices and ingredients can change at anytime without notice and readers are always responsible for assuring allergen safety before buying or consuming foods. NutFreeWok.com is a participant in the Amazon Services LLC Associates Program, an affiliate advertising program designed to provide a means for sites to earn advertising fees by advertising and linking to Amazon.com.