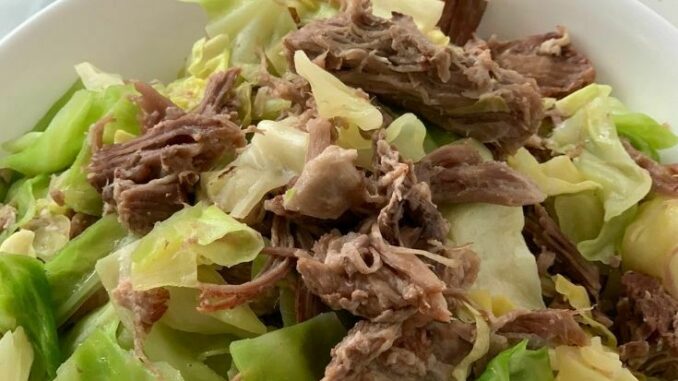 Instant Pot Kalua Pork with Cabbage is one of my favorite dishes to make for my family or for a party and it's free of the top 8 allergens. It's an easy and delicious meal with plenty of leftovers for days when I know I'm busy or just need some downtime and takes about 3 hours.
Disclaimer: Please check that all ingredients are suitable for your allergies and be sure to ask your medical care team regarding any allergy related questions (I do not share medical advice). As an Amazon Associate I earn from qualifying purchases.
Jump to Recipe
Compare Kalua Pork in an Instant Pot vs Slow Cooker
This Instant Pot Kalua Pork with Cabbage recipe is similar to my slow cooker Kalua Pork recipe and is different in the following ways:
It takes about 3 hours to make Instant Pot Kalua Pork rather than 16 hours in the slow cooker. So rather than starting the slow cooker the day before, you can start cooking in the morning or after lunch on the same day you want to serve it.
This Instant Pot Kalua Pork recipe serves 12 because it uses one piece of pork butt, it's the perfect amount for a small family over a few days or you can freeze half of the meat and heat it up later with cabbage. I have a 6 qt. Instant Pot and you can increase the recipe by 50% and make a 1.5x batch to feed a crowd and still have it all fit in a 6 qt. Instant Pot.
I use sea salt in the slow cooker recipe but since I published that recipe, I discovered that I love Hawaiian style Alaea salt (affiliate link) and encourage you to try it. It makes a huge difference in the taste.
And both of my slow cooker and Instant Pot Kalua Pork recipes are different from other Kalua Pork recipes because I try to reduce the saturated fat content.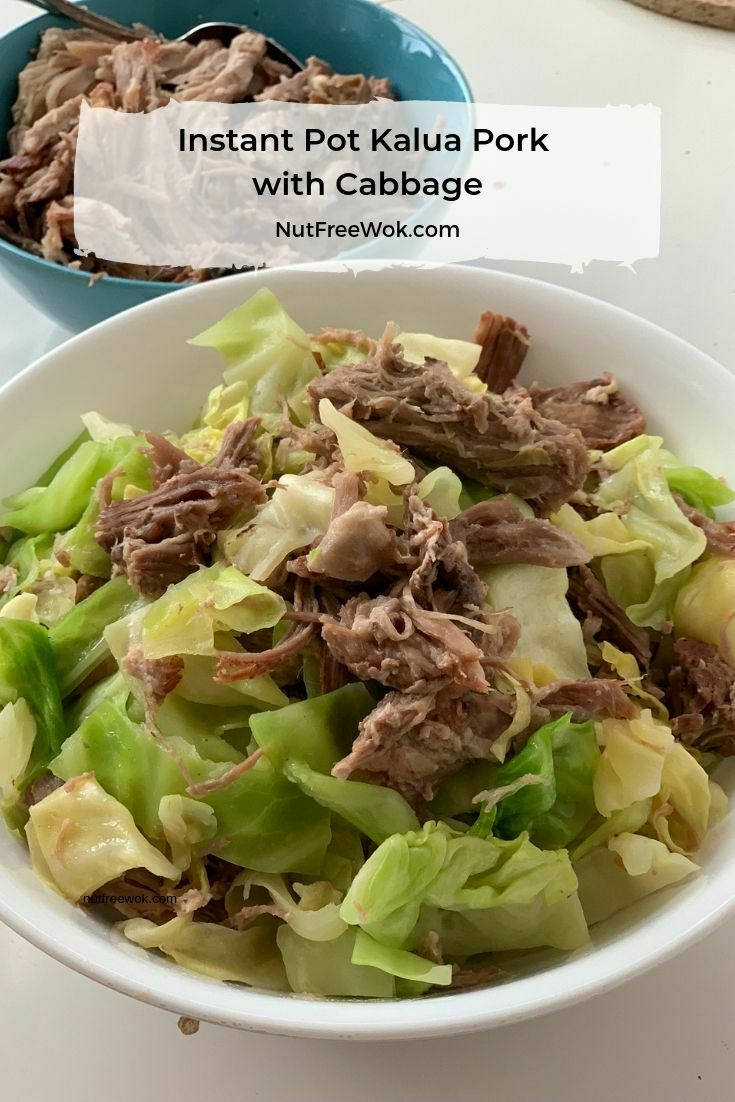 Cut the Fat When Prepping
I love Kalua Pork but it's high in fat and calories without some modifications. I remove some of the fat before cooking but I also know that the fat has a lot of flavor and makes the meat taste juicy, so I leave a little bit on for flavor.
The pork butt also has a fatty layer and I use a knife to trim most of it off. I leave a thin layer on so the meat doesn't dry out. I don't spend a lot of time on this step and set up the pork in the Instant Pot, prep the cabbage, and do other things for 2 hours.
I add some trimmed bacon to the recipe for the bacon's smoky flavor. I pick a pack of bacon that has the least amount of visible fat and use scissors to trim off any super fatty sections around the ends or edges.
Cut the Fat Before Serving
Shred: My second opportunity to remove some of the fat from the cooked kalua pork as I shred and pull the pork apart. I remove the bacon (reserve for other purposes), transfer the meat into a clean colander with a large clean bowl to catch all the drippings. As I start shredding the meat, I use a spoon and scrape off any excess fat and I can see a lot of fat dripping into the bowl.
Rinse: My next step is to pour the cooking juices that are in the Instant Pot liner into a fat/gravy separator (affiliate link), let the fat rise to the top, and then pour the defatted liquid over the pulled pork (which is still in a colander in a large bowl). I repeat until I've used up all the cooking juices and discard the fatty layer as I go. I love my 2 cup fat/gravy separator but if I had more storage space, I would definitely want a 4 cup fat/gravy separator (affiliate link) to be more efficient.
Defat again: At this point I have shredded kalua pork sitting in a colander in a large bowl with all of the cooking juices. I take the colander out and place it on a plate or a bowl so that it doesn't drip on my counter (I don't put it into my sink in case someone comes along and washes their hands in the sink without looking). And there's a bowl of cooking juices with a layer of fat on top. You can either spoon out the fat and discard it or you can pour the liquid into the gravy separator. Save the defatted cooking juices for cooking the cabbage and for other purposes (saute vegetables, split pea soup, etc.).
Kalua Pork Math
When I make Instant Pot Kalua Pork for my family only, I pick the largest and leanest bone-in piece of pork butt I can find, usually about 4.5 pounds (a boneless piece is about 3-4 pounds) and that's enough for our family for three meals, approximately 12 servings. When I make this for a potluck for about 20 people, I buy about 6-7 pounds of pork butt which is plenty for hearty eaters and some leftovers.
To calculate the nutritional data, I estimate that a 4.5 pound bone in piece of pork will give me about a 70% yield of 2.8 pounds of finished kalua pork or 11 cups of lean, fat separated, cooked kalua pork (310 cal/cup) and 1 medium sized (2 pounds) cabbage will yield about 4 cups of cooked cabbage (378 cal). Altogether that's approximately 315 calories per 1.25 cup serving (actual calories may vary depending on your cooking method).
Ingredient Notes
Pork Butt is perfect for making pulled pork types of meals and they're available boneless and bone in. I buy the bone-in for the flavor and extra minerals from the bones. You can use either but your yield will vary depending on whether you buy bone-in or boneless.
As I had mentioned before, I like to use bacon to flavor the Instant Pot Kalua Pork rather than liquid smoke. It turns out that the health risks of liquid smoke is similar to drinking coffee or tea. You could opt to use a few drops instead of bacon if you happen to use liquid smoke in your food anyways.
Alaea sea salt is a traditionally produced Hawaiian sea salt adds delicious flavor to kalua pork, gives the cooked kalua pork a nice color, and adds trace amounts of iron and other minerals. On the other hand, the FDA considers the red clay that is added to Alaea salt as a color additive and producers need to provide additional documentation.
I use Salt Work's Alaea salt (affiliate link) because they're allergen free and check for purity. If you can't find alaea salt or want to use sea salt, you can definitely substitute sea salt, but use a little less (about 1 tablespoon) because sea salt is more salty than Alaea salt.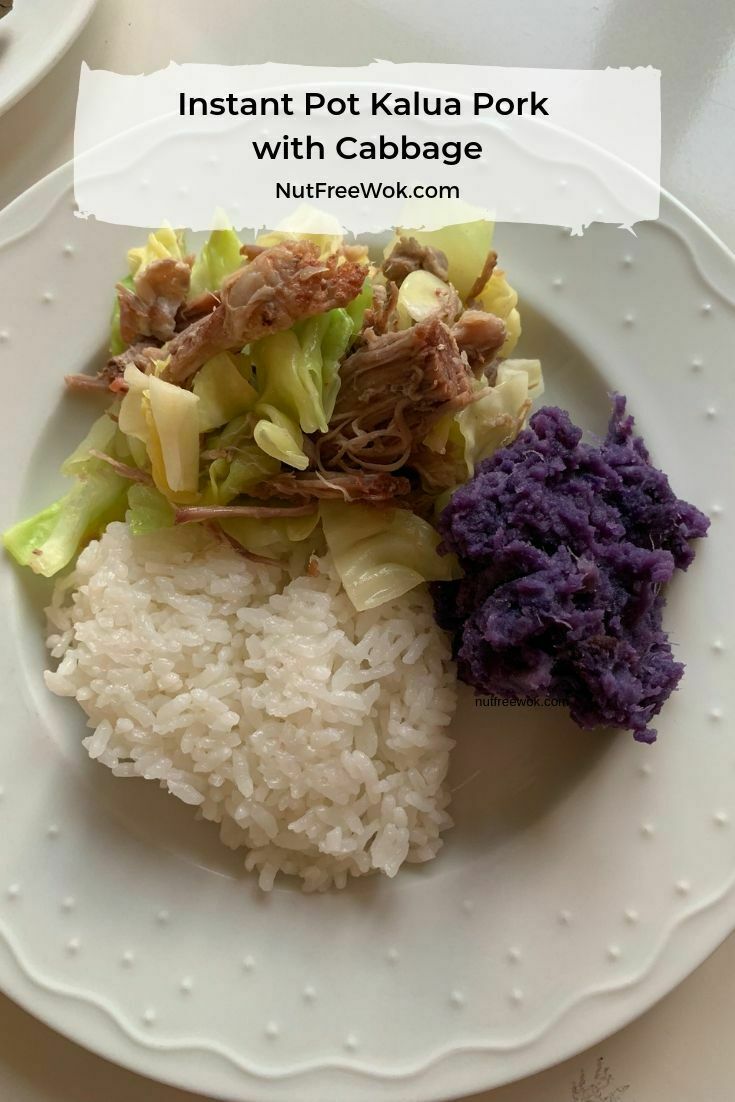 This recipe as written is free of the top 8 allergens, free of peanuts, tree nuts, milk, egg, soy, wheat, shellfish, and fish.
This summer my son invited all of his coworkers over for dinner and because they were kids who were getting off work, no one brought any extra food potluck style so I made everything including rice, spam musubi, and sauteed zuchinni. I love cooking for my son's friends, some of them have never had Kalua Pork before and thought it was delicious and wanted the recipe.
Some of the kids were vegetarians so I also made some tofu dishes as an alternative main dish, edamame, pickled cucumbers, and served the kalua pork and cabbage separately by stirfrying the cabbage separately with just a sprinkle of salt instead of using the Instant Pot Kalua Pork cooking liquid or combining the cabbage with the kalua pork.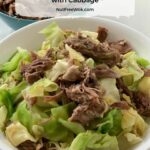 Instant Pot Kalua Pork with Cabbage
Instant Pot Kalua Pork with Cabbage is one of my favorite dishes to make for my family or for a party and it's free of the top 8 allergens. It's an easy and delicious meal with plenty of leftovers for days when I know I'm busy or just need some downtime and takes about 3 hours.
Pressure build & release
45
minutes
Total Time
3
hours
15
minutes
Ingredients
4

pounds

bone in pork butt

1.5

tablespoons

Alea salt

or sea salt

8

oz

bacon

1

large head of cabbage
Instructions
Use a pair of scissors or a sharp knife to trim the some of the excess fat off the bacon, set aside (you need about 4 ounces of trimmed bacon)

Add 3/4 cup of water to the Instant Pot liner and add a rack.

Rinse the roast to remove any bone fragments, pat dry with a paper towel, cut the roast into 3-4 pieces, trim off any layers of fat that are easy to remove. Rub all sides with the Hawaiian Alea salt and place the pieces of pork fatty side up on the rack inside the pressure cooker.

Arrange some of the trimmed bacon in between the pieces of pork and place the rest on top

Cover and seal the lid, turn the knob to seal, and set the Instant Pot to meat mode at high pressure for 90 minutes (allow 30 minutes for the pressure cooker to seal).

In the meantime, wash and chop cabbage into bite size pieces, set aside.

When the Instant Pot is finished, allow it to natural release for 15 minutes and then vent the rest of the way.

Remove the bacon pieces and set aside for other purposes (you can saute them with veggies for a delicious side).

Pull the pork: place a large clean colander in a large clean bowl and transfer the cooked kalua pork into the colander, scrape off any large visible layers of fat and discard, pull the pork with two forks in the colander, remove fat and gristle.

Rinse the pork: remove the rack from the pressure cooker and transfer the remaining liquid to a gravy separator, pour the liquid from the gravy separator into the pulled kalua pork to rinse out some of the fat. Allow the kalua pork to drain in the colander, set aside.

Separate the fat from the cooking liquid: Use the gravy separator to remove the fat from the cooking liquid that is in the bowl. You need about 2 cups, 1 cup for the kalua pork and 1 cup for cooking the cabbage. Reserve the rest of the liquid for other purposes.

Get ready to serve: Transfer the kalua pork from the colander into a serving bowl and pour about 1 cup of the defatted cooking liquid into the kalua pork to allow it to absorb back some of the moisture.

Saute the cabbage: Wipe down the outside and bottom of the Instant Pot liner and place the liner back into the Instant Pot, add 1/2 cup of the cooking liquid, ½ of the cabbage, and saute for 3-4 minutes until the cabbage is slightly wilted. Add half of the kalua pork, stir to combine, and transfer the kalua pork with cabbage into a large serving bowl. Repeat with the remaining cabbage and kalua pork and add more cooking liquid as needed.
Recipe Notes
Variations: Omit the cabbage and serve the pulled kalua pork with rice or on a Hawaiian dinner roll as sliders. Or serve half as kalua pork and serve half with kalua pork with cabbage. Make ahead option, reserve half of the kalua pork, freeze for another meal, and heat and serve with or without cabbage.
Thanks for reading, please help Nut Free Wok!
The best way to see every post or recipe is to subscribe to Nut Free Wok's email subscription (be sure to respond to the confirmation email). You will to be notified by email next time I publish another post or recipe and I won't send you spam or share your email address with anyone.
If you enjoyed this post, please use the social media buttons below to share with others. I am on Facebook, Twitter, Pinterest, and Instagram as @nutfreewok and it's great to chat and interact on social media too.
Disclosure/Disclaimer:
I may mention the names of stores and/or brand names of products that I use because readers ask and I share products and sources which I use and think may be helpful to readers, all opinions are my own. Please note that manufacturing practices and ingredients can change at anytime without notice and readers are always responsible for assuring allergen safety before buying or consuming foods. NutFreeWok.com is a participant in the Amazon Services LLC Associates Program, an affiliate advertising program designed to provide a means for sites to earn advertising fees by advertising and linking to Amazon.com. Thank you for your support!