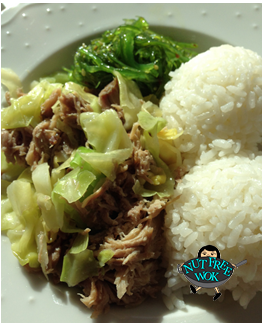 Make your own Hawaiian luau favorite at home in a slow cooker. This slow cooker kalua pork recipe is free of the top 8 allergen, gluten free, paleo friendly, and can feed a crowd! If you aren't cooking for a crowd, you can easily freeze half of the kalua pork and add fresh cabbage later.
If you are an Instant Pot or electric pressure cooker user, you will want to check out my latest Instant Pot Kalua Pork recipe on how to make this amazing dish in less than 3 hours!
Disclaimer: Please check that all ingredients are suitable for your allergies and be sure to ask your medical care team regarding any allergy related questions (I do not share medical advice). As an Amazon Associate I earn from qualifying purchases.
Update: this post was edited on September 9, 2022 with minor updates to improve readability.
Jump to Recipe
What is Kalua Pig?
Before you decide to make a slow cooker kalua pork, it's fun to know how it's usually made to appreciate the simplicity of this recipe. Hubby and I honeymooned in Hawaii and when we visited Kauai, we wanted to experience a luau at Smith's Garden Luau. We enjoyed a tram tour of their lush tropical gardens, an imu ceremony, a luau feast, and hula show at Smith's Garden Luau. The imu ceremony was fascinating, we watched the luau staff take a roast pig out of the imu to serve kalua pork for hundreds of luau guests while explaining what is happening.
Kalua Pua'a or Kalua Pig is a whole pig that is roasted in a Hawaiian imu, an underground oven. A fire is built in a pit 6 feet long, 4 feet wide, and 3 feet deep, then lined with rocks to retain heat. The seasoned pig is wrapped with banana and/or ti leaves, covered with dirt and then roasted for hours. Kalua pig is such a favorite that one can enjoy a plate lunch of kalua pig, two scoops of rice and macaroni salad at almost any diner or plate lunch restaurant in Hawaii. It is so popular that our local Hawaiian supermarket flies in a shipment of freshly made kalua pig every Thursday.
Homemade Kalua Pork
Most people can't dig a hole and cook an entire pig in an imu but Sam Choy popularized "Kalua Pork" a recipe for preparing pork butt kalua style in a home oven. One of my friends from Hawaii made a delicious kalua pork in the oven for a fundraiser event. I was so impressed by how effortless it was and he gave me some simple directions: pork, salt, liquid smoke, and bake in the oven for a long time. For years, I looked longingly at the little bottles of liquid smoke wondering what is it, how is it made, is it safe to eat in general (not even an allergy related question!) but never made kalua pork at home simply because I couldn't give myself permission to use liquid smoke. I still don't use it but I found answers to my question which I shared in my Instant Pot version of this recipe.
When I saw an adaptation of Michelle Tam's Slow Cooker Kalua Pig recipe from her blog Nom Nom Paleo, in my January 2014 edition of Costco Connection, I was ecstatic: use BACON instead of liquid smoke, SO BRILLIANT! It's a 3 ingredient recipe for yummy kalua pork: pork butt, bacon, and red Hawaiian salt. That's it! I buy 2 pieces of pork shoulder butt, which is what I usually buy to make pulled pork.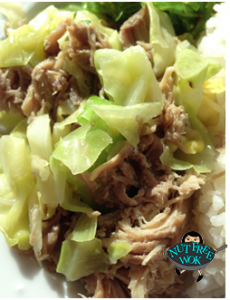 Allergy Aware Bacon and Salt
I tested the recipe twice, once using allergy friendly Applegate Reduced Sodium Organic Sunday Bacon and the second time using Trader Joe's Uncured Apple Smoked Bacon. Both are made in a top 8 allergen free facility and nitrate free. Both gave a very nice subtle smoky flavor to the pork. When my kids came home from school today, they were excited for dinner! The red Hawaiian sea salt has some trace minerals that impart subtle flavor but I couldn't find any red sea salt with allergen information, so I just used sea salt that I have on hand.
I've found that SaltWorks (www.seasalt.com) carries Alaea salt and using Alaea salt makes a difference in how the kalua pork tastes. I have also tried their Yakima smoked salt and I was in love with the smokey flavor. You can order directly from SaltWorks and compare their price on Amazon (affiliate link) to see what works best for you. I like SaltWorks because they test their salt for purity as well as allergens.
Recipe FAQ
How much pork butt? I have a huge 9 quart slow cooker and cooking about 5-6 pounds of meat is just about right. If your slow cooker is smaller, then you can use proportionately less meat (ex. 3 pounds of meat for a 5 qt slow cooker).
How much bacon? The first time I made the dish, I used 6 slices of Applegate bacon (good) and the second time I trimmed off the fat and used an entire package (way better!).
How to reduce the fat? The cooked pork shoulder butt is very soft and tender, so I used a large perforated ladle or a skimmer and a slotted spoon to lift each piece of meat into two large bowls. I carefully any outer layers of fat and shred the meat with two forks.
What are extra steps to reduce the fat? Some of the liquid from the slow cooker is needed to moisten the meat but there is a huge layer of fat on top. I use a fat separator (affiliate link) to separate the fat and set aside about 3 cups of the flavorful pork juices. Drain the fat from the bowls of shredded meat back into the slow cooker and "rinse" with 1/2 cup of the reserved juices, and drain again. Add about 1/2 cup of reserved juices and adjust to taste depending on how moist and how salty you like your kalua pork. (see my IP kalua pork recipe for more tips using a gravy separator, that's a game-changer!)
How to serve the kalua pork? Serve your slow cooker kalua pork with two scoops of rice and a side of macaroni salad, seaweed salad, or sliced Persian cucumbers with a drizzle of rice vinegar (see my recipe for a sweet cucumber salad). I also recommend making some Okinawan sweet potatoes.
What to do with leftovers? I like to make once and eat twice (or more!). Six pounds of meat is great for a party but way too much for us to eat at once so I cook half of the slow cooker kalua pork with one head of cabbage, which is more than enough for our family of 4 with enough leftovers for another meal. Then I freeze the other half of the slow cooker kalua pork for another day when I need a quick meal to heat and serve to eat as is with rice, over a wilted salad, in a kalua pig slider, with noodles, in musubi, etc..
This recipe, as written, is top 8 allergen free and gluten free.
Slow Cooker Kalua Pork with Bacon and Cabbage
Make your own Hawaiian luau favorite at home in a slow cooker. This slow cooker kalua pork recipe is free of the top 8 allergen, gluten free, paleo friendly, and can feed a crowd!
Ingredients
5-6

pounds

pork shoulder butt

2 pieces

1 1/2

tablespoon

sea salt

1

package

bacon (12 ounces)

trim fat

2

heads of cabbage

washed and chopped into bite size pieces
Instructions
If desired, trim off any excess fat from bacon.

Line half of the bacon at the bottom of slow cooker insert.

Pat dry meat with paper towels and rub in salt.

Set inside the slow cooker, fat side up and add the rest of the bacon on top.

Cook on low for 16 hours.

Carefully transfer meat from slow cooker into two large bowls, discard twine and excess fat, and shred with a fork.

Use a fat separator to separate the fat from the pork juices and reserve about 3 cups of the liquid and discard fat.

If desired, drain the excess fat from the bowls, "rinse" with 1/2 cup of the reserved liquid, and drain again.

Add about 1/2 cup of the reserved cooking juices into each bowl of meat and mix, adjusting the amount to desired amount of saltiness and moisture.

Heat up a large stock pot and sautee 1/2 of the cabbage in 1/2 cup of the reserved liquid (3-5 minutes).

Add 1/2 the meat and stir until heated through.

Repeat with the rest of the ingredients.
Do you like Hawaiian-style recipes?
Check out my recipe for turkey spam musubi, you could make kalua pig musubi instead. Sometimes the kalua pork might taste a bit rich and there's nothing better than having some sweet pickles with them. Remember to make some rice. It's easy to make rice with a rice cooker, I love Zojirushi rice cookers the most (affiliate link) and if you are making rice in a pot, I've got a recipe for you with my best tips. Instead of rice, make some Okinawan sweet potatoes, they're so good for you and delicious. And for dessert, you will want to try making some Better for You Butter Mochi!
Try this slow cooker kalua pork recipe and let me know if it reminds you of being in Hawaii, enjoying a plate lunch at the beach!
Thanks for reading, please help Nut Free Wok!
The best way to see every post or recipe is to subscribe to Nut Free Wok's email subscription (be sure to respond to the confirmation email). You will be notified by email next time I publish another post or recipe and I won't send you spam or share your email address with anyone.
If you enjoyed this post, please use the social media buttons below to share with others. I am on Facebook, Twitter, Pinterest, and Instagram as @nutfreewok and it's great to chat and interact on social media too.
Disclosure/Disclaimer:
I may mention the names of stores and/or brand names of products that I use because readers ask and I share products and sources which I use and think may be helpful to readers, all opinions are my own. Please note that manufacturing practices and ingredients can change at anytime without notice and readers are always responsible for assuring allergen safety before buying or consuming foods. NutFreeWok.com is a participant in the Amazon Services LLC Associates Program, an affiliate advertising program designed to provide a means for sites to earn advertising fees by advertising and linking to Amazon.com. Thank you for reading!