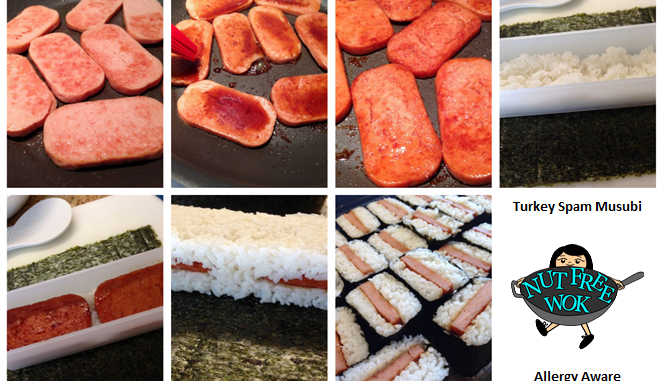 I went with my parents to Hawaii with my parents for spring break and it was one of the best trips that we took together. We walked around Waikiki, took a tour bus around Oahu to see the tourist attractions, enjoyed a sunset dinner cruise, watched a free hula show on the beach at sunset, and enjoyed the lovely fragrance of plumeria blossoms that were flowering everywhere we went. Just thinking about the trip reminds me of when my mom and I had fun posing with the hula dancers' grass skirts while my dad took pictures. Granted, we were in a tropical paradise, but it was sweet to see my parents relax, have a fun time when they were both happy, healthy, and carefree. If time could stand still, that would be the perfect moment.
Jimmy and I celebrated our honeymoon and our first anniversary in Hawaii, and when we felt stir crazy after having two babies, two years apart, we celebrated our little family with a trip to Oahu. We went on a cruise around the Hawaiian islands to celebrate life and miracles with our friend who recovered from a serious accident. Luckily for me, Hawaii will always be my happy place, soft sandy beaches, amazing landscapes with fragrant and beautiful plumerias everywhere, many fond memories of fun times with special people, and delicious food such as spam musubi.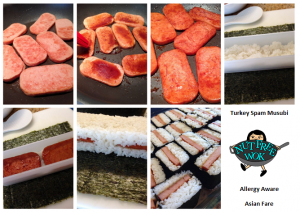 Spam musubi is a type of sushi that is made with rice and a cooked piece of spam seasoned with soy sauce and sugar wrapped with a piece of nori. They are perfect for road trips so we can stop and have a picnic break anytime. I make spam musubi when my children go on school field trips so that they have a tasty, portable and safe lunch. We live in an area that is high risk for earthquakes and disaster preparedness is crucial so I buy turkey spam to keep on hand as a high protein but lower in fat and sodium option that requires little to minimum cooking. I rotate our supply of turkey spam by making spam musubi for outings and potlucks (always a crowd pleaser!). However, if spam doesn't appeal to you, you can always substitute other ingredients that are cooked and tender such as chicken, fish, tofu, or chopped vegetables but just be caeful to eat them right away or store them at the right temperature.
To make your own taste of aloha you will need:
Rice – use Calrose or short grain rice. I've tried using brown short grain rice but the rice doesn't stick together very well which makes a messy musubi.
Spam – I like turkey spam but if I can't find it, I will buy the reduced sodium variety. You can use regular spam too.
Seaweed (Nori) sheets – I have tried a number of different brands and I like Yamamotoyama best. It has a nice flavor and tender texture. Other brands are most likely nut-free, but always read the label and check with the manufacturer. Sesame allergy alert: be aware that there is a "seasoned" variety of nori sheets which contain sesame oil, be sure to check the ingredient label. Nori tip: If the sheets are a little stale, you can crisp them up by placing the sheets on a cookie sheet in a hot oven for a 1-2 minutes.
Seasoning – I use Mr. Yoshida's Original Sauce but if you don't have that you can use soy sauce and sugar (approximately 2:1 ratio).
A spam musubi mold – I used to shape it by hand (takes forever and the results looks awful!). I have a 4 inch plastic mold but my favorite one is 8 inches wide so that I can make musubi twice as fast!
I created a handy chart to help figure out the amounts of ingredients needed depending on how many pieces are needed. When I refer to muk, it is the 3/4 cup scoop that comes with a rice cooker. Note that if you decide to make 3 cans of spam, you will need 12 sheets of nori, which are typically sold in packs of 10 or more. Check that you will have enough sheets.
[table]Muk/Scoops, =cups rice, Spam, Nori Sheets, Yield, Event
3, 2 1/4 cups, 1 can, 4, 16 pieces, Lunch
6, 4 1/2 cups, 2 cans, 8, 32 pieces, Outings
9, 6 3/4 cups, 3 cans, 12 (2 packs?), 48 pieces, Potluck[/table]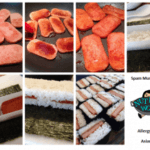 A Little Aloha! Spam Musubi Recipe
Spam musubi is a Hawaiian favorite, a piece of pan fried and seasoned spam with rice, wrapped with nori.
Ingredients
2 1/4

cups

of short grain or Calrose rice

1

can of Spam

turkey, low sodium or regular

1

teaspoon

of canola or olive oil

1/4

cup

Mr. Yoshida's Original Gourmet Sauce

or 2 tablespoons soy sauce and 1 tablespoon sugar

4

sheets of Yamamotoyama nori

Spam musubi maker mold

8 inches wide
Instructions
Rinse and cook rice in a rice cooker with water up to the 3 scoop line.

Heat up a large frying pan on medium heat.

Tap the can of spam on a cutting board until it slides out.

Place spam flat side down and cut into 8 equally sized pieces that are the shape of the spam lid.

Add 1 teaspoon of oil and fry the pieces of spam for 2-3 minutes at medium heat on each side.

Brush with the spam pieces with teriyaki sauce (or soy sauce/sugar mixture), flip, repeat until both side are seasoned and the spam is slightly brown, set aside.

Place a full sized sheet of nori on a cutting board and place musubi mold on top of the nori.

Scoop 1 or 2 small scoops of rice into the mold and gently spread and pat down so that there's a ½ inch layer of rice.

Press down gently with the press and add two slices of spam, another ½ inch of rice, press down with the press.

Holding the press in place, very carefully remove the mold and fold the nori over the spam musubi.

Flip the spam musubi logs over and set aside until ready to cut.

Repeat with remaining amounts of rice, nori and spam.

Cut each spam musubi with a moistened serrated knife into four pieces and serve.

Have a moistened paper towel handy to clean the knife in between cuts or wash the knife as needed.