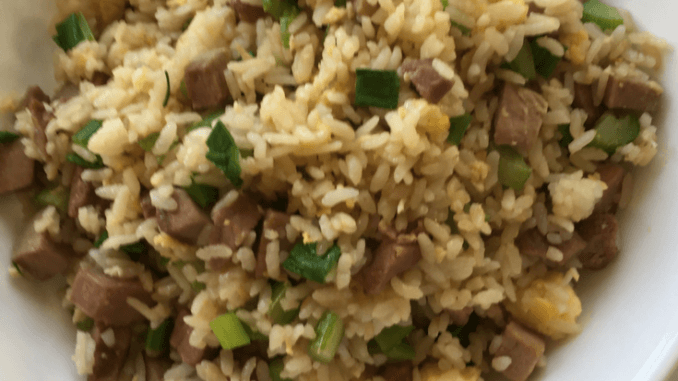 I love making smoked duck fried rice because it's a delicious way to add variety to our meals. It's easy to make and versatile to serve as a one pot meal or as lettuce wraps.
Disclosure: This post is not sponsored, I'm just sharing about what I use and what I think might be helpful to readers. This post might contain affiliate links.
Smoked Duck Rocks
The main ingredient for making smoked duck fried rice is smoked duck breasts. I buy Mary's Smoked Duck Breasts from one of my local stores, which I also use in my smoked duck with hoisin sauce pizza recipe. Even though I could roast a whole duck or figure out how to smoke a couple of piece of roast duck breasts, I really like that the convenience of vacuum sealed smoked duck breasts, ready to use whenever there is a craving for smoked duck fried rice.
I can't eat the duck skin but I feel bad about throwing it away, so I chop up about 1/4 of a piece and slowly render the fat at low heat in a non-stick pan. The smoked duck skin shrinks down to tiny bits and adds such a wonderful smokey flavor to the fried rice. But it's fine to toss the skin and use a teaspoon of extra virgin olive oil if you prefer.
If you can't buy smoked duck, you could buy raw duck breasts and smoke them yourself. Or you can buy a roast duck from a Chinese take out place if that is an allergy safe option for you. Or you could make your own roast duck and reserve some of the leftovers for making fried rice. Using roast duck will have more complex flavors due to the spices used to make it, but it will be just as delicious and more traditional.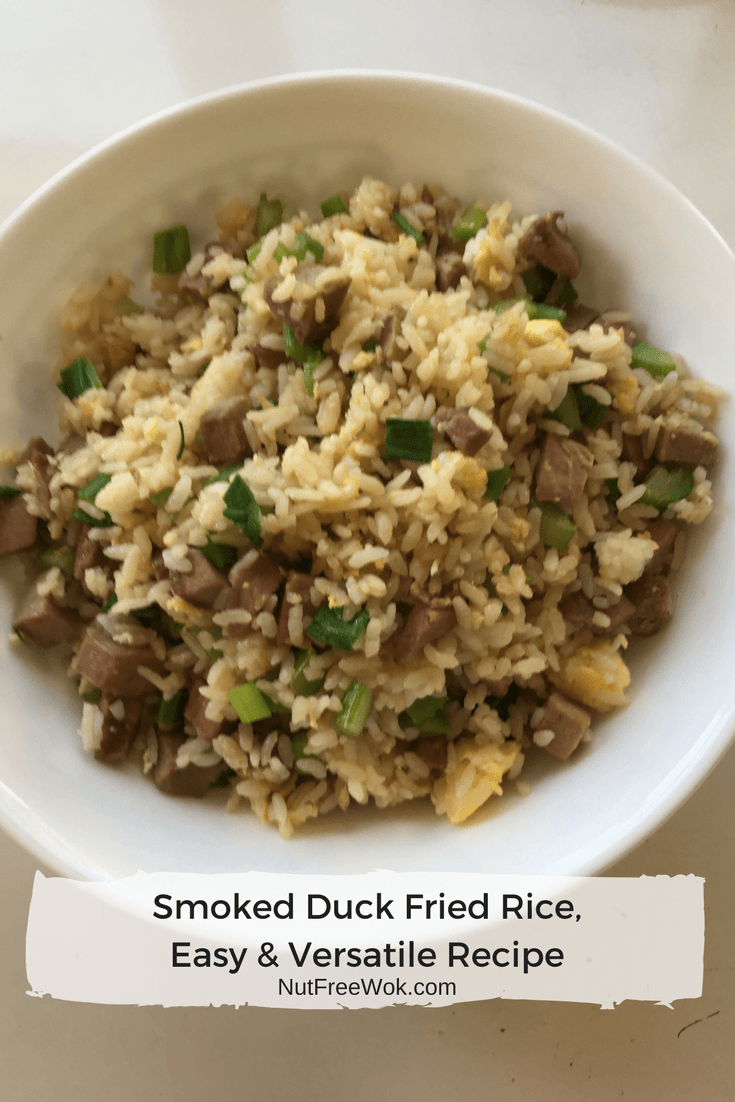 Rice is Nice, More is Better!
The other main ingredient for smoked duck fried rice is rice but the secret to making excellent fried rice is to use cold leftover rice that has been refrigerated in a covered container overnight. Leftover rice makes the best fried rice but freshly steamed rice will result in mushy fried rice.
I make extra rice to save time in general. One son likes to pack rice with leftovers as his lunch in a hot food jar (affiliate link) to take to school. If we don't have enough leftovers for lunch, at least I'll have some rice to make a basic fried rice for his lunch in the morning.
Add Veggies and Flavor
Rather than the usual peas and carrots, I like to use chopped onions because they are so flavorful. If I have fresh garlic and ginger on hand, I'll add them too because I like aromatic fried rice.
My family likes to snack on celery so I buy a bunch of celery, cut it into celery sticks and the family snacks on that. After a day or two, I chop the rest of the celery sticks into our soup, stews, and fried rice.
When you make smoked duck fried rice, you can flavor it exactly the way you like it. The very last step is to drizzle on your favorite allergy safe sauce for flavor. I obsess over oyster sauce so that's my go-to, but soy sauce, wheat-free tamari sauce, or sesame oil are also delicious. You could also make your own soy-free soy sauce (top 8 free) pick from a number of soy sauce alternatives but stick to more savory flavors.
This recipe could serve 2-3 people as a one pot meal. If you want to make it fancy, you could also prepare some lettuce cups, hoisin sauce on the side, and make lettuce wraps. If you need to feed a crowd, double the recipe for a potluck dish.
This recipe as written is free from peanuts, tree nuts, dairy, and fish.
Eggs, soy, wheat, and shellfish ingredients are included in the recipe but are optional or easily substituted. If you really want some eggs in your fried rice, but are allergic, Vegan Egg by Follow Your Heart (affiliate link) is perfect for this recipe and an allergy safe brand. There are other brands of vegan egg that have allergen advisories, check the package. Follow the instructions on the package to make one vegan egg in a separate frying pan, be sure to cook it really well so that the "egg" is firm, then chop it up and stir it into the fried rice at step 6 or 7.
If you don't want to use smoked duck, you could substitute with cooked chicken. Or you could use chicken to make Chicken Pineapple Fried Rice instead. 😉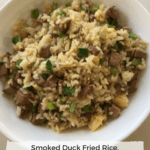 Smoked Duck Fried Rice Recipe
You need to use leftover refrigerated rice to make fried rice but for food safety purposes use the cooked rice as soon as possible.
Ingredients
2

inch

piece of duck skin

chopped (or 1 tsp of oil)

1/2

onion

chopped

2

smoked duck breasts

chopped (1.5 cups)

3

cups

cooked rice

cover and chill refrigerate overnight

2

eggs

optional

1

cup

chopped celery

½

cup

chopped scallions

2-3

teaspoons

oyster sauce or soy sauce

to taste

salt and pepper

season to taste
Instructions
Add chopped duck skin to a large non-stick frying pan and fry on low heat for 5 minutes (if using oil, heat up frying pan on medium for a few minutes, add oil, and swirl to coat).

Add chopped onions and stir fry 1 minute on medium heat.

Add chopped duck and stir fry for 1 minute.

Add rice and use a spatula to break up the lumps of rice into individual grains, 1-2 minutes.

If using eggs, beat two eggs in a bowl, push the fried rice to the sides and pour beatened eggs into the center, and scramble until half cooked, stir in the rice.

Add celery and scallions, stir fry for 1 minute.

Drizzle soy sauce or oyster sauce around the rice and stir to mix, season to taste and add salt and pepper as preferred.
Sign Up for Emails from Nut Free Wok!
The best way to see every post or recipe is to subscribe to Nut Free Wok's email subscription (be sure to respond to the confirmation email). I won't send you spam or share your email address with anyone.
Disclosure/Disclaimer:
I may mention the names of stores and/or brand names of products that I use because readers ask and I share products and sources which I use and think may be helpful to readers, all opinions are my own. Please note that manufacturing practices and ingredients can change at anytime without notice and readers are always responsible for assuring allergen safety before buying or consuming foods. NutFreeWok.com is a participant in the Amazon Services LLC Associates Program, an affiliate advertising program designed to provide a means for sites to earn advertising fees by advertising and linking to Amazon.com. Thank you for your support!