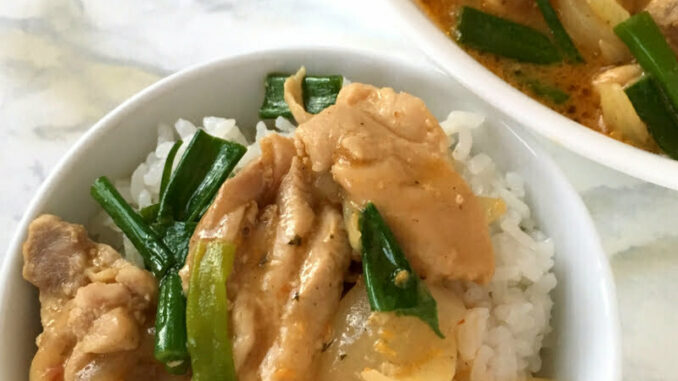 Weeknight Thai Red Curry Chicken Recipe, Simplified
I made Thai Red Curry Chicken at home with an easy to use sauce mix. It was a simple and satisfying meal for a busy weeknight dinner.
Disclosure: This post is unsponsored as I'm sharing this recipe because I think readers might enjoy Thai Red Curry, viva allergy aware Asian fare.
I love Thai food and ever since our family has been affected by food allergies. I know you all like Thai food too because Peanut Free Pad Thai is one of my most requested and favorite recipes. Thai restaurants seem off-limits due to potential cross contact concerns and because there are so many ingredients which are unfamiliar to me. I haven't ever attempted to make a Thai red curry chicken from scratch because I don't know how to start finding or handling unfamiliar ingredients, such as Thai red chili, galangal, Kefir lime leaves, and lemongrass.
When I introduce my family a new cuisine or a new dish, I always opt for the easiest way first so that I don't have to put in a lot of effort or buy a lot of new ingredients that might be costly or difficult to find. If my family doesn't like it, it's no big deal we can move on. If they do like it, then I would work on improving the recipe or making it from scratch. Thai food lovers rejoice! I found a Thai red curry sauce mix that takes 10 minutes to make and dinner is on the table by the time the rice is ready.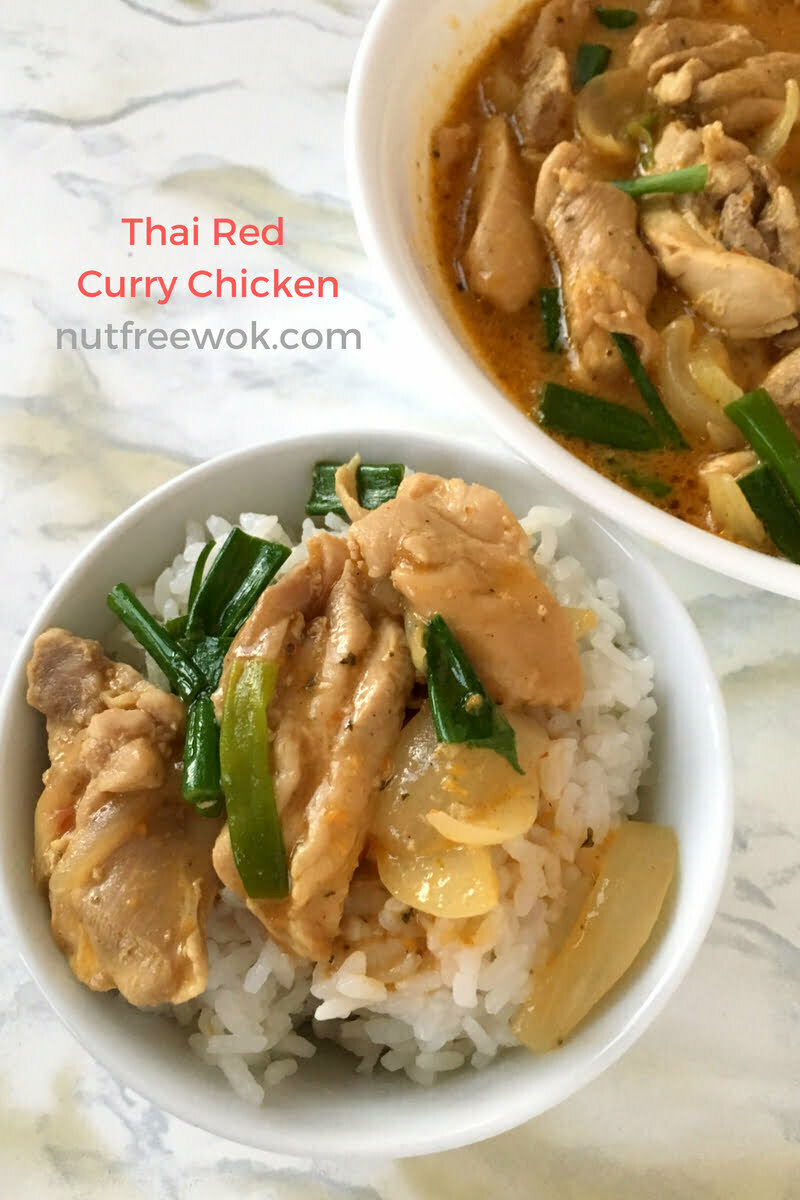 Allergy Aware Curry
I received some samples of McDonnell's Thai Curry Sauce Mixes at the Winter Fancy Food Show, so I didn't meet or talk with the company at all. One of the ways I check whether a product is allergy safe to search for recalls on the brand. When I did that with McDonnells, I discovered no recalls but that McDonnell's curry products are extremely popular in Ireland.
The ingredient label calls out coconut and milk as allergens. I contacted the manufacturer via their website recently to ask about potential cross-contact, I was happy to recieve this response from them: "I can confirm that the McDonnells Curry Sauce is Free from nuts and is produced in a nut-free facility. These products are available to buy in the US from our distributor Food Ireland – www.foodireland.com"
The Thai red curry sauce mix contains milk and coconut but if you have any other allergens or any non-top 8 allergens, you must reach out to McDonnells and ask if their curry sauce mixes are safe for you. Aside from their statement above, I don't have any additional allergen information (such as whether they do any allergen testing or whether they have their suppliers verify allergen safety, etc.) so reach out to them. Your questions eventually become Frequently Asked Questions.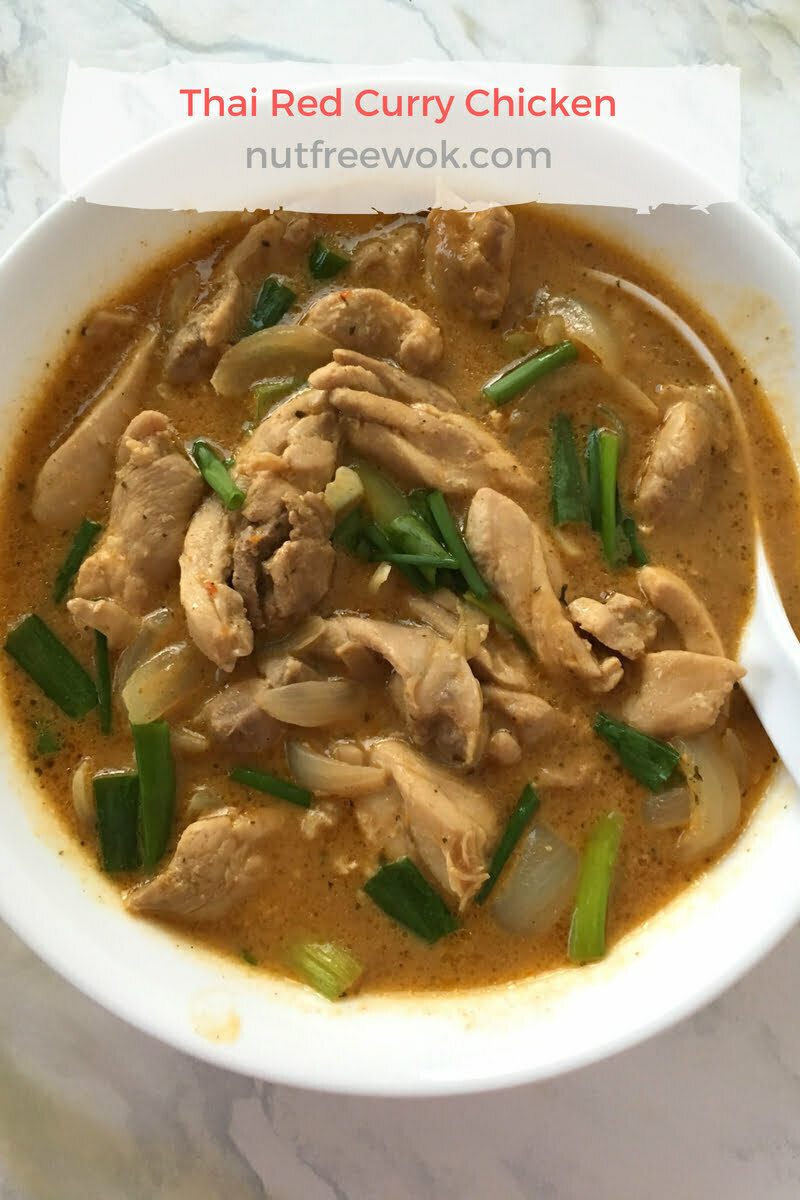 Thai Red Curry Simplified
There are instructions on the Thai red curry package on how to make the sauce and a simple recipe using chicken breasts and bell pepper. I didn't have chicken breasts on hand and used chicken thighs instead because they are easier to use. I reduced the fat in the recipe by reducing the amount of oil, use reduced fat coconut milk, and using milk instead of heavy cream.
One of my sons is allergic to bell peppers so I omitted it but it's possible to use other preferred vegetables instead. The key is to put them in at the right time, put hard vegetables that take longer to cook in earlier and put soft tender vegetables during the last few minutes of simmering. Alternatively, you could use steamed or blanched vegetables which are already at the right texture.
I made the Thai Red Chicken Curry and served it over rice. My kids were ready with cups of milk in case the curry was too spicy for them even though the curry was mildly spicy. I loved the flavor and our family enjoyed our meal immensely, we barely had enough leftovers for my lunch the next day.
I happened to have a packet of a different curry mix, Thai Green Curry but the response was less than enthusiastic from all of us. I think we all preferred the red Thai curry flavor more.
This recipe as written is free of peanuts, tree nuts (except coconut), egg, shellfish, fish, soy, and wheat.
Milk or coconut allergy: It's not possible to adapt the recipe to be free of milk or coconut because of the mix. However, you could try Thai Kitchen's Red Curry Paste, made by McCormick (which you can easily verify for allergens by phone or email) and then use your favorite non-dairy milk and/or omit coconut.
It is possible to make your own red curry paste if you can find ingredients such as red Thai chili, lemongrass, Kefir lime or leaves, galangal, whole white peppercorns, coriander root, and mash them with easier to find ingredients like garlic, ginger, etc..
If you have a seafood allergy, be aware that some red curry pastes products or recipe might use shrimp paste.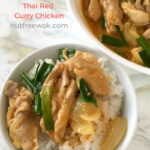 Thai Red Curry Chicken Recipe, Simplified
Make this delicious Thai Red Curry Chicken for a quick and easy weeknight dinner in less than 30 minutes! The recipe is nut free except for coconut.
Ingredients
1

package of McDonnell's Thai Red Curry Chicken Sauce mix

½

cup

hot water

¾

cup

non-fat milk

divided

1

teaspoon

oil

1

medium

onion

peeled and sliced

6

chicken thighs

boneless, skinless, cut up into bite sized pieces

1

cup

blanched or steamed vegetables

optional

¼

cup

coconut milk

I use reduced fat

2-3

scallions

chopped into 1 inch pieces, separate whites and greens

4

cups

freshly cooked rice
Instructions
Add curry sauce mix, hot water, and ½ cup milk into a small sauce pan, whisk, cook on medium heat for 10 minutes, until slightly thickened, set aside.

Preheat a large frying pan for 1-2 minutes on medium heat, add oil and onions, saute for 1 minute.

Add chicken, saute for 5 minutes until no longer pink.

Add cooked vegetables (if using), curry sauce, ¼ cup of milk, coconut milk, scallion whites, and reduce heat to simmer for 5 minutes.

Add scallion greens, stir, and serve over freshly cooked rice.
Sign Up for Emails from Nut Free Wok!
The best way to see every post or recipe is to subscribe to Nut Free Wok's email subscription (be sure to respond to the confirmation email). I won't send you spam or share your email address with anyone.
Disclosure/Disclaimer:
I may mention the names of stores and/or brand names of products that I use because readers ask and I share products and sources which I use and think may be helpful to readers, all opinions are my own. Please note that manufacturing practices and ingredients can change at anytime without notice and readers are always responsible for assuring allergen safety before buying or consuming foods. NutFreeWok.com is a participant in the Amazon Services LLC Associates Program, an affiliate advertising program designed to provide a means for sites to earn advertising fees by advertising and linking to Amazon.com.