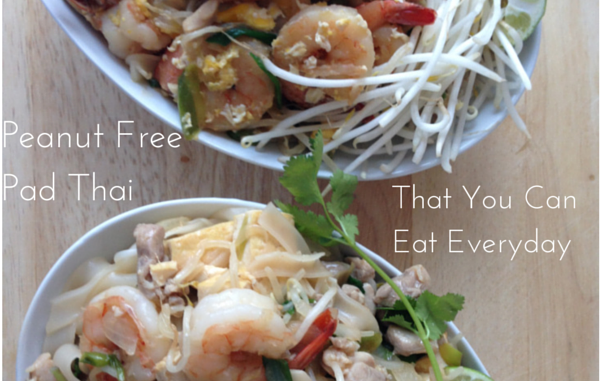 When I asked "If you weren't limited by food allergies, what dishes would you order at an Asian restaurant?" many of you responded with a peanut free Pad Thai. I think many would concur and it's my favorite dish to order at a Thai restaurant. However since my son has a history of reacting to airborne peanuts or just the peanut dust on our clothes, Thai food in general has been a very rare treat, so rare that I could barely remember how does it taste…. (This post was updated on 4/12/2023 with minor edits.)
Disclaimer: Please check that all ingredients are suitable for your allergies and be sure to ask your medical care team regarding any allergy related questions (I do not share medical advice). As an Amazon Associate I earn from qualifying purchases.
Jump to Recipe
Learning How to Make Tasty Thai Food
How do I learn to make Pad Thai when I only know how to eat Pad Thai? I have never tasted homemade Pad Thai, never traveled to Thailand, and don't even have a Thai friend to ask for feedback on sharing a recipe with authentic ingredients and techniques. And will learning to make a new dish for my children be worth the effort? Will my kids like Pad Thai? What if I fail miserably and they dislike it forever? I cannot go to our local Thai restaurant and order take out to see if they like it or not, before committing to the effort of learning how to make it at home! What if I introduce a new ingredient and discover a new allergy? I am humbled by the reminders of the early days of living with a new diagnosis of food allergies and trying to introduce my young children to healthy foods and new flavors.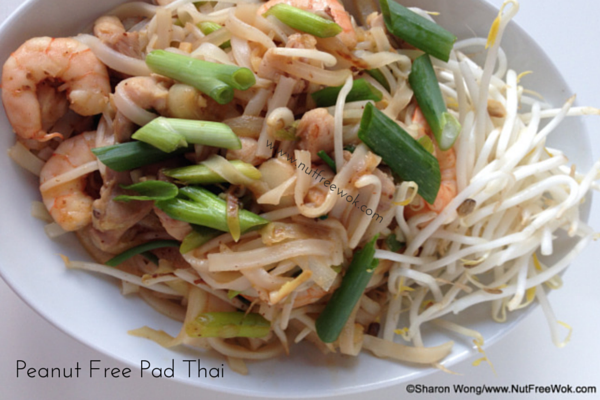 Analysis of Pad Thai's Allergens
A traditional dish of Pad Thai could be an allergen landmine with many of the top 8 allergens present. It might have shrimp, fish sauce, peanuts or sometimes cashews, egg, tofu (soy), and sometimes soy sauce (which contains wheat) and wheat starch (if one uses fresh noodles instead of dried rice noodles). There are possibly 7 out of the top 8 allergens, everything except dairy. There's also a slight chance of cross-reactivity because a traditional recipe for Pad Thai might include tamarind, a legume similar to peanuts, beans, and soy. I was only able to find one possible source of information but nothing scientific or peer reviewed to confirm. If you have any concerns about tamarind, please discuss with your allergist before adding or omitting it from your diet. Since my sons don't like foods that are seasoned with worcestershire sauce, which contains tamarind, I skipped it and used a little extra lime juice instead and one can also use vinegar as well.
What makes Pad Thai Sooooo Good?
The key to making a really good allergy friendly Pad Thai is understanding what makes Pad Thai so good by taking a look at how it's made in Thailand and how Thai chefs make it. I learned that Pad Thai must have a balance of sweet, sour, and salty flavors.
Sweet: Some recipes use up to 3-4 tablespoons of sugar and gives the noodles a delectable carmelized flavor. I reduced the amount of sugar to make the dish healthier and used brown sugar to give the dish more depth of color, but white sugar will work just as well.
Sour: As mentioned above, some recipes call for tamarind paste or tamarind juice, but I omitted it and used lime juice instead. If you happen to not have a lime on hand, you can also substitute with rice vinegar or vinegar, but lime is a better choice if you are cooking for someone who must avoid gluten.
Salty: I used Red Boat Fish Sauce, which is made in a fish only facility and gluten free. It seems a little pricey ($9 for a small bottle) but I am so happy with my purchase that I'm almost out and will buy a larger bottle next time. I am not deterred by fishy smells and flavors as I will eat canned sardines and chicken and dried fish fried rice (so yum but smelly and salty). But I've purchased bottles of fish sauce from the Asian market before at a fraction of the cost but they are not to my liking. The other brands smell unpleasant. I have overcome my dislike of fish sauce since trying Red Boat. Go ahead and buy Red Boat fish sauce and thank me later. If you must avoid fish, then you can substitute with soy sauce or other soy sauce alternatives or a soy free soy sauce that you can make yourself.
How to Adapt Pad Thai for Allergies and Stay Authentic
The very nature of cooking for someone with food allergies involves substitutions and modifications to a recipe, but I wanted to be careful not to modify it to the point of making something else and calling it Pad Thai. Some people might want to substitute the crunch and flavor of peanuts with crushed sunflower seeds which is a great substitution for those who are not allergic to sunflower seeds. But if one uses sunflower seed butter, then it becomes a dish more like sesame noodles or like dan dan mein, both of which use peanut butter in the sauce and taste delicious but not really pad thai.
In my quest to learn what makes Pad Thai authentic and resemble what is made and served from the street carts of Thailand, I learned that the reddish color is more of an American style and using ketchup to give Pad Thai a reddish color is frowned upon. Pad Thai gets it's slightly red color when prepared with whole shrimp. When one takes off the shell and the head, just leave the juicy guts which which turn reddish when cooked (see video below). Perhaps shrimp heads and guts might seem unappealing to the American palate, but whole shrimp is actually quite tasty as described in this Serious Eats article, The Nasty Bits: Shrimp Heads. If using the "nasty bits" from shrimp is a dealbreaker, then try using sriracha or paprika to give the noodles a reddish color with a little spicy kick. I bought my first bottle of sriracha sauce made by Huy Fong Foods, top 8 allergen free, gluten free, and certified Kosher for this recipe. It's also fine to leave the sriracha or paprika out altogether.
Most traditional recipes use dried rice noodles (look for the words bahn pho) which are most likely made in rice only facilities and a great top 8 allergen free and gluten free option (check with the manufacturer to confirm since product availability varies). I buy packages of rice sticks distributed by Walong and sold at 99 Ranch markets. Three Ladies is a name brand version with a phone number printed on the package for you to call. The rice stick noodles come in different widths, I like using medium or large sized noodles for this dish. The rice sticks are soaked in cold water for one hour until soft and pliable but I prefer the ease of using fresh pad thai noodles as they are ready to use without soaking. The fresh rice noodles are available in Asian markets along with the other fresh rice noodle sheets, rolls, and noodles, such as the kind that is used for beef chow fun. However, sometimes the fresh noodles might use wheat starch which might not be appropriate for those who are wheat-free or gluten free and could be made on shared equipment with shrimp.
I bought some fresh large shrimp with the shell on from an Asian market because I was too cheap to buy the shelled and ready to cook shrimp. It tasted OK but I didn't like the extra work of shelling and deveining the shrimp (score along the back and lift out the tiny black "vein"). For the the next test batch I looked at frozen raw shrimp that is shelled and deveined and I wanted some big juicy ones and found 4 kinds different kinds at Trader Joe's: Argentine Red Shrimp (sku 513517, shared equipment with fish and other shellfish), large cooked shrimp (sku 13277, wheat, milk, egg, soy in same facility), wild blue shrimp (sku 985444, fish in facility), raw shrimp (sku 978071, wheat, milk, soy in facility). I liked the wild blue shrimp the best as the big shrimp was meaty and has a nice firm texture. The allergen advisories were per a phone conversation and I highly recommend calling to check for yourself before buying and consuming. One would think that shellfish would be risk-free of peanuts and tree nuts in their seafood processing facilities but it's subject to change at anytime and their langoustine tails (sku 985413) have tree nuts and other allergens in their facility.
Some traditional recipes also include dried shrimp and sweet preserved radishes but I didn't include them in the recipe to keep the recipe simple and using ingredients you can find in most supermarkets. One can also use crushed sunflower seeds to substitute for peanuts, but I've left sunflower seeds out of the recipe to avoid any issues with the crunchy texture that may be associated with peanuts.
Our Allergy & Family Life
Being able to make this peanut free Pad Thai recipe and share it with you is a milestone for me as I'm finally getting used to the idea that one of my sons might have finally outgrown his shellfish allergies. Over the past year we've been eating more shellfish but each time I was mentally and emotionally prepared for something to happen. Nothing happened, he ate seafood and enjoyed it symptom-free and I'm thankful for the guidance and reassurance of our allergist. It's nice to have less to worry about and I choose to be optimistic.
In any case, he is still allergic to eggs and my other son has an aversion to tofu. Even though it's not an allergy, even picking out the tofu is not acceptable to him, so I make two versions: one with chicken, shrimp and tofu and the other with chicken, shrimp and eggs. That sounds like a lot of work but I have to make a double recipe anyways because my kids are big and they pack leftovers in their lunches for school. The recipe as written includes egg and tofu but it's easy to just omit egg or tofu at the steps where they are mentioned. I personally like a little cilantro in Pad Thai but son with the tofu aversion does not, so I add it to the egg-free +tofu pad thai. When I cook, I have a wok and a skillet going at the same time with the different ingredients on each side of my stove. I find that the wok version is tastier and gives a nice sear or "wok hay."
Vegan (egg-free, shrimp-free, fish-free) adaptation: use more tofu and omit the chicken, shrimp, and egg and use soy sauce in place of fish sauce.
Gluten-free adaptation: look for gluten free dried rice stick noodles, do not use fresh noodles which contain wheat starch
Soy-free adaptation: omit tofu, use more chicken and shrimp; be sure to buy mung bean sprouts, not soy bean sprouts (bigger with yellow beans attached to some sprouts)
Top 8 Free Adaptation: omit egg, shrimp, fish and use about 8 oz of sliced chicken or pork instead; omit fish sauce and use soy free soy sauce instead
The recipe, as written, is peanut free, tree nut free, and dairy free. It's delicious but better than take-out (less oily, less sugary) so that you can eat it everyday if you wanted to and, best of all, free of peanut cross contact! Enjoy and let me know in the comments how the recipe works out for you.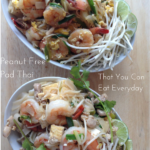 Peanut Free Pad Thai
The recipe, as written, is peanut free, tree nut free, and dairy free. It's delicious but better than take-out (less oily, less sugary) so that you can eat it everyday if you wanted to and, best of all, free of peanut cross contact!
Soaking time (if using dry rice noodles)
1
hour
Total Time
1
hour
40
minutes
Ingredients
3

tablespoons

fish sauce

2

tablespoons

brown sugar

2

tablespoons

lime juice

1

teaspoon

sriracha sauce

optional and to taste

1

tablespoon

vegetable or olive oil

1/2

medium yellow onion

chopped

3

cloves

garlic

minced (about 1 tablespoon)

4

stalks of scallions

chopped diagonally into 1-2 inch pieces and separate the white parts from the green

1

boneless skinless chicken thigh

diced

8

large or extra large shrimps

shelled and deveined

4

ounces

firm or extra firm tofu

drained, pressed, pan-fried, and cubed

2

cups

mung bean sprouts

1/2

pound

fresh rice noodles

or dried rice sticks soaked in cold water for 1 hour

1/4

cup

hot water

2

eggs

lime wedges

for garnish
Instructions
*If using dried rice stick noodles, soak them in a large bowl of cold water for 1 hour*

Make the sauce by mixing the fish sauce, lime juice, sugar, sriracha sauce (if using), set aside.

Heat up a wok or large frying pan on medium high heat until a drop of water sizzles, add 1 tablespoon of oil, swirl to coat.

Add and saute onions, white parts of scallions, and garlic until fragrant, 30 seconds.

Add chicken and stir fry until 50% cooked, 2 minutes.

Add shrimp and stir fry until 50% cooked, 1-2 minutes.

Add tofu, 1 cup of bean sprouts, half of the remaining scallions, and noodles.

Stir the sauce and add to the noodles, add 1/4 cup of hot water to the sauce bowl and add to the stir fry.

Gently stir fry for a few minutes on medium high heat until the sauce is absorbed by the noodles (3-5 minutes).

Push the noodles to one side of the wok or pan, add 1 teaspoon of oil if needed, and add both eggs to the pan.

Break the yolk and scramble gently so that the egg white doesn't completely mix with the yolk until set and not runny (2-3 minutes).

Stir fry the egg and noodles together and serve on a plate with the remaining bean sprouts on the side.

Sprinkle the rest of the scallions on top and place the rest of the bean sprouts (for a nice crunch) and a wedge of lime on the side (for a nice tart drizzle).
Recipe Notes
Refer to the entire post to read about how to make top 8 allergen free, soy free, gluten free, and/or vegan adaptations. To make pan fried tofu: drain tofu for a few hours or press between paper towels for 30 minutes, cut into bite sized pieces and pan fry in oil until browned on all sides. For more instructions refer to the following recipe and omit the steps to cook with sauce: https://nutfreewok.com/pan-fried-tofu-light-versatile/
You will need 1 lime, cut into 8-10 wedges. Squeeze about 2/3 of the wedges for the sauce and reserve the rest of the wedges to serve at the table.
References:
Traditional Thai Recipe for Pad Thai
How to Make Classic Pad Thai by "Cooking with Poo"
Thanks for reading, please help Nut Free Wok!
The best way to see every post or recipe is to subscribe to Nut Free Wok's email subscription (be sure to respond to the confirmation email). You will be notified by email next time I publish another post or recipe and I won't send you spam or share your email address with anyone.
If you enjoyed this post, please use the social media buttons below to share with others. I am on Facebook, Twitter, Pinterest, and Instagram as @nutfreewok and it's great to chat and interact on social media too.
Disclosure/Disclaimer:
I may mention the names of stores and/or brand names of products that I use because readers ask and I share products and sources which I use and think may be helpful to readers, all opinions are my own. Please note that manufacturing practices and ingredients can change at anytime without notice and readers are always responsible for assuring allergen safety before buying or consuming foods. NutFreeWok.com is a participant in the Amazon Services LLC Associates Program, an affiliate advertising program designed to provide a means for sites to earn advertising fees by advertising and linking to Amazon.com. Thank you for reading!