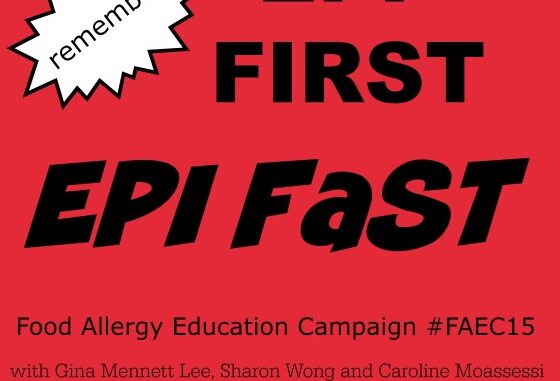 Our friend and fellow food allergy advocate, Gina Mennett Lee launched her monthly Beyond Awareness Educational Campaign (#BAEC4FA) in February and wanted a few collaborators to join her. Caroline Moassessi, food allergy advocate and blogger at Grateful Foodie, and I were excited to come along to support her efforts. We hope that you will help us share these critical topics with others.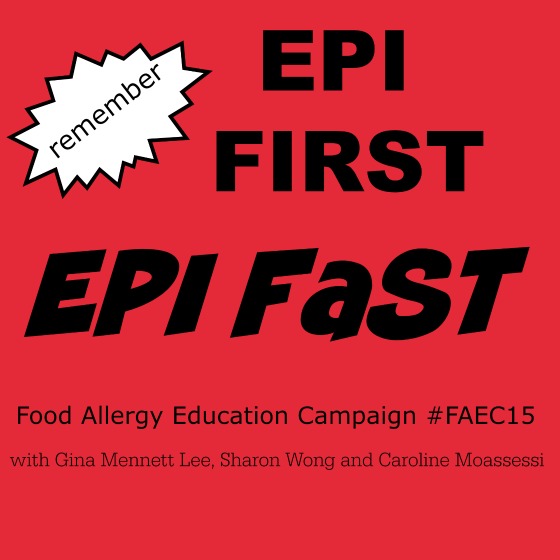 Go visit Caroline's excellent post about this month's topic, "Epi First, Epi Fast." She shares some key points with informative resources:
Your first actions taken during an allergic reaction are the most life saving moments.

EPI first EPI Fast

Knowledge is life saving POWER

Learn How to Recognize a Reaction
Why Epi First, Epi Fast?
I have met people with known anaphylactic allergies who do not carry their epi or fill their prescriptions because they believe that they only need it when they are in their garden for bee sting allergies, or that they can get home in time if they need their epi, or because they believe they can avoid their allergens. I fear for their lives which is why I think this reminder of Epi First, Epi Fast is extremely crucial. But why is timeliness key?
I just happened to watch Kids With Food Allergies' webinar yesterday, Startling Gaps in What Doctors Understand about Anaphylaxis, and it was a very interesting presentation overall with some relevant points (minutes 36-42):
1) Epinephrine is the drug of choice because it acts rapidly and there is no contraindication. Antihistamines and steroids could take from 20 minutes to 1 hour to take effect but mild symptoms can rapidly progress within minutes, faster than anithistamines or steroids. Epi First, Epi Fast!
2) Previous mild symptoms are not predictive of future mild symptoms. One cannot predict the severity or rapidity of the onset of symptoms. Epi First, Epi Fast!
3) Anaphylactic events can become fatal in less than an hour. The median times for symptoms to progress to respiratory or cardiac arrest are 30 minutes for food, 15 minutes for insect venom, and 5 minutes for injections or medicine. Dr. Lieberman discusses this point during the Q&A section and the same information can also be found in an Australian journal, under the heading Pathophysiology. Epi First, Epi Fast!
We hope you share this information with others as we all work to spread awareness.
Gina, Caroline, and I strongly believe that Epi First, Epi Fast! is an important reminder for ourselves and our community. There are so many reasons to encourage our loved ones, friends, and neighbors to seek out a board certified allergist, to have access to their epinephrine, and to know when and how to use it. If you already have these points covered, then take the next step and join us in sharing life saving information to save lives and to protect families. #FAEC15 or #BAEC4FA.
The "Beyond Awareness Educational Campaign" was created by Gina Mennett Lee, M.Ed. of Mennett Lee, LLC. The purpose of the campaign is to harness social media to provide necessary education to the public regarding food allergy management. Caroline Moassessi of GratefulFoodie and Sharon Wong of Nut Free Wok have joined the campaign to provide an even greater reach. We hope you will join our effort by sharing the campaigns on your social media outlets. Together we can make a difference.
Thanks for reading, are you following Nut Free Wok?
The best way to see every post or recipe is to subscribe to Nut Free Wok's email subscription (be sure to respond to the confirmation email). You will to be notified by email next time I publish another post or recipe and I won't send you spam or share you email with anyone.
If you enjoyed this post, please use the social media buttons below to share with others. I am on Facebook, Twitter, Pinterest, and Instagram as @nutfreewok and it's great to chat and interact on social media too.