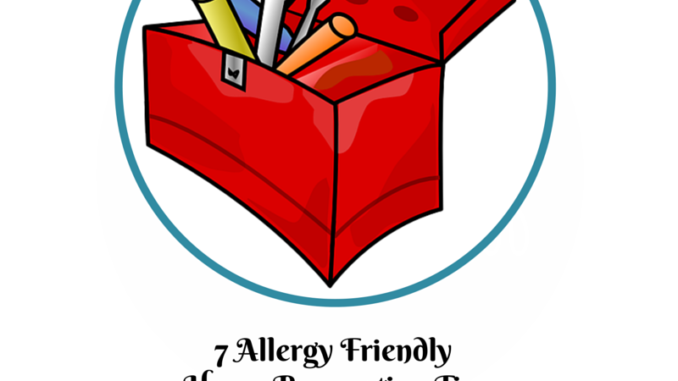 7 Allergy Friendly Home Renovation Tips
Hello, Nut Free Wok readers!! I have been missing cooking, blogging, and sharing with you the past few weeks. I've been quiet on the blog and social media because I've been busy on the home front. My husband and I decided that the interior of our home needed a fresh coat of paint after living in the house for 15 years. It was bittersweet to paint over the little hand prints about 2 feet off the ground but the chipped and peeling paint had to go.
Our last major home renovation project was about 6-7 years ago, when our kitchen was in bad shape and we had no choice but to renovate. It was a lot of work to design, plan, and manage the renovation with special consideration for our children's allergies. I put off additional projects until now.
Thus painting the interior of the house triggered a chain reaction of other necessary projects and I spent a lot of time interviewing many people to help us, shopping and learning about different options, purging 15 years of clutter and packing what we want to keep. I'm still struggling to unpack partly because I want to purge some more and partly because some neck pain is slowing me down. That explains why I've been busy and I've been waiting for a chance to share with you some of my home renovation tips from an allergy mom's perspective that helped me stay calm, cool, and collected.
1. Stay on top of decluttering, cleaning, and maintenance
No one's perfect and there is bound to be some dishes, laundry, and dust bunnies waiting for us at times. However, it's easy to let things pile up (for 15 years, ahem) and lose track of the quarterly and annual home maintenance tasks. I won't share the icky details but there are a few things that I've discovered that will help me from here on out to cut down on the dust and allergens, prevent future issues, and monitor better:
1) After I cleaned my windows with glass cleaner and paper towels, it still wasn't clean enough. I used cotton swabs dipped in rubbing alcohol to clean the nooks and crannies around the edges of window. The black dirt-like spots are gross and not dirt!
2) I love using Magic Sliders but sometimes the adhesive isn't strong enough and our furniture slides off the sliders. I bought 3M Scotch Indoor Mounting Squares
(affiliate link) to secure some other items and had extra pieces. I put the Magic Sliders
(affiliate link) and mounting squares under our kitchen chairs and they're staying on beautifully despite the constant use. When my husband or sons have time to help me, I plan to attach more sliders with mounting squares to the bottoms of dressers, bookcases, and sofas so that I can easily move the heavy pieces of furniture for cleaning behind and under them. Two of our bookcases need to be replaced because we weren't able to move them for cleaning and inspection and we will have to replace our carpets as result.
3) How about an As Seen On TV product that can help prevent a dryer from catching on fire? I knew about the risk I did but none of our vacuum attachments were small enough to insert inside our dryer's lint trap. I bought Telebrands Lint Lizard Flexible Vacuum Hose Boxed
(affiliate link) at a local store. If it doesn't work the store has a great return policy and if it does work, it's a small price to pay (about $12). The vacuum attachment connected our vacuum to a long, flexible, clear plastic tube which I can insert inside the lint trap. I was amazed by how much lint was hidden inside my dryer, what a great gadget!
4) Thanks to my friend Heidi for sharing about Swiffer and Febreeze as AAFA certified allergy friendly products. I replaced my Swiffer and bought a duster with a long extender handle
(affiliate link) for some easy dusting. I usually try to minimize the amount of disposable products that I use and dust with washable microfiber cloths instead. But for now, water too precious of resource for the extra washing necessary and I love how the Swiffer products traps dust and dirt.
2. Identify your allergy related needs and priorities
If you are thinking of doing any remodeling or home improvement projects, read Asthma and Allergy Foundation of America's article Home Remodeling. Sometimes things break spontaneously and you might find yourself in an unexpected situation where you need to make decisions quickly. Having some background information will help guide you to make allergy friendly repairs. Allergic Living has many great articles related to allergy friendly home design and choices, such as Designer Homes Get Allergy Friendly Green and Gorgeous. Everyone has different tastes and different budgets, but I think that there are big and little allergy friendly changes that can make your home more comfortable and more allergy friendly. My top three priorities are 1) control the construction dust, 2) use no VOC or low VOC products, and 3) improve air circulation, moisture control, and energy efficiency whenever possible.
3. Find reliable contractors, vendors, and a house cleaner before you need them
Your neighbors are an invaluable resource for referrals to contractors and vendors. If available in your area, join Next Door (www.nextdoor.com) to broaden your access to referrals but take those recommendations with a grain of salt as you won't know if their standards of "fair price" and "good work" match yours. Knowing of a reliable and honest plumber, electrician, handyman, etc. before you need one will save you time and the mental anguish of making decisions under pressure.
I was reluctant to hire a professional cleaner because I had some cleaners come once who weren't very professional (one sprayed bleach on my towels, one used ammonia all over my house, another hosed my bathroom ceiling and left it dripping wet, etc.). I felt I could do a better job myself (I didn't) but it wasn't until I had to have surgery which required 1-2 months of no heavy lifting that I finally gave up control and found a great crew that gives my house a deep clean every month. And yes, I spend time putting things away before the cleaners come.
4. Interview and ask questions
Based on our project needs and priorities, I create a list of a handful of questions to interview contractors. I try to get a sense for whether they will respect your house rules (no smoking, no eating nuts or other allergens), will they follow building codes, are they honest, are they good communicators, are they good at their craft? I also ask for referrals and usually the contractors share the info of satisfied customers. One useful question I ask is "How well does the contractor resolve problems or issues that came up?"
5. Scout out local hotels
If it's not an option to stay with family or friends during a construction project or you don't have access to a kitchen or a bathroom, where do you stay? Do you ever wonder what is it like to stay at a hotel in your community? Scout them out before you need a place in a hurry. Would you need a suite with a kitchen or can you make do with a mini bar with a microwave? What are the price ranges of the hotels in your area? Do you need to stay at a pet friendly hotel? Do any of them offer extended stay rates?
6. Have a short list of safe allergy friendly restaurants
If your kitchen is out of commission for a few days, what would you do? Create a list of local restaurants that can meet your health and dietary needs as well as be acceptable for your budget. It might be costly to go to your favorite special occasion restaurant every day and it might not be healthy to eat fast food everyday. Allergy Eats and Yo Dish are fantastic resources for allergy friendly dining. I was so happy to discover that one of the hotel restaurants is operated by a local restaurant owner that we know and as a result, the restaurant staff treated us like family so that an allergy safe meal was just an elevator ride away.
7. Have a back up plan for meals
What can you make with non-perishable or shelf-stable items or foods stored in a cooler with ice? What can you make if you have access to a hotel mini-bar? What can you make with a hot pot? Both of my kids and my husband were sick through out the painting project and while our hotel room did not have a kitchen, I was able to use our hot pot
(affiliate link) to make hot water with honey or miso soup to soothe sore throats. When we renovated our kitchen 7 years ago, we stayed with our parents for two weeks when our house was extremely dusty and messy. But we moved home before the kitchen was completed and we never quite knew if we would have access to water or electricity, so I had a back up plan ready. I think of it as a practice run for whether we could take care of ourselves after a natural disaster.
Gratitude
I'm grateful that we have a home to fix even if it's not perfect, the ability to make necessary repairs, and the resources to stay in a safe and clean environment. It's with gratitude that I had fun with my kids during the chaos, we enjoyed eating comfort foods together because they were sick and I didn't feel great either. I went to bed early every night because I was exhausted from packing and cleaning for weeks and needed the extra rest. The painters did a great job and I love that our home looks bright, clean, and airy again. We're in between projects but at least I can resume some normalcy for a few weeks and share some advice for my future self as well as you. What are your best tips for remodels and home renovation? Help me and help others by sharing in the comments, THANK YOU!
Love this post and want more?
Nut Free Wok is a participant in the Amazon Services LLC Associates Program, an affiliate advertising program designed to provide a means for sites to earn advertising fees by advertising and linking to Amazon.com.