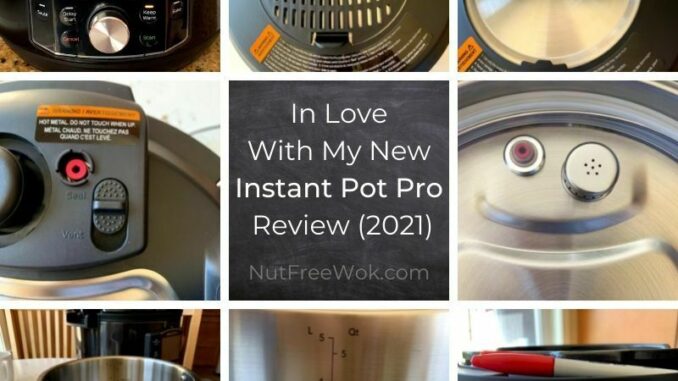 I needed to buy a new Instant Pot and after considering all of the options, I ended up buying a new 6 quart Instant Pot Pro. I had no idea I could fall in love with my new Instant Pot Pro because of all of the new features and improvements. It's a pressure cooker game-changer worth checking out.
Disclosure: The company that makes the Instant Pot has no affiliation with this post. I purchased the Pro and am sharing my opinions with you. As an Amazon Associate I earn from qualifying purchases.
12 Reasons to Love the Instant Pot Pro
I haven't tried all of the features of the Instant Pot Pro yet, I mainly use the saute, steam, or pressure cook functions. I love cooking with the Instant Pot because it is more nutritious, saves time, and doesn't heat up my kitchen (or me!). I initially meant to order a Duo but accidentally received a Duo Plus, which I was excited to try but ended up returning it and ordered the Pro. I love this Instant Pot Pro for the following reasons:
The Anti-Block Shield is easy to remove. Win! (I struggled to remove the anti-block shield from the Duo Plus)
The Pro has a steam button. Win! Win! (Duo Plus version 3 doesn't have a steam function!)
The steam function is not pressurized which means that we can open the lid during the steaming to check to see if the food is ready.
It has a Whisper Quiet Steam Release. There's a steam diverter over the steam release valve and when I release the pressure, it's a cute little hiss. This makes such a big difference for anyone who is sensitive to noise or sudden sounds.
The inner pot has silicone coated handles that make it so much easier to stir food inside the inner pot without spinning the pot (the Duo Plus has silicone bumps inside the base to help grip the inner pot, works well). The handles make it easier to hold the inner pot when putting the inner pot into the cooking base or taking it out.
The Inner Pot is also stovetop friendly and oven safe up to 450 °F.
There's a Quick Cool Plastic Cover on the lid to protect fingers from the hot metal parts of the lid. We can take the cover off and install a Quick Cool Tray (an optional accessory).
The Instant Pot Pro also has a quick release switch so that it's easy to keep fingers away from the valve. Left-handed people will need to remember to use their right hand to use the quick release switch!
The control panel is intuitive and easy to use, it also has a cooking progress bar. There are 28 preset programs that are customizable and as well as 5 buttons to program your favorite recipes.
And my favorite new feature is that you can program it to remind you 5 or 10 minutes after it's done cooking, which is perfect for recipes that call for 5 or 10 minute natural pressure release.
You can also make changes to the program while cooking is in-progress.
It's also possible to Delay Start, which gives you flexibility to make things like congee or oatmeal for breakfast. I marinated some chicken wings in the inner pot and programmed it to delay start for 30 minutes so the wings could marinate while I did other things!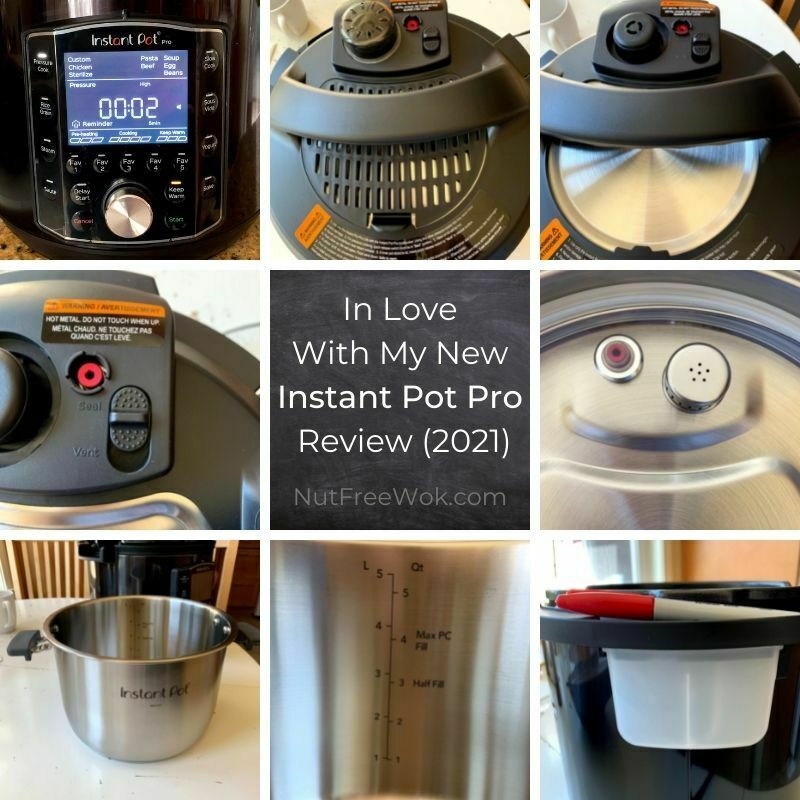 The Instant Pot Pro also includes two sealing rings (a red one and a white one) plus a trivet. It does not come with a rice cup or a ladle like my previous model. If you want more information about the Instant Pot Pro, you can download the Instant Pot Pro manual from Williams-Sonoma. The Instant Pot Pro 6 quart uses 1200 KWh, which is uses more energy compared to the Duo but it does seem to cook faster.
I didn't consider any Instant Pots with the air fryer lid option because we have a convection oven and not enough storage space for extra accessories. My son will be sharing his Instant Pot with roommates and the air fryer lid can only be wiped clean, so it would be difficult to clean thoroughly in case of cross-contact with his allergens.
How Did I End Up Instant Pot Shopping?!
I like my Instant Pot Duo (2016) (affiliate link) and ordered one on Prime Day for my older son who's moving into an off-campus college apartment soon. I don't know exactly what happened but an Instant Pot Duo Plus (affiliate link) showed up at my door. It wasn't what I expected but I was excited to try it and check that it works before giving it to my son. The Duo Plus seemed so promising at first!
I was excited to try some functions such as Sous Vide, Cake, and Egg.
I love that there's a separate Quick Release Switch to toggle between Seal and Vent safely.
I like the progress bar that let's you know if the Instant Pot is pre-heating, cooking, or keeping warm.
And I also like that that the cooker base has some silicone bumps on the side to hold the inner pot in place as I stir.
But I ended up returning the Duo Plus because it's difficult to remove the Anti-Block Shield from the lid. And then I realized that the Duo Plus model is missing the Steam function button. Apparently the Instant Pot Duo Plus version 2 has a steam button but not version 3. I returned it and will wait for a sale on the Pro or wait for the new model of Duo because there are plans to release a new model of the Instant Pot Duo in September. Hopefully, the new Duo will have some of the features that I like so much in the Pro.
Another reason I want an extra Instant Pot is that I'm writing a cookbook and I am SO excited. Having two Instant Pot makes recipe testing go twice as fast! I can't wait to share more details on how to order my cookbook and what's in it. I decided that if I need a new Instant Pot and there's no incentive to buy one that's on sale, I would buy the model I want and I'm so happy about my splurge.
I ordered a 6 quart Instant Pot Pro (affiliate link) and fell in love with all of the smart, well thought out features. Instant Pot also makes a slightly larger 8 quart version of the Instant Pot Pro (affiliate link). Be aware that if you order from Amazon, the Instant Pot Pro and the Instant Pot Duo Plus share the same page but are different "Style Name" and the reviews are mixed up together. Order the Pro!
I hope my Instant Pot Pro review helps you if you have been on the fence about buying an Instant Pot or have been considering an upgrade or you need some ideas for your back to school and holiday shopping lists. Let me know if you buy one and what you are cooking! If you need some inspiration here are some of my favorite Instant Pot recipes.
Crazy Good Carrot Soup Instant Pot Recipe
Instant Pot Chicken Congee (Chicken Jook)
Instant Pot Chicken Corn Egg Drop Soup Recipe
Instant Pot Chicken Soup with Corn and Vegetables, A Dream Come True
Instant Pot Chicken Thighs with Teriyaki Sauce Recipe
Instant Pot Chinese Spare Ribs with Five Spice Recipe
Instant Pot Kalua Pork with Cabbage
Instant Pot Beef Tongue and Soy-Free Soy Sauce 2.0 Recipe
Japanese Beef Curry Recipe; The Gluten Free Instant Pot Cookbook Review
Thanks for reading, please help Nut Free Wok!
The best way to see every post or recipe is to subscribe to Nut Free Wok's email subscription (be sure to respond to the confirmation email). You will be notified by email next time I publish another post or recipe and I won't send you spam or share your email address with anyone.
If you enjoyed this post, please use the social media buttons below to share with others. I am on Facebook, Twitter, Pinterest, and Instagram as @nutfreewok and it's great to chat and interact on social media too.
Disclosure/Disclaimer:
I may mention the names of stores and/or brand names of products that I use because readers ask and I share products and sources which I use and think may be helpful to readers, all opinions are my own. Please note that manufacturing practices and ingredients can change at anytime without notice and readers are always responsible for assuring allergen safety before buying or consuming foods. NutFreeWok.com is a participant in the Amazon Services LLC Associates Program, an affiliate advertising program designed to provide a means for sites to earn advertising fees by advertising and linking to Amazon.com. Thank you for reading!