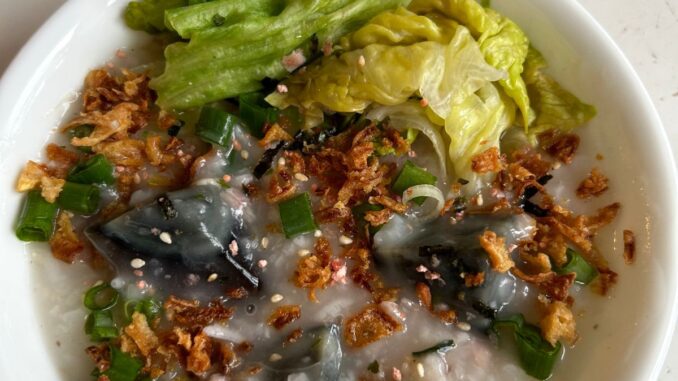 Century eggs and pork porridge (皮蛋瘦肉粥) is a comforting and nourishing rice porridge that is perfect for cold days or when someone needs some comfort food. This rice porridge recipe tastes rich and savory from the pork and duck eggs, but is easy to digest, and perfect for any meal or snack. It's much easier to make in an Instant Pot however I've also included stovetop instructions in the recipe notes.
Disclaimer: Please check that all ingredients are suitable for your allergies and be sure to ask your medical care team regarding any allergy related questions (I do not share medical advice). As an Amazon Associate I earn from qualifying purchases.
Jump to Recipe
Porridge is Chinese Comfort Food
Chinese people, especially those who are from a Cantonese background, love rice porridge also known as rice congee or "jook" in Cantonese. It is very comforting and warm when one is recovering from an illness, is on a soft-food diet, or needs easy to digest foods.
The combination of salted pork bones and century eggs in porridge happens to be a Chinese home remedy for minor oral/dental issues (see a doctor or dentist if you have any concerns!). I made it a lot for when my kids had braces because it's hard to eat after the orthodontic braces are adjusted or other related issues. This recipe is easy to eat, nutritious, and filling and I survived on this after a recent oral surgery.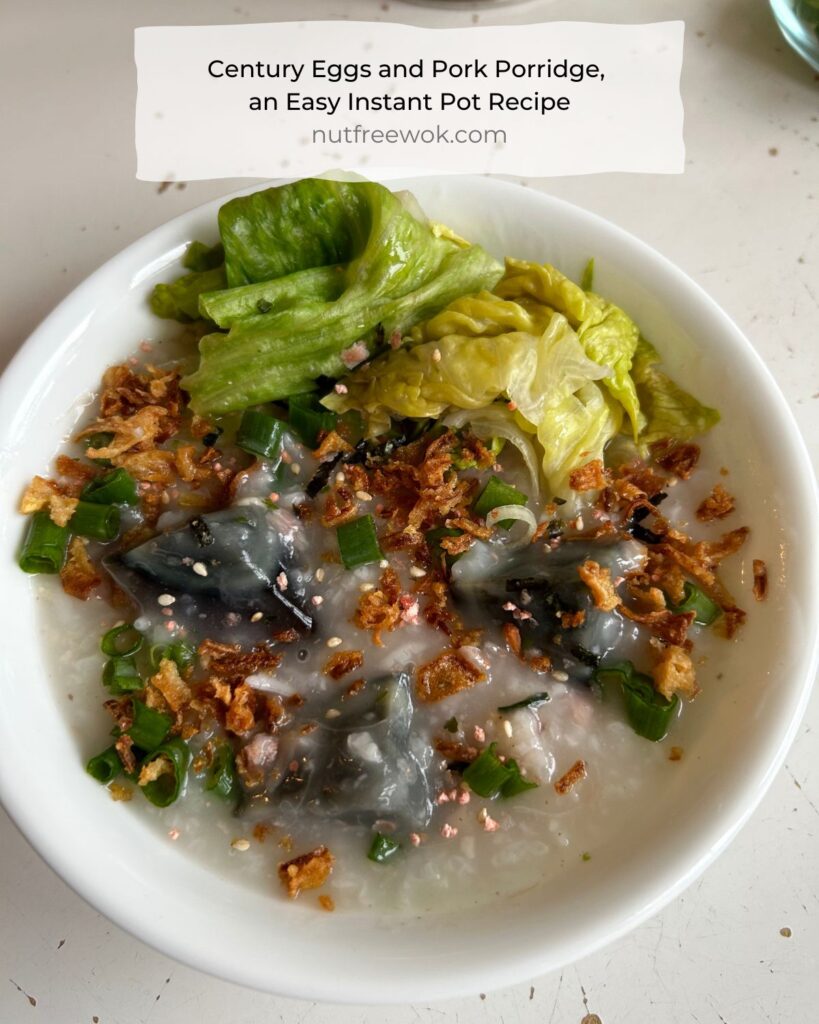 Ingredient Highlights
Rice
I usually have a medium grain or Calrose rice from Costco in my cupboard. I love medium grain rice for making jook, the texture is like a very soupy risotto. Some family members like it even more watery so feel free to adjust the water to rice ratio to your preference. Use 1 scoop of rice to 4-6 cups of water.
Pork
You could basically use any kind of lean pork or pork with the excess fat trimmed off. Approximately 8 ounces of pork tenderloin, pork shoulder, or country style ribs trimmed of fat are perfect. My favorite is 4-5 pieces of pork neckbones because the bones add extra nutrients and minerals to the soup.
Prep ahead freezer tip: Since this recipe is a staple for us, I buy a tray of country style ribs from Costco, use some for char siu and trim the fat off the rest, divide them into freezer bags, and add some salt so that I can just pull out 1 bag from the freezer and put it into the Instant Pot. When I see a nice meaty tray of fresh pork neckbone at the Asian market, I will prep the neckbones, divide them into 2-3 freezer bags, add salt, and freeze for a later day.
Century Eggs or Preserved Duck Eggs
Century eggs are not 100 years old! They are whole, fresh duck eggs coated with a mud-like layer of salt, alkaline, ash, and coated with rice husks. It takes approximately 4-5 weeks to preserve a batch of eggs into something delicious. It's actually genius that someone figured out how to preserve duck eggs for later use with such seemingly random materials.
The preserved duck eggs will be ready to peel and eat like a hard boiled egg. Once you peel them, the inside of the egg will be brown, solid but a little bit jiggly! The egg white part will have a brown translucent appearance and a neutral taste. The yolk will be grey with a creamy texture. Exceptionally well-preserved duck eggs will have a light colored snowflake or pine needle designs in the outer brown layer.
Asian supermarkets might have two kinds of duck eggs, usually salted or preserved. You will need preserved duck eggs for this recipe, look for large eggs that have a greenish-grey shell. And you can find them near the fresh chicken eggs in the refrigerator section.
In contrast, salted duck eggs will have a white eggshell color and a reddish appearance due to the reddish-orange yolk inside. Those won't work for this recipe.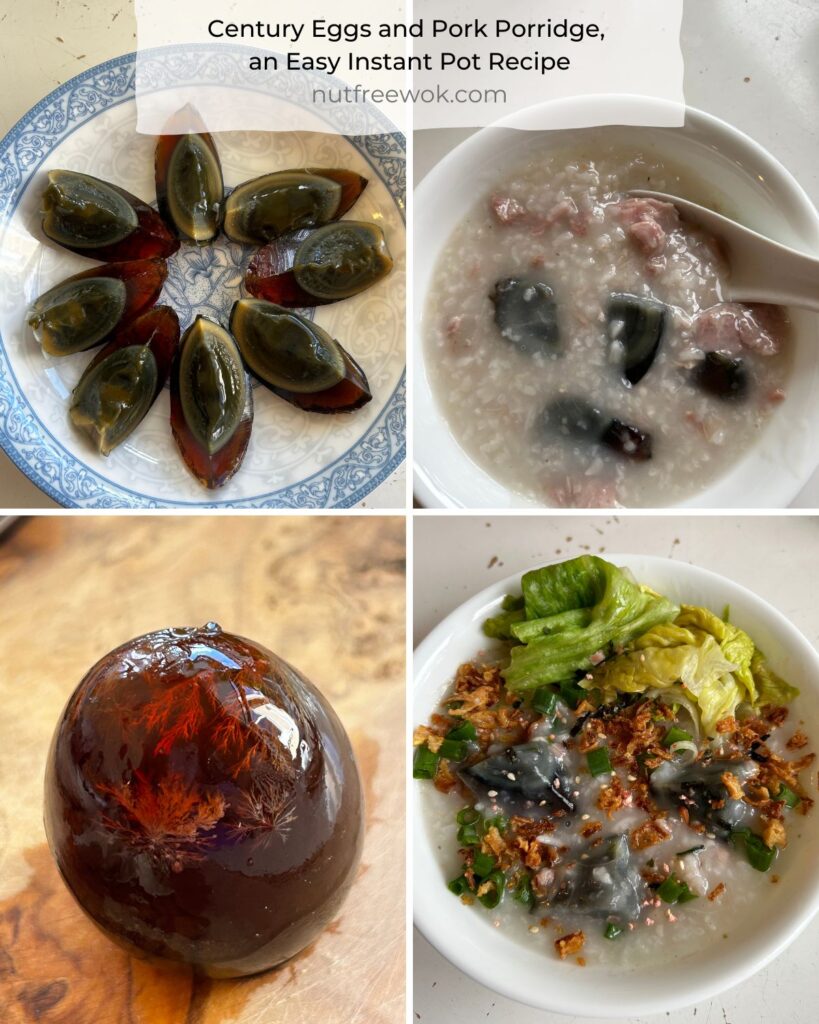 Allergy Aware Century Eggs and Pork Porridge
Typically this specific porridge recipe would be nut-free and free of top allergens except for the century eggs. If you have an egg allergy, omit the duck egg from the recipe. You can't substitute the flavor or the texture of the century eggs but you can consider other adding diced mushrooms or other vegetables. Or consider making Instant Pot Chicken Congee (Chicken Jook) or Comfort in a Bowl: Rice Congee which are egg-free recipes.
Rice porridge is not always allergen-free. I have eaten porridge with different types of dried ingredients added to the porridge such as peanuts, ginko nuts, chestnuts, and/or dried scallops. Some variations of rice congee could have shellfish or fish. If someone makes porridge for you, it's important to ask about the ingredients and do not assume it's an allergen-free dish. Lastly, sometimes there are various toppings for porridge and you need to be aware of deep-fried peanuts nearby.
Some allergy-safe and easy porridge topping options are chopped scallions, julienned ginger, and shredded iceberg lettuce. I also like Japanese furikake sprinkles or French onions. They're not Chinese ingredients but they're good options especially when food allergies might limit us from more traditional ingredients.
Stovetop vs. Instant Pot
If you don't have an Instant Pot, you can still make this recipe on the stovetop. You will need to bring the ingredients to a boil and then simmer for about 2 hours. It's important to stay in the kitchen and stir the pot every 10-15 minutes so that the rice doesn't stick to the pot. And keep an eye on the porridge, you want it to simmer gently with the lid ajar but not bubble over.
I love to use my Instant Pot to make porridge. Put everything in the Instant Pot and then about 2 hours later, it's done and all you need to do is stir, add the century eggs, and serve.
Using an Instant Pot is a great option for a make-ahead meal! I don't get up 2 hours early to make porridge for breakfast. I set it up at bedtime and when it's done, the Instant Pot will keep the food warm up to 10 hours. In the morning, I switch the Instant Pot from "keep warm" to "saute" mode, stir the porridge, and then add the chopped up century eggs and wait until the porridge is bubbly and hot again.
If you have any leftovers, the porridge will be good for 3-4 days if properly refrigerated.
This recipe is free from peanuts, tree-nuts, dairy, shellfish, soy, fish, sesame, and wheat as written.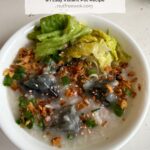 Century Eggs and Pork Porridge, an Easy Instant Pot Recipe
Century eggs and pork porridge (皮蛋瘦肉粥) tastes rich and savory from the pork and century eggs (also known as preserved duck eggs). You can use lean pork or pork neckbones (see prep instruction in the notes). I've also included stovetop instructions in the recipe notes.
to pressure & natural release
50
minutes
Total Time
1
hour
50
minutes
Ingredients
8

ounces

pork

lean, trim fat*

1

teaspoon

salt

more to taste

1.5

cups

of white medium-grain rice

or 2 scoops of a standard rice measuring cup

2

quarts

water

more if needed

½

inch-piece ginger

coarse chop or julienne

4

century eggs

preserved duck eggs, reserve some for topping
Optional toppings
1/2

cup

scallions

chopped

1/2

cup

cilantro

chopped

1/4

head

iceberg lettuce

chop across into 2 x 1/4 inch pieces

furikake sprinkles

fried onions (french onions)
Instructions
Cut the pork into 4 pieces and sprinkle the salt over it, set aside to marinate for at least 30 minutes or overnight.

Rinse and drain the rice, pour it into the pressure cooker stainless steel liner.

Add the water, pork, and ginger. Check that the water level is approximately up to 2.5 quarts if you like a thicker porridge and up to the 3 quart line if you like it a little bit more like soup.

Close and lock lid on the Instant Pot. Use "porridge" or "soup" modes if your instant pot has it otherwise select "pressure" or "manual" and set the timer for 60 minutes.

When the timer chimes, natural pressure release for 20 minutes minimum if you are serving the porridge immediately.

While waiting for the Instant Pot to be ready, peel the duck eggs like you would a hard boiled egg. Rinse the eggs of any shell fragments and cut the eggs into quarters and then cut in half. Reserve some eggs for topping, if desired.

Carefully unlock the lid, switch to "saute" and stir the porridge. Taste and add up to 1/2 teaspoon salt, as needed. Add the preserved duck eggs and when the porridge is bubbly, serve immediately.

Serve with optional toppings at the table.
Recipe Notes
If using pork neckbones: rinse the neckbones and soak and soak in a bowl of warm water for 10 minutes. Rinse again and sprinkle with salt and set aside for 20 minutes, up to overnight in a refrigerator.
If cooking via stovetop, you will need a 5 quart or larger stockpot and combine all of the ingredients (except for the preserved duck eggs) and bring to a boil. When the pot boils, lower the temperature to low so that the porridge continues to simmer gently and stir every 10-15 minutes so that the rice doesn't stick to the pot. Adjust the temperature so that it is continuously simmering with the lid slightly ajar but lower the temperature if it seems that the porridge might bubble over. After about 2 hours of simmering, add the chopped preserved duck eggs and cook for 5 minutes until heated through.
Thanks for reading, please help Nut Free Wok!
If you like this recipe, please be sure to give a 5 star rating, leave a comment, and share this post! Your support means a lot to me.
Subscribe to Nut Free Wok's email subscription (be sure to respond to the confirmation email). You will be notified by email next time I publish another post or recipe and I won't send you spam or share your email address with anyone.
Disclosure/Disclaimer:
I may mention the names of stores and/or brand names of products that I use because readers ask and I share products and sources which I use and think may be helpful to readers, all opinions are my own. Please note that manufacturing practices and ingredients can change at anytime without notice and readers are always responsible for assuring allergen safety before buying or consuming foods. NutFreeWok.com is a participant in the Amazon Services LLC Associates Program, an affiliate advertising program designed to provide a means for sites to earn advertising fees by advertising and linking to Amazon.com. Thank you for reading!