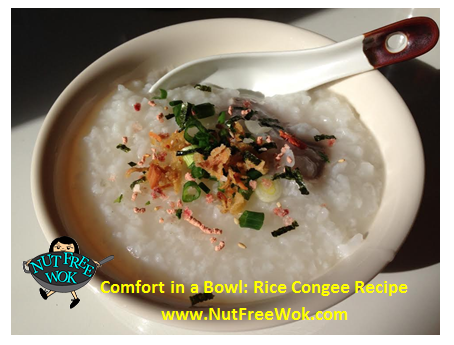 Comfort in a Bowl: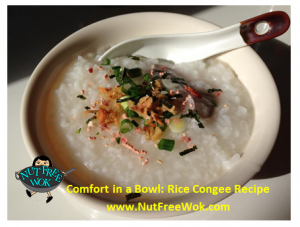 I am on the tail end of recovering from a nasty cold virus and was sick in bed for 4 days. Busy parents know that if mom is sick in bed for four days, then the illness was a doozy. All I wanted to eat was "jook" (rhymes with "book"), which is Cantonese for rice congee or rice porridge. Rice congee is comfort in a bowl. It's just rice boiled with a lot of water, wonderful to enjoy anytime but perfect nourishment for those under the weather: easy to digest, lots of fluids, warm. It can be served plain or with some toppings. If rice congee is served as a meal, then it's common to add some thin slices of fish or meat.
My mom used to make rice congee with salted pork neck bones and preserved duck eggs for me when I had toothaches or canker sores and I would feel so much better as the pain would subside after eating the congee. My dad was great about answering questions such as "What is special about the combination of pork neck bones and preserved duck eggs?" and his answer was basically that they take away the inflammation. I still don't quite understand why but I'm sure my Cantonese Chinese American friends know what I mean by "yeet hay" and I think that translates to "Wind-heat" which is referenced in this cryptic reference to duck eggs and toothaches.
One of my boys is going through orthodontic treatment and I make rice congee for him after he gets his braces adjusted. If I have time to go to the Asian market, I would buy pork neck bones otherwise I use a small pork tenderloin, some country style spare ribs, boneless skinless chicken breast or a firm white fish filet such as rock cod (about 1- 1.5 pounds) and due to an egg allergy, I serve the duck eggs on the side as a topping. A recent report came out that ginger may help relieve asthma symptoms by enhancing the effectiveness of bronchodilators. Ginger tastes great, won't hurt and can only help so I add about a tablespoon of julienned ginger.
Cooking tips
Most basic recipes for rice congee involve boiling rice and water until you can't tell the rice and water apart. Then you can add crunch and/or flavor with some yummy toppings such as green onions, fried garlic, fried onions, preserved vegetables, wheat gluten, etc.. I've been to a hotel in Beijing that served roasted peanuts as one of ten rice congee toppings every morning at breakfast. Be forewarned that if you ever find yourself traveling or eating out, then you must ask questions about how the rice congee is prepared as congee sometimes can be cooked with peanuts or other allergens.
Optional toppings: The basic recipe below is top 8 allergen free but some of the optional toppings are not, so please be sure to read labels carefully. Select 2-3 choices depending on your preferences. Fresh chopped green onions, grated ginger, chopped cilantro, fried garlic, french onions, preserved vegetables or pickles, wheat gluten (vegetarian mock duck), shredded iceberg lettuce, preserved duck eggs (peeled and chopped), furikake, Chinese donuts.
Make ahead tips: Cut the pork into 3-4 large pieces and place the pieces inside a freezer bag, add salt, zip close, massage the meat and salt together. Measure rice into a sandwich bag and zip close. Place a piece of ginger into a small baggie and zip close. Place meat, rice, and ginger into a large freezer bag, zip close (try to get all the excess air out), label the bag, and zip close. Defrost the meat the day before and when you are ready to make rice congee, rinse the rice and then add the contents of the bags with water and proceed cooking.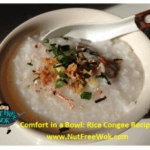 Comfort in a Bowl: Rice Congee
Ingredients
2 1/4

cup

rice

or 3 scoops/"muks" using the rice measuring cup that comes with rice cookers

12

cups

of water

1/2

inch

slice of ginger

peeled and julienned

1 to 1 1/2

pound

pork or boneless skinless chicken breasts

optional

1

teaspoon

salt
Instructions
Rinse the rice and add with 12 cups of water to a large stock pot (6 quarts or larger).

Bring to a boil on medium-high heat with the lid on but slightly ajar and check every few minutes as the rice can boil over.

When the rice comes to a boil, stir the rice and lower the heat to low and simmer for 1 to 1 1/2 hours.

Stir the rice and water every 15-20 minutes otherwise the rice will stick to the bottom of the pot.

If you are not using meat, add 1 teaspoon of salt to the pot at any time. If you are using meat, slice the meat into bite size pieces, season with 1 teaspoon of salt and set aside.

Add the meat to the congee during the last half hour of cooking and increase the heat to medium low so the congee simmers and the congee and meat are thoroughly cooked through.

Ladle into bowls and serve hot but be mindful to let the congee cool down for a few minutes before serving to children to prevent injuries.

If the congee is stirred a lot, it will lose it's structure and then becomes watery.
->