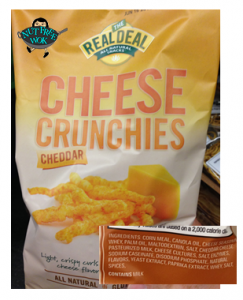 Gluten Free Allergen Free Expo Recap (SF 2014): Snacks
I tried many gluten free, nut free snacks at the GFAF Expo in 2014. These two were some favorites, I updated this post on 4/26/16 and deleted one company that went out of business.
Affiliate links: Some links are affiliate links, which do not affect your cost but help to support this blog. Thanks!
Yummy Crunchy Munchies and Savory Snacks:
The Real Deal Natural Snacks makes the best Cheese Crunchies. I confirmed with Real Deal by email that their company's facilities and equipment are nut free and the package is labeled gluten free. The Cheese Crunchies has a wonderful texture and flavor and my boys loved it, they kept looking through my bags of samples in hopes of finding another Cheese Crunchies! Sprouts Market had a huge display set up like a farm stand and passed out these samples, so now I know where to purchase them in my area (brilliant!). I also picked up a sample of the Real Veggie Chips, the plain ones were ok.
Van's Natural Gluten Free Crackers Say Cheese! (affiliate link) Light, crispy, cheesy, gluten and nut free. My son loves these from trying them at our local food allergy walk and the ladies at Van's let me have a handful of samples and coupons as I know these will be a regular addition to our pantry. They also passed out Van's snack bars which contain nuts but the crackers are made in a different facility. Update: Van's now offers the crackers in single serving sizes too (5 snack bags in one box).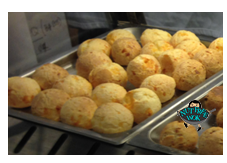 P*DE*Q makes gluten free tapioca based cheese bread, which is an irresistible hot, chewy, cheesy, and super delicious Brazilian style snack. My son that loves cheese and would love them but I will have to wait to purchase for my family until he outgrows his egg allergy. I didn't check whether there is any risk of cross-contact with peanuts or tree nuts, but it is worth finding out. Read my update about them from WFFS16.
Because there is so much to share about the expo, I've created separate mini-posts:
Allergy Aware Asian Fare Highlights
Thanks for reading, please help Nut Free Wok!
The best way to see every post or recipe is to subscribe to Nut Free Wok's email subscription (be sure to respond to the confirmation email). You will to be notified by email next time I publish another post or recipe and I won't send you spam or share you email with anyone.
If you enjoyed this post, please use the social media buttons below to share with others. I am on Facebook, Twitter, Pinterest, and Instagram as @nutfreewok and it's great to chat and interact on social media too.
Disclosure/Disclaimer:
I was selected as an official GFAF Expo blogger and received tickets to attend the event as well as samples and products to try. All opinions are my own. I may mention the names of stores and/or brand names of products that I use because readers ask and I share products and sources which I use and think may be helpful to readers, all opinions are my own. Please note that manufacturing practices and ingredients can change at anytime without notice and readers are always responsible for assuring allergen safety before buying or consuming foods. NutFreeWok.com is a participant in the Amazon Services LLC Associates Program, an affiliate advertising program designed to provide a means for sites to earn advertising fees by advertising and linking to Amazon.com. Thank you for your support!