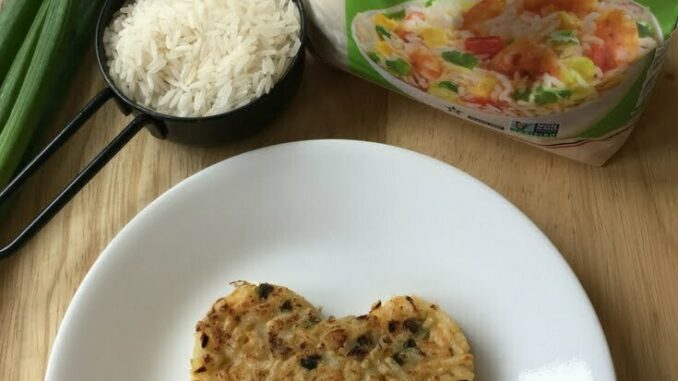 My family loves bacon, fried rice, and rice cakes and I am thrilled to share a fun rice appetizer that combines it all, Bacon Fried Rice Cakes. Make for your biggest basketball fans in March (or anytime)!
I had so much fun making these Bacon Fried Rice Cakes, what a great way to share your love for basketball with a heart shaped rice cake. I even tried making a basketball design with bacon, which is a great idea until the bacon shrank a little. My kids said that the basketball looks more like a horseshoe, hahaha! I included a photo for your entertainment, but I don't think a bacon and basketball fan would mind them with or without a bacon basketball because the bacon rice cakes taste amazing!
Disclaimer: Please check that all ingredients are suitable for your allergies and be sure to ask your medical care team regarding any allergy related questions (I do not share medical advice). As an Amazon Associate I earn from qualifying purchases.
Disclosure: I've teamed up with Mahatma Rice for this sponsored recipe. I only share about things I like and think you will too. All opinions are mine.
Jump to Recipe
Mahatma: Tasty, Easy, and Allergy Info!
Mahatma Rice sent me some of their Organic White Rice and Carolina White Rice to try. I followed the package instructions to make rice in a pot on the stove. It was so easy to make fluffy white rice, which separates and makes perfect fried rice. Not only is the rice easy to prepare in a pot, without special equipment, it's also easy to clean up because the rice hardly sticks to the pot.
I used Mahatma's product locator to find out where to buy more of their organic rice and learned that they're available at some of the big supermarkets in the Bay Area. I've seen Mahatmat rice on store shelves when I travel, but never thought to check for allergens online. It turns out Mahatma has a fantastic chart available on their website with Allergen and Kosher Information.
Bacon Fried Rice Cakes, Appetizers for a Hungry Crowd
Bacon fried rice is soooo good, but you can hold this bacon fried rice cake in your hand and eat them like they're finger food. I just recommend putting them down before high-fiving anyone, they're sturdy but not that sturdy. 😉
The basic process is make rice according to the package instructions. In the meantime, I like to trim off excess gobs of bacon fat because I don't want the rice cakes to be too greasy and chop shallots and green onions. Then fry the bacon in a nonstick frying pan, when the bacon renders some fat, I add chopped shallots and saute until the shallots are soft and the bacon is crispy.
Then I combine the rice, bacon mixture, and seasonings and season to taste. When I'm happy with the flavors, I combine the egg and cornstarch and fry the rice cakes in a soft rubbery heat-resistant silicone pancake mold. I happen to have a heart shaped one but you could use any shaped silicone pancake mold.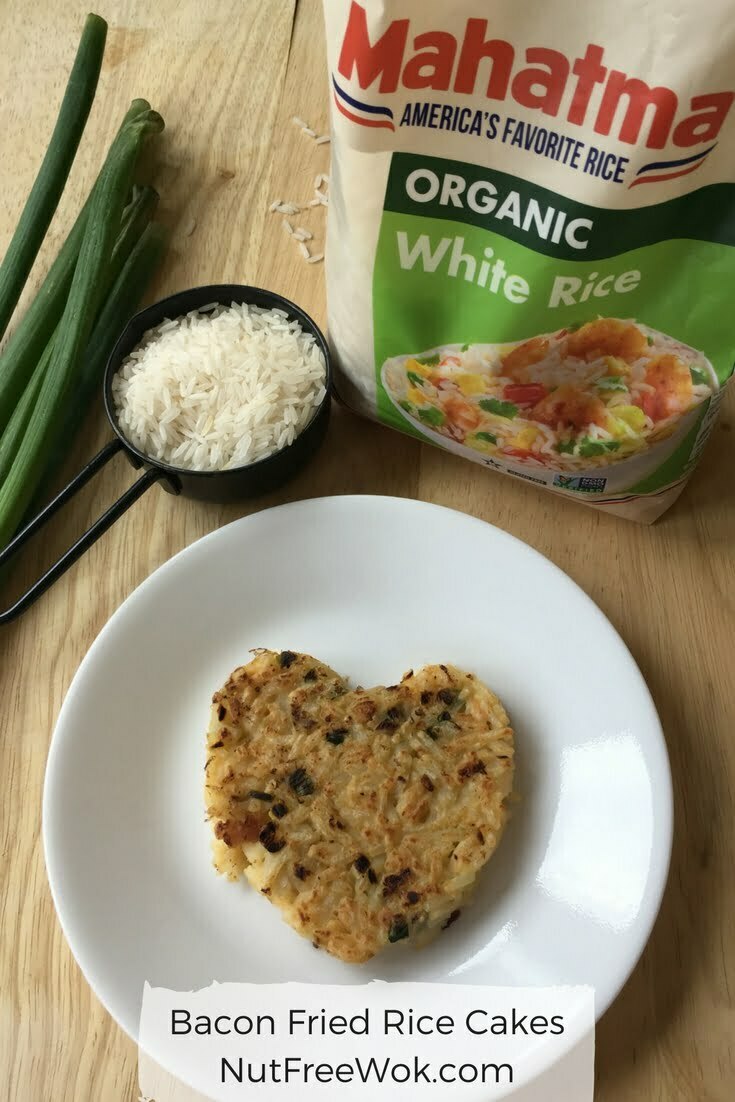 Making Long Grain Rice Stick & Other Tricks
I was surprised that I could use Mahatma rice to make finger food in a pinch. I tried making plain rice cakes with and without egg and there was no difference in how the rice cake held together. I had the best results by adding a slurry of cornstarch and water and using a silicone pancake mold that I happened to have.
Your results may vary depending on your stovetop temperature, frying pan, size of your pancake mold, and amount of rice you put in it, so adjust accordingly. Some of my test batches were slightly burnt so I had to watch the timing and frying pan temperature. Some of my test batches were broken hearts because I took the pancake mold off too early or because I overfilled them.
Once you get the hang of it, the frying goes quickly especially if you use a griddle and multiple pancake molds at the same time. This recipe makes 8 generous sized appetizers and can easily be doubled.
Allergy Aware Bacon Fried Rice Cakes
I tried to make the bacon fried rice cakes as allergy friendly as possible. You could completely omit the egg if you avoid eggs, it's in the recipe simply because egg is usually included in fried rice and adds a little color and flavor.
I seasoned with oyster sauce, which I love but if that's something you avoid, you can use soy sauce or a tiny bit more salt. The nice thing about preparing your own food is that you can adjust according to your own dietary needs and season to taste.
This recipe is free of peanuts, tree nuts, egg, milk, and fish as written.
You can substitute oyster sauce with soy sauce. Check your oyster sauce ingredient label for soy and/or wheat.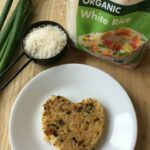 Bacon Fried Rice Cakes
My family loves bacon, fried rice, and rice cakes and I am thrilled to share a fun rice appetizer that combines it all, Bacon Fried Rice Cakes.
Ingredients
1

cup

uncooked rice

2-3

slices

bacon

trim fat, chop

1

shallot

minced

2

scallions

2

teaspoons

oyster sauce

or soy sauce

1/2

teaspoon

salt

1

egg

slightly beatened

2

teaspoons

cornstarch

mixed with 2 tablespoons water

Oil for frying
Instructions
Cook 1 cup of rice with 2 cups of water according to package instructions, makes 4 cups of rice. When the rice is finished cooking, transfer it to a bowl and allow it to cool down.

Pan fry trimmed and chopped bacon in a nonstick frying pan on medium heat, when the fat renders slightly add minced shallots, when the bacon is crisp and the shallots are soft, add scallions and remove from heat.

Combine the cooled cooked rice, bacon, shallots, oyster sauce, and salt in a large bowl, adjust seasoning to taste. Add egg and cornstarch slurry and mix (if prepping ahead, cover and refrigerate until ready to fry).

Add a small amount (1/2 teaspoon) of oil to the nonstick frying pan on medium heat and swirl to coat. Place a pancake mold on the frying pan and spoon about 1/3 to 1/2 cup of the rice mixture and use the back of a spoon to smooth out the rice and press it down firmly. Fry for about 2-3 minutes, until the bottom is slightly browned.

Use a thin spatula or a pancake turner to slide under the rice cake and pancake mold, move the handle out of the way, flip them over to fry the other side. Fry for another 2 minutes until slightly browned on the bottom. Transfer the rice cake to a platter and remove the pancake mold.

Adjust the heat, time, or amount of rice as necessary for the remaining batches of rice cakes.
For more recipes or information about Mahatma Rice, visit their website or search for #MahatmaRice on your favorite social media platforms.
Sign Up for Emails from Nut Free Wok!
The best way to see every post or recipe is to subscribe to Nut Free Wok's email subscription (be sure to respond to the confirmation email). I won't send you spam or share your email address with anyone.
Disclosure/Disclaimer:
I may mention the names of stores and/or brand names of products that I use because readers ask and I share products and sources which I use and think may be helpful to readers, all opinions are my own. Please note that manufacturing practices and ingredients can change at anytime without notice and readers are always responsible for assuring allergen safety before buying or consuming foods. NutFreeWok.com is a participant in the Amazon Services LLC Associates Program, an affiliate advertising program designed to provide a means for sites to earn advertising fees by advertising and linking to Amazon.com. Thank you for reading!