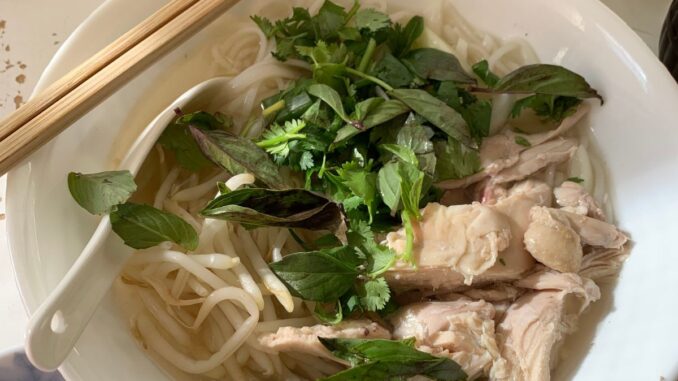 Pho Ga is a Vietnamese chicken rice noodle soup, also known as chicken pho. It's a light chicken broth with rice noodles and topped with gently poached chicken, lots of fresh herbs and mung bean sprouts for a hot, delicious, and comforting meal. This recipe is economical and free of top allergens.
Disclaimer: Please check that all ingredients are suitable for your allergies and be sure to ask your medical care team regarding any allergy related questions (I do not share medical advice). As an Amazon Associate I earn from qualifying purchases.
Jump to Recipe
What is Pho Ga?
My family is Chinese-American so our experience with pho usually from a Vietnamese restaurant with beef pho, rice noodles with beef soup. However, there is a nearby Vietnamese restaurant that specializes in pho ga, or chicken pho which is rice noodles with chicken soup. I wanted to try making pho ga at home.
The word pho (pronouced "fuh?" not "foe") means rice noodles but when people say pho, they're usually referring to beef rice noodle soup. Ga (pronounced like "ga" in garage) means chicken and pho ga refers to chicken rice noodle soup.
I recently made pho and pho ga back to back and I would say that pho ga is much more accessible to make because the ingredients are much more affordable, easier to prep and cook. Pho ga requires less cooking time and energy to make, and overall it's much healthier especially for those who prefer heart healthy meals or less saturated fat. Pho ga is something I would make with greater frequency compared to pho. Even though pho made with beef is soooo delicious, I would make pho ga more often because it is less expensive and much faster to make.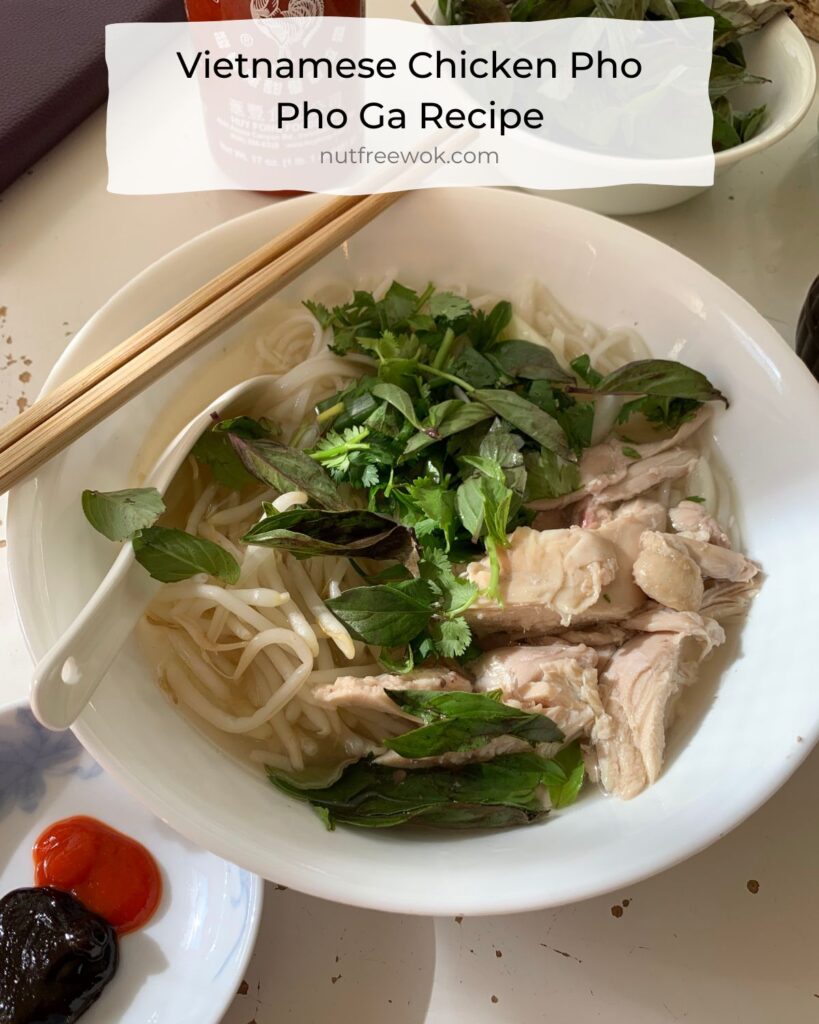 How to Serve Chicken Pho?
You and your family will love this chicken pho recipe when you serve everyone a hot bowl of rice noodles, topped with tender poached chicken pieces, bean sprouts, herbs, in a giant bowl of clear chicken broth that is simmered with onions, ginger, and spices. It's such a big hearty meal that I use 4-cup serving bowl (affiliate) so that there's lots of room for all the food but less risk of sloshing hot soup everywhere.
I love to eat my soup with porcelain soup spoons (affiliate) because they don't conduct heat as much so you can sip the hot soup but not feel as much heat from a metal spoon. It's also super roomy so one can load the porcelain soup spoon with soup and a bite of food.
It's up to you how you customize your bowl. Usually I look for fresh Thai basil leaves but sometimes they're hard to find so it's fine to use chopped cilantro or chopped scallion greens, if desired. Add a handful of bean sprouts, a slice or two of fresh jalepeno, and/or a squeeze of lime to your bowl of steamy bowl of chicken rice noodle soup.
Be sure to appreciate the delcious broth before adding any sauces at the table. Some people eat their chicken pho plain or they might add a splash of fish sauce. Or they might combine some sriracha sauce and hoisin sauce to dip their chicken for a very flavorful bite. I know some people who add sriracha and/or hoisin sauce right into the broth. For me, I'm all about the pure broth taste and I don't deliberately add sauces to my soup but I don't object to a little bit getting into the broth as I'm dipping and eating.
Cooking Tip: Pick the right sized pot
I use an 8 quart sized pot, which gives me more room to add enough water to cover a whole chicken and maybe add some chicken bones for extra flavor. If you have a 6-quart pot, I recommend buying chicken parts or cutting a chicken into smaller parts so that you can cover the chicken with water and still have room in the pot for the water to boil and bubble without spilling.
Prep Tip: Parboil the chicken
Whether or not to clean a chicken is controversial! On one hand cleaning a chicken can increase your risk to foodborne illnesses. And on the other hand, let's be real, chickens do have feathers and a yellow membrane stuck to the skin and guts on the inside. I don't want to drink soup with "extras" floating around. USDA offers guidance and I find that parboiling a chicken is a good compromise along with washing hands and any kitchen equipment or surfaces before and after handling raw chicken.
I fill my 8 quart stock pot approximately halfway with water and bring the water to a rolling boil and place the chicken into the water and return to a boil, parboil the chicken for 5 minutes. Also note whether half a pot of water is enough to cover the chicken for when you need to refill the pot to make the soup. After you finish this parboiling step, take the chicken out and set aside for a few minutes to cool down.
In the meantime, discard the hot water, clean the pot, refill the pot halfway with cold water and bring to a rolling boil again. When the chicken is not too hot to handle, clean and remove anything you don't want to eat (yellow membranes, feathers, guts, etc.), and rinse the chicken.
Add Authentic Chicken Pho Flavors
Prepping and using ginger, onion, and spices are key to an authentic tasting chicken pho. Some people who have a gas cooking range use metal tongs to roast the ginger and onions right over the open flames and then toast the spices in a frying pan. I have an electric stove so I pan-roast the ginger and onion and the spices in a frying pan. I also tried using an airfryer to brown the ginger and onions, the air fryer just blows hot air at it. I've also tried using my oven broiler which works but requires constant monitoring and uses a lot of energy. Pan-roasting to brown the ginger and onion is simple and easy.
Split a piece of ginger in half lengthwise.
Peel the outer layers of an onion and trim a little bit of the onion root off so that it's clean but stays intact, cut in half.
Place the ginger and onion pieces into a small frying pan on medium heat and pan roast them until both sides are slightly charred (10 minutes approximately).
Add the coriander and cloves and toast until fragrant (1 minute) remove from heat. Make a spice ball by transferring the spices to a spice ball (affiliate link). Or wrap all of the spices with a small piece of cheesecloth and tie with a string.
Make an Aromatic Chicken Soup
When the water boils, place the chicken into the pot breast side up. Add the ginger, onion, sugar, and salt. Add enough water to completely cover the chicken but allow 1-inch of room for the broth to boil and not bubble over. During the first 10 minutes, cook at medium heat and use a spoon to remove any foam or impurities. For the next 20 minutes, lower the temperature to low medium and simmer the broth.
Take the chicken out and allow it to cool for a few minutes. Debone the chicken by carving along the breast bone to remove the two breasts, set aside. Spread the chicken legs back and remove the legs. Debone the dark meat and set aside. Return the carcass and the leg bones back into the soup and simmer for 30 minutes.
Pho Ga Rice Noodles and Toppings
While waiting for the soup to cook, you will need to follow the package instructions to make the rice noodles, chop the cilantro and scallions, separate the Thai basil into 3-inch sections, rinse the mung bean sprouts (optionally parboil in the noodle cooking water), cut the lime into wedges, slice the jalapeno, and shred or cut half of the chicken into strips (reserve the other half for other uses). If any of the chicken looks pink, you can briefly cook them in the pot of simmering broth before serving.
Then lastly have each person prepare their own bowls with noodles, chicken, and toppings. At the same time, taste the broth and adjust with more salt or sugar to taste and bring the broth to a rolling boil. I think that this recipe uses enough sugar, more will taste too sweet. I prefer lower salt for health reasons but some people may add up to another 1.5 teaspoons, if desired (3 teaspoons of salt in this 6 serving recipe would be approximately 50% of recommended daily intake for sodium). Add about 2 cups of broth to each bowl per person.
Allergy Aware Pho Ga (Chicken Rice Noodle Soup)
This recipe is naturally top 9 allergen free, since adding fish sauce to the broth or using hoisin sauce for dipping are optional. Spicy Sriracha Sauce is top allergen free. This chicken soup recipe is lovely in its simplicity and I love all of the fresh herbs. If you need help with finding allergy safe ingredients, please check out What's in Nut Free Wok's Cupboard? Allergy Aware Ingredients.
If you are unable to find mung bean sprouts in your area or are allergic to beans and legumes, you can substitute with other vegetables. Add sauted spinach, super greens, shredded napa cabbage for some lightly cooked options.
This recipe can serve 4-6 hearty eaters or 8 people if there are appetizers and other side dishes such as Vietnamese Chicken and Rice Vermicelli Salad, Vietnamese Fresh Spring Rolls with Pork and Shrimp with Vietnamese Dipping Sauce: Nuoc Cham and/or Nut-Free Vietnamese Dip Recipe for Spring Rolls.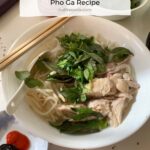 Pho Ga Recipe, Easy Vietnamese Chicken Pho Soup
Pho Ga is a Vietnamese chicken rice noodle soup, also known as chicken pho. It's a light chicken broth with rice noodles and topped with gently poached chicken, lots of fresh herbs and mung bean sprouts for a hot, delicious, and comforting meal. This recipe is economical and free of top allergens, with the option of using fish sauce for more umami.
Ingredients
1

whole chicken or 4 pounds of chicken parts

your choice

1

4-inch

ginger piece

split in half lengthwise

1.5

yellow or sweet onions

divided

1

tablespoon

coriander seeds

5

cloves

½

teaspoon

fennel seeds

1

tablespoon

sugar

or 1-inch rock sugar

1.5

teaspoon

salt

add up to 1.5 teaspoon more, to taste

1

14-ounce

Vietnamese rice vermicelli/rice stick

1

6-8 ounce

mung bean sprouts

rinse (or parboil for 30 seconds)

1

bunch

scallion

chopped

½

cup

cilantro

chopped

3

stems

Thai basil

separate into 1-2 springs per person

1

lime

cut into wedges

1-2

jalapeno

sliced
For the table:
Hoisin sauce

optional

Sriracha sauce

optional

Fish sauce

optional
Instructions
In a large 8-quart stockpot, bring half a pot of water to boil on high heat. Remove any excess fat at the neck or the bottom end of the chicken. Add the chicken to the boiling water and parboil for 5 minutes, transfer the chicken to a large bowl or colander and rinse the chicken, remove any yellow membrane or feathers on the skin or guts inside the chicken.

Clean and refill the stockpot halfway with water and bring to a boil on high heat.

While waiting for the water to boil, preheat a frying pan on medium heat (5 minutes). Peel one onion, trim the root so that it's clean but doesn't fall apart, and cut in half. Dry roast the split piece of ginger and one onion cut in half on all sides in the frying pan (10 minutes). Add the ginger and onion to the pot. Toast the coriander, cloves, and fennel until fragrant (1 minute) and transfer them to a spice ball or make a spice bundle with cheesecloth and string, set aside.

When the water boils, add the chicken back into the pot breast side up, add the sugar, and salt. Add enough water to cover the chicken and still allow 1 inch of room so that broth can simmer without bubbling over.

Lower the temperature to medium heat. After 10 minutes, use a spoon to remove any foam or impurities and discard. Lower the heat to a gentle simmer and continue to cook for 20 minutes.

When the chicken is done cooking, place the chicken (or chicken pieces) into the bowl and when cool enough to touch, debone the chicken, and set aside the deboned chicken in a clean serving plate and cover to keep the meat moist. As time allows, cut the cooked chicken into bite-sized pieces.

Add the chicken bones back into the pot of broth, add the spice ball, and continue to simmer the broth for another 30 minutes.

While the broth simmers, prepare the rice vermicelli according to the package which usually involve soaking in cold water, boiling in water, and finally drain and rinse.

Arrange on a platter with chopped items in separate prep bowls: chop the remaining half an onion, soak in cold water for 10 minutes and drain; chop cilantro; chop scallions; separate the Thai basil so that each person has a sprig; rinse the bean sprouts (optional: parboil in the rice noodle cooking water and drain); slice the jalapeno peppers; cut the lime into 6-8 wedges.

When all the final prep is complete, taste the broth and add more salt as needed, and bring the broth to a full boil. At the same time, assemble the bowls by adding some rice noodles, chicken pieces, bean sprouts, onions, scallions, cilantro, Thai basil leaves, and jalapeno as desired. Add approximately 2 cups of hot broth to cover the noodles and chicken.

Optional: serve with hoisin sauce, fish sauce, and sriracha sauce on the side.
Recipe Notes
The calories for this recipe are an estimate, actual calories may vary depending on how much noodles and chicken one adds to their bowls. You may have some leftovers or extra ingredients for other dishes.  This recipe can serve 4-6 hearty eaters or 8 people if there are appetizers and other side dishes.
Thanks for reading, please help Nut Free Wok!
The best way to see every post or recipe is to subscribe to Nut Free Wok's email subscription (be sure to respond to the confirmation email). You will be notified by email next time I publish another post or recipe and I won't send you spam or share your email address with anyone.
If you enjoyed this post, please use the social media buttons below to share with others. I am on Facebook, Twitter, Pinterest, and Instagram as @nutfreewok and it's great to chat and interact on social media too.
Disclosure/Disclaimer:
I may mention the names of stores and/or brand names of products that I use because readers ask and I share products and sources which I use and think may be helpful to readers, all opinions are my own. Please note that manufacturing practices and ingredients can change at anytime without notice and readers are always responsible for assuring allergen safety before buying or consuming foods. NutFreeWok.com is a participant in the Amazon Services LLC Associates Program, an affiliate advertising program designed to provide a means for sites to earn advertising fees by advertising and linking to Amazon.com. Thank you for reading!