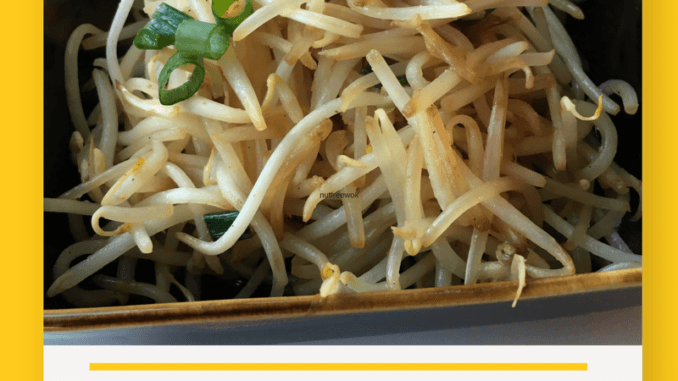 Our family loves mung bean sprouts and so we end up eating it frequently but I vary how to prepare mung bean sprouts so that we don't tire of it. This vegetable stir fry is simple to prepare, has a very mild flavor, and easy to dress up with some simple seasonings.
Update: This post was updated on 3/20/2023 with minor updates.
Disclaimer: Please check that all ingredients are suitable for your allergies and be sure to ask your medical care team regarding any allergy related questions (I do not share medical advice). As an Amazon Associate I earn from qualifying purchases.
Jump to Recipe
What are Mung Bean Sprouts?
Mung bean sprouts are little baby mung bean plants. They have a creamy white appearance and are the size of matchsticks. They're neutral tasting, crunchy, and delicious. It is also very nutritious and high in vitamin C (8% RDA). They're also very affordable.
My recipe for Mung Bean Sprouts Stir Fry is great way to try mung beans because it's a delicious Chinese vegetable side dish. The sprouts are lightly stir fried so that they're still crisp, but soft enough so that they're easy to eat, and lightly flavored with garlic and soy sauce.
If you are avoiding soy, you can easily subsitute with coconut amino or soy-free soy sauce. If you are gluten free, just use a tamari sauce instead. If you avoid all legumes, you can easily stir fry tender greens such as iceberg lettuce, romaine lettuce, or baby spinach.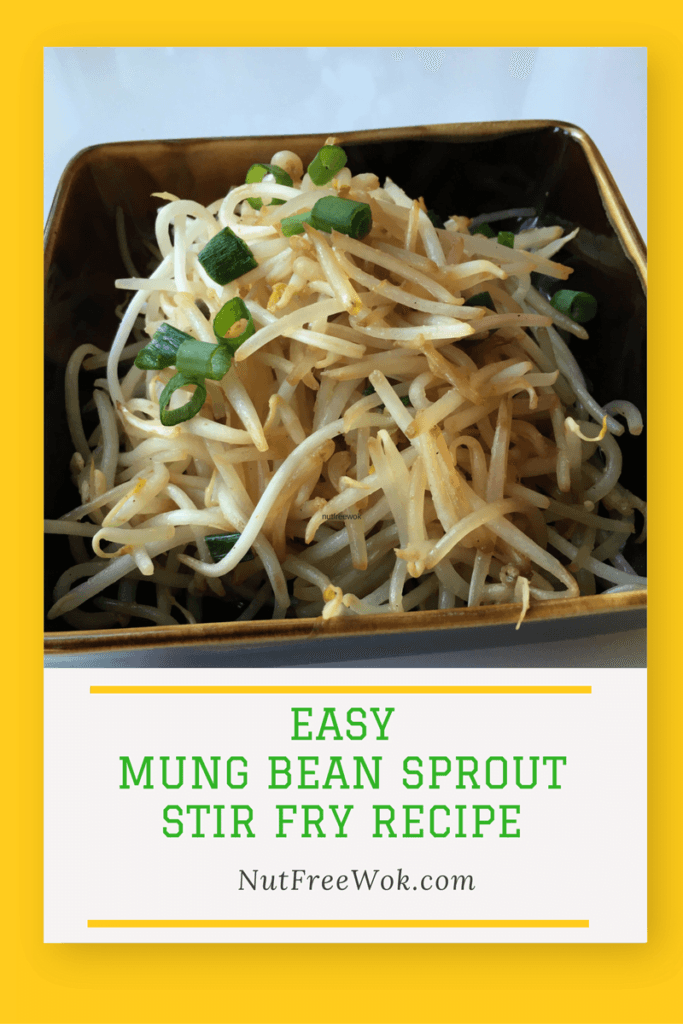 How to Shop for and Prep Mung Bean Sprouts
My parents used to buy mung bean sprouts from a tofu and sprouts store on Jackson St. in Chinatown (do SF peeps remember?) and I remember the huge vats of sprouts. My mom used to have me trim the sprouts at home by pinching off the tiny leafy tops and tiny roots at the bottoms of each sprout. It was a tedious job and I avoided preparing sprouts until recently.
These days I can buy prepackaged bags of sprouts which are ready to use after a quick rinse. However, if you can't use your bean sprouts right away, then wash them and soak in a large bowl of clean water in your refrigerator and it will stay fresh for a few more days.
Look for signs of freshness, the sprouts should be light in color, firm not wilted, and the bag should contain a minimal amount of water and use within a day or two of purchase. It's super easy to prepare and inexpensive, sometimes I buy two bags and will use them up in different ways so we don't get tired of it.
Other Ways to Eat Mung Bean Sprouts
If I have a large pot of water boiling anyways for making pasta or blanching vegetables, I sometimes make a Korean inspired mung bean sprout salad. I shared my recipe for Mung Bean Sprouts Salad with my talented friend, Rini and you can see it at her vegan website, Healing Tomato. My recipe is free of the top 8 allergens and includes sesame seeds and sesame oil. If you have sesame allergies, simply omit the sesame seeds and sesame oil and dress with a drizzle of soy sauce (about 1 teaspoon).
My sons love to eat and make mung bean sprouts both ways, they're healthy side dishes which are easy to make and I'm sure it will be easy breezy for you too. Visit Rini's website for the Korean inspired mung bean sprout salad side dish and try this Chinese inspired mung bean stir fry.
If you find that you like mung beans, you might love it in my recipe for Peanut Free Pad Thai or Beef Chow Fun Recipe. I also add a handful of mung beans into my pho or chicken pho, and I would combine the leftover bean sprouts with a second bag of bean sprouts to make a 1.5x batch of this recipe.
This recipe as written is free of peanuts, tree nuts, dairy, egg, shellfish, and fish.
It can easily be adapted to be free of the top 8 allergens by using a soy-free soy sauce. Use tamari sauce for a gluten free variation, see what's in my cupboard for ingredient recommendations.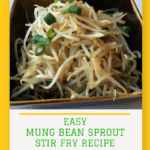 Easy Mung Bean Sprouts Stir-Fry Recipe
This vegetable stir fry is simple to prepare, has a very mild flavor, and easy to dress up with some simple seasonings.
Ingredients
1

teaspoon

olive oil

1

pound

mung bean sprout

a sprinkle of salt

1

tablespoon

chopped scallions

1

tablespoon

soy sauce

or other similar sauce to taste

1/2

teaspoon

garlic powder
Instructions
Preheat a frying pan on medium to medium high heat (about 3 minutes), your pan is ready when it feels hot and a drop of water sizzles quickly.

Add olive oil and swirl to coat.

Add mung bean sprouts to pan (avoid adding the water at the bottom of the bag) with a sprinkle of salt to the mung beans and stir fry until the sprouts look slightly wilted (takes 1-2 minutes).

Add scallions, soy sauce, and garlic powder, and stir fry until tender crisp.
Thanks for reading, please help Nut Free Wok!
The best way to see every post or recipe is to subscribe to Nut Free Wok's email subscription (be sure to respond to the confirmation email). You will be notified by email next time I publish another post or recipe and I won't send you spam or share your email address with anyone.
If you enjoyed this post, please use the social media buttons below to share with others. I am on Facebook, Twitter, Pinterest, and Instagram as @nutfreewok and it's great to chat and interact on social media too.
Disclosure/Disclaimer:
I may mention the names of stores and/or brand names of products that I use because readers ask and I share products and sources which I use and think may be helpful to readers, all opinions are my own. Please note that manufacturing practices and ingredients can change at anytime without notice and readers are always responsible for assuring allergen safety before buying or consuming foods. NutFreeWok.com is a participant in the Amazon Services LLC Associates Program, an affiliate advertising program designed to provide a means for sites to earn advertising fees by advertising and linking to Amazon.com. Thank you for reading!