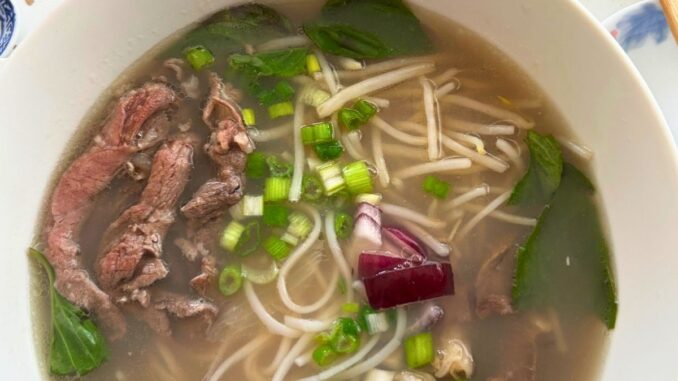 One of my favorite Vietnamese dishes is pho, which is a beef rice noodle soup. Rice noodles are topped with herbs, cooked beef and/or raw beef that's partially cooked rare by some hot beef broth. Beef pho is so comforting, filling, and delicious and is naturally allergen friendly.
However, unless you dine at a nut-free Vietnamese restaurant such as Monster Pho, most dining out options might have a risk of peanut or other allergen cross-contact. I only like making this recipe during the colder months of the year so it's taken me years to perfect the recipe, I hope you enjoy it as much as my family and I do.
Disclaimer: Please check that all ingredients are suitable for your allergies and be sure to ask your medical care team regarding any allergy related questions (I do not share medical advice). As an Amazon Associate I earn from qualifying purchases.
Jump to Recipe
This recipe is my interpretation on how to make beef pho with a homemade beef broth, rice noodles, and delicious topping options with some adaptations of a recipe from my friends, Brian and Kathy Hom. I met Brian and Kathy many years ago when Brian organized food allergy walks in BJ's memory. The Hom family are tireless advocates and selflessly share BJ's tragic story to help save lives through awareness and legislation. They continue to make a difference through their Vitality Bowl restaurants and advocacy efforts.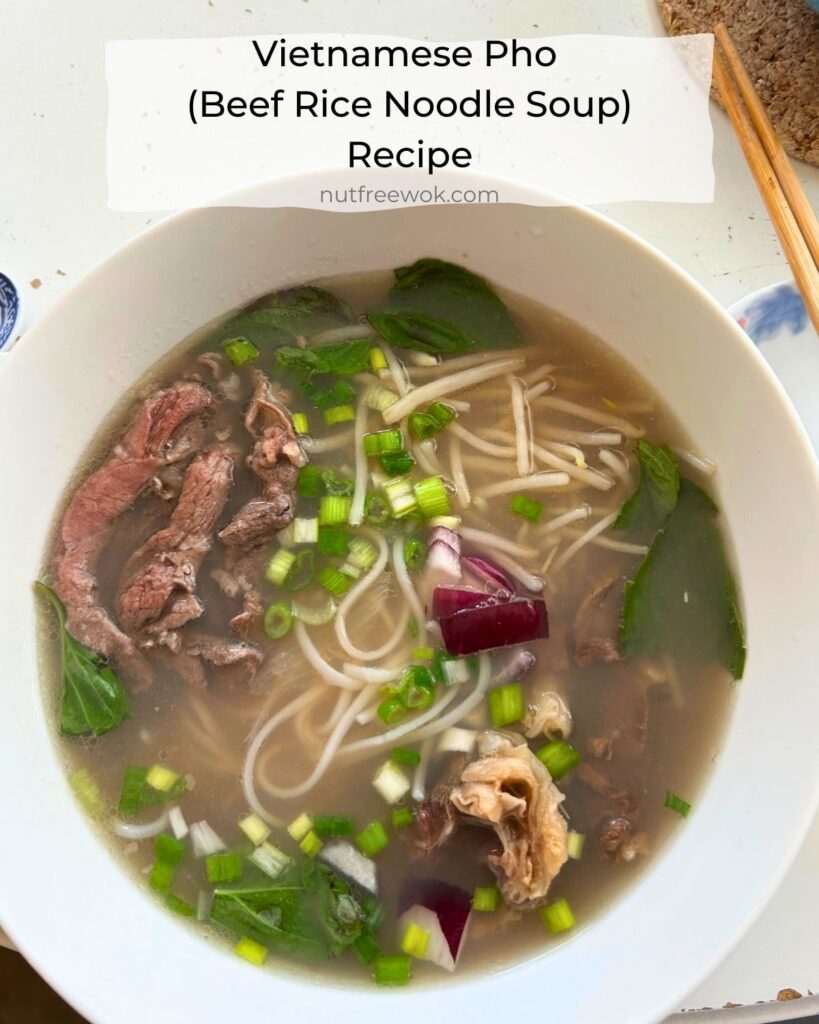 What kind of beef bones to use to make the broth for beef pho?
Kathy's recipe uses 4 pounds of beef bones (marrow and/or knuckles) to make the broth along with charred pieces of ginger and onion, spices, and seasoning and then topped with raw beef slices and beef meatballs and herbs.
I went to a conventional supermarket to buy a beef soup bone. A whole beef bone with knuckles and marrow from that store was way too pricey and didn't have enough flavor, possibly because the bones did not have any meat on them at all.
Many years ago I asked friend about how to improve the flavor of homemade beef pho and she told me that her family uses a powdered beef pho seasoning mix to add more flavor to the soup, which makes sense. They do taste great and I recently confirmed that Quoc Viet makes nut-free seasoning powder (affiliate).
Sharon's favorite beef bones for pho
However, I want to figure out how to make beef pho soup that is full of protein, collagen, and becomes jelly-like when refrigerated. I decided to buy some bony cuts of beef with tasty meat on them like oxtail and hind shank with bone. We really liked eating the yummy pieces of bone marrow from the hind shank and we like eating the pieces of cooked beef along with the flavorful broth.
I figured out that what works best for our family is about 2 pounds of bone marrow and knuckles, 2 pounds of some combination of hind shank with bone marrow or oxtails, and approximately 1 pound of thinly sliced raw beef. For the raw beef slices, I buy thinly sliced beef from Asian markets that is prepared for Chinese hot pot or Japanese shabu shabu. If that's not available then Kathy recommends buying eye of round or filet mignon and thinly slice the beef yourself.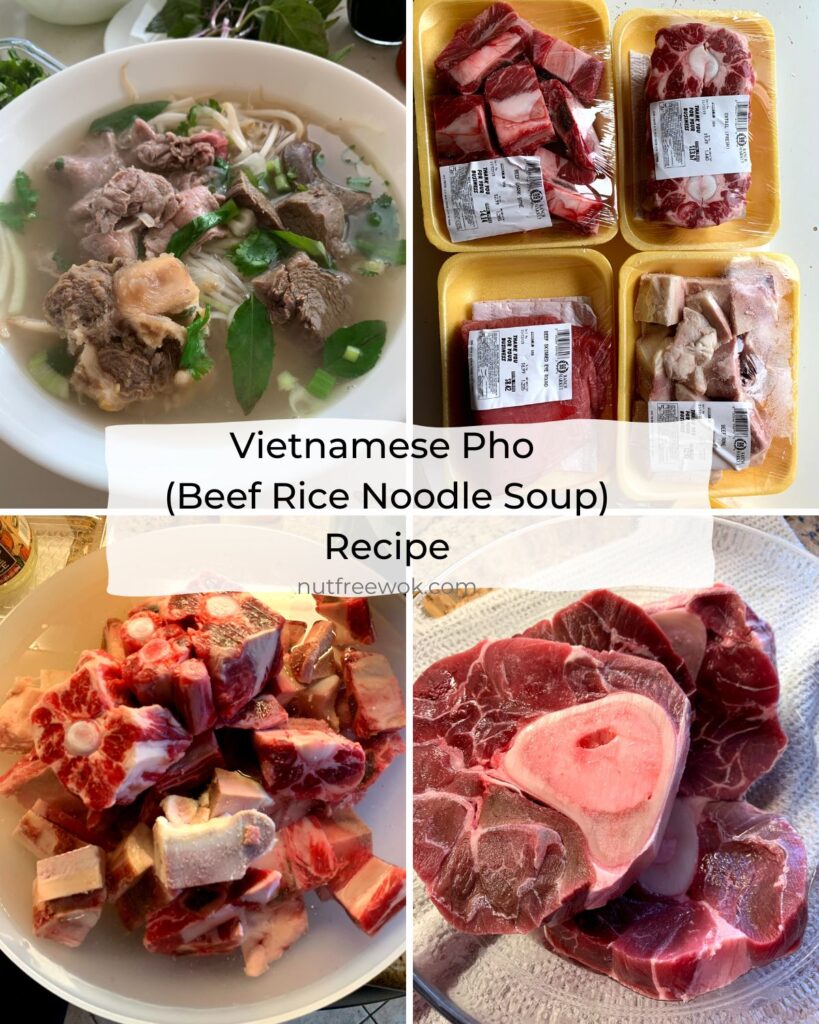 Beef Pho Preparation Steps
Pick the right sized pot
One of the biggest questions to ask yourself when making pho is how many people are you serving and do you want leftovers? Making the beef broth is probably the most labor intensive step and the size of your available pots is the most limiting factor.
My large stock pots range in size between 12-20 quarts so while I can make a large batch for our family of four, I don't really have refrigerator space to store the leftovers. I would only double this recipe if I were cooking for 8 or more people.
This recipe will make enough pho for 4-6 servings in an 8 or 9-quart stock pot. If you have a 6-quart stock pot, you can still make 4 servings, but there's not much for seconds or leftovers, and you will need to adjust the cooking temperature so that broth doesn't bubble over while simmering.
Parboil and Clean the Beef Bones
Parboiling and cleaning the beef bones are essential steps to the recipe, do not skip them. Fill a large pot halfway with water and bring it to boil. While I wait for the water to boil, I soak the beef bones in warm water. This makes the parboiling step considerably less messy because the warm water will draw out a lot of blood.
Parboil the beef bones for 10 minutes and I recommend removing some of the foam and fat with a large spoon or ladle during the last few minutes of parboiling. Make a discard container either from an empty milk or juice carton or line a cup or large bowl with a plastic bag to discard the foam and extra fat. Avoid pouring the fat down your drain. Finally, remove the beef bones or strain the bones in a colander in your sink, rinse the bones clean, and clean your pot.
Simmer the Beef Broth and Prep the Other Ingredients
Add the cleaned bones back into the pot, fill the pot with water but allow room for the broth to simmer. Roast the ginger and onion, add them to the pot. While the broth simmers, prep your remaining ingredients and set aside. The total simmering time will take 3 hours and you add the toasted spices during the final 30 minutes.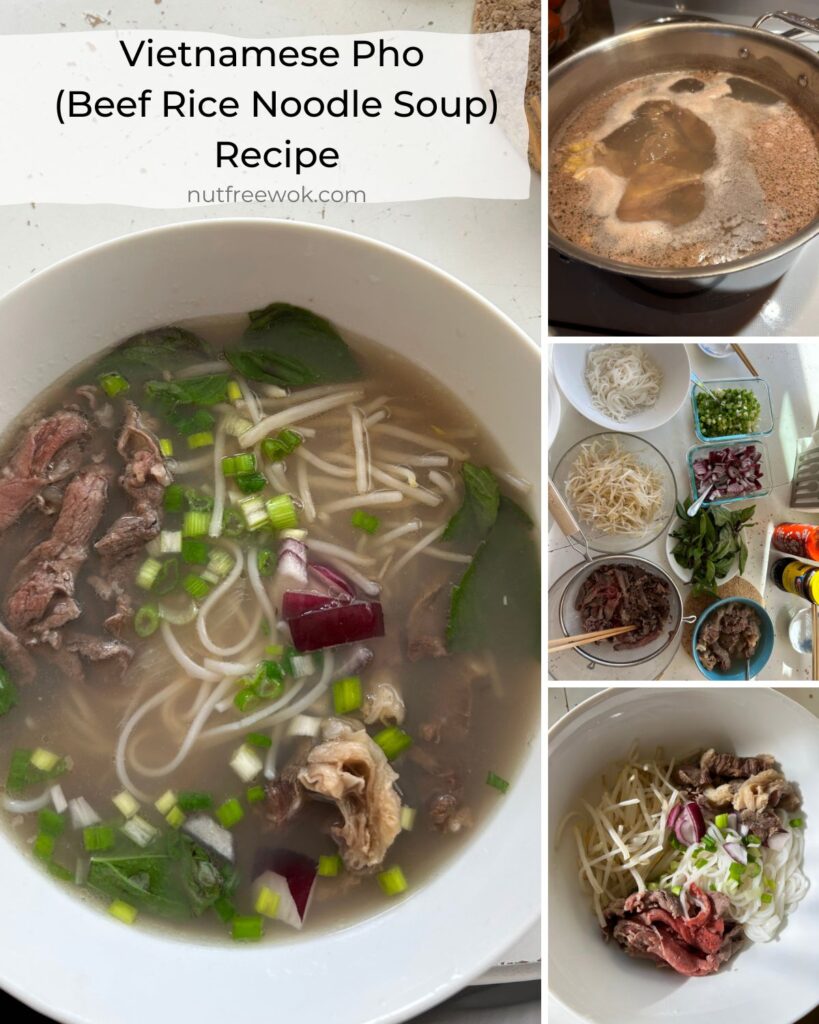 How to Serve and Eat Pho
Assemble Your Bowls of Pho
After 3 hours of simmering time, bring your broth to a rolling boil. While you are waiting for the broth to boil, remove the cooked hind shanks and/or oxtails in a large bowl and cover with some broth. Add a portion of the rice noodles to each bowl, top with chopped scallions, cilantro, and onions as desired. Arrange some pieces of cooked meat and thinly sliced pieces of raw beef, if using. You can skim and discard some of the fat from the broth, as desired. When the broth is bubbling vigorously, ladle the broth over the thinly sliced raw beef pieces to cook them.
Each Person Customizes Their Bowl
Once you serve the bowl of pho to your diners, it's good etiquette to taste the broth first before customizing their bowls. It's up to them on how they want to customize their bowls with pieces of Thai basil, mung bean sprouts, jalapeno slices, and squeezes of lime.
I tend to underseason my broth with 1.5 teaspoon of salt for about 4 quarts of broth and have fish sauce available at the table for those who can tolerate more sodium. If you have a higher tolerance for sodium, you could double the amount of salt (1 tablespoon) since many of the ingredients are plain, such as rice noodles, bean sprouts, and herbs.
I like mixing some sriracha and hoisin sauce, perhaps in a 1:2 ratio for dipping, others may prefer more or less of either sauces. Some people might add the sauces directly into their soup.
Leftovers
If you end up with any leftovers, I would cook the raw beef in the broth and bring the broth to a boil again before cooling to room temperature and storing in the refrigerator. I love it when the leftover broth solidfies into a jelly-like consistency.
If I have time, I would discard the spices and add more water to the pot of beef bones and make soup stock and I would use it to make something like beef barley mushroom soup (with a slight hint of the pho spices!).
Allergy Aware Vietnamese Beef Pho
This recipe is free of peanuts, tree nuts, egg, milk, soy, shellfish, sesame, and wheat as written. Homemade Vietnamese Beef Pho is a very allergy friendly dish to make. There are so many top 9 allergen free ingredients in the recipe, you can omit and subsitute some ingredients as needed and it will still taste good.
If allergic to fish, omit the fish sauce because it is made from anchovies. You could substitute with mushroom sauce, a vegan version of oyster sauce, for some umami. I like fish sauce by Red Boat (affiliate).
Hoisin sauce is usually made with soy, wheat, and sesame and is also an optional ingredient. I like Koon Chun (possible seafood cc) and Lee Kum Kee brands. There are also gluten free hoisin sauce options, check What's in Nut Free Wok's Cupboard? Allergy Aware Ingredients.
Huy Fong's sriracha (affiliate) is a top 8 free ingredient (and possibly sesame too, but I haven't checked). There was a shortage during the summer 2022 season so if your local stores are out, you may need to order srirach online until the 2023 crop is harvested and processed this summer.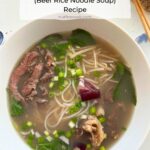 Vietnamese Beef Pho (Beef Rice Noodle Soup) Recipe
Rice noodles are topped with herbs, cooked beef and/or raw beef that's partially cooked rare by some hot beef broth. Pho is so comforting, filling, and delicious and is naturally allergen friendly. You can prep some of the toppings while you are waiting for the broth to simmer and your total cooking time may take less time than estimated.
Cook Time
3
hours
30
minutes
Total Time
4
hours
30
minutes
Ingredients
2

pounds

of beef bones

beef marrow or knuckle bones

2

pounds

of beef bones with meat

hind shank and/or beef oxtail

1

large onion

1 3-

inch

piece ginger

1 3-

inch

cinnamon stick

3

pieces

star anise

1

teaspoon

coriander seeds

1

teaspoon

fennel seeds

1

piece

cardamom

3

cloves

1

ounce

rock sugar (ping pong ball size) or sugar (2 tablespoons)

1.5

teaspoon

salt

(up to 1-2 tablespoons, to taste)
Garnishes:
½

onion

chopped (red or yellow are milder)

1

bunch scallions

chopped

1

cup

chopped cilantro

optional

4

cups

mung bean sprout

4-6

sprigs Thai basil

1

lime

cut into wedges (or lemon)

1

jalapeno

cut into slices

1

pound

thinly sliced beef

ribeye, filet mignon, or eye of round

1 14-

ounce

package bahn pho

rice noodles (size small or medium) OR fresh noodles, if available.
Sauces at the table: fish sauce, hoisin sauce, sriracha
Instructions
Broth
Fill a large 8 to 9-quart stock pot halfway with water and bring to boil. Add the beef bones, hind shank, and/or oxtails to the water and boil the bones for 10 minutes. During the last few minutes, use a ladle to scoop out the fat and blood particles and dispose of them in an old jar or milk container.

After 10 minutes of parboiling the beef bones, place a large colander in your sink and strain the bones, rinse the bones to remove any blood, and clean the pot. Add the cleaned bones back into the pot and refill the pot with water, allow 1-2 inches for the soup to boil without spilling. You can add more water later.

In the meantime, prepare the onion and ginger for roasting or charring. Peel off the outer layers of the onions, cut in half, and trim the ends of the onion so that it will still stay intact. Split the ginger in half lengthwise. Place the pieces of onion and ginger in a frying pan and dry roast them until they are slightly charred. Option: If you have a gas stove, you can hold them with a pair of metal tongs and roast them over an open flame. Once the ginger and onion pieces are slightly charred, add them to the pot of water and bones.

Toast the spices in a frying pan until they're fragrant, about 30 seconds to 1 minute in a warm pan. Transfer the spices in a mesh bag, wrap with a piece of cheese cloth and kitchen string, or place in a large spice ball. Set aside to add to the soup during the last hour of simmering.

When the pot of water and bones come to a boil, lower the temperature between low and low-medium, to simmer the broth in the pot for 3 hours un-covered. Remove any foam, blood, or excessive fat with a spoon.
Garnishes and noodles
While the broth is simmering, prepare the garnishes. Chop the onions and then soak in cold water for 10 minutes and drain, set aside. Chop the scallions and cilantro (if using), set aside. Arrange mung beans, Thai basil, lime wedges, and jalapeño slices on a serving plate, set aside.

If you need to slice the raw beef (rib eye, filet mignon, or eye of round), place it in the freezer for 30 minutes before slicing. Pat the sliced beef with paper towels to blot some of the excess blood.

If using dry rice stick noodles, cook the rice noodle according to the package instructions, until soft, and then drain in a colander and rinse. If using fresh rice noodles, add to a large pot of boiling water, stir, and immediately strain in a colander and rinse with cold water.

After the 2 hours of simmering, add the salt, sugar, and spice ball and continue to simmer the broth. After 3 hours, remove and discard the spices, transfer the cooked hind shank meat, oxtail pieces, and marrow pieces to a clean serving bowl and cover with 1-2 ladles of broth, remove the beef bones. Taste to see if the broth needs any more sugar or salt and add 1-2 teaspoons as desired. Increase the heat and bring the pho broth to a rolling boil.
Assemble
While waiting for the pho to boil, divide the noodles into 6 servings and place them into large bowls (at least 3-4 cup capacity). Arrange a few pieces of cooked beef on the rice noodles, add some raw beef slices in a separate area, and sprinkle with some chopped onions, scallions, and cilantro. Add approximately 2 cups of boiling hot broth over the raw beef to cook it and then everyone can personalize their bowls with the remaining toppings.
Recipe Notes
Kathy notes that you can also use beef balls (Bo Vien) found in the freezer section of your Asian market. I recommend cooking them separately or adding them to the broth during the final boil (step 4, under garnishes and noodles).
Calorie amount is an estimate based on 6 large servings for big eaters. This was enough for 4 big eaters who had seconds and me. 
Related Recipes
Beef pho is a great recipe to make for a large crowd. You can easily double this recipe if you have a 16-20 quart stock pot and allow extra time to bring your water to boil. You may also want to consider some related recipes:
Thanks for reading, please help Nut Free Wok!
The best way to see every post or recipe is to subscribe to Nut Free Wok's email subscription (be sure to respond to the confirmation email). You will be notified by email next time I publish another post or recipe and I won't send you spam or share your email address with anyone.
If you enjoyed this post, please use the social media buttons below to share with others. I am on Facebook, Twitter, Pinterest, and Instagram as @nutfreewok and it's great to chat and interact on social media too.
Disclosure/Disclaimer:
I may mention the names of stores and/or brand names of products that I use because readers ask and I share products and sources which I use and think may be helpful to readers, all opinions are my own. Please note that manufacturing practices and ingredients can change at anytime without notice and readers are always responsible for assuring allergen safety before buying or consuming foods. NutFreeWok.com is a participant in the Amazon Services LLC Associates Program, an affiliate advertising program designed to provide a means for sites to earn advertising fees by advertising and linking to Amazon.com. Thank you for reading!