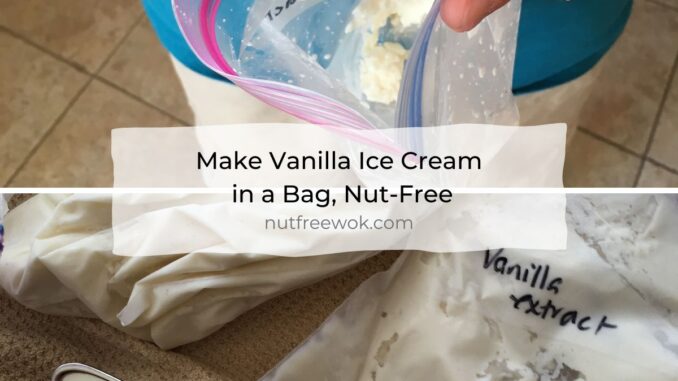 Have fun making nut-free, egg-free vanilla ice cream in a bag AND read about Rodelle Vanilla, a new to me allergy aware company, which sent me a box of some of their favorite baking products to enjoy and review.
Update: This post was updated on June 19, 2023 with minor edits for readability. Since I originally shared this post in 2016, Rodelle rebranded so their packaging looks a little bit different and their baking cocoa is now made in a facility with nuts and other allergens. Contact their customer service if you have any questions.
Disclaimer: I am a brand ambassador for Rodelle and receive products to use and review. Please check that all ingredients are suitable for your allergies and be sure to ask your medical care team regarding any allergy related questions (I do not share medical advice). As an Amazon Associate I earn from qualifying purchases.
Jump to Recipe
Make Vanilla Ice Cream in a Bag
Have you ever gone on vacation and it's super hot and you really to cool down with a frozen sweet treat? But ice cream shops and even ice cream from the supermarket are off-limits due food allergies to wheat, eggs, or nuts or you're camping in the middle of nowhere?
You can be the hero and make ice cream in a bag with a little planning. All you need are simple ingredients, ice, ice cream salt, and plastic bags on hand to make vanilla ice cream in a bag (and a spoon to eat with!). It takes 2 minutes to assemble and 5-10 minutes to shake the ice cream mixture.
Rodelle's Whole Vanilla Beans at Costco!!
Before I tell you how to make Vanilla Ice Cream in a bag, I have to tell you an allergy friendly food find. Costco sold Rodelle's whole vanilla beans during the 2015 holiday season and I called Costco's customer service to learn that the Rodelle whole vanilla beans are free of the top 8 allergens. The beans smell great, feel fresh and moist, and are easy to split and scrape out the tiny seeds. I used the vanilla beans to make ice cream and desserts and loved the results. If you ever see Rodelle's vanilla beans on sale at Costco, buy them and thank me later.
Rodelle's Allergen Info & Customer Service
It took me a while before I decided to reach out to Rodelle because they had very limited allergen information for their other products available online. I couldn't tell from their website whether they are an allergy aware company or not. I called their customer service department to ask for more information regarding allergens about their other products and was in for a pleasant suprise! Here are a few of my takeaways from all of our conversations and emails:
They do not use any peanuts or tree nuts in their facility or equipment for their vanilla and other extract products. I love that they are honest and realistic in saying that they aren't a "nut free facility" because that would require additional steps to verify. Read on…
Customers are encouraged to contact them via email or phone and they are able to provide a detailed allergen statement for each product from Rodelle's QA coordinator regarding allergens in the facility, whether the product is made on shared equipment, and how they test their equipment for cleanliness and allergens.
When I called their customer service department, I spoke with Debra, who was very patient and kind about answering my questions and she followed up by email my sending me allergen statements for each product I asked about.

I felt that Debra genuinely understood my concern regarding allergen info and whether Rodelle products would be safe to use for people with food allergies.
When we call a food manufacturer about their products, the underlying question boils down to "will we enjoy eating this or might we risk a trip to the hospital?"
Food manufacturers have the opportunity to demonstrate they value our well-being as much as our business when companies take our allergen related questions seriously and answer them with courtesy. Thank you, Debra!

I love that Rodelle shares a detailed allergen statement for each product so that one can make an informed decision. I am satisfied when a company doesn't intentionally use my child's allergens in their facility, use testing to check for cleanliness and allergens, are willing to answer specific questions, and share allergen info in writing so that I can refer to it at a later time if needed.
Rodelle added additional allergen information on their website. For example, they've included the following allergen statement for their vanilla paste product: "Rodelle does not utilize peanuts or tree-nuts on its production floor or in its products. Contact us for any other allergen questions." Nice, right? Some products are made in the same facility with other allergens so be sure to contact them if you avoid additional allergens besides peanuts and tree nuts.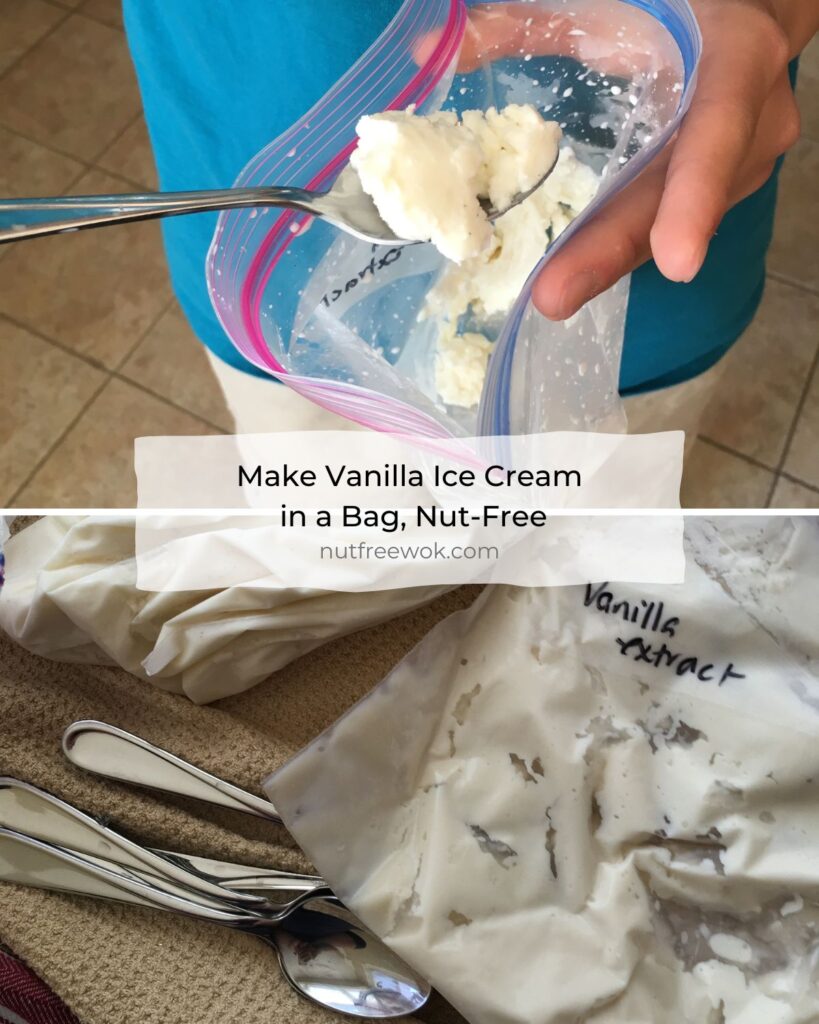 Taste tests!
Rodelle was so nice to send me a box of their favorite baking products to enjoy and review. How do I figure out how whether I like the products in a meaningful way? I smelled the three different vanilla products, Rodelle's vanilla extract and vanilla paste smelled exactly like their vanilla beans, perfect.
What could I make so that I could easily taste the vanilla that wasn't time consuming to make and without a lot of distracting ingredients?
When my kids were little, I used to make vanilla ice cream in a bag to help us learn some cool science lessons and to cool off during long, hot summer days. I distinctly remember that the vanilla had a strong alcohol taste even though we tried adjusting the amount we used. However, when I used Rodelle vanilla extract the vanilla ice cream made in a bag tasted like ice cream made with whole vanilla beans, it was perfect.
I also tried the Rodelle vanilla paste, which is a suspension of the vanilla seeds in a thick suspension of sugar water and vanilla extract. I totally loved the ease of using the vanilla paste as one can get right to the best parts of a vanilla without having to split and scrape a whole vanilla bean. The vanilla bean paste ice cream tasted just as delicious as the vanilla extract ice cream and had lovely flecks of vanilla beans in addition.
I wasn't so gamed to use lemon extract in ice cream but used the Rodelle lemon extract to make some delicious allergy friendly lemon cupcakes. I haven't shared the recipe yet due to health issues. I also have great idea to use the gourmet baking cocoa in a game-changer recipe but until I can regain my strength to do the recipe development, mums the word (sorry for being a tease!). I am finally starting to feel better, thank God, so hopefully it won't be long before I share more dessert recipes.
How to Make Vanilla Ice Cream In a Bag
I first heard of making homemade ice cream using an old wooden churn that one fills with ice and salt and use a crank to churn the ice cream. Then there's a version of making ice cream by placing the ice cream mixture into a small coffee tin, which you place inside of a large coffee tin and surround with ice and salt, and roll back and forth. Ice cream in a bag is simple way to make individual servings of ice cream and doesn't require special equipment.
Most recipes for vanilla ice cream in a bag call for 1/2 cup of half and half, 1 tablespoon of sugar, and a tiny amount of vanilla extract. My recipe for vanilla ice cream in a bag includes additional suggestions based on plenty of trial and error from making it with my kids when they were little.
Place the ice cream mixture inside an extra plastic bag to prevent cross contact with the salt and to contain potential leaks.
Use ice cubes because crushed ice will melt too quickly.
Wear oven mitts or wrap the bag of ice with a hand towel when shaking the bag if it feels too cold.
If you don't have half and half, you can use substitute equal amounts (1/4 cup each) of whole milk and whipping cream.
I haven't tried using this recipe using non-dairy substitutes, but I imagine that it would work with slight differences in texture.
We have had so much fun making vanilla ice cream in a bag together, I hope you enjoy the recipe too. Whether you need an allergy safe treat to beat the summer heat, or want a portion controlled treat, or taste test extracts, try making vanilla ice cream in a bag.
This recipe as written is free of peanuts, tree nuts, soy, egg, fish, shellfish, and wheat.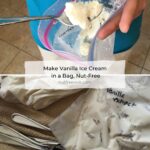 Vanilla Ice Cream in a Bag
You will need 2 zippered sandwich sized plastic bags and 1 zippered gallon sized plastic bag.
Ingredients
1/2

cup

half and half

1

tablespoon

sugar

1/4

teaspoon

vanilla extract or vanilla bean paste

4

cups

ice cubes

1/2

cup

ice cream salt

(pebble sized)
Instructions
Open and place a sandwich bag into a stable cup and fold over the sides.

Add the half and half, sugar, and vanilla and stir until the sugar is dissolved.

Seal the bag and squeeze out the excess air at the same time, and place the bag into a second sandwich bag and seal.

Add half of the ice and salt into a gallon sized plastic bag, add the half and half mixture, and add the rest of the ice and salt, seal shut.

Wear oven mitts or wrap the bag of ice with a hand towel and shake for 10 minutes, until the half and half mixture thickens.

Carefully remove the small bag of ice cream out of the salt water and carefully remove the outer sandwich bag so that salt does not transfer onto the inner sandwich bag.

Eat and enjoy immediately.
Visit Rodelle's website to learn more about their products and/or purchase some Rodelle products from Amazon (affiliate). You can make a top 9 allergen free dessert using Rodelle's vanilla in my version of a nut free "almond tofu" to taste Rodelle's amazing vanilla products.
Related Ice Cream Recipes
What's your favorite flavor ice cream? Tell me in the comments.
Thanks for reading, please help Nut Free Wok!
The best way to see every post or recipe is to subscribe to Nut Free Wok's email subscription (be sure to respond to the confirmation email). You will be notified by email next time I publish another post or recipe and I won't send you spam or share your email address with anyone.
If you enjoyed this post, please use the social media buttons below to share with others. I am on Facebook, Twitter, Pinterest, and Instagram as @nutfreewok and it's great to chat and interact on social media too.
Disclosure/Disclaimer:
I may mention the names of stores and/or brand names of products that I use because readers ask and I share products and sources which I use and think may be helpful to readers, all opinions are my own. Please note that manufacturing practices and ingredients can change at anytime without notice and readers are always responsible for assuring allergen safety before buying or consuming foods. NutFreeWok.com is a participant in the Amazon Services LLC Associates Program, an affiliate advertising program designed to provide a means for sites to earn advertising fees by advertising and linking to Amazon.com. Thank you for reading!