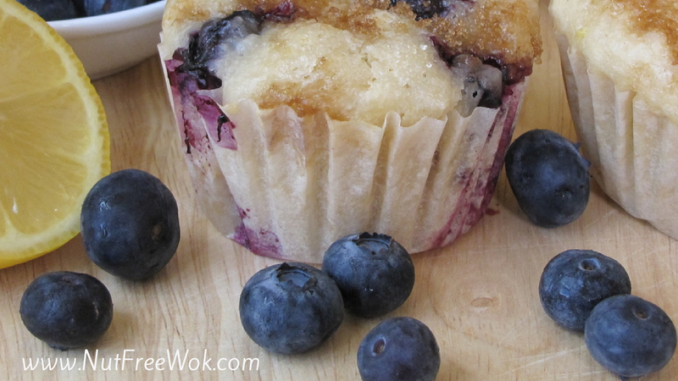 These egg-free, nut-free blueberry lemon muffins are easy to make and delicious to share with friends. I also included some muffin baking tips. This post was originally published in 2014 and I've made minor updates for readability (11/2/2022).
Disclaimer: Please check that all ingredients are suitable for your allergies and be sure to ask your medical care team regarding any allergy related questions (I do not share medical advice). As an Amazon Associate I earn from qualifying purchases.
Jump to Recipe
A few months ago, I was asked to be the lead person for an allergy friendly refreshment table at our school's 5th grade promotion. While it would have been much better for all the food to be 100% safe and inclusive, I appreciate the opportunity to create a nut-free spread of foods. I would shop for nut free versions of bagels and donut holes, make some muffins, and write up some specific suggestions on how to limit cross contact while preparing and serving the other foods, such as cut fruit and drinks.
I decided to make these blueberry lemon muffins, they're nut-free and egg-free. I looked at Kelly Rudnicki's  The Food Allergy Mama's Baking Book (affiliate) and Colleen Patrick-Goudreau's The Joy of Vegan Baking (affiliate link) for an egg-free nut-free blueberry lemon muffin recipe inspiration. I made a few adjustments to the recipes and ended up with the recipe below.
Definitely check out Kelly Rudnicki's baking cookbook for some great recipes. I have had Colleen's Joy of Vegan Baking cookbook for many years and have learned a lot about baking without eggs and dairy. However, Joy of Vegan Baking is not a nut free or food allergy cookbook and some of the recipes use nuts as an ingredient.
Top 10 Muffin Baking Tricks and Healthy Modifications
Tip #1 Ever have blueberries sink to the bottom of your muffin or become a big wet blueberry mess? Coat them with a little cornstarch!
Tip #2 Want to eat a muffin fresh out of the oven but half of it is stuck to the paper liner? Use parchment paper cupcake liners
(affiliate link) (Tip #2 1/2: I stock up when the parchment paper liners go on sale during the holidays ~$3/box)
Tip #3 Say no to rubbery muffins; stir as little as possible when mixing wet and dry ingredients.
Tip #4 Use organic sugar when baking, it tastes so much better which allows you to use less to save calories and money.
Tip #5 When a recipe calls for lemon zest, buy an organic lemon or use a homegrown lemon that hasn't been sprayed with chemicals.
Tip #6 Zest right into the flour mixture so that the fragrant lemon oil goes into your mix and you don't have to wash an extra bowl or cutting board.
Tip #7 Use only fresh blueberries for this recipe, frozen blueberries will throw off the baking times (if using frozen) and texture (if thawed first).
Tip #8 I increased the proportions of a standard muffin recipe by 25% to make gloriously big puffy muffins.
Tip #9 Sprinkle the unbaked muffins with 1/4 teaspoon of organic sugar for a shiny muffin top that has a slight crunch, OR sprinkle with 1/2 teaspoon of brown sugar for a pretty presentation (pictured), OR sprinkle both kinds of sugar for beautiful and tasty muffins.
Tip #10 Enjoy the muffins while they're still warm (thanks to tip #2!)
From Allergy Mom Blues to Blessings
I had mixed feelings about being responsible for refreshments for end of the school year activities because of food allergies.
I wanted to whine: food allergies are not fair, why do I need to do all this work to ensure safety and inclusion, why can't there be an easy option such as tasty muffins from a bakery? The spunky side of me decided that if I must bake blueberry muffins, then the muffins will have to look impressive and/or taste really good.
That led to acceptance: for now, people still celebrate happy events with food, the medical condition won't go away quickly, there just isn't a nut-safe muffin to purchase.
That acceptance led to gratitude: despite many school events that involved meals and refreshments and my son's severe allergies, a very compassionate school community has cooperated to keep my son safe and reaction free at school for 6 years. Even though the refreshments weren't 100% free of cross-contact from nuts, I had the opportunity to make an allergy friendly food table lovely for all the students with food allergies.
Deciding to make the best of the situation became a blessing as I had the opportunity to make the occasion a safe and happy one for my son and other students with food allergies and share awareness and nut-safe options with other parents. A friend who volunteered to help serve food, thanked me for my written instructions on how to limit cross contact because she felt relieved to have clear instructions rather than be afraid of accidentally causing a reaction. Best of all, I now have a go-to blueberry lemon muffin recipe that's easy, moist, and delicious to share with my sons and readers. Enjoy!
Allergy Aware Blueberry Lemon Muffins
This recipe is free of peanut, tree nut, egg, soy, shellfish, fish, and sesame as written. You can make it dairy free by substituting the milk and butter with non-dairy options such as oat milk and a neutral tasting oil.
Please always check all ingredient labels before using and when in doubt, call the manufacturer.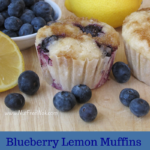 Blueberry Lemon Muffin Recipe: Easy, Moist, and Delicious
These egg-free, nut-free blueberry lemon muffins are easy to make and delicious to share with friends. I also included some muffin baking tips. 
Ingredients
2

cups

fresh blueberries

2

teaspoons

cornstarch

or tapioca starch

2 1/2

cups

unbleached all purpose flour

2/3

cup

sugar

1

tablespoon

baking powder

1/3

teaspoon

salt

zest of 1 organic lemon

1 1/2

cup

non-fat milk

or milk of choice

1/3

cup

butter, melted

or margarine or neutral tasting oil

1

teaspoon

vanilla extract

1/4

cup

lemon juice

juice of 1 lemon

2

tablespoon

dark brown sugar

optional topping
Instructions
Preheat oven to 350 °F.

Line a 12 cup muffin tin with parchment paper liners, set aside.

Wash blueberries and dry with a paper towel, place in a medium sized bowl and sprinkle with 2 teaspoons of corn starch, gently stir to coat the blueberries with cornstarch, and set aside.

In a large mixing bowl, combine flour, 2/3 cup sugar, baking powder, and salt and mix with a wire whisk.

Wash and dry lemon, use a fine grater and zest the lemon peel directly into the flour mixture and mix.

Add milk, melted butter, and vanilla extract to the flour mixture.

Juice the lemon and add the juice to the flour mixture and stir until almost combined.

Add the blueberries and gently fold them in while scraping the bowl to incorporate any remaining flour.

Spoon 2 heaping tablespoons into each muffin liner and then evenly distribute remaining batter and blueberries (about 3 tablespoons per muffin).

Sprinkle 1/2 teaspoon of brown sugar over each muffin (optional).

Bake for 25 minutes (check for doneness by poking the center of the muffin with a skewer; should come out clean)
If you like to make muffins, I also have a recipe for Nut Free, Egg Free Banana Chocolate Chip Muffins Recipe.
Thanks for reading, please help Nut Free Wok!
The best way to see every post or recipe is to subscribe to Nut Free Wok's email subscription (be sure to respond to the confirmation email). You will be notified by email next time I publish another post or recipe and I won't send you spam or share your email address with anyone.
If you enjoyed this post, please use the social media buttons below to share with others. I am on Facebook, Twitter, Pinterest, and Instagram as @nutfreewok and it's great to chat and interact on social media too.
Disclosure/Disclaimer:
I may mention the names of stores and/or brand names of products that I use because readers ask and I share products and sources which I use and think may be helpful to readers, all opinions are my own. Please note that manufacturing practices and ingredients can change at anytime without notice and readers are always responsible for assuring allergen safety before buying or consuming foods. NutFreeWok.com is a participant in the Amazon Services LLC Associates Program, an affiliate advertising program designed to provide a means for sites to earn advertising fees by advertising and linking to Amazon.com. Thank you for reading!