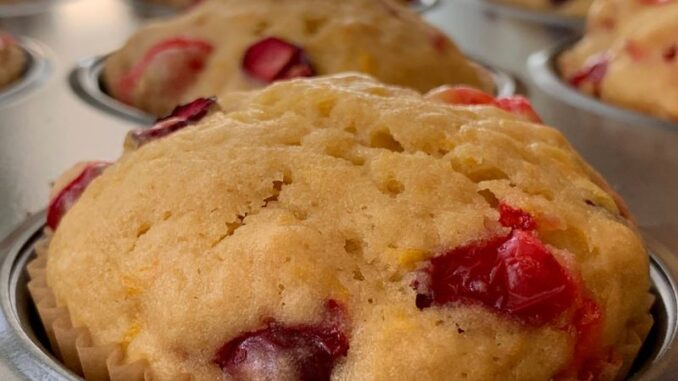 If you like cranberries and oranges in baked goodies, you will love these muffins. The recipe is also nut-free and dairy-free and super easy to adapt to be egg-free as needed. I use 1 orange and 1 1/2 cups of cranberries, reduce the sugar and fat of typical muffin recipes so that you can really taste the cranberries and orange.
Disclaimer: I am a brand ambassador for Rodelle and receive products to use and review. Please check that all ingredients are suitable for your allergies and be sure to ask your medical care team regarding any allergy related questions (I do not share medical advice). As an Amazon Associate I earn from qualifying purchases.
Jump to Recipe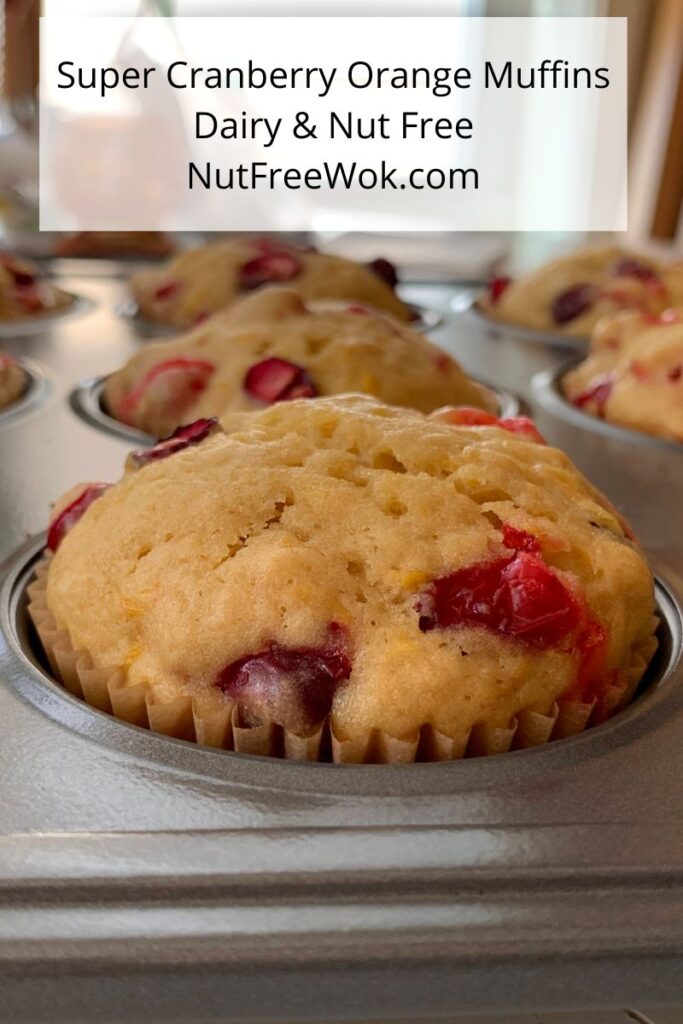 These Nut-Free Cranberry-Orange Muffins are Good For Us
One of my sweetest relatives and I made some Cranberry Orange Bread for Thanksgiving and it was so delicious! I asked her for the recipe and she showed me the recipe on the back of the bag of cranberries. We both reacted with so much glee over a recipe. I smile everytime I think of baking with her.
Fresh cranberries are a seasonal fruit that is only available at this time of year. They can usually stay fresh in our refrigerators for about 2 weeks until they gradually become soft. If you want to freeze some cranberries to use later, it's possible wash, sort, dry, freeze them in a single layer, and then freeze them in a freezer safe bag for up to a year.
Cranberries have a lot of health benefits. They're high in antioxidants and anthocyanins. They're excellent for our gut health and oral health. However, they're very tart when eaten raw and usually prepared with a lot of sugar, which is fine in moderation and something to be aware of if you have family members who have related health concerns.
Many quickbread recipes use nearly two tablespoons of sugar per serving, which is more than I usually eat and why I reduce some of the sugar. Even though cranberries are tart and I reduce the sugar, this muffin recipe makes some tasty muffins. The tart cranberry and fresh citrus flavor in this recipe stand out. You can use up to 1.25 cups of sugar in this recipe if you prefer.
Preparation and Storage Tips
Cranberries – When washing the cranberries, check for any attached stems and remove any soft or green cranberries. I like to top the muffins with some cranberries to make the muffins look pretty, set aside about 2 tablespoons. But sometimes I forget, and it mix them all, which is also fine.
Orange – I use a fine grater or a zester to zest the orange over the bowl of flour so that all the citrus oils end up in the flour instead of on a cutting board. Then toss the zest around so that the zest pieces aren't clumped together. I juice the orange and reserve 1/2 cup of juice for the recipe.
Flour and Baking Tips – I recommend stirring your flour or scooping and then pouring it back into your bag or container before measuring. If you scoop compacted flour, you'll have compacted muffins. If you scoop fluffed up flour, you'll have fluffy muffins. Also read my 10 muffin baking tips in my Blueberry Lemon Muffins Recipe for some general advice.
Freeze extra muffins to enjoy later – These muffins are great when warm out of the oven and are even better the next day. Since it's just the two of us in the house right now, I know we couldn't finish all the muffins at once. I wrapped half of the muffins with some plastic wrap and froze them in a freezer bag. Later I defrosted them overnight in the refrigerator and warmed them in my airfryer (affiliate), which I recently acquired and wrote about in my home fries recipe, for 2 minutes at 325°F and the muffins tasted like they were freshly baked.
Allergy Aware Muffins: Nut-Free and Dairy-Free
Cranberry-orange quick breads and muffins usually include walnuts or possibly other tree nuts. While my recipe here is nut-free, it's important to remind your friends or family members with a nut allergy that they need to be careful not assume that all cranberry-orange quick breads and muffins are nut-free.
I also made these muffins dairy-free by using a neutral tasting oil (I actually used extra virgin olive oil because that's what I have). Using an oil instead of butter is an allergy friendly option and since I use less than the typical amount in muffins, it's also a heart healthy, frugal, and convenient option compared to butter.
If necessary, you can further modify the recipe with your favorite egg-free substitute. I have had luck with using Ener-G egg replacer, just be sure to whisk it in warm water until it's very foamy like an egg mergingue. I also like using the oil, water, and baking powder substitution.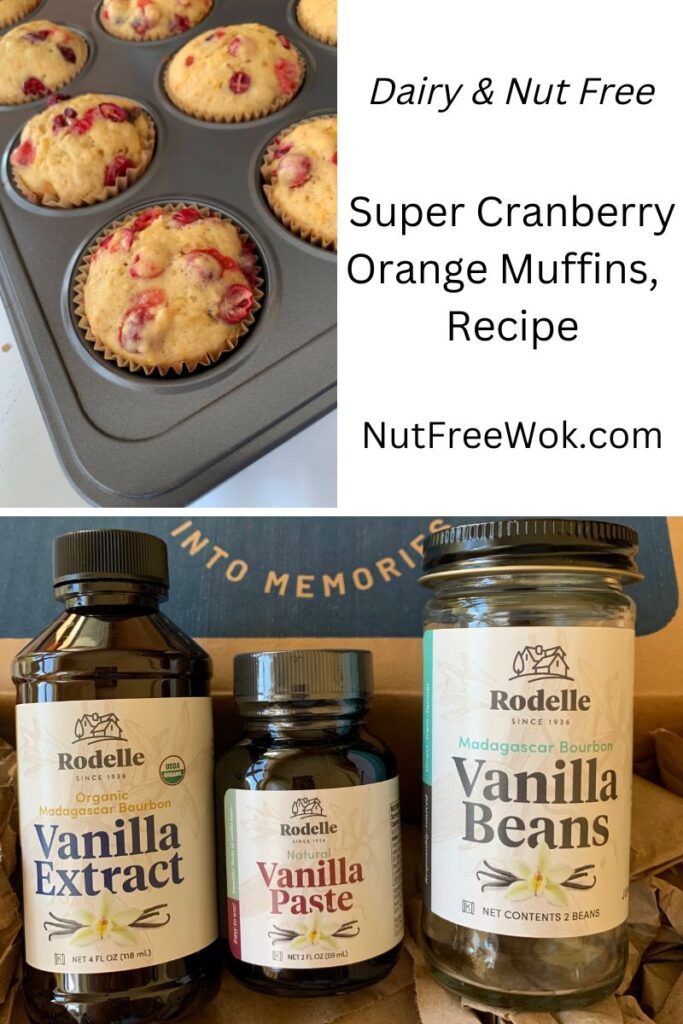 Rodelle Vanilla Gift for One Lucky Winner
I'm so glad for the opportunity to be an ambassador for Rodelle and to use their wonderful vanilla products. I love pure, simple ingredients and Rodelle offers a complete line of superior baking ingredients, pure vanilla products and gourmet spice blends. You can find their products in your local stores and they are available to order on Amazon (affiliate) and Walmart as well.
In this recipe, I used their organic vanilla extract to give the recipe some natural sweetness. If you like the cranberry-orange flavor combination as much as I do, you might like this recipe for Cranberry White Chocolate Chip Cookies & Friendships.
Rodelle Kitchen and I would like to give away one vanilla gift to one lucky winner. The gift will contain one bottle of Rodelle Organic Vanilla Extract (4 oz), one bottle of Rodelle Vanilla Paste (2 oz), and one jar of Rodelle Vanilla Beans (2 count).
To enter in the giveaway, scroll down past the recipe card and look for the entry form!
Good luck to everyone!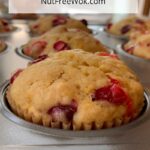 Super Cranberry Orange Muffins, Dairy & Nut Free
If you like cranberries and oranges in baked goodies, you will love these muffins. The recipe is also nut-free and dairy-free and super easy to adapt to be egg-free as needed. I use 1 orange and 1 1/2 cups of cranberries, reduce the sugar and fat of typical muffin recipes so that you can really taste the cranberries and orange.
Ingredients
2

cups

all-purpose flour

2

teaspoons

baking powder

¼

teaspoon

salt

1

orange

reserve zest and ½ cup orange juice

2

eggs

lightly beaten

½

cup

granulated sugar

¼

cup

brown sugar

light or dark

¼

cup

oil

neutral tasting or olive oil

1

teaspoon

vanilla extract

1 ½

cup

cranberries (6 ounces)

remove any stems, coarsely chopped, reserve some for topping the muffins.
Instructions
Preheat oven to 350°F and line a 12-cup muffin tin with parchment paper cupcake liners.

In a medium mixing bowl, combine the flour, baking powder, and salt.

Use a fine grater or zester to zest the oranges over the flour mixture and stir gently to separate the zest, set aside the flour mixture.

Juice the oranges and set aside ½ cup of juice for the recipe and save the rest of the juice for other uses.

In a large mixing bowl, lightly beat the eggs. Add ½ cup orange juice, granulated sugar, brown sugar, oil, and vanilla. Stir until thoroughly combined.

Add the flour mixture to the bowl of wet ingredients and mix until partially combined. Add most of the chopped cranberries and mix until combined.

Scoop approximately 2 heaping tablespoons into each muffin and then top with a few cranberry pieces.

Place the muffin tin on the middle rack of the oven and bake for 25 minutes, until golden brown or a toothpick poked in the center comes out clean.

Serve the muffins when warm and freshly baked or at room temperature.
Enter the giveaway below!
To enter: The entry period begins on Monday October 14, 2022 and ends on Monday, October 21, 2022 at 12:00 am PST.
Limit: US mailing address only, one entry per household, ages 18 and up.
Selecting a winner: Winner will be randomly selected and notified by email on Monday, October 21, 2022. The winner must respond within 24 hours or a new winner will be selected.
Disclaimer: This giveaway is not affiliated with Facebook, Instagram, or Twitter. Void where prohibited. The winner's email address will not be shared or sold, except I will share the winner's contact info with Rodelle for shipping purposes.
Thanks for reading, please help Nut Free Wok!
If you like this recipe, please be sure to give a 5 star rating, leave a comment, and share this post! Your support means a lot to me.
Subscribe to Nut Free Wok's email subscription (be sure to respond to the confirmation email). You will be notified by email next time I publish another post or recipe and I won't send you spam or share your email address with anyone.
Disclosure/Disclaimer:
I may mention the names of stores and/or brand names of products that I use because readers ask and I share products and sources which I use and think may be helpful to readers, all opinions are my own. Please note that manufacturing practices and ingredients can change at anytime without notice and readers are always responsible for assuring allergen safety before buying or consuming foods. NutFreeWok.com is a participant in the Amazon Services LLC Associates Program, an affiliate advertising program designed to provide a means for sites to earn advertising fees by advertising and linking to Amazon.com. Thank you for reading!