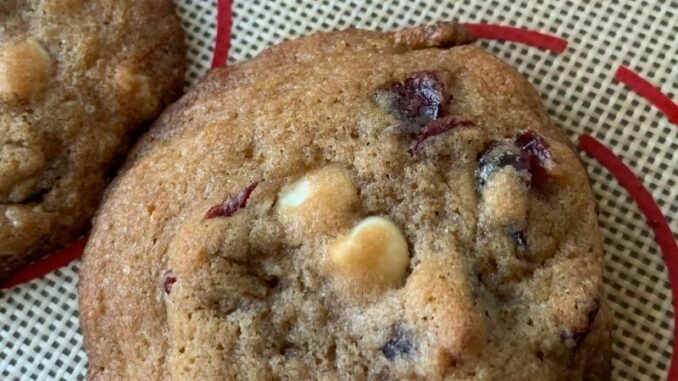 These cranberry white chocolate chip cookies are festive sweet treats that I love to make during the holiday season. The white chocolate chips and cranberries are a sweet and tart combination and a little bit of orange zest brightens the flavors. You can also read about why they are my allergy mom friendship cookies or click the Jump To Recipe button. Don't miss my baking tips and suggestions for allergen substitutions.
Disclaimer: I am a brand ambassador for Rodelle and receive products to use and review. Please check that all ingredients are suitable for your allergies and be sure to ask your medical care team regarding any allergy related questions (I do not share medical advice). As an Amazon Associate I earn from qualifying purchases.
Jump to Recipe
A Sweet Allergy Mom Friendship Cookie
I have a mom friend that I met when our children were in preschool and elementary school together and we bonded over our children's food allergies. Our kids had so many playdates together and she was my school emergency contact person for years. I'll always be grateful for her friendship and support.
As we were talking afterschool back when our kids didn't have much homework or afterschool activities, she pulled out her mixer and made some amazing cranberry white chocolate chip cookies for snack as our children played together. I think of her everytime I make these cookies. The love, patience, and support from a good allergy mom friend can make a difficult situation so much better. I am such a lucky mom to have a friend like her and hope you have someone like her in your life too.
I watched my friend make her cranberry white chocolate chip cookies and with a little inspiration from my chocolate chip cookies, I came up with this recipe. It's an easy recipe to make but I always forget little details, so I decided that I have to share the recipe with you and to remind you to love on your allergy mom friendships.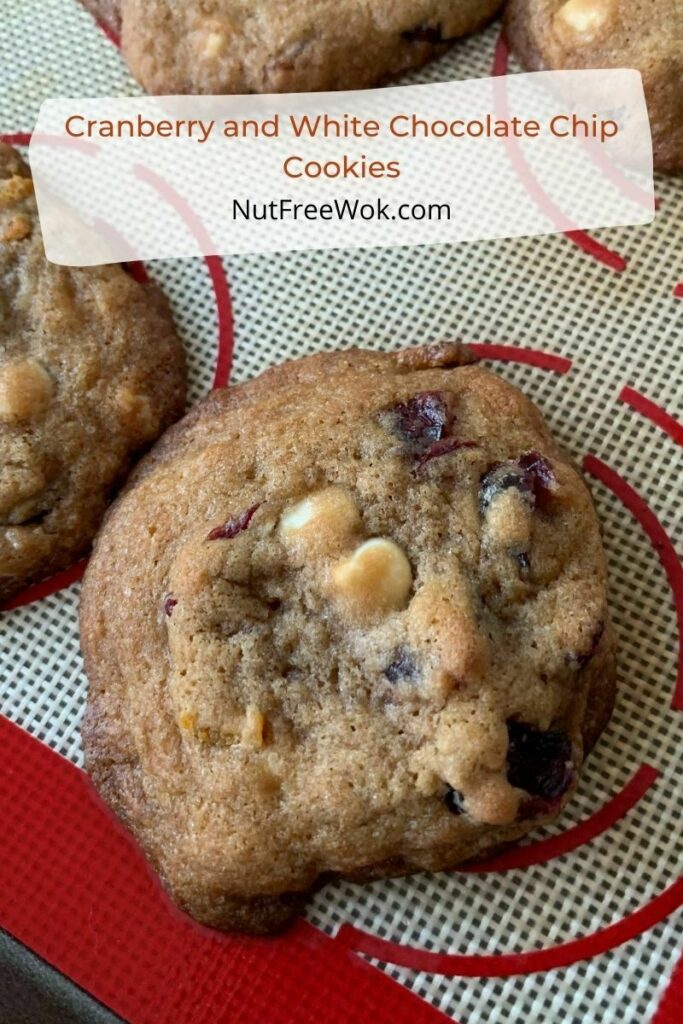 White Chocolate Chips, Cranberries, and Unsalted Butter
White chocolate chips seems to be a seasonal ingredient and it's also difficult to find nut-free. I usually use Trader Joe's white chocolate chips, they changed manufacturers last year in 2020 but the white chocolate chips this year are not made in a facility with peanuts and tree nuts. Chocolate is one ingredient that I check every year.
Other nut-free white chocolate chip options include products by Vermont Nut-Free, Nestle (affiliate link), and Artisan Kettle (affiliate link). Pascha (affiliate link) makes a top 8 allergen free white chocolate bar, which I haven't tried specifically, but I do love their other flavors. Always read the label and contact the manufacturer if you have any questions regarding allergens.
I usually buy dried cranberries from Trader Joe's but you can use whatever nut-free brands you prefer. I like the Trader Joe's dried cranberries because they come in small packages and they're delicious.
I also use unsalted butter so that the cookies don't inadvertently taste too salty. If you have salted butter on hand, be sure to reduce the amount of salt from the recipe by half.
Cookie Baking Tips
Regular or Brown Sugar?
My cranberry white chocolate chip cookie recipe uses granulated sugar and brown sugar but I wanted to know if it's possible to make them with just regular granulated sugar. I made some cookies with all regular granulated sugar and I like seeing the specks of orange zest and how the cookies are crispy. However, if you want a softer cookie with more rise, use some brown sugar. In the photo, I used dark brown sugar and was surprised by how dark the cookies were. I think in years past I had light brown sugar on hand which is what I would prefer.
Make-ahead tip
The cookies will bake and taste better if you chill the dough for at least 30-60 minutes. You can even make the dough ahead of time, cover and chill overnight, and just take them out for 30 minutes to come to room temperature so they're easier to scoop. Pre-made cookie dough is perfect for when you want to serve freshly baked cookies but without too much fuss.
Drop or Roll?
I've used an ice cream scoop to drop golf-ball-sized scoops of dough which is super easy and makes some crispy chewy cookies. I've also rolled the dough into balls and the cookies don't spread as much and have a softer texture. Since this recipe makes 30 cookies, try it both ways and see which way you prefer.
Bake at 375°F
Bake at 375°F for 10-11 minutes until golden brown. I did it again and baked the cookies at 350°F this year! These cookies need to bake at a slightly higher temperature and I always forget. You will also have more consistent results if you preheat the oven an extra 10-15 minutes after it reaches 375°F. During my recipe testing, I put the first batch in for 11 minutes and they barely looked golden brown, the second batch looked almost scorched, and the third went in for 10 minutes and were perfect.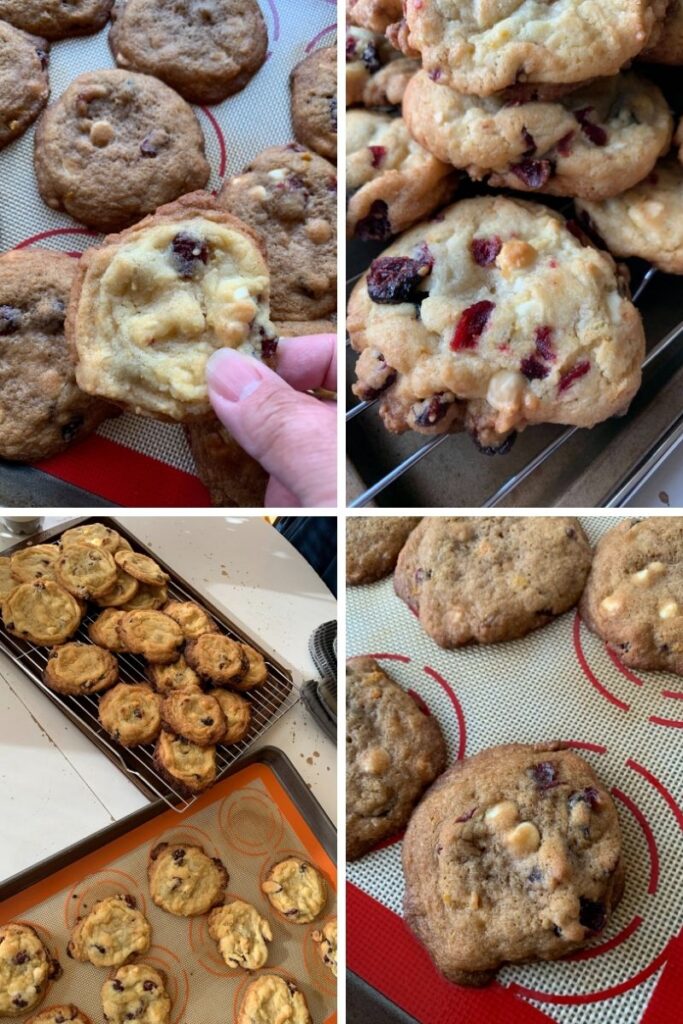 Rodelle Vanilla – Great Value
I love to bake with Rodelle Vanilla because they're nut-free, have friendly customer service, and great partnerships with their vanilla growers. If you are like me and have noticed that our food prices keep rising quickly, then I would encourage you to consider Rodelle Vanilla for better value. It seems a little pricey to buy an 8-ounce bottle of Rodelle Vanilla extract but the cost per ounce is about $2, which is a great value for excellent quality.
Last year I shared about some of my favorite Rodelle products and how I used them. This summer I made Easy Mango Bread for My Son's Birthday and can't wait to make it again. And for this year's Christmas dinner, I have a request to make my Allergy Friendly Aquafaba Baked Alaskas, Oh My!!! for our dessert (it's allergy friendly because it's an egg-free meringue). Yum!!
Allergy Aware Cranberry White Chocolate Chip Cookies
This recipe is free of peanuts, tree nuts, soy, fish, shellfish, and sesame as written.
If baking for someone who is dairy-free, try using a dairy-free butter. I like Earth Balance's buttery baking sticks, but check for other allergens on the label. Also watch out for vegan butter or spreads made from nuts. Lastly, double check that the white chocolate chips are indeed dairy-free.
If baking for someone who is egg-free, my favorite egg-free substitute for cookies is making a mixture of 1 1/2 tablespoon neutral tasting oil, 1 1/2 tablespoon water, 1 teaspoon baking powder for each egg (up to 2) and adding the mixture in where the recipe calls for egg. I haven't tried the egg sub for this recipe but I know that it works for most cookie recipes, my egg-free snickerdoodle recipe is really great.
Many thanks to my dear friend for your years of friendship, recipe inspiration, and all of the meals, treats and parties we have shared over the years. <3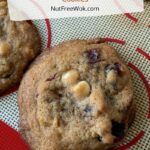 Cranberry White Chocolate Chip Cookies, My Allergy Mom Friendship Cookie
These cranberry white chocolate chip cookies are festive sweet treats that I love to make during the holiday season. The white chocolate chips and cranberries are a sweet and tart combination and a little bit of orange zest brightens the flavors.
Total Time
1
hour
25
minutes
Ingredients
1

cup

butter

2 sticks, softened

2

large eggs

room temperature

2 1/4

cups

all purpose flour

1

teaspoon

baking soda

1

teaspoon

salt

1

orange

zest only

3/4

cup

sugar

granulated

3/4

cup

brown sugar

light

1

teaspoon

vanilla extract

1

cup

white chocolate chips

1 1/2

cups

dried cranberries
Instructions
Take butter and eggs out of the refrigerator and allow the butter to soften and the eggs to come to room temperature.

Line a cookie sheet with a silicone baking mat or parchment paper and set aside. If you have three cookie sheets, line them all otherwise allow extra time for the cookie sheet to cool down in between batches.

In a medium-sized bowl, combine the flour, baking soda, and salt. Use a fine grater or zester to zest the orange peel over the flour mixture. Stir the orange zest into the flour, set aside.

Cut each butter stick into 8-10 pieces and add to the mixing bowl. If the butter is still hard, allow it to soften 5-10 more minutes before creaming. When the butter is soft, use a mixer to cream the butter for 1-2 minutes until the butter has a lighter appearance. Add the sugar and brown sugar and mix for 5 minutes, stop the mixer and scrape the sides of the mixer. Continue to mix for another 1-2 minutes until the butter and sugar are well combined.

Add one egg and mix. Add the second egg, stop and scrape the sides down, and add the vanilla extract. Stop the mixer, add the flour mixture, and mix on low speed until the flour is mostly incorporated. Add the cranberries and white chocolate and mix briefly. Scrape the sides of the bowl and the mixer paddle.

Cover the dough and refrigerate for 30 minutes or more. If you refrigerate the dough for hours or overnight, take it out at the same time you preheat the oven.

Preheat the oven to 375°F 30 minutes before you want to start baking. Check that there's a rack on a middle shelf. Use an ice cream scoop or two spoons to scoop a heaping spoonful of dough (approximately 2 tablespoons) and space the dough on a large cookie sheet to allow room for the cookies to spread.

Bake for 10-11 minutes until golden brown. Take the tray out of the oven, allow the cookies to cool for a few minutes and then transfer to a cooling rack. If you have a second cookie sheet, bake another tray otherwise wait until your cookie sheet is cool enough to handle before adding more cookie dough to bake.
Thanks for reading, please help Nut Free Wok!
The best way to see every post or recipe is to subscribe to Nut Free Wok's email subscription (be sure to respond to the confirmation email). You will be notified by email next time I publish another post or recipe and I won't send you spam or share your email address with anyone.
If you enjoyed this post, please use the social media buttons below to share with others. I am on Facebook, Twitter, Pinterest, and Instagram as @nutfreewok and it's great to chat and interact on social media too.
Disclosure/Disclaimer:
I may mention the names of stores and/or brand names of products that I use because readers ask and I share products and sources which I use and think may be helpful to readers, all opinions are my own. Please note that manufacturing practices and ingredients can change at anytime without notice and readers are always responsible for assuring allergen safety before buying or consuming foods. NutFreeWok.com is a participant in the Amazon Services LLC Associates Program, an affiliate advertising program designed to provide a means for sites to earn advertising fees by advertising and linking to Amazon.com. Thank you for reading!