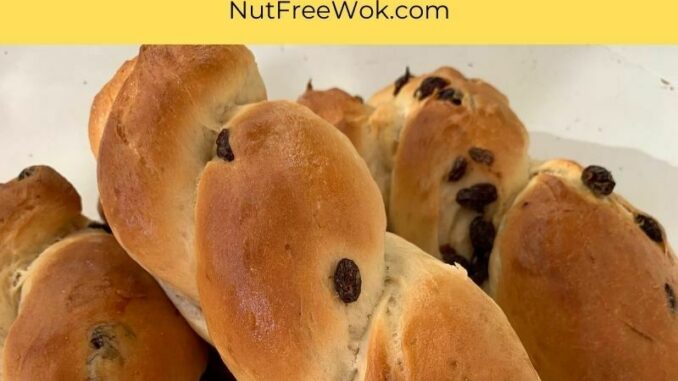 I have tested this raisin bread recipe so many times, I'm confident that you will find it the best raisin bread recipe that is comparable to what you can buy at a Chinese bakery. The recipe is also adaptable for a dairy-free option and the tangzhong (water roux) method is ingenious. 
Jump to Recipe
Disclaimer: Please check that all ingredients are suitable for your allergies and be sure to ask your medical care team regarding any allergy related questions (I do not share medical advice). As an Amazon Associate I earn from qualifying purchases.
Nostalgic for Chinese Bakery Breads
One of my favorite Chinese bakeries in San Francisco closed in 2020. I searched for alternative bakeries and I realize that I don't like the limited options. I decided it's time for me explore bread making to make Chinese bakery style bread recipes so that we don't lose these recipes and traditions forever. Of course I don't know the bakeries' actual recipes, but I do think this raisin bread recipe is a close approximation and hope you will enjoy it too.
The basic bread dough recipe is key, it needs to be soft, fluffy, slightly sweet, with a little bit of chew, and never dry (trying not to say the m-word lol). Chinese bakeries make so many different kinds of buns with different toppings or fillings. I decided to start with raisin bread because every time we drive by Cafe Bakery on Noriega St. my mom would lament that they're closed and their raisin bread is her favorite.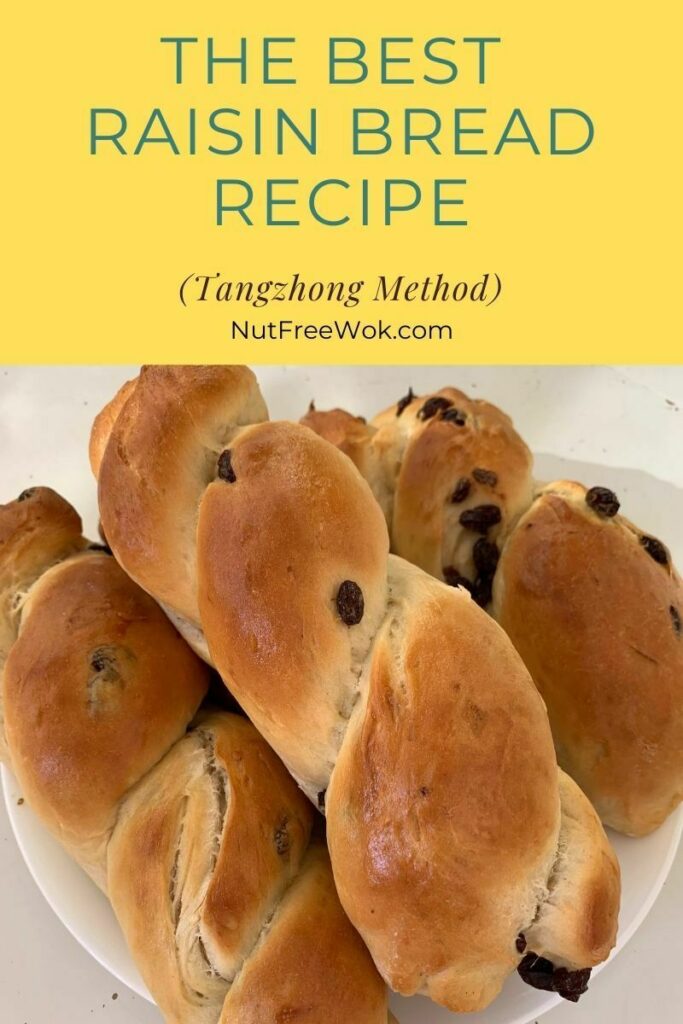 What's the Tangzhong Method?
The tangzhong method uses a water roux which gelatinizes some of the flour and traps moisture into the dough. The bread will rise more and have a soft and fluffy texture as a result. I whisk together a small amount of flour and water from the recipe to make a smooth and runny paste. Then I cook the paste on medium heat for a few minutes until the paste looks like mashed potatoes. Then I will add it to the dough after it cools down a bit.
Yvonne Chen, aka 65°C Bread Doctor, wrote a Chinese cookbook about making Chinese style breads (affiliate link) with a tangzhong starter. I haven't actually read the book since it's written in Chinese and no longer available for purchase. However, I found many online recipes refer to her cookbook. But the actual recipes vary a lot, which I find confusing. This article on how to convert recipes by King Arthur Baking is a great guide.
Sometimes the recipes are called Hokkaido milk bread. But I was surprised and amused to learn that according to YouTuber Kitchen Princess Bamboo, people in Hokkaido aren't familiar with the Hokkaido milk bread recipes and can't understand why they're called Hokkaido bread. Some other recipes refer to making yudane, a Japanese version of starter made by combining hot water and flour to make a starter.
Reading about the origins of these methods of pre-hydrating some of the flour is quite familiar. My mom used to add hot water to some flour and then proceed to mix the hot dough with a spoon and then her bare hands! I thought that was amazing but wondered why are the cookbooks I check out from the library are different. She doesn't ask why and just follows recipes passed onto her. But now I understand that preparing tongzhong is a brilliant way to prehydrate flour to make a tender dough.
Raisin Bread Making Tips
I highly recommend reading all of the tips below and the entire recipe before starting. I made plenty of mistakes and variations along the way so you don't have to. Also note that even the first few attempts and recipe tweaks were good so I think this recipe is worth trying at least once.
It's necessary to knead for the full amount of time
I use my Breville stand mixer to knead the dough using a dough hook which makes kneading bread much easier. In one recipe test, I decided that the dough looked great after kneading for 10 minutes and the resulting bread was soft but lacked structure. Even after the dough comes together, continue to knead for the entire 15 minutes.
If you do not have a stand mixer, it's perfectly fine to mix a shaggy dough using a spatula and then kneading by hand. But allow a little more time to knead until the dough is very pliable and stretchy.
Soak the raisins and then drain and pat them dry
The raisins will taste better in the bread if you soak them in water for 5 minutes and then drain and pat dry with paper towels. This step is necessary otherwise dry raisins will become even drier during the baking process. It's also necessary to drain them and then pat dry with paper towels before adding to the dough. If the raisins have too much moisture clinging to them, then the dough becomes too sticky to handle and you'll need to add flour, which will affect the water to flour ratio of the dough.
Little Tools That Will Make A Difference
You probably have a baking sheet and parchment paper makes clean-up easier. And if you don't have a mixer, you can also knead by hand. I also recommend that you have the following three kitchen tools on-hand, they will help!
Resist the urge to add too much flour!
This recipe uses a tangzhong starter and our goal is to make a bread that is light, airy, and moist. As you knead the dough, it will look shaggy at first and then about 50% of the dough will be sticking to the bowl. You might need to add one to two tablespoons of flour. Then you will see that the dough forms a ball with a thin layer of dough sticking to the bowl. That's perfect, stop the mixer and use a rounded bowl scraper (affiliate link) or a stiff spatula to scrape the bowl. Then continue to use your stand mixer to knead the dough.
If you end up adding too much flour, the dough will not stick at all to the bowl. The dough will feel stiff when you pinch and pull at it. The bread will still be amazing fresh out of the oven or reheated for 10-15 seconds in a microwave. But it won't be as soft, tender, and fluffy as what I'm aiming for us!
Egg Wash
If you already have a pastry brush, use what you have. Otherwise, I recommend using a silicone pastry brush (affiliate link) because they're easy to use and keep clean. There's a little bit of leftover egg wash which you can discard or use ASAP for other purposes.
Wash your hands and nails with a nail cleaning brush
As I have previously recommended in my Char Siu Bao recipe, a nail brush is essential. Wash your hands with soap and water and with a nail clean brush before and after handling the bread dough. It's very important to use a nail cleaning brush (affiliate link) to clean our hands.
Allergy Aware Raisin Bread
This recipe is free of peanuts, tree nuts, soy, fish, shellfish, and sesame as written.
Easy to make dairy-free
I replaced cow's milk with soy milk and the bread tasted just as delicious. If you are allergic to dairy or soy, you can use other milk substitutes. I even tried using water instead of milk and while I made bread, it's not as soft. The recipe also calls for butter and there are some really great dairy-free butter alternatives.
Egg-free challenges
In one of my batches, I hastily put the shaped doughs into the oven without brushing an egg wash on them. I tried to recover by brushing with honey during the last 5 minutes of baking. The honey oozed down and the bottom crust became hard and slightly burnt while the bread looked barely golden brown.
I personally would want to find a better egg wash alternative before I modify the dough recipe to be egg-free. The dough uses just 1 egg. It might be easy to use an egg substitute but that would involve doing some math (or guesswork) for another day. If you have suggestions, please share in the comments.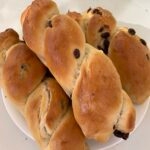 The Best Raisin Bread Recipe (Tangzhong Method)
I have tested this raisin bread recipe so many times, I'm confident that you will find it the best raisin bread recipe that is comparable to what you can buy at a Chinese bakery. The recipe is also adaptable for a dairy-free option and the tangzhong (water roux) method is ingenious.
Prep Time
2
hours
30
minutes
Ingredients
3 3/4

cup

all purpose flour

divided

1/2

cup

and 1 teaspoon water

divided

3/4

cup

milk (non-fat)

any kind, including dairy-free equivalents

2

large

eggs

divided

1/4

cup

sugar

1

teaspoon

salt

1

packet yeast

or 2 1/4 teaspoons

4

tablespoons

butter, unsalted

softened

1

cup

raisins

approximately 4-5 ounces

1

teaspoon

neutral tasting oil

to oil a bowl
Instructions
In a small sauce pan, whisk together 1/4 cup flour and 1/2 cup water until smooth. Cook the paste on medium heat for 4 minutes, stir occaisionally. As soon as the paste thickens slightly, lower the heat and continue to stir until the mixture resembles mashed potatoes. Remove from heat and allow to cool.

Into the mixing bowl of a stand mixer, add 1 egg. Warm the milk in the microwave for 20-30 seconds and add it to the mixing bowl. Add 3 1/4 cup of flour, the sugar, salt, and yeast. Knead on low speed until fully incorporated.

Add the tangzhong mixture from step one and butter and knead for 15 minutes, stopping as needed to scrape down the contents of the bowl and to add 1-2 tablespoons of flour as needed to form a soft dough. Set aside remaining flour for dusting your work surface later.

Brush the oil around a large mixing bowl and then transfer the dough to the bowl and cover with plastic wrap and allow the dough to rise in a warm draft-free location for 45-60 minutes (I usually put it in my oven with the oven light on).

While the dough rises, cover the raisins with water and soak for 5 minutes. Drain and pat dry with paper towels, set aside. Line a large baking sheet with parchment paper, set aside. Beat the remaining egg in a small bowl with 1 teaspoon of water. Set aside the remaining 1/4 cup of flour in a small bowl for shaping the raisin bread later.

After 45-60 minutes of rising, check on the dough. It should be slightly puffier but doesn't need to be doubled in size. Transfer the dough to a lightly floured large cutting board or work surface and pat down gently into a rectangle. Spread half of the raisins onto the dough and roll it up along the width. Spread some of the raisins on top of the log and roll it up along the length and it will look like a rolled up coil.

Pat the dough down into a rectangle again. Use a floured knife to cut the dough into 4 pieces and use floured hands to shape the dough into long lengths. If the dough is too tight, let it relax and work on another piece. I hold the ends and swing it around gently like a jump rope to stretch the dough a bit, fold in half and then twist the two ends together. Pinch the two ends together and tuck them under and place the shaped dough on the parchment lined sheet, cover with plastic wrap and continue to shape the remaining pieces

Allow the shaped and covered dough to rise for 45 minutes and then preheat the oven to 350°F. Right before baking, remove the plastic wrap and brush the shaped raisin breads with the beatened egg mixture and bake for 27-30 minutes, until golden brown.

When ready, take the baking sheet out of the oven and use tongs to transfer the loaves to a cooling rack. The bread is ready to eat and serve warm right out of the oven. Wait until it cools completely (at least 1 hour) before storing in a container or plastic bag. To warm and serve later, wrap a piece of bread with a paper towel and microwave for 10-20 seconds.
Thanks for reading, please help Nut Free Wok!
The best way to see every post or recipe is to subscribe to Nut Free Wok's email subscription (be sure to respond to the confirmation email). You will be notified by email next time I publish another post or recipe and I won't send you spam or share your email address with anyone.
If you enjoyed this post, please use the social media buttons below to share with others. I am on Facebook, Twitter, Pinterest, and Instagram as @nutfreewok and it's great to chat and interact on social media too.
Disclosure/Disclaimer:
I may mention the names of stores and/or brand names of products that I use because readers ask and I share products and sources which I use and think may be helpful to readers, all opinions are my own. Please note that manufacturing practices and ingredients can change at anytime without notice and readers are always responsible for assuring allergen safety before buying or consuming foods. NutFreeWok.com is a participant in the Amazon Services LLC Associates Program, an affiliate advertising program designed to provide a means for sites to earn advertising fees by advertising and linking to Amazon.com. Thank you for reading!