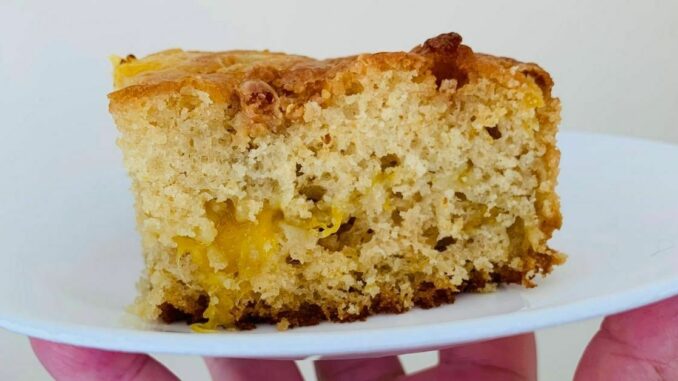 My son loves mangos and for his birthday, I decided to make a mango birthday cake for him by making an easy mango bread with a homemade mango sauce. I dressed it up with an orange cream cheese frosting so it looks like a rustic cake for my son's birthday but the bread is delicious to eat as-is as a snack.
Disclaimer: I am a brand ambassador for Rodelle and receive products to use and review. Please check that all ingredients are suitable for your allergies and be sure to ask your medical care team regarding any allergy related questions (I do not share medical advice). As an Amazon Associate I earn from qualifying purchases.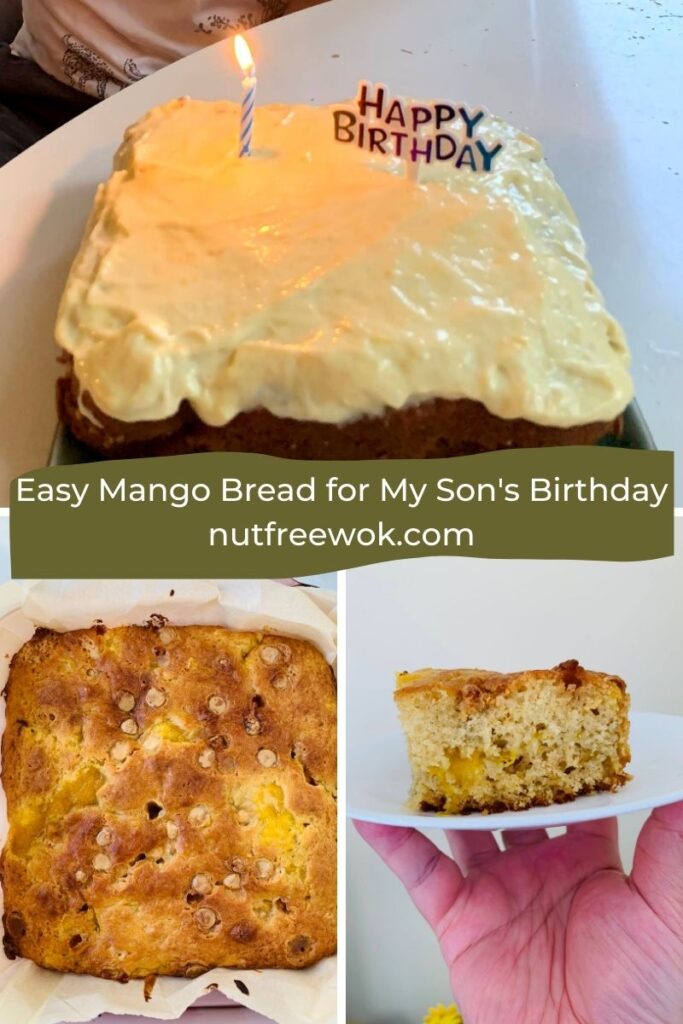 Do You Eat Mangoes When Allergic to Cashews and Pistachios?
Mangoes are a sweet and juicy tropical fruit and we love to eat fresh mangoes. I later learned that mangoes are botanically related to cashews and pistachios. According to information from AAAAI, the similar allergenic proteins are in the seed, not the edible mango pulp. "Cross-reactivity has, as you know, been shown to exist between cashew and pistachio nut. However, this cross-reactivity did not extend to mango pulp, although it was present in mango seed (4)." Both of my cashew and pistachio allergic sons already eat mangoes without issues, I figured it was fine to continue eating mango.
I thought about whether it's helpful or not to share a recipe highlighting mangoes. Obviously, I decided it would be helpful because if you already like and eat mangoes without issues, then you might like this recipe.
Or if you, or someone you love, is allergic to cashews or pistachios but has never tried mangoes and have questions, then you can discuss with your allergist. Or if you and your doctor decide that it's fine to try mangoes, then you'll know to be aware and look for potential allergic symptoms, and have your prescription epi nearby.
And if you like cake but are allergic to mangoes, I have other cake recipes for you to try:
Easy Lemon Cake: An Allergy Friendly Recipe
Incredible Irresistible Carrot Cake with Orange Cream Cheese Frosting Recipe
Olive Oil Orange Chiffon Cake Recipe
Classic Chocolate Wacky Cake, Allergen Friendly
Easy Apple Pear Spice Cake Recipe and That's It Review
Auntie Karen's "Ma Lai Go" Chinese Sponge Cake
How Do I Make Mango Bread into a Cake?
Both of my sons' birthdays are in August and it's usually too hot for me, so I want to be in and out of the kitchen as fast as possible. I adapted this mango bread recipe by using my banana bread recipe and swapping mashed bananas with a homemade mango sauce instead of making a 2 layer cake with frosting and decorations. Since his birthday in August, I made a few more cakes to develop the recipe some more because I know that my mango loving son will want to make this cake for himself and his friends someday.
Healthy modifications
I try to make my cakes a little bit healthier with less sugar and less fat than typical quickbread recipes. This recipe uses yogurt to reduce the amount of butter used. I have tested with non-fat and low-fat yogurt as well as vanilla, mango, and peach flavored yogurts with success. I also tried using Greek yogurt but noticed that it was dry on the day I made it but tasted better the next day.
I've already cut the sugar a bit and still think the cake is a touch too sweet for some people which is why the white chocolate chips are optional.
Make a mango sauce to flavor the mango bread
The first thing I do is make a simple mango sauce by cooking some mango in some sugar. Mangoes are in season May through September, so you can use either fresh or frozen cut mangoes depending on what's available. I like using frozen cut mango for the convenience but it takes longer to cook. You can also use fresh mangoes but it will cook quickly, so keep an eye on it.
When the mango is soft enough to mash into chunky pieces, allow the sauce to cool to room temperature (use an ice bath if needed) while you prep the rest of the mango bread ingredients. I mix in some of mango into the batter and drop spoonfuls of the sauce in the batter right before baking.
Change the shape to look like a cake
Instead of baking the batter in a loaf pan, I bake it in a 9×9 glass baking dish. If you have a metal baking dish, you can use that too, but the bake time might be slightly different. A dark colored metal pan might take the same amount of time as a glass baking dish and a light colored metal pan will bake faster. In either case, set your timer for the earlier time and check on the cake when your kitchen smells like cake.
Changing the shape from a loaf to a square gives me more options on how to make the mango bread look like a birthday cake. I frosted it with an orange cream cheese frosting from my carrot cake recipe and it was delicious.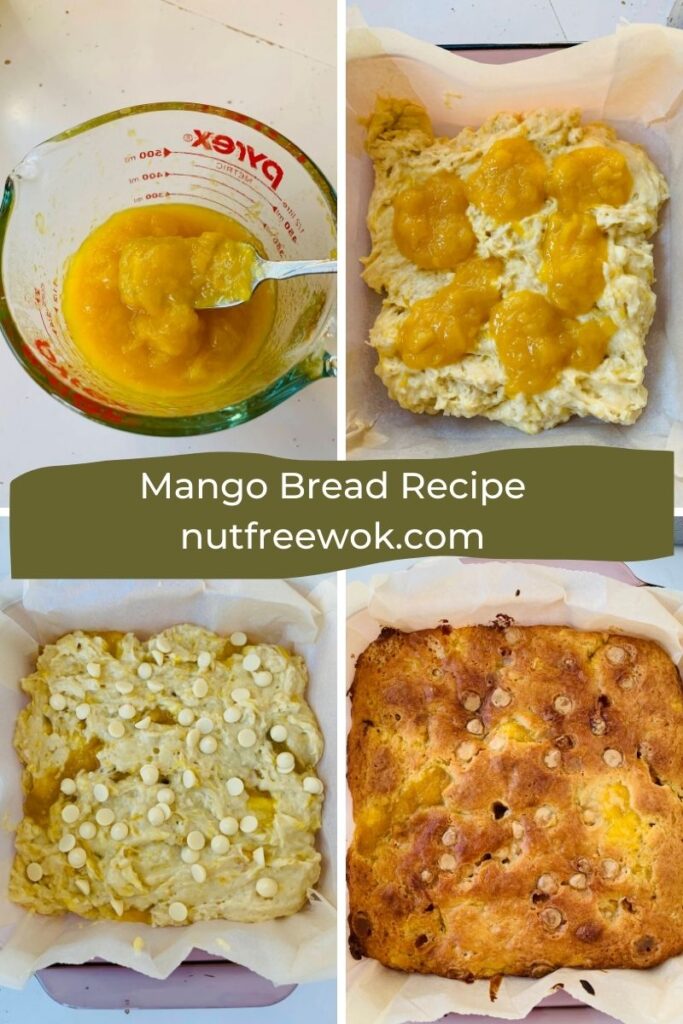 Rodelle Vanilla options
This mango cake has a sweet mango fragrace. It's a great recipe to use a Rodelle vanilla bean, they're easy to split and scrape the seeds into the cake batter. I also put the split vanilla pod into the pot with the mango so that whatever seeds I missed will end up in the mango sauce. The mango-vanilla combination is worth the extra effort but when short on time, I use Rodelle's Pure Vanilla Extract (affiliate link) or Rodelle's Vanilla Bean Paste (affiliate link). You can find their products at your grocery stores, on Rodelle's Amazon page, or on Rodelle's homepage.
Allergy Aware Mango Bread
This recipe is free of peanuts, tree nuts, soy, fish, shell-fish, and sesame as written.
It's easy to swap out the butter and yogurt with your favorite dairy-free alternatives.
If allergic to egg, I recommend using Ener-G's egg replacer (prepare according to package instructions and be sure to froth it until it's foamy), avoid subbing eggs with applesauce for this recipe since the recipe already contains a lot of fruit.
I haven't tried a wheat-free or gluten-free version of this recipe but there are cup for cup gluten free flour substitutes that might work.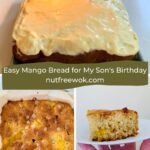 Easy Mango Bread Recipe
This easy mango bread recipe is a quickbread with a homemade mango sauce. It's delicious even though I have reduced the sugar and made some healthy swaps to reduce the butter.
Total Time
1
hour
40
minutes
Ingredients
2

cups

chopped frozen mango

or fresh

3/4

cup

sugar

divided

¼

cup

water

1 ½

cup

all purpose flour

1

teaspoon

baking powder

½

teaspoon

baking soda

¼

teaspoon

salt

¼

cup

butter

unsalted and softened

1

egg

large

½

cup

yogurt

1

teaspoon

vanilla extract

or vanilla bean paste or 1 vanilla bean (split and scrape)

1/4

cup

white chocolate chips

optional
Instructions
Combine 1/4 cup sugar, water, and 2 cups frozen mangoes in a small pot and cook on medium heat for 10 minutes (5 minutes, if using fresh), when the mangos come to a boil, use a spatula to stir, and then lower the temperature to simmer for 5-10 more minutes. Stir occasionally until the mangoes are soft enough to mash, then remove from heat, and allow to cool to room temperature (use an ice bath if needed).

Preheat oven to 350°F and line a 9×9 baking dish with parchment paper.

Measure and mix the flour, baking powder, baking soda, and salt in a medium size bowl, stir and set aside.

Place the butter and remaining 1/2 cup of sugar into your mixing bowl and use a mixer to cream the butter and sugar until creamy and light in color. Add an egg and mix. Scrape down the side of the bowl with a spatula and then add 2/3 cup mango, yogurt, and vanilla extract, and mix (1 minute).

Add the flour mixture and white chocolate chips (if using) to the batter and mix with a spatula until the flour is incorporated.

Pour 3/4 of the cake batter into the parchment lined baking pan. Drop 9 tablespoons of mango on the batter in a 3×3 grid (approximately 1/2 cup). Pour the remaining cake batter on top and use a spatula to level the batter, as needed.

Bake on the middle rack for 50-55 minutes until the cake is golden brown.

Cool the cake on cooling rack for an hour and serve warm with any extra mango sauce on the side. Optional: Or cool completely and frost, I recommend the orange cream cheese frosting from my carrot cake recipe.
Recipe Notes
Use fresh or frozen cut up mango pieces. In either case, cook until the mango is soft enough to mash with a spoon, the fresh mango will take less time so keep an eye on it. 
Thanks for reading, please help Nut Free Wok!
The best way to see every post or recipe is to subscribe to Nut Free Wok's email subscription (be sure to respond to the confirmation email). You will be notified by email next time I publish another post or recipe and I won't send you spam or share your email address with anyone.
If you enjoyed this post, please use the social media buttons below to share with others. I am on Facebook, Twitter, Pinterest, and Instagram as @nutfreewok and it's great to chat and interact on social media too.
Disclosure/Disclaimer:
I may mention the names of stores and/or brand names of products that I use because readers ask and I share products and sources which I use and think may be helpful to readers, all opinions are my own. Please note that manufacturing practices and ingredients can change at anytime without notice and readers are always responsible for assuring allergen safety before buying or consuming foods. NutFreeWok.com is a participant in the Amazon Services LLC Associates Program, an affiliate advertising program designed to provide a means for sites to earn advertising fees by advertising and linking to Amazon.com. Thank you for reading!