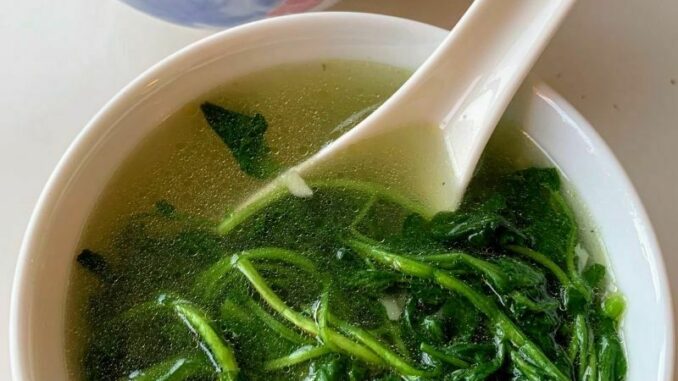 I make a fast and easy version of my mom's watercress soup using some homemade chicken broth. The soup was so refreshing and since watercress is in season right now, I think you might enjoy making watercress and garlic soup as well. This soup is nut-free and free of the other top 9 allergens.
Disclaimer: Please check that all ingredients are suitable for your allergies and be sure to ask your medical care team regarding any allergy related questions (I do not share medical advice). As an Amazon Associate I earn from qualifying purchases.
Jump to Recipe
Wonderful Watercress is in Season
I recently read an article that referenced a list of the most nutritious fruits and vegetables and watercress is ranked #1 as a powerhouse food and napa cabbage is #2 (yay, I love napa cabbage!). I was curious to know exactly how watercress is potentially beneficial and found a great Healthline article about watercress (nutritious, may lower risk of various health conditions).
Over the last 18 months I have been ordering some of our Asian produce from a local farm that drops off at my neighbor's house. I love that the produce is so delicious and fresh when purchased in season. It's also available all year round but freshest when it's in season locally, in April and October. When I saw that the farmer had watercress in stock and I had been reading about how good watercress is for us, I decided to add watercress to my cart. I loved how the soup turned out.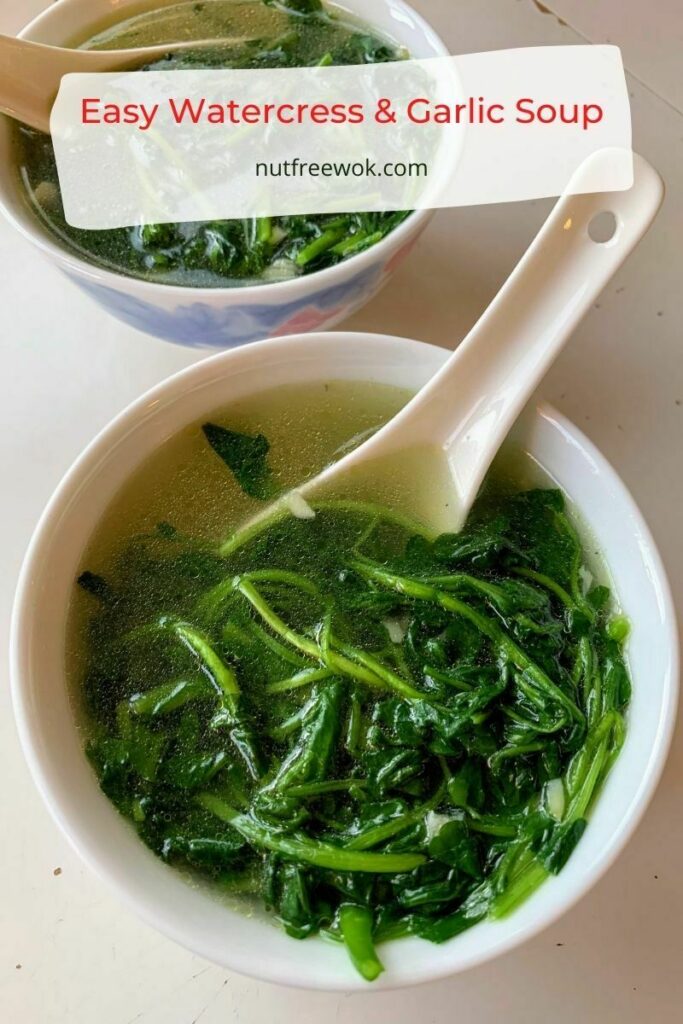 Watercress in Chinese Cooking
Up until recently I didn't cook with watercress much. But because it's so nutritious, I decided to reach back into my memories to figure out what to do to make watercress more appealing to me. I thought of three different ways that I remember eating watercress.
1) Saute and then cook with water
My mom sauteed some garlic with oil, added the watercress and briefly boiled it with water until tender. Because of the simple cooking method, we can really taste the watercress flavor, which is light and slightly peppery.
2) Stir fry and then briefly steam with water
Another way to preare watercress is to stir-fry watercress with garlic and cooked with a splash of water and a lid. Even though this sounds good, I didn't like eating watercress this way as a child because the leaves wilt and I worried about choking on the stems. The stir-fried watercress definitely needed to be chopped into smaller pieces (maybe around 1-inch).
3) Add it to a soup (2+ hour process)
Make watercress soup with other vegetables and meat. The soup is cooked for 2 hours and the watercress is added during the last 30 minutes. Chinese soups prepared this way are delicious and savory but because the watercress is cooked until it's very soft, I think there's potential for nutrient loss.
Sharon's mashup watercress recipe
I decided that I would prepare my watercress in a mashup style. Cook with broth for better taste, chop up the watercress to feel safe, and cook briefly for better nutrition retention. I'm still adjusting to cooking for two people now. I had enough watercress for 4 people and added just 2 cups of broth so the ratio of veggies to soup in the original photo (not shown) is more than the recipe. I made the recipe again with more typical portions and updated the photos.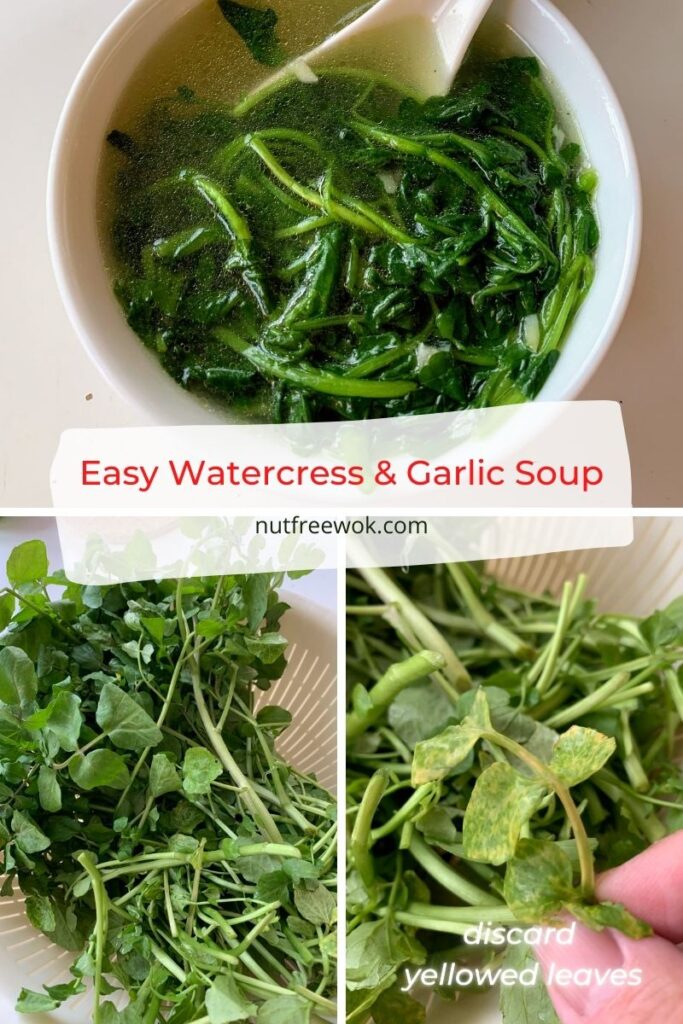 How to Shop for and Prepare Watercress for Cooking
Buy fresh watercress
Watercress is usually sold in small bundles. Look for bundles that are consistently green without yellowed leaves and check that the stems are tender (soft and bendy) and not tough.
Swish and rinse the watercress
The number one thing my mom used to tell me was to wash watercress really well because there are critters in the watercress. Whaaaaa?! Yes, apparently watercress is a semi-aquatic plant and sellers know where to harvest wild watercress locally near creeks. Even though the watercress is washed and prepped for sale, sometimes there might be a bug or slug so be sure to check and wash carefully.
I fill a large nested colander and washing bowl (affilate link) with water and swish the watercress to loosen any dirt and then take the colander with the watercress out, drain and rinse the dirt out of the bowl. Then I fill the bowl again and soak the watercress for 5-10 minutes. During that time, I pinch off any yellowed leaves or tough stems, check for bugs, and trim the watercress into 3-4 inch pieces.
Using a nested colander and washing bowl makes it so much easier to wash vegetables. Sometimes I use my salad spinner (affiliate link) as a washing bowl and it's so easy to lift the spinner basket with the veggies and change the water in the bowl.
I recommend chopping the watercress to an appropriate size depending on how you want to cook or eat it. If you want to eat it lightly stir-fried, chop it into 1 to 3 inch pieces so that it's easier to eat. If you plan to lightly cook it in a soup, then chop the watercress into 3-5 inch pieces.
Allergy Aware Watercress & Garlic Soup
This recipes is free of the top 8 allergens as written. Watercress is the main ingredient but everything else can be substituted according your your dietary needs and preferences. If you can't have garlic, swap with an equivalent amount of ginger.
Instead of using homemade chicken broth, you can substitute with store-bought chicken broth, water and bouillon, or vegetable broth (for a vegan option).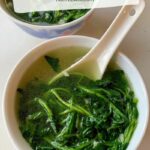 Watercress with Garlic Soup
I make a fast and easy version of my mom's watercress soup using some homemade chicken broth. The soup was so refreshing and since watercress is in season right now, I think you might enjoy making watercress and garlic soup as well. This soup is nut-free and free of the other top 9 allergens.
Ingredients
1

teaspoon

olive oil

(or neutral oil)

2

cloves

garlic

coarsely chopped

2

bunches

watercress (approximately 8 ounces)

washed & trimmed (3 to 4 inch pieces)

4

cups

chicken broth

(or vegetable broth)
Instructions
Preheat a medium (3-4 quart) saucepan on medium heat for 4 minutes.

When hot, add oil and garlic and stir-fry until fragrant (about 30 seconds).

Add the watercress to the pot and stir until slightly wilted (about 1 minute).

Add the broth and bring to a boil, lower the heat to medium-low and simmer for 10 minutes.

Divide the watercress into 4 soup bowls, divide the broth into each bowl.
Recipe Notes
If needed, have clean kitchen scissors available to trim the watercress into smaller pieces for those who prefer smaller pieces of watercress. 
Thanks for reading, please help Nut Free Wok!
The best way to see every post or recipe is to subscribe to Nut Free Wok's email subscription (be sure to respond to the confirmation email). You will be notified by email next time I publish another post or recipe and I won't send you spam or share your email address with anyone.
If you enjoyed this post, please use the social media buttons below to share with others. I am on Facebook, Twitter, Pinterest, and Instagram as @nutfreewok and it's great to chat and interact on social media too.
Disclosure/Disclaimer:
I may mention the names of stores and/or brand names of products that I use because readers ask and I share products and sources which I use and think may be helpful to readers, all opinions are my own. Please note that manufacturing practices and ingredients can change at anytime without notice and readers are always responsible for assuring allergen safety before buying or consuming foods. NutFreeWok.com is a participant in the Amazon Services LLC Associates Program, an affiliate advertising program designed to provide a means for sites to earn advertising fees by advertising and linking to Amazon.com. Thank you for reading!