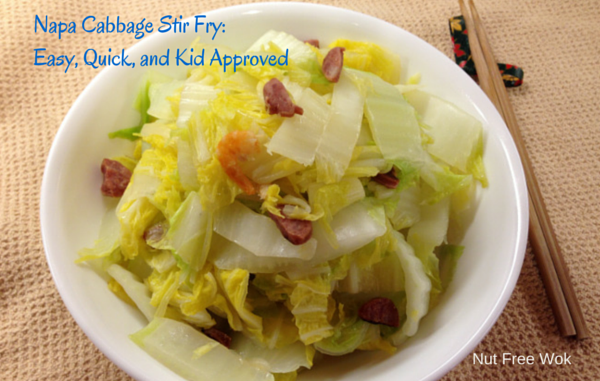 Napa Cabbage Stir Fry: Easy, Quick, and Kid Approved 
Our family enjoys napa cabbage a few times a month and when I ask my children to select a vegetable to buy at an Asian market, they pick napa cabbage. When I recently saw Huffington Post's article shared by my friend Laura, "10 Superfoods Healthier than Kale,"  I had to write this recipe for you.
Napa Cabbage, also known as Chinese cabbage or sui choy in Cantonese, is super easy to prepare, tastes tender, and has an almost sweet, mild flavored that goes well with other foods. It is often used in potsticker filling, Korean spicy kimchi, and many other dishes. My mom used to buy a napa cabbage during our weekly trips to Chinatown. She cooked the more delicate and perishable vegetables earlier in the week and beacause napa cabbage keeps well, she saved the napa cabbage for a quick weeknight side dish that was easy to prepare and fast to cook. There are two kinds of napa cabbage, a big blocky oval shaped one (common, easy to find) and a long, thin, narrow shaped one (usually found in Asian markets only). Both are wonderful and my mom made sure to pick a cabbage that was heavy for its size, free of blemishes or little black specks.
From Childhood Favorite to Food Allergy Mom Challenges
My mom would make a delicious napa cabbage stir fry with mung bean threads (also known as bean vermicelli or fun see), Chinese sausage, and dried shrimp in some broth. The resulting dish was a glorious combination of savory morsels, sweet vegetables, with some slurpy noodles. As a mom with young children who liked noodles but didn't like vegetables much, I was really perplexed why napa cabbage with bean vermicelli wasn't one of their favorites either. When I mentioned this to my mom, she told me to discontinue using the bean vermicelli noodles as they had some serious production issues, such as contamination with lead, use of toxic additives, and high levels of aluminum. Aside from having to adjust the recipe for food safety issues, it's also possible the mung beans cross reacted with peanuts, both of which are legumes.
#2 Super Food!
We definitely had some napa cabbage related challenges and victories. My favorite napa cabbage with bean vermicelli dish became just napa cabbage. We struggled through a few years of food allergy uncertainty: with and without dried shrimp, with and without oyster sauce. Now if I ask my children to pick a vegetable from an Asian market to buy and make, they always pick a napa cabbage. The Huffington Post article is based on a study posted on the Centers for Disease Control and Prevention's website, "Defining Powerhouse Fruits and Vegetables"1 ranked napa cabbage as number 2 by nutrient density. Whoo-hoo, a win-win! Who would have thought the humble napa cabbage would be so illustrative of a family's journey with food allergies?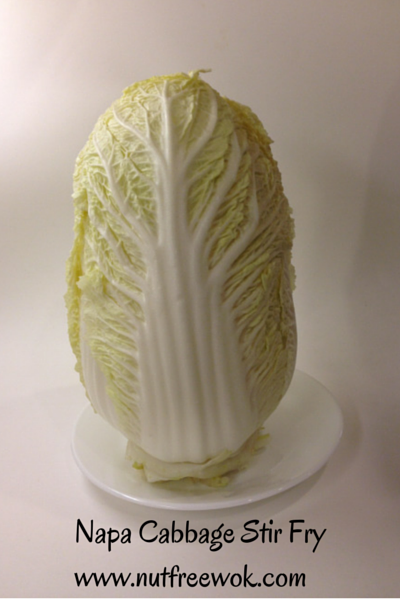 Allergy Aware Adaptations and Variations
Recipe is peanut, tree nut, egg, dairy, and fish free as written.
The following recipe is a simple recipe and it's our current favorite way to enjoy it. The recipe can be modified for your specific allergies and preferences. Chinese sausages are likely to be seasoned with soy sauce (contains soy and wheat) but can easily substituted with soy-free, gluten-free, allergy friendly bacon. Dried shrimp can simply be omitted, or use bacon or ham for flavor, or use an aromatic such as minced garlic or minced ginger. Oyster sauce can be substituted with a drizzle of your flavoring of choice at the very end: soy sauce with a pinch of sugar, other soy sauce alternatives, a drizzle of sesame oil or other savory or spicy flavors you might like. Maybe someday my sons will like eating napa cabbage the way their grandmother made it and will want to try different kinds of bean threads. I would still avoid the mung bean threads made in China as a precaution, but seek out ones made in Taiwan, Hong Kong, Korea, or United States or labeled as organic. There are plenty of options similar to bean vermicelli such as bean noodles, shirataki noodles, and potato starch noodles, all of which cook in a similar way and have a similar texture.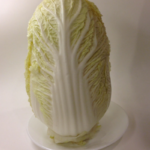 Napa Cabbage Stir Fry: Easy, Quick, and Kid Approved
Ingredients
1

tablespoon

dried shrimp

1

Chinese sausage

1

head of napa cabbage

1 pound or approximately football sized

1

teaspoon

olive oil

2-3

teaspoons

oyster sauce

to taste, or use suggested substitutions
Instructions
Rinse the dried shrimp and then soak in a small bowl of cold water for 10 minutes, drain and set aside.

Separate napa cabbage leaves (discard any brown or wilted outer leaves), rinse with water, and shake excess water out.

Stack a few napa cabbage leaves at a time and slice crosswise into bite size pieces.

Thinly slice the Chinese sausage and add to a wok or large stock pot, and slowly render the fat on low heat for about 5 minutes.

Turn up the heat to medium-high, add olive oil and shrimp and stir fry for 1 minute.

Add all of the napa cabbage and stir fry for a minute or two, add a splash of water (just enough for a sizzle, no more than 1/4 cup), cover the wok or stock pot with a lid for two minutes.

Drizzle in oyster sauce and stir fry for a few more minutes until the cabbage is wilted and soft.
Love this recipe?
I am on social media too, follow me on Facebook, Twitter, Pinterest, Instagram, and Google+ today!
1Reference: Di Noia J. Defining Powerhouse Fruits and Vegetables: A Nutrient Density Approach. Prev Chronic Dis 2014;11:130390. DOI: http://dx.doi.org/10.5888/pcd11.130390