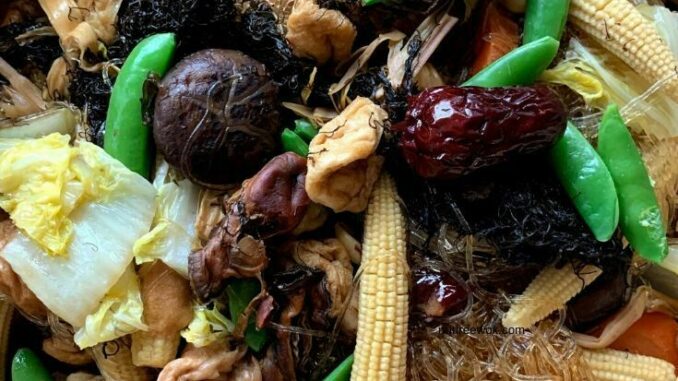 Chinese New Year vegetable stew, "jai" is sometimes called Buddha's Delight or Lo Han Jai. Chinese people usually eat vegetables (or mostly vegetables) on the first day of the lunar new year and Chinese New Year jai is one of the traditional dishes that my mom, my aunts, and grandmother made.
Disclaimer: This post mentions and includes photos of different brands and products which may or may not be nut free and/or have allergen information. Please read labels, contact manufacturers, and ask your local store for assistance before buying or eating. This post also has affiliate links.
Jump to Recipe
Make Auspicious Chinese Recipes for a Lucky Lunar New Year
Each Chinese New Year jai ingredient either sounds like or looks like something that represents prosperity, longevity, or unity and Chinese people believe that eating them during Chinese New Year will help usher in good luck and blessings in the new year. Chinese people make jai, a vegetarian stew, made with various dried and fresh ingredients with auspicious meanings.
Other traditional dishes with lucky symbolism you might include the following:
Allergy Friendly Chinese New Year Jai
This Chinese New Year Vegetable Stew "Jai" recipe is my best ABC (American Born Chinese)/allergy mom adaptation of a traditional recipe. I make Chinese New Year jai like my mom and like my girlfriends who showed me how they make theirs. However, I leave out my family's allergens, conveniently leave out ingredients I don't like or are too difficult to find, and add extras of my family's favorite ingredients.
My family is not strictly vegetarian for Chinese New Year and usually makes Chinese New Year jai with dried oysters and oyster sauce. If you want a strictly vegetarian recipe or are allergic to shellfish, simply omit the dried oysters and oyster sauce.
If you or a loved one is Buddhist, please check whether there are any forbiddened ingredients in their practice. I was surprised to learn that garlic is not allowed for some Buddhists. I fully support leaving out any ingredients for allergy, dietary, or religious reasons.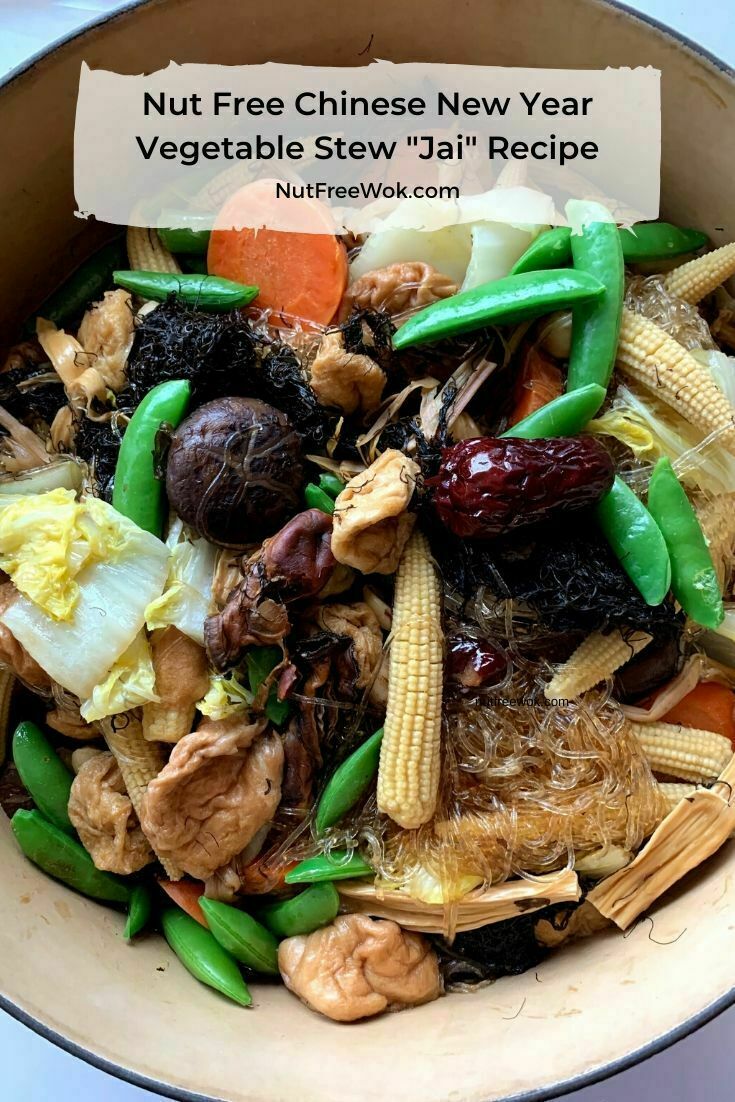 Potential Nuts and Other Allergens in Traditional Jai Recipes
One of the ways to adapt a dish for food allergies is to understand how a dish is typically made. I love eating Chinese New Year Jai but there were so many obstacles:
There are a lot of potential allergens, including peanuts, tree nuts, wheat, soy, shellfish and sometimes sesame. I've never heard of or seen anyone use egg, dairy, or fish in jai, so this recipe might be a great option if those are among your allergens.
Some of the traditional ingredients include peanuts and tree nuts such as peanuts, chestnuts and ginko nuts.
Chinese new year jai is sometimes garnished with toasted sesame sprinkles, but it's easy to leave them out.
One key ingredient is dried shitake mushroom, one of my son's allergens. I leave it out when I make jai for him.
Some of the ingredients are difficult to verify whether they have allergen cross-contact or not. Some of the dried ingredients might be packaged on the same equipment as dried peanuts. Since they're dried ingredients, rinsing them thoroughly multiple times seems adequate but that's up to your personal preference.
It's okay if you leave some traditional ingredients out due to cost, difficulty to source, preferences, allergies, etc..

I left out dried scallops because it costs $80 a pound but it doesn't shine in this recipe, so I'll save my dried scallops for another dish.
Black moss costs even more, a one ounce package costs $10. But it has such a great texture and absorbs all the flavors of this dish, I find it worthwhile.
I leave out arrowroot, a starchy tuber. It's a seasonal item that I have to buy in San Francisco and I don't love it enough to go out of my way to buy it.
I love fresh water chestnut, a sweet crunchy vegetable. But I leave it out because they're difficult to buy and prepare. They have a brown papery skin that needs to be peeled and sometimes they're covered with a little bit of dirt and mud, so it's difficult to discern when shopping whether they're bruised and browned until I start peeling them.
I also leave out wood ear, the "mu" in mu shu pork because I don't like it.
And I also don't use red fermented bean curd in the sauce because my children don't like the flavor.
Leaving out what doesn't work for you doesn't matter as much as your intentions to enjoy more vegetables, share a meal with loved ones, or even spiritual cleansing and renewal. The good news is that there are up to at least 30 different ingredients that could be found in Chinese New Year jai, variations are inevitable among regions and families, and we're making a food allergy aware version. I've included my favorite jai ingredients and you can create a Chinese New Year jai that works for you.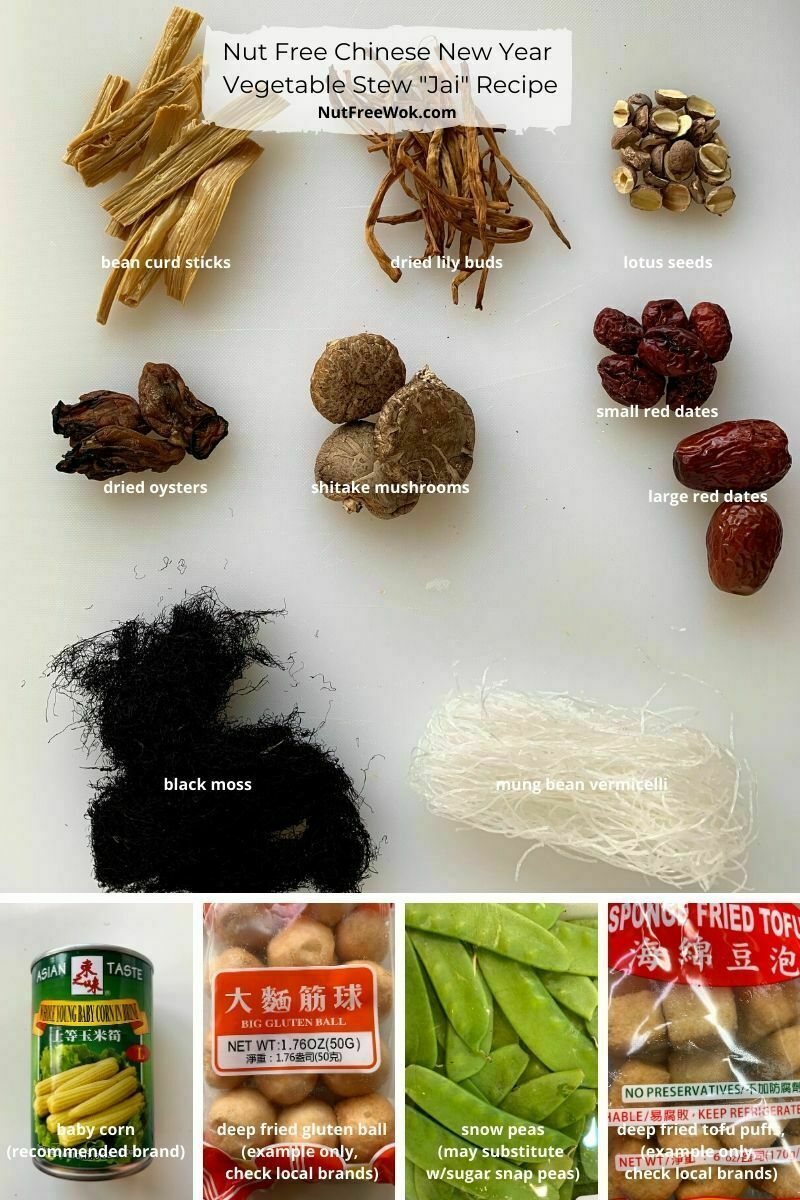 How to Buy and Prep Ingredients for Nut Free Chinese New Year Jai
The first time you make Chinese New Year jai, you will need to read the entire recipe and then buy all of the ingredients you need to have on hand. The next time you make jai, you will likely have some extras of the dried ingredients and you will need to buy the fresh ingredients and any missing ingredients.
I've organized my notes about how to buy and prep each ingredient in order of when you need to start working on prepping them. Feel free to omit any ingredients you can't eat or can't find, your jai might not turn out exactly like mine, which is fine.
The next step is rehydrate some of the dry ingredients either the day before or about 4 hours in advance. The last step is to prep or parboil the remaining ingredients and then cook the jai. I love to eat freshly made jai and the leftovers are delicious.
The hardest part of making Chinese New Year jai is gathering and prepping the ingredients for cooking. Chinese grocery stores will start to display the needed ingredients together about a 1-2 months before Chinese New Year. Whenever I try a complicated recipe, I usually make it at least one time prior to when I really need it so that I will know what to expect and be able to adjust the recipe.
Dried Ingredients That Need More Time to Rehydrate and/or Prep
This recipe is written so that you can prep and make the entire recipe in one day, I start soaking these ingredients in the morning and prep and cook in the afternoon, which can take quite awhile. Sometimes if I know I will be busy in the morning, then I would prep some of the ingredients the night before and then wrap up the ingredients to cook the next day. Whatever you do, start prepping the following ingredients first because they take the most lead time:
Dried Bean Sticks (soy)
How to Buy: Bean sticks are made from the creamy fatty layer forms when one makes soy milk and then dried. They are usually packaged in large plastic bags because the sticks are 12-18 inches long and one needs to break them into smaller pieces before you can even soak them. I have found some little bags of pre-cut dried bean sticks that I love. All you have to do is soak them in water and they're ready to use.
Prep: Rinse and then soak in a bowl of room temperature water until soft. When the bean sticks are rehydrated and softened, drain the water, wrap with plastic, and set aside in the refrigerator until ready to use.
Dried Lily Flower
How to Buy: Dried lily flowers is also known as golden needles (gum jum) and are dried unopened lily buds. They are golden yellow in color, each flower is about 3 inches long and as thick as twine but softer with more give. Avoid packages which look or feel moist or the dried lily flower feel very woody.
Prep: Rinse and gently swish the lily flowers in a bowl of water until the bottom of the bowl isn't gritty with sand (maybe 4-5 times). Then soak the lily flowers until they're softened (about 30 minutes). Check each lily flower and discard any flowers that are blemished, still hard, or appear to be woody stems, tie the lily bud into a loose knot, and use scissors to trim off the base of the bud (the end feels like a hard bump). Drain excess water, wrap with plastic, and set aside in the refrigerator until ready to use.
Dried Lotus Seeds
How to Buy: Dried lotus seeds are seeds from a lotus flower. You can find two kinds of dried lotus seeds in Asian markets, lotus seeds which are reddish brown on the outside and white on the inside or white lotus seeds without their reddish brown membrane. My mom told me to avoid buying the white ones because they might have been bleached or chemically treated to look fresh, so I buy the ones which are reddish brown on the outside and a creamy white on the inside.
Prep: Rinse and soak the dried lotus seeds in room temperature water for at least 2 hours or overnight. A quick way to remove about half of the membrane is rub the rehydrated lotus seeds together and rinse several times. Another way is to peel back the membrane from each seed from the pointy end with a dark spot (it's tedious!). As you are removing the membrane, discard any blemished lotus seeds and pick off and discard any green baby lotus plants. Drain excess water, wrap with plastic, and set aside in the refrigerator until ready to use.
Dried Oysters (shellfish)
How to Buy: Dried oysters are so delicious in Chinese New Year jai, they are so flavorful but it is fine to omit if one is shellfish allergic or wants a strictly vegetarian jai. I am used to buying dried oysters from Chinese herbal medicine shops or well stocked grocery stores in Chinatown. They usually have 2-3 different grades displayed in boxes and I buy the medium price point dried oysters. If you can pick them one by one, pick the lighter colored dried oysters, they will be fresher. I live in the suburbs and the only dried oyster options are in the refrigerator with a scary Prop. 65 warning (contains ingredients which may cause cancer, probably sulfite, a preservative). Dried oysters are better fresh and don't keep well, so buy only what you need to make one or two batches of jai.
Substitution ideas: When I was testing this recipe, I tried making jai with fresh oysters and I did not like fresh oysters in the jai. The fresh oysters were too soft, too watery for the recipe. I looked for another alternative and tried Crown Prince Smoked Oysters by adding them in as the last ingredient. The canned smoked oysters were a reasonable substitution but the packaging includes a BPA warning. One can take their chances with the different warnings or leave oysters out. I choose to buy the traditionally prepared and unpackaged dried oysters from herbal shops or dried goods stores in Chinatown or Chinese stores on Clement St. or Irving St. in San Francisco.
Prep: Rinse and soak dried oysters in a small bowl of water for 2 hours, then drain, wrap, and refrigerate until ready to use.
Dried Shitake Mushrooms
How to Buy: If you have the choice of buying different kinds of dried shitake mushrooms, don't scrimp but at least buy the medium cost option. Whole dried shitake mushrooms will be better quality than pre-sliced mushrooms. The thick ones that are slightly rounded and have a design on the cap will be better than the thin, flat, plain looking ones.
It's also important to look for freshness. Dried shitake mushrooms that have been sitting around for a long time will have a lot of debris in the bag, which is a sign of live pests in the product.
Prep: Rinse the underside of the mushrooms under running water and then soak the mushrooms in a medium sized bowl with room temperature water (you will reserve the soaking water later). Soak them for 2 hours or overnight until they are all pliable. Give each mushroom a gentle squeeze over your bowl of soaking water. Use scissors to snip off the stem and discard the stem. If the mushrooms are large, then cut them in half or into 3 slices so that they can be eaten in one or two bites. Wrap the prepped mushrooms and soaking water separately, and refrigerate until ready to use.
Quick Prep and Fresh Ingredients
Most of these ingredients below are easy to prepare and each item only takes a few minutes.
Canned Baby Corn
How to buy: Baby corn is literally an immature corn that's harvested early. I love baby corn but as I shopped for canned baby corn, I found some cans with varied expiration dates (expired, expiring in one year, expiring in two years!) so pick the freshest you can find. I was surprised to realize that not all brands taste the same as some tasted sour or too acidic even after rinsing and draining them (parboiling them helped to neutralize the strong flavor). My favorite brand of baby corn is by Asian Taste (distributed by Walong Marketing), the baby corn tastes perfect, slightly sweet, slightly salty, and not sour. I verified via email that Asian Taste's baby corn is peanut and tree nut free.
Prep: Drain baby corn and rinse, and parboil in water.
Black Moss/Fat Choy
Black Moss is also called fat choy in Cantonese which literally means "hair vegetable" because it's a vegetable matter that looks like hair. It's an auspicious food because its name sounds like fat choy (meaning "increasing wealth") in "Gung Hay Fat Choy." It's the best example of the Chinese belief of eating auspicious sounding foods will bring good luck and happens to be my favorite ingredient in Chinese New Year jai.
How to Buy: China limits the harvest of black moss to prevent soil erosion and labor intensive too, so it's very expensive to purchase. On the other hand it is very lucrative for unscrupulous people to make and sell fake black moss. In order to avoid being scammed, shop at a reputable Chinese or Asian grocery store. When black moss is dry, it will look like a mat of crinkly black hair. I purchased a small 1 oz bag for $10 at my local Asian supermarket right after Chinese New Year, when I decided to share this recipe. The amount of black moss in each package varies so take the time to pick a larger pack to get your money's worth.
Check for Authenticity: When black moss is rehydrated in water, the color will be a very dark green color, each "strand" will look like a very long leaf with squiggly edges rather than like a noodle. When you touch rehydrated black moss, it will feel like a plant, with a little spring. In contrast, the fake products are supposedly a vermicelli noodle with black food dye and when you soak it, it will bleed some color, it won't look like a very dark green plant.
Prep: Examine the dry black moss for hair and debris. Soak in a fine sieve placed in a medium sized bowl of cool water until it's rehydrated and drain. My friend told me to clean it by soaking the black moss with cooking rice wine to clean it thoroughly, it's a brilliant idea. I pour the rice wine over the rehydrated black moss and let it soak for 1 minute, drain, and rinse.
Gluten Balls (wheat)
How to buy: Gluten balls are deep fried gluten, they are light brown, are lightweight with a crispy exterior. I usually find them in the refrigerated section of my local Asian market near the tofu shelves. If you can't find them and aren't allergic to peanuts, you might consider stirring in a can of my mom's favorite Companion Food's braised gluten seitan (affiliate link). Companion does make other canned products which contain peanuts, so it's not a good option for those with a peanut allergy.
How to prepare: Since the gluten balls are deep fried, they're a bit greasy to use as is. I cut a slit in them and then parboil them and squeeze the excess water out when they cool down.
Mung Bean Vermicelli Noodles
How to Buy: Chinese vermicelli is usually made from mung bean starch and they look like bundles of white, glassy looking noodles. It's important to buy the best quality vermicelli you can find as there have been recalls in the past due to the use of unsafe ingredients used to make the vermicelli. My friend Grace Young recommends using Long Kow mung bean vermicelli that is made in Taiwan and I buy organic Long Kow mung bean vermicelli (with potato starch) from Costco.
Prep: Soak in a large bowl of room temperature water for 30 minutes. Grab a bundle and cut in half with scissors so that the strands are between 8-12 inches long. Drain and set aside until ready to use.
Dried Red Dates
How to Buy: Chinese dried red dates are wrinkly, deep red colored dates about the size of a grape. If you have the choice to buy whole or pitted red dates, buy the whole ones and remove the seed yourself (either before cooking or while eating). I personally think that pitted red dates have more risk of cross-contamination of dirt, pathogens, and allergens. In the photo above, I included small red dates and large red dates, both have pros and cons. The small red dates taste the best in the jai but it's too easy to bite down hard on the seed. The large red dates are more noticeable in the jai but it's too sweet.
Prep: Rinse and soak for 10 minutes. Inspect each date, remove any attached stems, discard any dates that are bruised or blemished. If you are sharing Chinese New Year jai with small children, elderly people, or anyone that might have trouble taking the pit out themselves, remove the pit by cutting a vertical line halfway thru to remove the seed, set aside the red dates.
Tofu Puffs (soy)
How to Buy: Tofu puffs are deep fried pieces of tofu that hold their shape when cooked in a stew or braise. I can buy tofu puffs at an Asian supermarket, it's usually in the refrigerator section near all the other tofu products.
Substitutions: If you don't live near an Asian market, it might be difficult to find fresh tofu puffs. The easiest substitution is to use firm or extra firm tofu and stir them in at the end. Or you could make pan fried tofu cut into cubes but don't flavor with Yoshida sauce.
Prep: The only thing you need to do before adding deep fried tofu puffs to the jai is to parboil them in boiling water for a minute to release the excess oil.
Fresh vegetables
Jumbo carrots are huge and look gorgeous in the jai. But if you can't find jumbo carrots, use 3-4 large carrots.
Napa cabbage is one of my favorite Asian vegetables, I use it in soups, stir fry, and potstickers. I usually buy one medium sized napa cabbage and use the whole thing or about 12-15 leaves of a large one (approximately a pound). Check that the leaves are free of blemishes and bruises for freshness and it should feel heavier than it looks.
Snow peas is a type of pea with an edible flat pod and immature peas inside. It's a vegetable that is available in the early spring and it should look green (not greenish yellow), free of blemishes, and feel pliable. If the quality isn't good, substitute with sugar snap peas. Pinch the stem and pull the thin string off and the pull the thin string from the end side.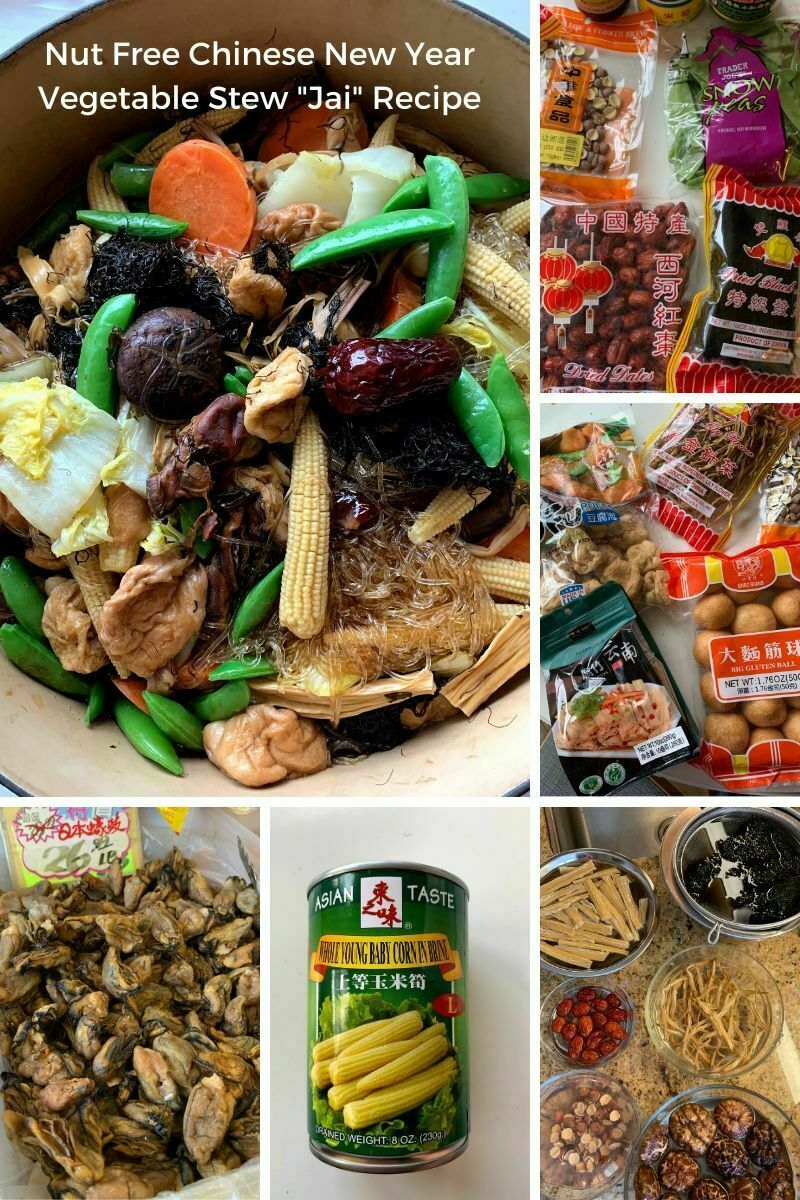 Cooking Chinese New Year Jai Vegetable Stew
One could throw everything into the pot all at once and cook it but you run the risk of undercooking some ingredients and overcooking others. The best way to prevent that is to parboil some of the ingredients by boiling for a short amount time, scooping the ingredients out, and setting aside.
I usually parboil the plain and mild tasting ingredients first: sliced carrots, baby corn, lotus seeds, red dates, bean curd sticks. Then I parboil the tofu puffs and the gluten balls last because they leave behind a lot of oil.
It is not necessary to parboil the lily buds, shitake mushrooms, dried oysters as those ingredients are stir fried first and then added to the braise later. It's also not necessary to parboil the napa cabbage and black moss as those are added directly to the stew later.
The last phase of making the Chinese New Year jai is to stir fry the ingredients that take longer to cook, add some water or broth and let them simmer. Then add more ingredients, more water, simmer, repeat until everything is incorporated, and add seasoning to flavor the stew.
The jai is delicious when freshly made and is easy to reheat in the microwave or a steamer to serve again. I cooked all of this in my 9 quart Le Creuset stock pot and it was about 2/3 filled by the time I finished cooking. I estimate that the recipe makes twelve 2 cup servings but can easily feed a crowd as a side dish.
This recipe is free of peanuts, tree nuts, fish, sesame, milk, and eggs as written.
If you need recommendations for rice wine, soy sauce, or oyster sauce, check what is in my cupboard.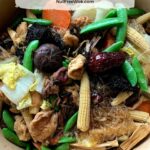 Nut Free Chinese New Year Vegetable Stew "Jai" Recipe
Chinese jai recipe is a very important part of Chinese New Year celebrations. Sharon's recipe is nut free and incorporates fresh spring vegetables. This recipes makes 12 hearty servings of about 2 cups each but can easily serve more people as a side dish. If there are ingredients that you like or don't like, feel free to use more or less to suit your preferences. Allow about 4 hours to soak some of the ingredients, the total prep time is about 1 hour.
Total Time
4
hours
45
minutes
Ingredients
1

cup

bean curd sticks

dried (1 handful, 2 oz)

½

cup

lily flower buds

dried (0.5 ounce)

¼

cup

lotus seeds

dried (1.3 o5)

12

oysters

dried (2 oz)

12

shitake mushrooms

dried (2 ounces)

1

can baby corn

14 oz, rinse

½

cup

red dates

dried (2 ounces)

2

large carrots

3 small, diagonally sliced

6

oz

deep fried tofu puffs

12

deep fried gluten balls

50 grams

12

ounces

Napa cabbage

1 small or 1/2 medium head, sliced into 1 inch pieces

4

bundles mung bean vermicelli

dried

8

oz

sugar snap peas or snow peas

3/4

cup

black moss

1 ounce

1/2

cup

rice wine

for rinsing

2

tablespoons

olive oil

or other stir fry oil

1

inch

ginger

peeled and sliced

2

cups

mushroom soaking water

or broth or plain water

4

cups

broth

vegetable or chicken

3

tablespoons

oyster sauce

2

tablespoons

soy sauce
Instructions
Wash, soak & preparation:
Rinse and soak bean curd sticks, break them into 2-3 inch long pieces if necessary. When they are soft, drain and set aside.

Rinse and soak dried lily flowers, swish and change water until there's no more sand at the bottom of the bowl. Tie each flower into a knot and trim the base of the bud.

Rinse and soak lotus seeds, when the lotus seed softens a bit, remove the red skin with a small paring knife. Rinse, drain, and set aside.

Rinse and soak the dried oysters (allow at least 2 hours) until they're softer, drain and set aside.

Rinse and soak shitake mushrooms in room temperature water, place a small dish or bowl on top so that the mushrooms are completely submerged for about 2 hours. Swish the mushrooms, squeeze the excess water, trim the stem off (reserve for stock or discard), and set aside the shitake mushrooms. Reserve the soaking water, allow the water to settle (avoid using the stuff at the bottom).

Rinse the baby corn and set aside.

Soak the black moss in a medium sized bowl of cool water and examine the dry black moss and remove any human hair and debris. When it's soft, drain in a fine sieve and slowly pour ½ cup of rice wine over it, drain and set aside.

Soak mung bean vermicelli in a large bowl of room temperature water for 20 minutes. Grab a bundle and cut in half with scissors so that the strands are between 8-12 inches long. Drain and set aside until ready to use.

Rinse and soak red dates for 10 minutes. Inspect each one, remove any attached stems, discard any dates that are bruised or blemished. Remove the pit by cutting a vertical line halfway thru to remove the seed, set aside.
Parboiling & cooking:
Fill a 4 quart or larger pot ¾ full with water and bring to a boil. Parboil lotus seeds for 1 minute, remove with a sieve, and set aside. Repeat by parboiling bean sticks, red dates, baby corn, and carrot slices in separate batches for one minute each.

Parboil the tofu puffs for one minute. Lastly parboil the gluten balls, use scissors to snip a small slit the gluten balls. When the tofu puffs and gluten balls cool to touch, give them gentle squeezes to drain any excess water.

Preheat a large pot heavy bottom pot for a few minutes on medium-high heat, add oil and swirl to coat.

Add ginger and stir fry for 1 minute until fragrant.

Add oysters and stir fry for 1 minute until fragrant.

Add mushrooms and stir fry for 1 minute until fragrant.

Add 1 cup of mushroom soaking water, cover and cook for 5 minutes.

Stir the jai, add bean sticks, carrot slices, lily buds, lotus seeds, red dates, and 1 cup of mushroom soaking water, cover and lower the heat to cook on medium heat for 5 minutes.

Add baby corn, gluten balls, tofu puffs, and stir, add 4 cups of broth, add the napa cabbage on top, cover and cook on medium heat for 15 minutes.

Stir the jai, tuck the bundles of vermicelli noodles into the broth, add the black moss and snow peas on top, cover and cook for 5 minutes on medium heat.

Drizzle the oyster sauce and soy sauce over the top of the jai and gently stir to mix in the black moss and snow peas.
Thanks for reading, please help Nut Free Wok!
If you like this recipe, please be sure to give a 5 star rating, leave a comment, and share this post! Your support means a lot to me.
Subscribe to Nut Free Wok's email subscription (be sure to respond to the confirmation email). You will be notified by email next time I publish another post or recipe and I won't send you spam or share your email address with anyone.
Disclosure/Disclaimer:
I may mention the names of stores and/or brand names of products that I use because readers ask and I share products and sources which I use and think may be helpful to readers, all opinions are my own. Please note that manufacturing practices and ingredients can change at anytime without notice and readers are always responsible for assuring allergen safety before buying or consuming foods. NutFreeWok.com is a participant in the Amazon Services LLC Associates Program, an affiliate advertising program designed to provide a means for sites to earn advertising fees by advertising and linking to Amazon.com. Thank you for reading!