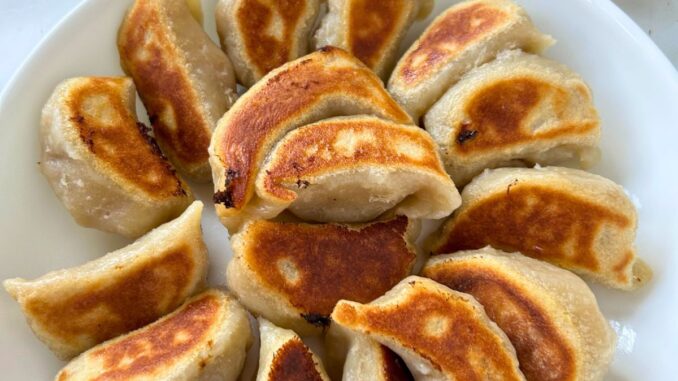 Pan-fried Pork and Shrimp Dumplings are the crispy-bottom potstickers that are a beloved Chinese appetizer or dim sum item. This nut-, egg-, and dairy-free recipe is delicious and easy to prep-ahead and easy to adapt for other allergens using simple ingredients.
I add shrimp in this potsticker recipe for more umami flavor and also because shrimp is a leaner protein compared to pork. If you don't want to use shrimp, substitute the shrimp in the filling by adding more vegetables and referring to my recipe for Chinese Potstickers Recipe: Pork & Napa Cabbage.
Disclaimer: Please check that all ingredients are suitable for your allergies and be sure to ask your medical care team regarding any allergy related questions (I do not share medical advice). As an Amazon Associate I earn from qualifying purchases.
Jump to Recipe
Potstickers Are a Type of Dumplings
Pan-fried Pork and Shrimp Dumplings 鍋貼 are also known as wo tip in Cantonese, or Guōtiē in Mandarin or potstickers in English. Dumplings can be made with a variety of fillings of meat and/or veggies and prepared in a variety of ways (boiled, steamed, pan-fried, deep-fried).
Potstickers are specifically a pan-fried variation that involves pan-frying for a bit, adding a small amount of water and a lid to steam them for a bit, and then removing the lid to fry the potstickers until the pan is dry and the potsticker bottoms are crispy.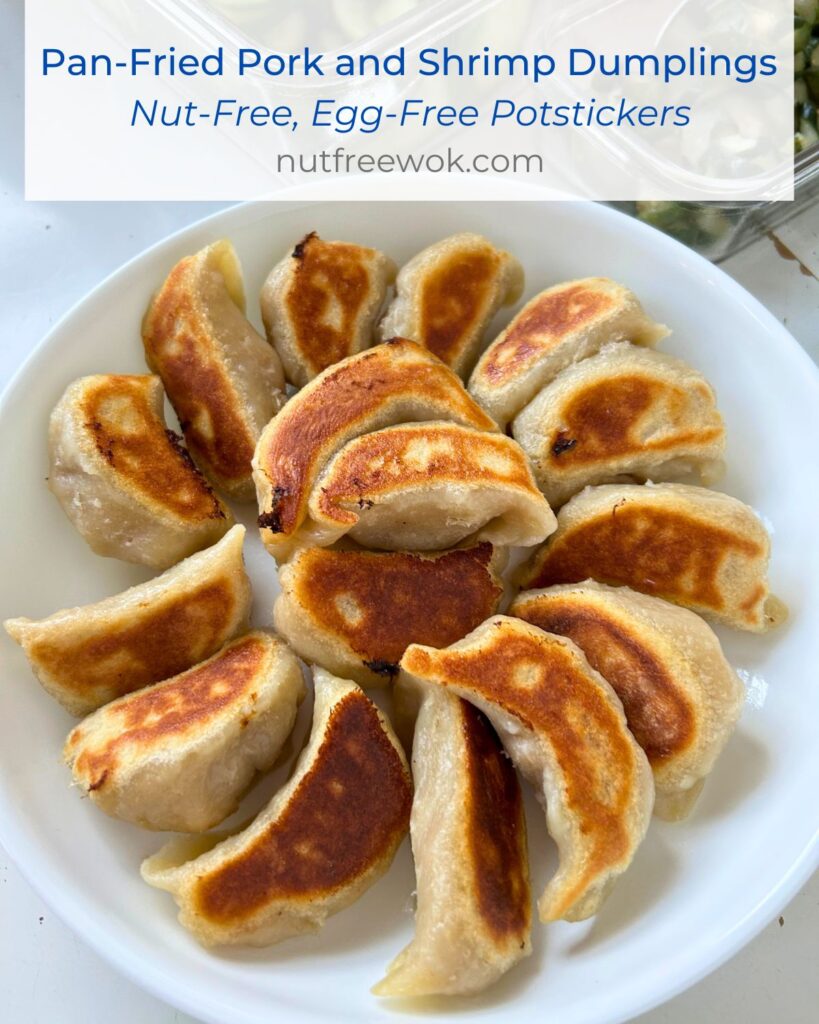 Benefits of Making Potsticker Wrappers from Scratch
100% Egg-Free Wrappers
Even though it seems like a lot of work to make wrappers from scratch, I love the taste and I love knowing exactly what are the ingredients. Making the wrappers from scratch is the perfect solution for people with an egg-allergy, because fresh Chinese noodles and wrappers are often made with eggs or on shared equipment with eggs.
Availablility
This recipe is also perfect for those who live in an area without a large Asian population and Asian markets. Conventional supermarkets might carry a limited selection of fresh pre-made wrappers and you must check for potential allergen cross-contact by contacting the distributor or manfucturer.
Managing Time and Refrigerator/Freezer Space
Due to changes in my shopping habits and time available, it's most convenient for me to buy frozen vacuum sealed packs of ground pork and make wrappers from scratch when I am ready. It's easier to store a brick of ground pork in the freezer. I can make the potsticker wrappers from shelf-stable ingredients.
While it's possible to buy fresh ground pork and pre-made dumpling wrappers, the ground pork is highly perishable and must be used ASAP. The ingredients are also bulky and take up valuable space in the refrigerator or freezer.
Authentic Cantonese Style
Cantonese potstickers that are made by hand have a wrapper that makes a hearty potsticker. The handmade wrappers are actually very pliable and easy to shape into the traditional shape that is also considered auspicious for Chinese families during the Lunar New Year.
Pork filled potstickers typically do not contain peanuts or tree nuts but they most likely will contain egg either in the filling or to help seal the edges. This recipe is egg-free. The dough is very soft and pliable and you will not need eggs to help seal the edges together. You can also adapt it for other dietary needs (such as low sodium, using ½ whole wheat for more fiber) or for other allergies (see below).
Ingredient Shopping Tips for Pork and Shrimp Dumplings
Shrimp: I make potstickers with added shrimp to help our family eat less meat and shrimp adds a lot of flavor to the potstickers. I prefer to buy frozen raw shrimp for optimal freshness. Since we will be chopping up the shrimp to make potstickers, I buy small to medium sized shrimps which are less expensive per pound and less work to chop.
Pork: If I buy freshly ground pork from an Asian market, I use the ground pork as soon as possible for optimal freshness. Sometimes I buy fresh or frozen ground pork in a sealed plastic brick-like package which gives me more flexibility to make potstickers when I have more time or by the best by date printed on the package. Otherwise, I will freeze the to use the sealed package of ground pork to use as needed.
How to Season the Pork and Shrimp Filling
Since I try to limit the amount of sodium in my diet, I add lots of freshly chopped scallions to the filling mixture instead of chopped cabbage that is wilted with salt.
I season the filling with some soy sauce, oyster sauce, white pepper, and sesame oil. If allergic to soy sauce or oyster sauce, omit them or use a soy-free or mushroom oyster sauce or salt or chicken bouillon to give it some umami flavor. If allergic to sesame oil, I would simply omit.
After mixing in all the filling ingredients, add the cornstarch and then mix some more. Wrap the pork filling mixture with plastic wrap and set aside in the refrigerator to marinate. If you are prepping ahead, you can stop at this step and make the dough when you are ready to start wrapping either later in the day or the next day.
Hot Water Dough Safety Tips
When you make potsticker wrappers from scratch, it's important to use boiling hot water to mix with the flour. I have a hot water dispenser (affiliate) and I measure out the amount of water I need in a Pyrex measuring cup and then heat it up in the microwave until the water is bubbly hot. Or you could use a kettle and boil some water and then measure the amount you need in a heat-safe liquid measuring cup. Either way, be safe and supervise children or other vulnerable people/pets around.
Be careful handling the hot water dough. After adding the hot water to the flour and mixing it with a wooden spoon, we need to knead the dough but it's most likely too hot to touch. Cover the mixing bowl with a large plate to allow the dough to cool down a bit without drying out. Wait 5-10 minutes and then check the temperature by gently touching the dough with a light touch of your fingertips, then use your finger tips to pinch the dough, then try a few gentle kneads.
Don't plunge your hands into the hot dough to knead without doing a temperature safety check. This is an important step especially if you are making a hot water dough with children or others who might need extra assistance.
Pork and Shrimp Dumplings Assembly
After kneading the dough, put it back into the mixing bowl and cover it with a plate while you set up for assembling your potstickers. You will want to keep the dough warm and prevent it from drying out.
When you are ready to assemble your potstickers arrange the filling mixture and dough as well as some necessary materials needed:
A small bowl of flour (approximately 1/3 cup) for dusting your work surface
A small dowel rolling pin (affiliate) which is easier to use
A baking sheet lined with parchment paper (or dusted with more flour)
A large cutting board (or you can use a flat, clean work surface)
A knife or bench scraper
Large frying pan with a fitted lid
The hardest part of assembling the potstickers is shaping the dough, pleating the folds, and sealing the dumpling close. I will post a video on my Nut Free Wok YouTube page for your reference.
Can you prep ahead, make ahead, or freeze the potstickers?
Prep-ahead: As mentioned above, you can prep the filling ingredients ahead of time but not the dough. After you assemble the potstickers, you'll have better results if you pan fry them soon after assembly.
Make-ahead: You can refrigerate any pan-fried potstickers and reheat the leftovers in a frying pan, microwave, or air-fryer.
Freeze: If you don't want to pan fry all of them, you can freeze them to cook at another time. To freeze the assembled potstickers, arrange them on a parchment paper lined baking sheet without touching each other, and then freeze them for a few hours until they're hard. When the potstickers are frozen, transfer them to a freezer bag or container. When you're ready, pan fry without defrosting.
Crowded Freezer Tip: When I don't have enough space in my freezer for an entire baking sheet, I freeze the potstickers on paper plates. To prevent the potstickers from sticking to the paper plates, be sure to use coated paper plates that have a smooth shiny surface or line the paper plates with parchment paper.
Allergy Aware Pan-Fried Pork and Shrimp Dumplings
This potsticker recipe is free of peanuts, tree nuts, dairy, egg, and fish as written. This potsticker recipe makes it easy for people who are egg-free to enjoy potstickers. Potstickers might contain eggs in the filling or wrapper. Even if you find a fresh wrapper without egg in the ingredients they're likely made on shared equipment with eggs.
If allergic to soy, omit the soy sauce or substitute with soy-free soy sauce or salt. If allergic to shellfish, omit the oyster sauce and consider using a vegetarian soy sauce that is mushroom based. See what's in my cupboard for product suggestions.
If allergic to shrimp, refer to my Chinese Potstickers Recipe: Pork & Napa Cabbage for a shrimp-free recipe.
If allergic to oysters or sesame, simply omit! It's also possible to replace the oyster sauce with a vegan oyster sauce made from mushrooms. See what's in my cupboard if you need more ideas.
For a chicken potsticker recipe, see my recipe for Chicken with Corn Potstickers. If you prefer frozen store bought potstickers, then you need to check out my Crazy Cuizine review and potsticker soup recipe!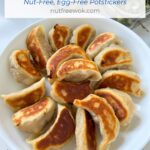 Pan-Fried Pork and Shrimp Dumplings (Potstickers)
Pan-fried Pork and Shrimp Dumplings are the crispy-bottom potstickers that are a beloved Chinese appetizer or dim sum item. This nut-, egg-, and dairy-free recipe is delicious and easy to prep-ahead and easy to adapt for other allergens using simple ingredients.
Ingredients
Pork and Shrimp Filling
½

pound

shrimp

raw, shells and tail off

¾

pound

pork

ground

1

bunch

scallions (6 stalks)

chopped (reserve 2 tablespoons for dip)

1

tablespoon

oyster sauce

1

tablespoon

soy sauce

2

teaspoons

sesame oil

½

teaspoon

white pepper

ground (or black pepper)

1

tablespoon

cornstarch
Wrapper
1 ½

cup

all-purpose flour

plus more for dusting (~1/2 cup)

½

teaspoon

salt

2/3

cup

hot water

boiling
Pan-frying
2

teaspoons

olive (or neutral oil)

or more, if frying in batches

1/4

cup

water

or more, if frying in batches
Dip (optional)
2

tablespoons

rice vinegar

2

tablespoons

soy sauce

1

teaspoon

sugar

1

teaspoon

minced ginger
Instructions
Prepare Pork and Shrimp Filling
Remove the shells and tail from the shrimp as needed and devein the shrimp (use a sharp knife to make a small incision along the back to reveal the black vein and remove). Rinse and drain. Chop the shrimp into pea sized pieces and transfer to a large mixing bowl.

Add the pork, chopped scallions (reserve 2 tablespoons for the dip, if making), and seasonings except the cornstarch. Mix thoroughly and then add the cornstarch and mix some more. Wrap and refrigerate until ready to wrap.
Make Dough and Assemble Potstickers
In a medium sized bowl (or pot) with a lid, combine the flour and salt. Add the boiling hot water and stir with a wooden spoon until a dough forms. Cover the bowl or pot with a lid and let it rest 5-10 minutes until the dough is cool enough to touch but still warm.

Dust a clean work surface or cutting board with flour and knead the dough until it's smooth and pliable. Cut the dough into 4 pieces and return 3 of them to the bowl and cover with a lid.

Flour your hands and work surface and shape the dough into a long log, approximately 1 inch thick, 10 inches long. Cut into 10 pieces, approximately the size of the tip of your thumb or a large grape. Shape and roll each piece into balls and then use your hand to flatten into a cookie shaped disk.

Flour your fingers, rolling pin, and your work surface as needed. Take one of the flattened pieces of dough and roll it flatter. Give it a quarter turn and roll the bottom half and repeat and flip over as needed until the center is even and the edges are slightly thinner than the center.

Brush off any excess flour on both sides of the wrapper, add an oval shaped lump of filling (approximately 1 tablespoon) to the center of the wrapper. Bring the top and bottom halves of the wrapper together (12 o'clock and 6 o'clock) and pinch, form 3-4 pleats on both sides and pinch together. Shape the tips (3 and 9 o'clock) to form a slight curve. Set aside on a parchment paper lined baking sheet. Repeat until you run out of either dough or filling.
Pan Frying the Potstickers
Preheat a large non-stick frying pan on medium heat for 3-5 minutes. Set aside a fitted lid and 1/4 cup of water nearby. Depending on the size of your pan, you may need to fry in batches.

When the pan is hot enough, add 2 teaspoons of oil and swirl to coat. Arrange the potstickers on the frying pan and pan-fry for 3-4 minutes until the bottoms start to brown. Hold the lid in one hand and pour 1/4 cup water into the pan using the other hand, then immediately cover the pan and set a timer for 8 minutes.

After 8 minutes, check to see the wrappers look evenly cooked, if not add another tablespoon of water, if needed, and cook for 2 more minutes covered. When the potstickers are ready, uncover and cook for 2 more minutes until the water in the pan has completely evaporated and the bottoms of the potstckers are crispy. Serve immediately.
Optional: Dip
While the potstickers are frying, combine the reserved chopped scallions and the dip ingredients and stir until the sugar is dissolved. Set aside.
Recipe Notes
You can serve the potstickers as-is, or provide vinegar at the table as dip, or you can make the optional dip. 
Related Recipes:
If you like potstickers, I have other variations for you to try such as Make Chicken Potstickers From Scratch Recipe which has a similar wrapper but a different filling. Chinese Potstickers Recipe: Pork & Napa Cabbage is a more traditional recipe and uses store-bought pre-made wrapper.
If you are short on time, you can use store bought frozen potstickers to make a quick and hearty soup, such as Chinese Potstickers with Napa Cabbage Carrot Soup, which features Crazy Cuizine's frozen potstickers.
Potstickers are also a very important part of Chinese family's Lunar New Year celebrations and if you need some Lunar New Year recipes, here a few that you might consider:
Thanks for reading, please help Nut Free Wok!
If you like this recipe, please be sure to give a 5 star rating, leave a comment, and share this post! Your support means a lot to me.
Subscribe to Nut Free Wok's email subscription (be sure to respond to the confirmation email). You will be notified by email next time I publish another post or recipe and I won't send you spam or share your email address with anyone.
Disclosure/Disclaimer:
I may mention the names of stores and/or brand names of products that I use because readers ask and I share products and sources which I use and think may be helpful to readers, all opinions are my own. Please note that manufacturing practices and ingredients can change at anytime without notice and readers are always responsible for assuring allergen safety before buying or consuming foods. NutFreeWok.com is a participant in the Amazon Services LLC Associates Program, an affiliate advertising program designed to provide a means for sites to earn advertising fees by advertising and linking to Amazon.com. Thank you for reading!