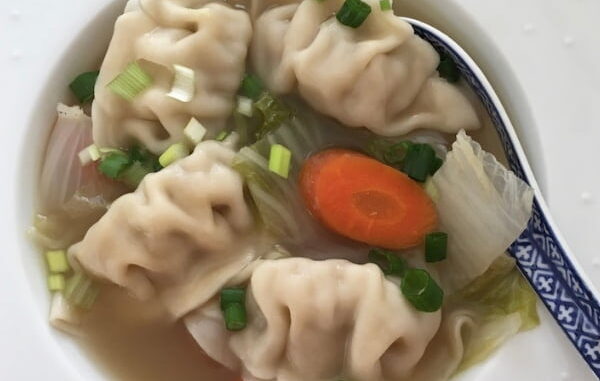 We wrapped up celebrating Chinese New Year (aka Lunar New Year) recently. Chinese people love to eat potstickers during Chinese New Year celebrations, but I love potstickers in soup with cabbage and carrots for a quick meal any day. 
Disclosure: I am pleased to partner with Crazy Cuisine to share this post with you. I only share what I love and all opinions are mine.
Disclaimer: Please check that all ingredients are suitable for your allergies and be sure to ask your medical care team regarding any allergy related questions (I do not share medical advice). As an Amazon Associate I earn from qualifying purchases.
Jump to Recipe
Celebrating a New Year with Potstickers
Gung Hay Fat Choy is a greeting Cantonese people say during the New Year to wish someone prosperity. Potstickers are delicious any day but they have a symbolic meaning in Chinese New Year celebrations. Potstickers symbolize wealth because their shape resembles Chinese gold ingots. Eating potstickers represents a wish for an abundance of wealth during the new year.
My older son asked if he could invite his friends over to make Chinese New Year dinner with us. It was so much fun to have 6 enthusiastic kids help make potstickers, garlic noodles, fried rice, while I stir fried some iceberg lettuce and served oranges and dragon fruit for dessert. My sons were happy to share our food and culture with my son's friends and I just love having their friends over.
As much as I love to eat hot crispy pan-fried potstickers, I usually want veggies, soup, and simple everyday foods. One way I can have it all is to make Chinese Potstickers with Napa Cabbage and Carrot soup using frozen potstickers from Crazy Cuizine. It's a healthy, hearty, one pot meal that is ready in 30 minutes or less.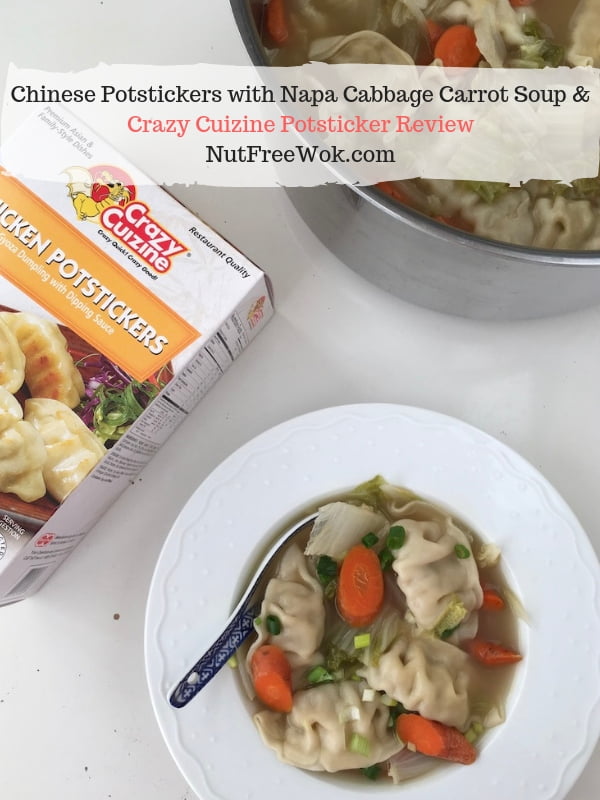 What is Napa Cabbage?
Napa cabbage sometimes is called Chinese cabbage. My family calls it "sui choy" in Cantonese, otherwise 白菜 "bai choi" in Mandarin. The leaves are a creamy white color at the base with yellow-green frilly leafy edges. A napa cabbage is not round like regular cabbage but it can be either oblong (egg shaped, pictured below) or a long oblong (French bread shaped,).
Look for a creamy white stem that is free of bruises, spots or blemishes. The green-yellow leaves should look vibrant, not brown or wilted. A fresh napa cabbage should feel heavy for the size. Napa cabbage is available all year round, but it's in peak season right now during the winter and spring months.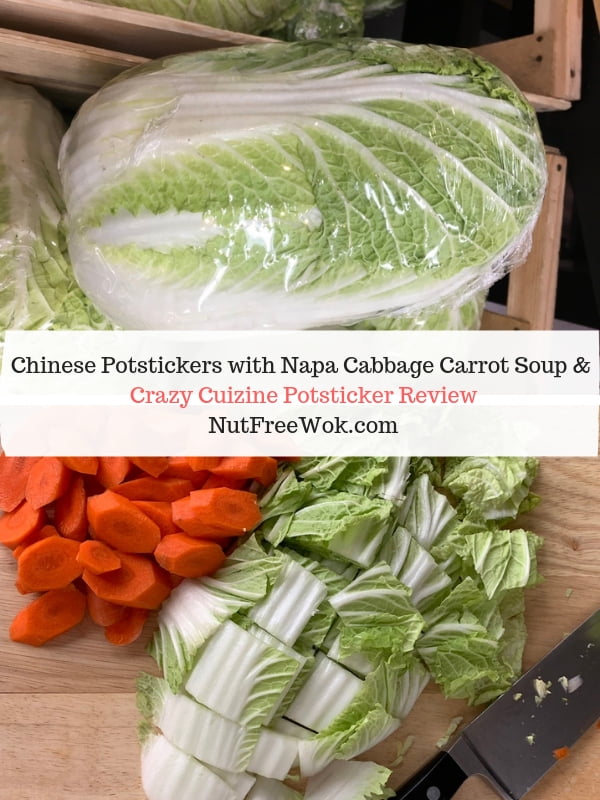 Napa cabbage is very nutritious, high in fiber and vitamin C. Napa cabbage is tender and delicious when stir fried. Because napa cabbage and carrots are slightly sweet in soup, they taste great in a savory chicken broth. The soup won't taste the same if you tried to substitute with other vegetables, so I hope you can find napa cabbage in your local stores or farmer's market.
A small napa cabbage is usually about 2 pounds, so you'll only need half for this recipe. I cut the napa cabbage in half lengthwise, and then cut the half into quarters lengthwise. Then I chop the quarters across into bite sized pieces and set aside while I prepare the rest of the ingredients.
Review: Nut Free Potstickers by Crazy Cuizine Are Ready to Heat and Serve
I love home made potstickers but sometimes we need help to get dinner on the table quickly or a hot breakfast on a cold morning. Or we need to bring a dish to a potluck. Most of the time I have some hungry family members and their friends looking for something to eat. I almost always have some frozen potstickers in my freezer.
Crazy Cuizine's Chicken Potstickers and Pork Potstickers are mild tasting, they're not too salty or spicy, with a hint of white pepper. Each packages includes a tangy dipping sauce that goes very well with the potstickers. I dress it up with a sprinkle of chopped scallions. Crazy Cuizine also has a Sriracha Chicken Potsticker, which I haven't tried.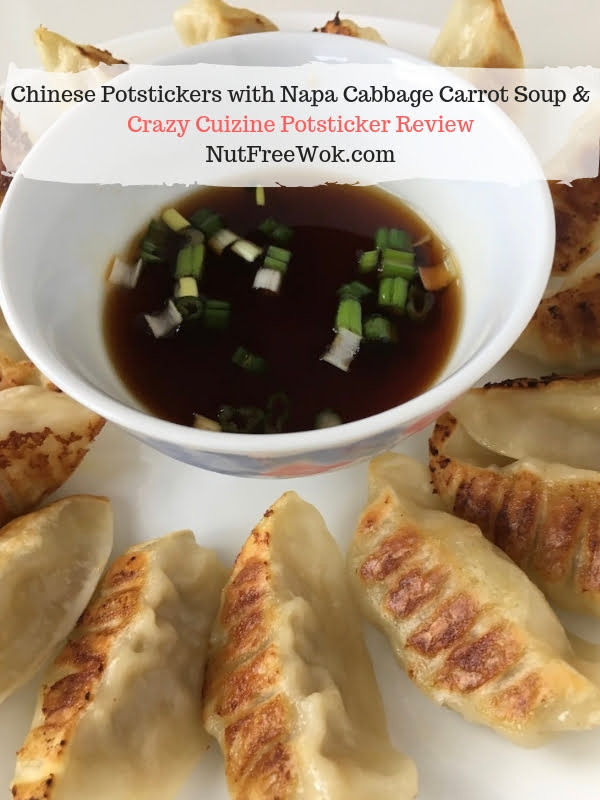 Their potstickers are easy to pan fry until the bottoms are crispy. I pan fry them, add ¼ cup of water, cover and steam for 10 minutes, and when all the water evaporates, I uncover it and pan fry for another 2-3 minutes and the bottoms are crispy.
Another way to prepare the potstickers is to add them frozen to the soup and then simmer for a few minutes. My kids love potsticker soup because it's much tastier and heartier than drinking vegetable soup.
I love Crazy Cuizine's Asian inspired frozen entrees for three reasons:
They're nut free (they do not use any nuts in their facility or on shared equipment).
Free of preservatives, trans fat and added MSG
Excellent customer service, which is extremely important for families with food allergies.
Allergy Aware Chinese Potstickers with Napa Cabbage Carrot Soup
This recipe is free from peanuts and tree nuts as written.
Crazy Cuizine's Chicken Potstickers and Pork Potstickers contain wheat, soy, and sesame allergens. The chicken potstickers and pork potstickers do not contain egg, dairy, fish, or shellfish in the ingredients but might be made in the same facility with those allergens. If you are allergic to fish, be aware that Sriracha Chicken Potstickers contain wheat, soy, and fish. Please be sure to read all ingredient labels which is also available for each and contact Crazy Cuizine's customer service to double check before consuming.
If you are allergic to soy, sesame, egg, dairy, fish, or shellfish, you can make potstickers from scratch. I have one pork potsticker recipe that uses store bought potsticker wrappers (which is fine for those who can eat egg) and another chicken potsticker recipe which uses a home made potsticker wrapper (which is better if you are managing an egg allergy), and you can mix and match the fillings and adjust the seasonings.
Sometimes it's difficult to buy prepared chicken broth in a box or a can due to costs or allergen cross-contact. I usually make a batch of Chinese chicken broth 1 to 2 times a month, you can find the recipe in my cookbook, Chinese Instant Pot Cookbook (affiliate link).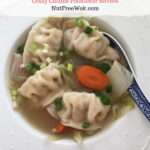 Chinese Potstickers with Napa Cabbage Carrot Soup & Crazy Cuizine Review
Ingredients
1

teaspoon

olive oil

1

small yellow or sweet onion

sliced

4

cloves

garlic

minced

½

inch

slice fresh ginger

peeled and minced

1

pound

carrots

sliced

1

pound

napa cabbage

chopped

2

quarts

chicken broth

1

package Crazy Cuizine Chicken or Pork Potstickers

1

scallion

chopped for garnish
Instructions
Preheat a 6 quart pot on medium heat for a few minutes. Add 1 teaspoon of olive oil and swirl to coat. Saute minced onion, garlic, and ginger until fragrant, about 1 minute. Add the chopped napa cabbage and sliced carrots and saute until they are partially softened (about 3 minutes).

Add 2 quarts of chicken broth to the pot of vegetables, bring to a boil, and simmer on medium heat for a couple of minutes.

Then add the frozen potstickers, wait for the soup to boil again, and then simmer on medium heat until the potstickers are heated through and the vegetables are tender (about 5 minutes).

Serve immediately and garnish with chopped scallions.

Prep ahead notes: If you make the soup with the potstickers and don't eat right away, the potstickers will fall apart in the soup. You can make the vegetable soup and stop at step 2. When you are ready to eat, boil the soup again, and add the potstickers and cook for a few minutes.
Recipe Notes
Serves 4 as a meal, serves 8 as a side.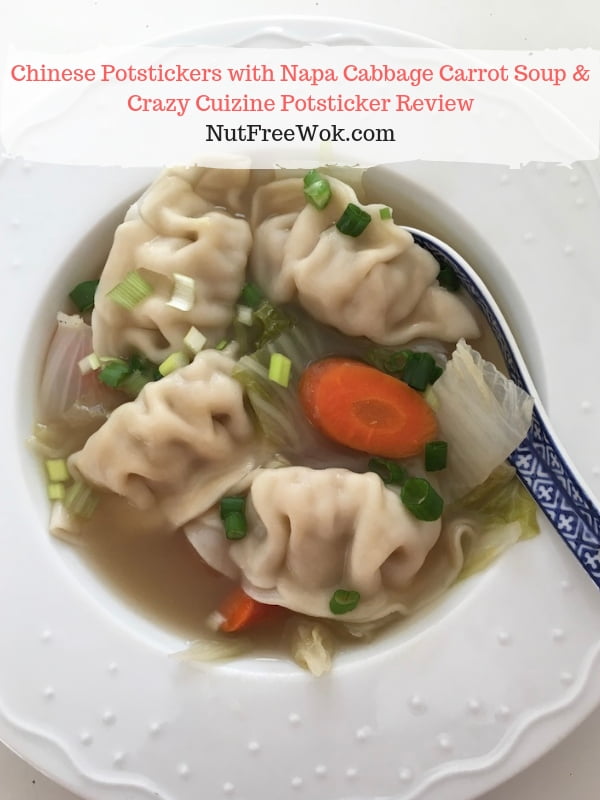 Where to find more information about Crazy Cuizine?
Crazy Cuizine's website includes nutritional information and ingredient lists on all of their ready to heat and serve products for your reference. They do not use any peanuts or tree nuts in their products but the remaining 6 top allergens and sesame might be made in a shared facility. If you have any questions, contact their customer service department for help. Thank you Crazy Cuizine for partnering with me to share allergy aware Asian fare with Nut Free Wok readers.
Thanks for reading, please help Nut Free Wok!
The best way to see every post or recipe is to subscribe to Nut Free Wok's email subscription (be sure to respond to the confirmation email). You will be notified by email next time I publish another post or recipe and I won't send you spam or share your email address with anyone.
If you enjoyed this post, please use the social media buttons below to share with others. I am on Facebook, Twitter, Pinterest, and Instagram as @nutfreewok and it's great to chat and interact on social media too.
Disclosure/Disclaimer:
I may mention the names of stores and/or brand names of products that I use because readers ask and I share products and sources which I use and think may be helpful to readers, all opinions are my own. Please note that manufacturing practices and ingredients can change at anytime without notice and readers are always responsible for assuring allergen safety before buying or consuming foods. NutFreeWok.com is a participant in the Amazon Services LLC Associates Program, an affiliate advertising program designed to provide a means for sites to earn advertising fees by advertising and linking to Amazon.com. Thank you for reading!